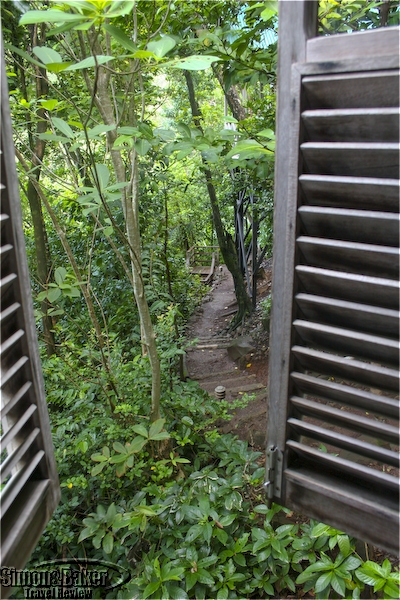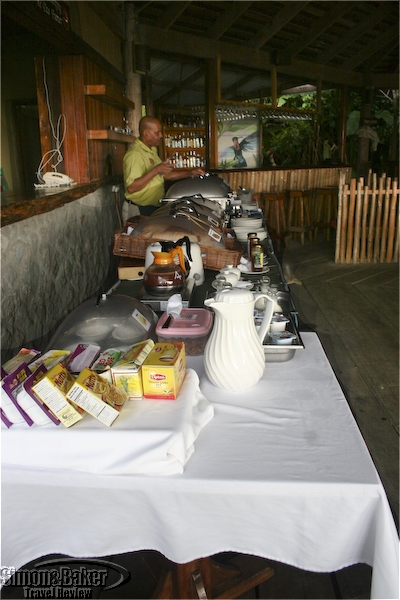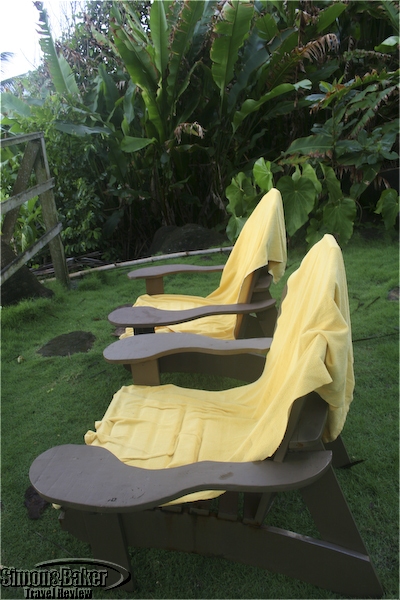 Jungle Bay will be on my list of options for a rustic, fitness and nature oriented island getaway.
August 2015 We have been informed that Tropical Storm Erika destroyed the property and there are currently no plans to reopen. This act of nature took lives and destroyed most of the nearby village as well. Our hearts go out to the people of Dominica in this tragic time.
Overall Impression
One of my most vivid memories of Dominica is the sound of the surf in my room at Jungle Bay, an eco-friendly property on the Atlantic fronting side of the Windward Island. Thanks to the close proximity of my room to the beach, the open design without air conditioning of the room and the strong surf crashing on the shore around the clock, there was always an energizing, and strangely also soothing, surf sound in my room.
Jungle Bay's nature, fitness and ecotourism orientation attracted me from the start. The rustic rooms, called Cottages, were on a hill, lush with greenery and natural vegetation, facing the ocean. Walking was built into the design of the ocean fronting property. From reception to my room, and my room was one of the nearest rooms to reception, it was a walk of several minutes. To reach the restaurant or pool from my room I had to negotiate steep steps down from my front door and walk several minutes along a hill hugging road. As a guest, being somewhat physically fit was definitely a bonus that enhanced my enjoyment of and appreciation for the property.
The challenge, at times, was deciding what to do. It was tempting to relax on my balcony and enjoy the scenery, ocean view and bird and surf sounds. A variety of hikes, yoga classes, spa services and activities on offer, drew me out. During my stay I had time to sample the resort's restaurant, swim in the rock pool below the restaurant, and take advantage of a handful of the activities and spa services available. One morning, I went on an escorted hike with one of the property's senior guides to Victoria Falls, one of the area's best known attractions. It was an exciting and memorable outing. To recover from the strenuous hike I indulged in spa treatments.
In addition to the surf sounds in my room, activities and facilities I appreciated the hotel's friendly staff, organic meals and many responsible tourism practices. Jungle Bay will be on my list of options for a rustic, fitness and nature oriented island getaway.
Children
Families with children were welcome at Jungle Bay. According to a spokes person, "the physical layout and design of Jungle Bay may not be the easiest environment for children less than 12 years. Some of our cottages have high balconies and sometimes require a lot of walking. Our swimming pool is 4 feet deep and adult supervision is required for those under twelve. That being said, we welcome families with a sense of adventure to relax and explore the wonders of nature at Jungle Bay." I saw families with children at meal times and in the common areas during my stay.
Class of Accommodation An eco-friendly deluxe waterfront hotel
Connectivity There was complimentary internet WiFi access in the main building only. The open air game room on the second floor also housed a computer for guest use. It was covered with plastic. Although I was unable to connect to the internet with the hotel WiFi on my iPad during my stay, I checked email messages using the hotel computer several times. Every time I did I had to wait for someone to finish using the computer or hurry because someone was waiting to use it after me.
General Manager Sam Raphael
Handicapped Access According to a property representative, the property "is not suitable for wheelchairs (the cottages are located on a hill and the property requires a lot of walking)."
Length of Stay Two nights
Location In Pointe Mulatre in southeastern Domica.
Owned And Managed Samuel "Sam" and Glenda Raphael
Pets Allowed No
Size The 55-acre property was home to 35 single story detached rooms in addition to common areas such as three story main building, two-story spa and restaurant. There were 65 employees.
Year Opened-Renovated The property was established in 2005. Upgrading and renovations were undertaken annually in September when the property closed for this purpose.
Lobby And Common Areas A narrow road let to a parking area and a main building where a single multistory building housed reception and a souvenir shop, an activities center, management office, yoga rooms, and a guest entertainment room. Although the property was designed mainly for pedestrians, the narrow road continued past a barrier, allowing access to the rooms and additional common areas. The road was especially convenient in case of inclement weather (which I experienced first hand) and to drop off and pick luggage. A few minute's walk from the main building, an attractive swimming pool and the hotel restaurant were perched above a rocky beach facing the water. On the hill, behind the restaurant, there were 35 detached rooms. The hotel style was meant to be "rustic yet elegant" and built with locally sourced and locally made furnishings.
Bathroom
The bathroom was in the back of the room. A wood door led into the bathroom. There was a built-in small rectangular mirror above a built-in wood shelf with a sink to the left side of the room. A toilet was next. Across the toilet there was a rack with two each of fresh smelling face cloths, hand and bath towels. A second wood door led to a covered shower, an extension of the bathroom with openings at the top that gave the feeling of an outdoor shower although the room itself was fully enclosed and had a roof. The water was tepid the first time I showered although the following nights it was hot. There was a white light above the mirror and another in the shower.
Room The hotel offered only one category of room, Deluxe Private Jungle Cottage. Some, like mine, had a Premium Ocean View. My room Cottage 1, Breadfruit, was a 40 square meter stand alone wood building built on stilts on the hill facing the Atlantic coast. A wood door led to a small entrance area with a double door wide closet on the left and a built-in shelf facing the wall where I set up my carry on bag and iPad. A queen bed on a wood frame took up the center of the left side of the room. A simple beige bedspread atop a think blanket covered the bed. In addition to two large pillows there were four ruby and ruby and beige patterned cushions atop the bed. Identical wood shelves built into the wall on either side of the bed served as night tables. Both had lamps, one had an alarm clock and the other a telephone. There was also a night lamp clipped onto the center of the bed. A folded mosquito net dangled from the ceiling above the bed. I found no need for it and slept with it untouched.
Across from the bed there were two cushioned wood armchairs with a rectangular matching table between them. A short cabinet with two drawers was set against the wall behind the chairs and next to it there was a mini refrigerator with a carafe of chilled spring water. A Melita coffee/tea machine sat atop the cabinet and in the top drawer there were self service ingredients for coffee and tea. A reed mat was on the wood floor between the bed and the armchairs. A fan, hung from the ceiling in the center of the room, and six glass and wood windows provided ventilation. The room had a high wood ceiling, wood floors and locally made wood furnishings.
A glass and wood door led from the room to a small covered balcony with a red hammock, my favorite place in the room. From the shelter of the balcony and the comfort of the hammock I enjoyed the ocean view and the greenery surrounding the room. It was especially appealing when it was raining (even though I got a little wet standing on the balcony) and it was hot in the room because I had to shut the windows to keep the rain out.
The temperature in the room was warm. When the staff serviced the room they closed all the windows and doors and turned off the ceiling fan impeding natural air circulation. At night the wind would slam a window or door shut. Bayleaf oil in the room kept insects away. The room was faintly lit. There was one light at the entrance, one lamp clipped to the head of the bed, one upright lamp by the two armchairs and two night table lamps. There was a small light on the balcony.
Restaurant The Pavilion Restaurant, poolside and on the waterfront, emphasized mostly vegetarian, seafood, and chicken dishes with a "distinct Caribbean flavor." About 80 percent of the food was organic and sourced from the neighboring villages. Breakfast was buffet style. During my stay, there were two types of boxed cereal and muesli, four types of milk (coconut, soy low fat and regular), four types of fresh sliced fruit (mango, banana, orange and watermelon, wax apple, pineapple), oatmeal cookies (a favorite), pumpkin muffins, pancakes, French toast, scrambled eggs, Johnny cakes, sausage slices, sliced bread and pastries, yogurt, "cakes," a fried bread with and without melted savory cheese spread. It was also possible to order eggs any style and hot oatmeal or Cream of Wheat. Lunch, served between 12 noon and 3 p.m. was plated. I enjoyed the Chicken Ginger Wrap made with shredded chicken, ginger sauce, lettuce, carrots, onions and wrapped in a chick pea shell. It was served with two slices of tasty fried ripe plantain.
Amenities
There was a carafe of spring water in the mini refrigerator, umbrella, flashlight (essential to see the steps to my cottage at night), fresh flower arrangement, hammock on the balcony, tissue paper and liquid soap, body lotion, and shampoo in large refillable bottles. There were local and United States style electrical plugs.
Facilities A main building housing reception, two yoga studios, activities center and souvenir shop. Within the property there were also spa, pool and Pavilion Restaurant facilities.
Pool The swimming pool was one level down from the Pavilion Restaurant and above the pebbled beach (not a swimming beach). It was 26 feet wide by 36 feet long and four feet deep and was made of stone. There were cushioned adjustable lounge chairs and umbrellas scattered around the pool area. There was an outdoor shower and men and women's bathrooms nearby that served pool and restaurant guests. A few steps down from the pool there was a lush green garden with an armchair or two that looked rather inviting.
Spa
There was a 100 square meter spa with six treatment rooms: three private massage treatment rooms, one treatment room for facials, one treatment room for nail care and one couples massage room. Massages, facials and nail care therapies incorporating natural techniques and ingredients were on offer by appointment.
In lieu of a fitness center the hotel encouraged guests to remain outdoors and take advantage of the "natural jungle gym."' A boot camp program was available several times a year.
During my stay I had three pleasant spa treatments. First, I had an hour long Tres Forte Massage described as a deep tissue massage in the spa menu, and a 30-minute Pied Mol relaxing foot massage one day. The following day Glenda gave me a lovely one hour Jungle Bay Massage.
When I arrived at the spa for my 10 a.m. appointment the door was closed and no one was around. I used the spa phone to call reception. A minute later Fiona from reception called me back to say Onika, the therapist, was running late and would arrive in 10 minutes. She asked that I return to my cottage and Onika would call me when she was ready. A few minutes later she called.
Onika used coconut oil for the 50-minute Tres Forte Massage, more of a light deep tissue massage with emphasis on the upper arms and thighs including feet, neck, shoulders, and hands. Within the treatment room I could clearly hear the sound of the waves. The open windows brought in a cooling ocean breeze and a beautiful view of the ocean.
My 4:30 p.m. foot massage was soothing and just what I needed after an afternoon hike to Victoria Falls. Noreen soaked my feet in warm water in a wood bowl for a couple of minutes before asking me to lie down. She turned on the fan to cool down the room before rubbing melted coconut butter on both feet then began (and later ended) the treatment with a gentle massage of both feet at the same time. She covered my left foot with a towel and massaged my right foot first and then covered my right foot and massaged my left foot. The gentle stroking motions left me in a subtle slumber.
What I liked most about the spa was the water facing hillside location, treatment rooms with large open windows and friendly staff with a pleasant demeanor and a gentle disposition. Sounds carried within the spa. I could hear the phone ring, voices in the nearby rooms and the conversations of guests popping into schedule a treatment.
The decor was simple though attractive within the wood building. When I lay face down for my massage there were pretty flowers in a bowl; when I lay face up for the foot massage a handsome rattan fan drew my gaze. Always there was the sound of the surf and the occasional gentle breezes floating off the water.
Conference Facilities
The hotel meeting facilities included 2,400 square foot stone and hardwood floor meeting space with views of the Atlantic Ocean, 2,400 square foot open air veranda for receptions, meals and buffet service for up to 150 people, and 1,000 square foot hardwood break out meeting room. There were 110 and 220 volt electrical systems, public address system, podium, LCD projector and screen. Business facilities offered wireless internet connectivity in the main building, fax machine, photocopiers and printers, as well as two computers with internet connection.
Other The hotel purchased as many supplies as possible from 40 vendors in the neighboring villages.
The hotel had been recognized with the 2011 and 2010 Dominica Tourism Board and Hotel Association Responsible Tourism Award, 2010 Virgin Holidays Responsible Tourism Award for Highly Commended Best Accommodation for Local Communities, and 2009 Islands Magazine Responsible Travel Blue List. Sam was recognized with the 2010 Virgin Holidays Responsible Tourism Award Best personal contribution to responsible tourism.
Responsible And Green Tourism I liked the resort's eco-friendly mission, "to enhance the natural environment and improve the livelihood of surrounding communities so that the region is improved in a sustainable way, while providing quality, comfortable nature-based experiences for our guests."
Practices included: construction utilizing used wood and discarded stone from an old mining quarry; elevating its 35 rooms on wooden posts beneath the tree canopy to minimize disturbance of the soil; relying on local staff for the manufacture of furnishings with local materials; designing the rooms to rely on natural ventilation in the hope of eliminating the need for air conditioning (it was rather hot in my room at times) to reduce energy consumption; purchasing locally made goods and services; reduction of excess packaging to reduce waste; serving 95 percent locally grown organic food without pesticides or chemicals; serving local cuisine to encourage travelers to try new meals and showcase the traditional island recipes to make staff proud of their culture; using food waste for composting; using on-demand gas heaters to reduce energy consumption; relying on water from an on site spring fed stream; striving to manage waste and energy use to limit the disturbance of the local ecosystem; training local guides in responsible travel techniques; recycling glass bottles; working with school children from nearby villages to reduce the chance of sea turtles being poisoned or strangled by trash; and educating local communities about sea turtle conservation.
Cleanliness
Excellent
Date of Review July 2011
Reviewers
Photos and Article by Elena del Valle
Service My room was serviced daily. Johanna and Fiona at the front desk were helpful and pleasant; Justinian and Danna at the restaurant introduced themselves and showed interest in my visit. They both took time to ask if I enjoyed the meals and how I liked the island. Justinian was especially helpful. Glenda and Sam were interested hosts with a contagious enthusiasm. When I asked for extra water it was delivered shortly after I requested it. The flowers I had left atop the minibar (picked up during a visit to the Carib village) for lack of a vase and not wanting to be a bother were integrated into the existing flower arrangement and a second flower arrangement was added to fit all the flowers. I enjoyed Glenda's beginner yoga class as a gentle way to stretch and start the day. Justine, my guide on a river hike, was quiet and ready to lend a helping hand when I faltered because of strong currents and high water while crossing the river.
Would You Stay There Again? Yes
Contact Information
Address:

Pointe Mulatre
Commonwealth of Dominica
West Indies

Phone:

+1767-446-1789
+1767-446-1090 (Fax)

Website:

http://www.junglebaydominica.com/

Email: