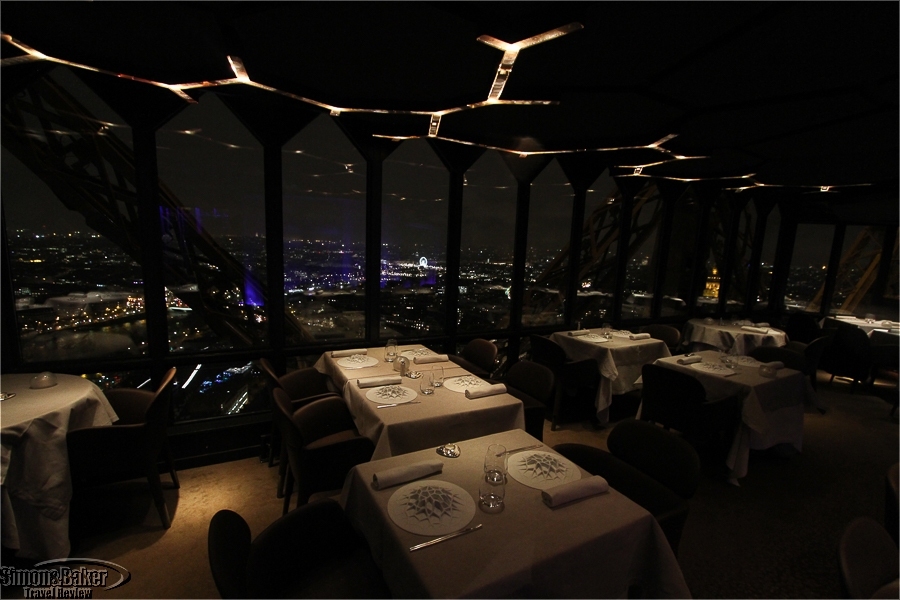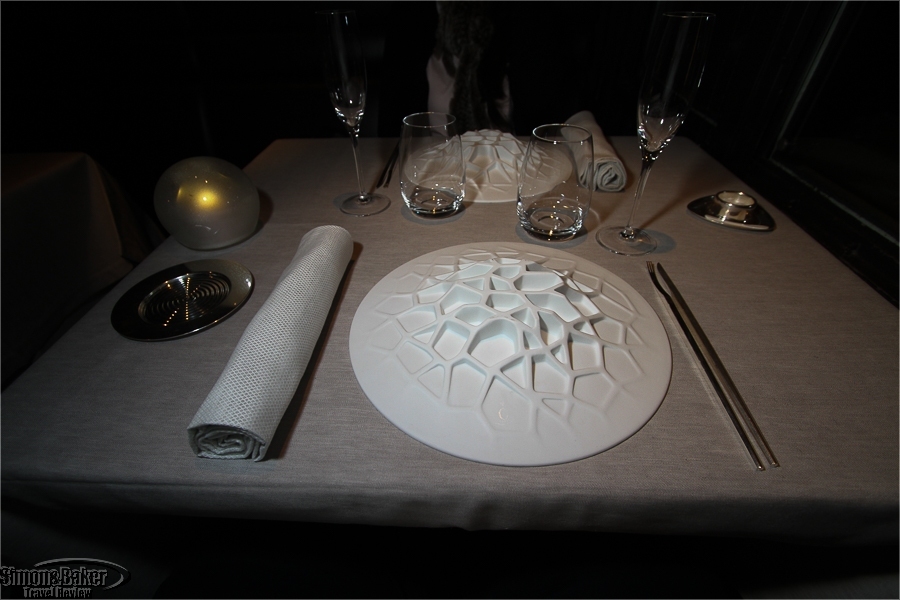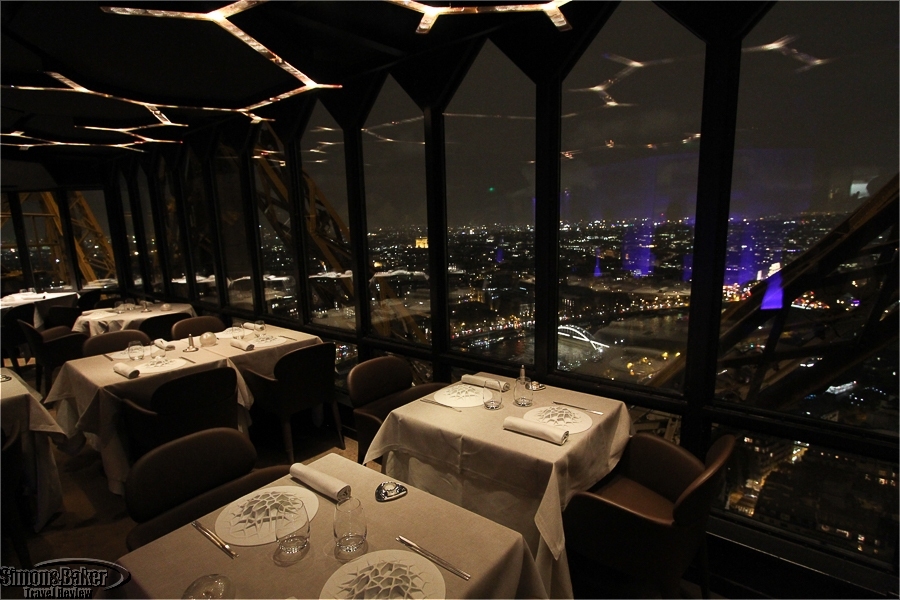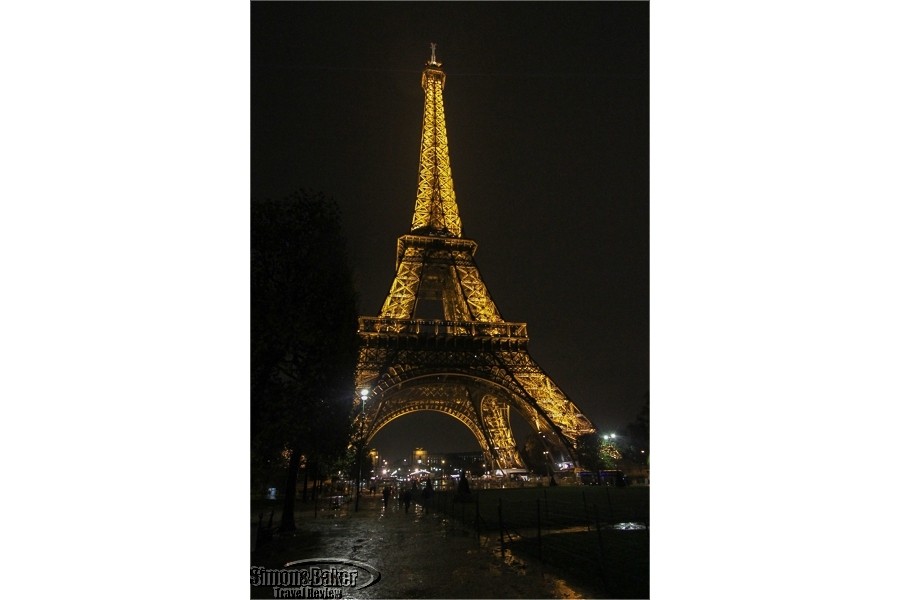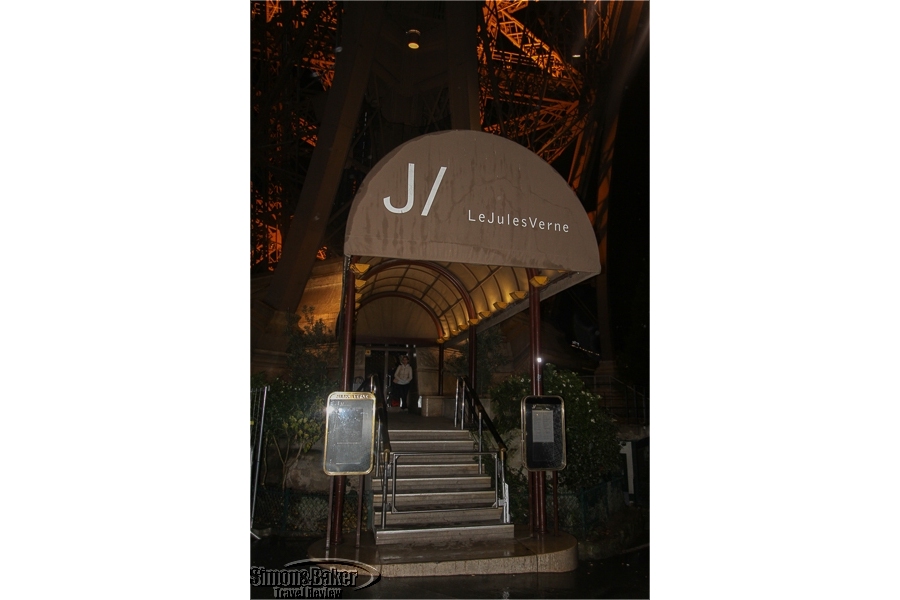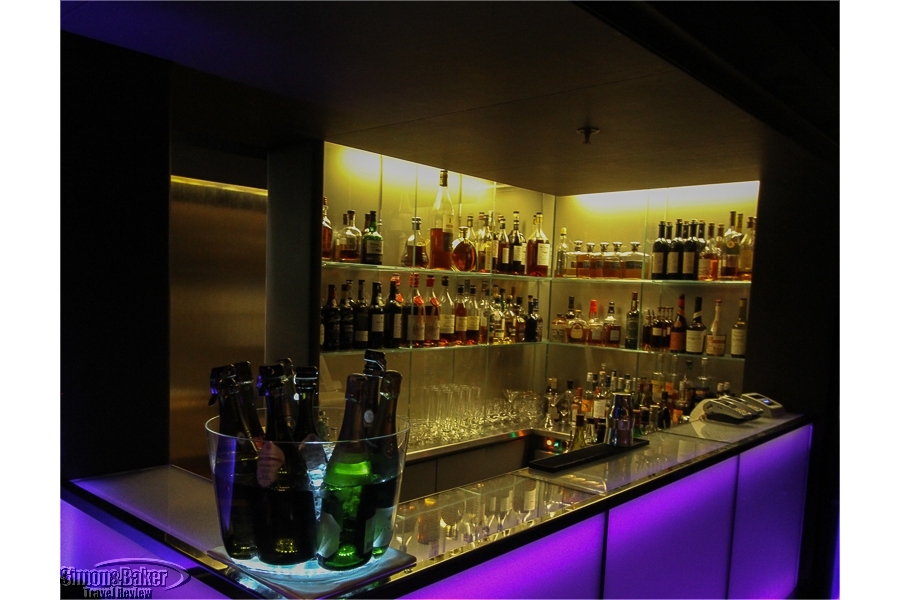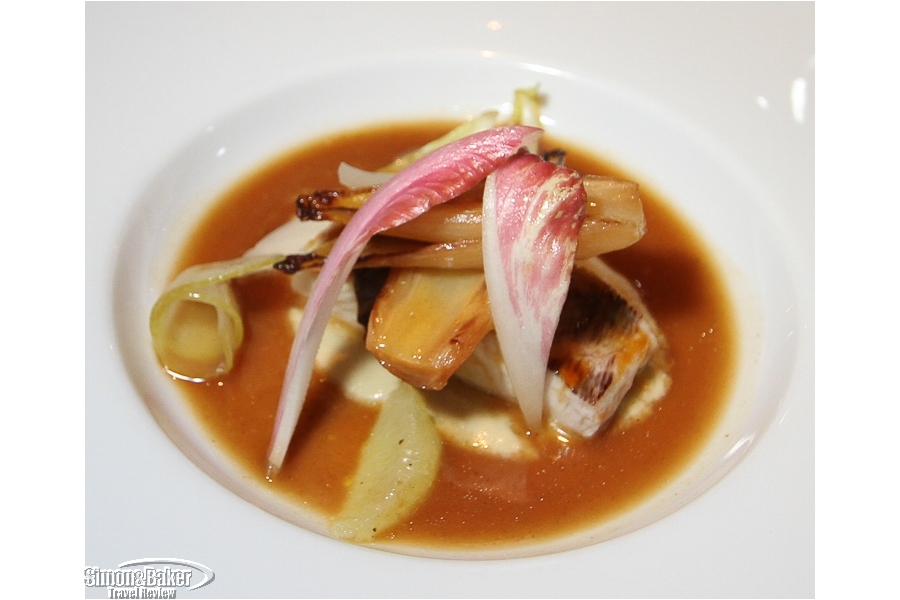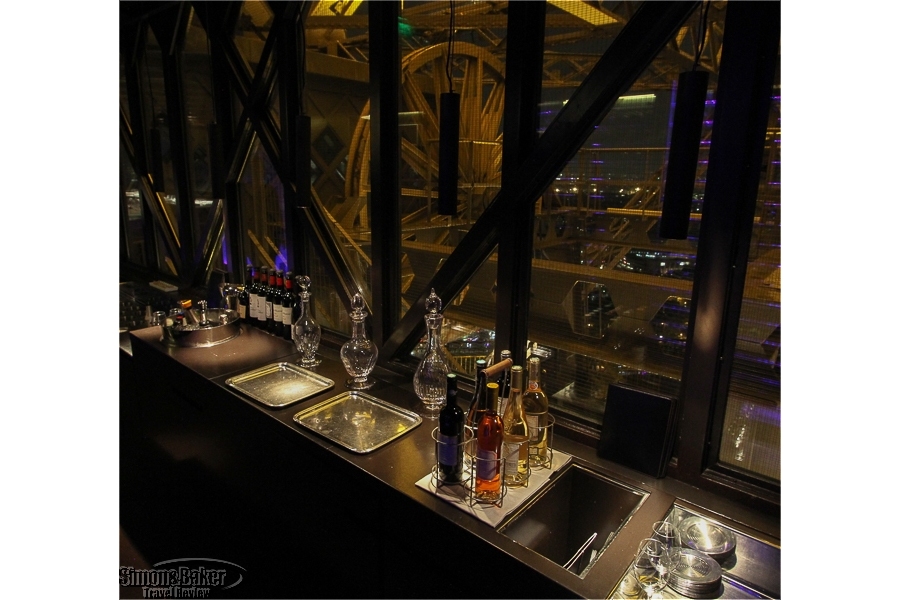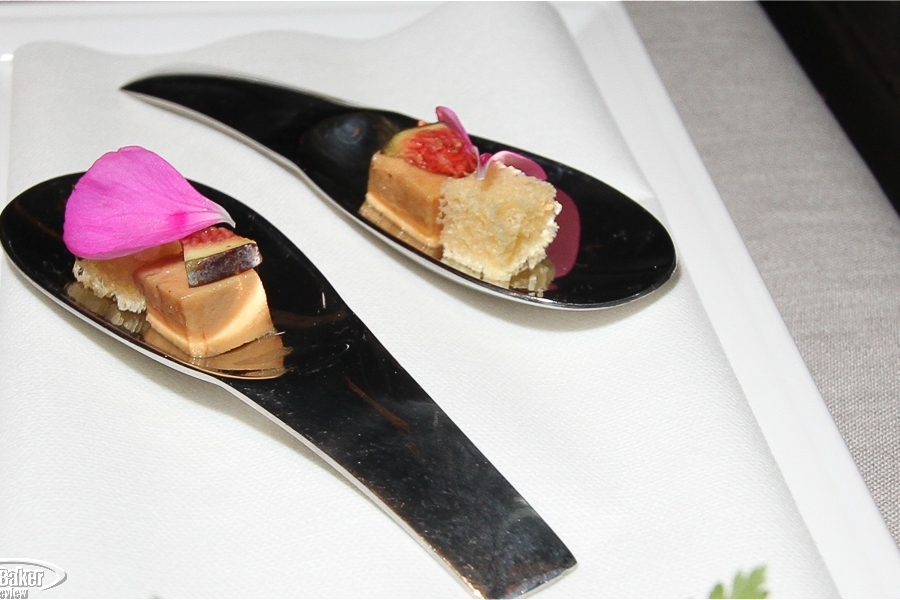 I recommend a meal, dinner especially, for those in search of romance, at Le Jules Verne to friends and acquaintances seeking fine dining and unrivaled views of Paris.
Fall 2018 An Alain Ducasse restaurants spokesperson informed us that the restaurant is closed and no longer operated by that company.
Overall Impression
Our dinner at Le Jules Verne restaurant was magical. From the moment we rode the private heated elevator with an escort from the ground floor of the South Pillar, up 125 meters to the restaurant reception half way up the famous Eiffel Tower in Paris, we felt special. Although our expectations were high, based on previous visits to the restaurant at France's most iconic monument, we were delighted with the evening.
We were pleased to have been assigned one of the few coveted window side tables. Below us, thousands of lights twinkled, bringing to mind the words City of Lights as Paris is also known. Soon more diners started to trickle in and a shy couple was seated in the table next to ours. Although there was sufficient distance to allow private conversation, if we maintained a soft tone of voice, the nearness caused one of us to strike a conversation. A few minutes later, we witnessed teary eyed a marriage proposal complete with an engagement ring surprise under a covered plate. Soft applause from other guests, many of which seemed native English speakers, in the dinning room filled the air, while waiters took photos and the future bride cried and shook with excitement.
From the first meal I had there Le Jules Verne struck me as an ideal venue for a special celebration. It oozed history, French charm and romance. On our most recent visit, we saw first hand the effect of the memorable setting and warm service on one couple's life. What a wonderful memory they made that night. We felt fortunate to have been a part of their experience.
In addition to the shared moment, we ourselves enjoyed the meal served in a chic contemporary dining room with elegant tablecloth service by attentive staff in a spectacular location. It was complimented by a beautifully presented and well prepared seven course set menu with wine pairings. I recommend a meal, dinner especially for those in search of romance, at Le Jules Verne to friends and acquaintances seeking fine dining and unrivaled views of Paris.
About The Executive Chef
He began at the Negresco in Nice, France before joining the Lucas Carton restaurant in Paris, where he was promoted to chef de partie seven months later. He then worked in the kitchens of the Elysée. In 1996, he declined an offer to be restaurant chef at Lucas Carton, opting instead to become commis at the Louis XV in Monte Carlo. According to promotional materials, he believes that while it was a difficult challenge, it was also "a tremendous and decisive learning opportunity." In order to branch out and gain international experience he travelled to the United States, where he worked as executive sous chef at L'Orangerie in Los Angeles, California. In 2001, he returned to France where he became the chef at La Maison Blanche in Paris. Later, he rejoined the Alain Ducasse company as executive chef at Spoon at Sanderson in London, England. He remained there for more than four years until he moved to Paris in January 2007 to work at Le Jules Verne.
About The Owner Born in the Landes region of France, Alain Ducasse became one of the most famous chefs of his generation. He rose to head three restaurants, each awarded three stars in the Michel Guide, in Monaco, in Paris and in London, among others. He was also a restaurant designer and trainer.
About The Pastry Chef After working at Pierre Marcolini, Hotel des Neiges in Courchevel, and Hotel Relais des Trois Mas in Collioure, Xavier Mertz joined Le Jules Verne in April 2014.
Chef De Cuisine Jemmy Brouet
Executive Chef Pascal Feraud
Handicapped Access Yes, handicapped guests were advised to use the first floor public elevator and from there the private elevator would deliver them to the restaurant. There was a small restroom on the dining room level.
Location On the second level of the Eiffel Tower South Pillar some125 meters above the ground. We entered from the South Pillar of the Eiffel Tower via a dedicated elevator with direct and private access to the restaurant.
Managed The French monument was operated and managed under a public service contract by Société d'Exploitation de la Tour Eiffel(SETE), a public private partnership, in which the City of Paris had a 59.9 percent stake. The restaurant itself was managed by the Groupe Alain Ducasse company.
Opened-Renovated Although the Eiffel Tower opened to the public in 1889, Le Jules Verne as it exists today was only built in 1983. The most recent renovations were completed December 2007 under the supervision of the Groupe Alain Ducasse company.
Owned The building was government owned.
Pastry Chef Xavier Mertz
Restaurant Manager Maxime Maze
Restaurant Owner Alain Ducasse
Size The 500 square meter restaurant could accommodate 120 guests with a staff compliment of 105 including 47 in the kitchen.
Sommeliers Amar Chebrek, a part of Le Jules Verne's team for 25 years, worked under the supervision of Gérard Margeon, chef sommelier of Alain Ducasse Restaurants.
Type Of Restaurant Contemporary French fine dining cuisine created "to reacquaint the French with the incomparable talent of their culinary heritage and extends an open invitation to visitors from around the world."
DÉCor-Ambiance
According to promotional materials, the goal of Patrick Jouin, restaurant designer, was to create "a contemporary, elegant décor, designed to make guests feel good, regardless of where they are sitting, even back from the bay windows" and "to be as beautiful and pleasant at lunch as at dinner." He relied on natural light during the day, and sought a cozier and more sensual atmosphere in the evening.
The dinnerware was of French porcelain with J.L. Coquet plates. Some of the pieces were specially designed for Le Jules Verne like the plates created by Pierre Tachon of Soins Graphiques (the same person who designed the look for the chocolate bars at the Alain Ducasse chocolate factory). The base of the Structure presentation plate was designed as a reminder of the architecture of the Eiffel Tower, symbolizing "the encounter between the structured world of Gustave Eiffel and the fantasy world of Jules Verne."
Within the restaurant, soft shades of beige and dark brown were predominant. Orange seats added a splash of color amid the gray of fall and winter.
Cellars Wine And Alcoholic Beverage Selection
Gérard Margeon, chef sommelier of Alain Ducasse Restaurants, and his team selected 430 French wines for the menu. They designed the wine list to be a journey of sorts of France's wine growing regions, especially Burgundy, the Rhone and Bordeaux. Of the first two regions, they offered little known premier estates, since their production was generally reserved for export. From Burgundy and the Rhone, they selected "excellent wines produced by a new generation of young winegrowers who represent the great estates of tomorrow and show French winemaking tradition from a new perspective."
The Bordeaux selection was divided into four categories, premiers crus (first growths), each represented by two vintages, followed by the "juniors" or "second wines" of the premiers crus. Also on offer there was a selection of remarkable chateau among the most prestigious wines of that region including appellations of Listrac-Médoc, Côtes de Castillon, Côtes de Bourg et Lalandede Pomerol. Regions were invited to showcase their finest productions, according to promotional materials. The house bubbly, Champagne Alain Ducasse, was available in a flute or a Reims Glass, a nostalgic rendition of the hollow stemmed model manufactured by the Cristallerie de Portieux in the 1930s.
For dessert there were four armagnacs, served in pretty glass flasks, on offer. Armagnac and cognac could also be enjoyed in a stemless Jarnac Glass set on the guest's coffee cup. Several types of Pineau des Charentes were available with the Écrou au chocolat et praliné croustillant, glace noisette.
At the bar there was French single malt whisky from Haute Champagne and Bretagne, aged in wine barrels. Irish, Scottish, Welsh and Japanese whiskies were also available, along with a rare Polish vodka and a California gin.
Special Menus In addition to New Year's Eve and Valentine's Day menus, the restaurant offered the following set menus: Three course weekday Lunch Menu for 105 euros; a five course Experience Menu for 190 euros, and a six course Experience Menu for 230 euros. There were two wine pairing choices: five glasses for 95 euros and six glasses for 120 euros.
Meal
From the pre appetizers to the post dessert nibbles our dinner was satisfying, well orchestrated, and with a eye pleasing presentation. Each dish was tasty and rewarding in its own right. Even the hare, not something I often order, was worth having, and the bar was memorable.
We toasted our special evening with a glass of 2007 Gosset Celebris champagne with a delicate nose. For amouse bouche there were bites of buttery duck foie gras with fig toast, and warm salmon balls with a hint of citrus.
From the bread basket we could choose buckwheat, baguette, cereal and salted croissant. The rich, buttery and flaky croissants were our favorites. The salted butter had the restaurant's familiar stylized JV design stamped on the top. Should we desire to add salt to our meal there was sea salt in a triangular container. We never felt the need.
We had a set seven course menu with wine pairings. A Dos de saumon mi-fume, caviar gold (Half smoked back of salmon, gold caviar) came with apple puree, thin apple slices, toast, tiny hardboiled egg quarter, and egg salad. It was followed by Pate en croute facon Lucien Tendret, legumes croquantes legerement vinaigres (Lucien Tendret style pate en croute, crunchy pickled vegetables, horseradish dollop, tiny artichokes). Next, we had Saint-Jacques au satoir, sommites de choux fleur en fine creme, d'autres crues (Sauteed scallops, raw and cooked cauliflower). There was a single beautifully prepared serving in which the Grilled scallop and cauliflower flavors blended well.
A Blanc de bar cuit a plat, endives fondants meuniere (Seared sea bass, tender chicory) was a favorite. The heavyweight was the Rable de lievre truffe a l'ancienne, l'epaule a la royale (Truffled saddle of hare, shoulder stuffed with foie gras) served with celeriac puree and dauphine potatoes, a single whole chestnut, a handful of lingonberries, and a single slice of a crispy root vegetable. The hare was also accompanied by a warning to beware of possible pellets when eating it since it was a game meat. We did not come across any pellets in our dishes.
Salade d'agrumes, granite gentiane (citrus salad, gentiane granite) was next. It was more of a slightly bitter palate cleanser than a dessert. I liked the gentiane granite in particular. Having visited the Alain Ducasse chocolate in the city we were especially pleased to try L'ecrou crustillant au chocolat de notre Manufacture a Paris (Crispy "Tower Nut," chocolate from our Factory in Paris and praline), a sweet and soft chocolate in the shape of a nut from the Eiffel Tower. Post dessert there were sweet pistachio marshmallows, chocolate truffles in a bowl as well three sweet petit fours in the shape of tiny cookies, macarons and pastries.
For the wine pairings we had: a fresh tasting 2012 Condriou Loinel Faury, 2011 Meursault Clos de Mazeray Domaine Jacques Prian, 2011 Corlon Charlemagne Grand Cru Domaine Antonin Guyon with a whisper of bitterness that countered the endives well. Next, there was a mellow 2004 Pauillac Chateau d'Armailhac; followed by 2009 Sauternes Chateau Maud Bergeron. A thick tasting 2005 Maury Hors d'Age Domaine Pouderouy completed our selections.
Other
There was valet service available. There was a dress code. Shorts were prohibited. There were restaurant souvenirs for sale. When we left, one of the staff members handed us a bag of complimentary madeleine pastries to take home. The restaurant had one Michelin star since 2009.
Smoking was not allowed in the Eiffel Tower. For security reasons, access to the restaurant by elevator after 10 p.m. was not allowed. Anyone leaving the restaurant after that time would not be able to reenter. With the exception of service animals, pets and animals were barred in the restaurant.
The following items were prohibited in Eiffel Tower and restaurant: weapons and munitions, explosives, flammable or volatile substances, bladed weapons, tools (such as cutters, screw drivers, pliers), too heavy, bulky or repulsive items, oversized luggage or bags, climbing or jumping gear (especially bungee jumping and parachutes), publicity materials of any kind, non foldable child buggies and strollers, glass bottles, beverage cans, an excessive amount of food or drink as determined by security agents. Should guests be denied entry with the objects there was no place to store them while they dined at the restaurant.
Date Of Review
November 2014
December 2013
December 2008
Reviewers Article by Elena del Valle
Photos by Gary Cox
Service Staff members were efficient and friendly without ever being intrusive. They went out of their way to assist us in English, describing the dishes and their ingredients as they presented them to us. We were well looked after during the entire meal. The easily procured a taxi at our request at the end of the meal.
Would You Dine Eat There Again-Recommend It? Yes
Contact Information
Address:

Tour Eiffel
Avenue Gustave Eiffel
75007 Paris
France

Phone:
Website: