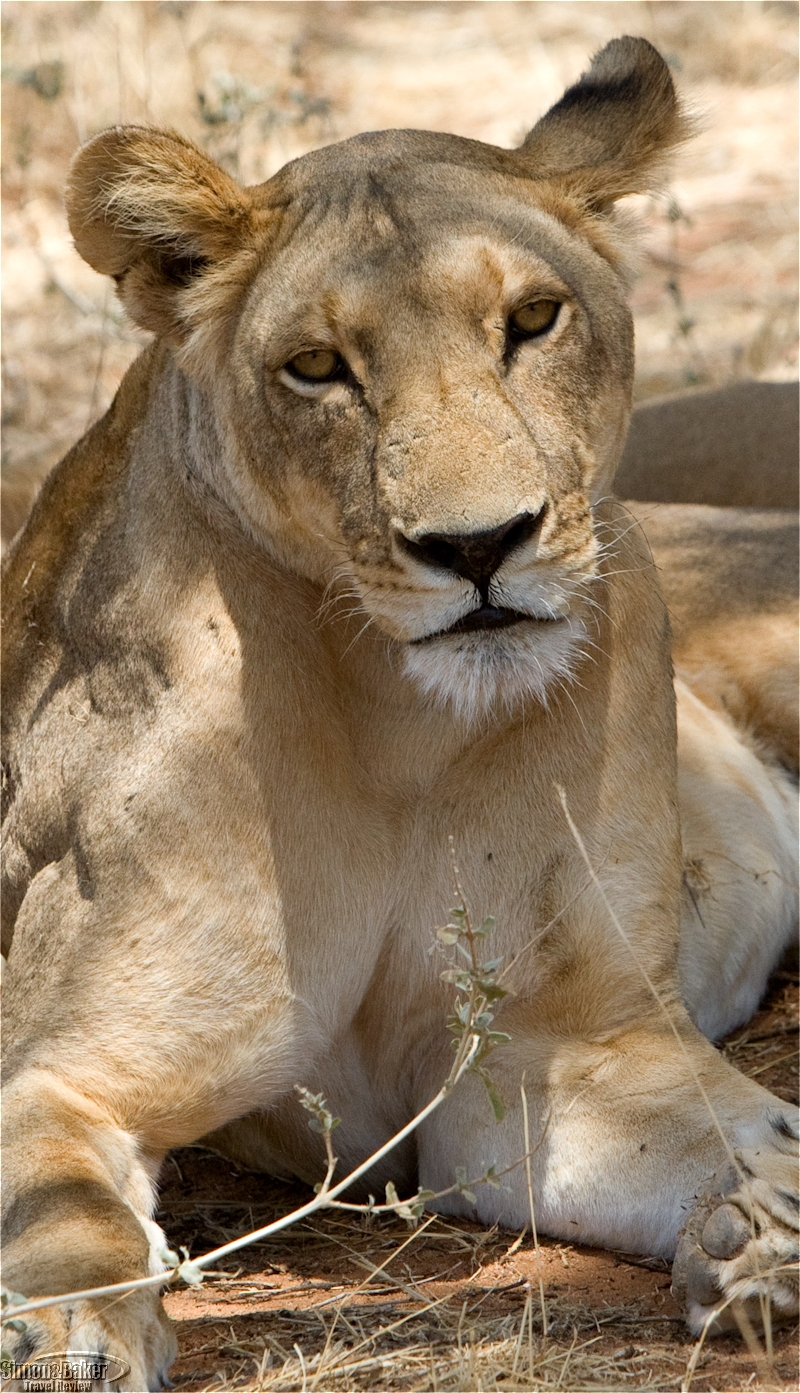 The camp's location within a national reserve and access to the nearby Samburu National Reserve made it a good game viewing venue.
Overall Impression
Named in honor of Joy Adamson, a well-known naturalist, artist and author, Joy's Camp is located in the Shaba National Reserve north of Nairobi. Joy wrote the famed book, Born Free, in which she describes her experiences raising a lion cub named Elsa. She raised a leopard named Penny and introduced her back into the wild. The camp was built near that location. Joy later wrote a book about this experience entitled The Queen of Shaba. The camp features photos and memorabilia from Joy Adamson in the common areas.
Set within the scenic Shaba National Reserve, Joy's Camp delivered dramatic views and generous wildlife sightings. Shaba means "bronze in color," a fitting description of the mountains and rocky escarpments that surround the large, rolling grassy plains of the camp. Animals visited a small knoll filled with trees close to the camp for water from a natural spring.
On arriving at Joy's Camp, Jules Binks, a gracious hostess acting as relief camp manager, greeted us with warm moist towels for our hands and a cold glass of fruit juice to cool our dry throats. After taking a short tour of the camp, we ended at our tent, where our bags were already waiting. The camp, conveniently laid out with a main gathering place in the center of two tented areas that extended outward from one another, was easy to navigate and pleasantly decorated.
Electric wire fencing surrounded the camp area, keeping some of the larger animals at bay; wildlife abounded within the camp. Small animals like dik-dik, squirrels and many birds found refuge there. A birdbath near the eating area attracted dozens of tame and relaxed birds, presenting wonderful photography opportunities. A few walking trails inside the wire fenced area provided places for us to stroll around the camp safely during the day. Several species of ground fowl and many species of birds chattered and darted about in the trees along these walking paths.
We enjoyed the game viewing, pretty and comfortable tented accommodations and meals at Joy's Camp. The camp's location within a national reserve and access to the nearby Samburu National Reserve made it a good game viewing venue.
Children
While the camp welcomed children of all ages and children five and under sharing were welcome gratis the staff recommended individual families opt for an exclusive use vehicle at extra cost if traveling with a child five years old or younger. The camp policy was to offer the option of early dinners and children's menus.
Class Of Accommodation Luxury tents with permanent platforms.
Connectivity The wireless Internet access was a satellite-based connection slower than DSL but faster than dial-up. Cell phone and data service coverage were available.
General Manager Jules Binks was the acting manager during our stay. Francien Van de Vijver and Willem Dolleman were the permanent managers of the camp.
Handicapped Access Yes, they were able to welcome handicapped guests if planned.
Length Of Stay Three nights.
Managed Cheli & Peacock
Owned Liz and Stefano Cheli
Size The ten tent property boundaries were inside ten acres of electric fencing within the fifty nine thousand acre Shaba National Reserve. There were thirty two staff, three rangers, and three guides.
Year Opened And Date Of Most Recent Renovation Opened August 2006. There had been no full renovation during the time since, but regular maintenance and upkeep kept the camp looking new.
Lobby And Common Areas
Four separate structures comprised the main common area at Joy's Camp. From the parking area, we first arrived at the camp office within a small two-sided building. A concrete floor supported one wall and two half-walls, displaying matted and framed artwork by Joy Adamson. The display featured some historical photographs of the artist. A canvas roof rose to a point in the center, covering and protecting the art and an assortment of potted plants and decorative ceramic pots from inclement weather. The building was open on two sides allowing a breeze to flow through. A large tree rose in the middle next to a wooden desk with deck chairs for new arrivals to rest during the welcome briefing. We sat here for a few minutes and relaxed as we learned about the camp, the general meal hours and bush drive schedules.
A short walk from the reception area revealed two buildings positioned together, with an open walkway between them. The covered dining area was on the left, supported by solid walls on two sides and uncovered on the remaining sides to the grassland that stretched out in front of a natural spring. A common gathering area where guests could relax with a cold drink from the bar and take in the view occupied the right hand side.
The dining area, like the reception building and gift shop, had a canvas roof that rose to a point in the middle. A large concrete slab formed the floor with a step down to a little garden. A flurry of brightly-colored birds at the birdbath entertained visitors during the day.
The gathering area mirrored the same design with open sides and canvas roof. The light airy white furniture cushions topped with bright gold and purple pillows evoked the exotic feel of India.
Bathroom
The bathroom in our tent was luxurious. Inlaid porcelain tiles in hues of soft cool grayish-green created a centerpiece for the rest of the warm rust concrete floor. The white stucco interior wall dividing the bathroom and sleeping area housed a double sink, modern in style. A mirror topped each sink on the wall with the same tiny wall inset lights that shone in the sleeping area. Simple white freestanding shelves provided plenty of space to store travel toiletries and clothes. A beautiful electric lantern cascaded over the sink area, dripping down from an iron arm with soft elegant curls.
The bathroom occupied the front of the tent, an atypical design. Canvas windows easily closed for privacy. A shower filled one end of the bathroom, just beyond a crinkled glass divider. The large rain shower provided seemingly limitless hot water for a refreshing shower. An unusual feature of this shower was an arced window looking into the sleeping area. The window permitted enjoying the view while showering. Vertical strands of colorful beads covered this window, refracting the sunlight as it cascaded through the tent. Next to the shower was a flushing toilet. Tiny lights inset into a stucco wall behind the toilet lit it up for an effective "night light."
The water pressure for the shower was good. Our tent had a dedicated solar hot-water tank heater. We enjoyed a satisfactory supply of hot water for our sink faucets and showers. The solar heated water was hottest in the afternoon or early evening.
Tent
The long, ambling gravel pathway to our tent meandered between dense leafy trees and brush, full of colorful chattering birds. The left side was a brushy, lightly forested area with foot paths to explore. The well-marked pathway was easy to see and follow. When we saw our tent, The Chief's Tent located to the left of the common area at the end of one of two tent rows, we felt little doubt that we were in Africa.
Our tent sat beneath a few large trees in the front, with the back facing the open grassland dotted with a few small brush trees. An old elephant skull which leaned against one of the tall trees greeted us as we approached our accommodations.
The tent itself was 24 feet by 26 feet, composed of canvas walls and roof, supported by a concrete slab base that extended past the canvas creating a cozy covered front and back porch. A few small palms added grace to the area huddled beside a short gravel pathway which led to the front door of our tent.
The colorful style found throughout camp was obvious before we even entered our tent. Arched windows in the canvas let light into the front. Alongside the front window was a large wooden door which led into an entry area just within the tent. From the first time we stepped into our tent, we loved the exotic colors and design.
The door opened into a small entry area with the comfortable king-sized bed located just around a corner. Dressed in crisp whites with accent colors of bright purple, gold, cobalt blue, and green silk, the bed faced the back of the tent, overlooking the open grassland beyond. A large bleached solid stucco wall formed a headboard, and divided the bathroom and sleeping areas. A massive white and cobalt canopy stretched over the bed cascading at the corners. Tiebacks held mosquito netting neatly back during the day.
Decoratively dyed concrete floors softened in key locations with woven rugs made the floor easy on the feet. Raised luggage storage to one side of the bed included open shelves and hanging space for clothing. We found this storage well placed and ample. A sizable cedar trunk sat at the base of the bed, providing more surface space for visitor storage. In the corner of the large sleeping space, a small double shelf housed a security safe and outlets for the charging station. A wooden desk and chair were on the opposite wall with an elegant modern light to brighten the corner.
Beautiful electric lanterns hung from scrolled iron hangers, one on each side of the bed. Small glass tiles set within the concrete floor lit up the room at the flip of a switch providing a generous amount of surrounding light. The main switch for the lights hung on a rope outside the front door. When we returned to our tent each evening, we simply turned on the lights before entering the tent. An array of tiny openings decoratively positioned within the interior stucco wall housed small lights, which shone through a crinkled glass. The lighting in this tent was inventive, dramatic and effective.
A zippered opening at the back of the tent led out onto a concrete patio with comfortable chairs for guests to enjoy a classic view of the Shaba Reserve savannah. Mountains formed a dramatic backdrop in the far distance between the short trees of the bush. Occasionally, giraffes and elephants drifted by in the distance, taking advantage of the natural spring. The nearby trees bustled with bird activity during the day. The nights were cool, dark and quiet, ideal for a restful night's sleep.
Meals
A buffet table positioned parallel to one of the solid walls of the tent featured breakfast treats in the mornings and an array of green salads, pasta salads, fresh fruits and breads at lunchtime. The staff repositioned the wooden dining tables within the space to allow different size groups. Cloth place mats topped with beaded chargers, goblets for ice water and cloth napkins completed the casual elegance of meals at Joy's Camp. For most of the meals, different groups of visitors ate at separate tables. Depending on the occupancy and disposition of the diners, the camp staff occasionally combined everyone into one table, a most enjoyable experience.
Joy's Camp served fresh salads, tasty pastas and South African wines. The staff tended a camp garden to supply fresh vegetables to the kitchen. Considering the remote location, the emphasis on freshness and quality ingredients made us take notice.
Meals at Joy's Camp were served at the folowing times: breakfast 6:30 a.m. to 9:30 a.m., lunch 1 p.m. to 2:30 p.m., afternoon tea at 4 p.m. and dinner 8 p.m. to 9:30 p.m.
We sat at our own table for meals except for one evening when we had a group dinner with camp staff and another couple. Lunch and breakfast were buffets, with drinks and hot dishes served by waiters. Dinner was served by waiters. Beer, house wines, coffee, tea and liquor were included with the accommodations. Premium drinks could be purchased for an additional fee.
Some of the menus we experienced were: for sundowner, beverages and chips; for breakfast, two types of cereal, milk, yogurt, fresh fruit (bananas, pineapple, watermelon, tree tomato, papa fruit, passion fruit), scrambled eggs, bacon, sausage, toast, fresh juice, omelet with onion, green pepper, cheese, and tomato. During a mobile breakfast on a game drive we had bacon, lettuce, tomato and flat bread sandwich, passion fruit, tree tomato, banana, pineapple, watermelon, sausage, eggs made to order, fresh juice, tea and coffee.
Lunch: One day there was mixed bean salad, fresh lettuce salad, fresh fruit salad with watermelon, mango, and cantaloupe, pasta salad, banana, cracker bread and cheese, and sautéed mushrooms. Another day there was tomato pasta, homemade rolls, filet steak and mushrooms, fresh garden salad, beats with orange and grapefruit, fresh lettuce salad, and lemon meringue pie.
Dinner: One night there were asparagus, sliced carrots, homemade rolls, baked chicken, baked potatoes, green beans, and apple pie. A second night we had homemade rolls, leek soup, baby corn, green beans, mash potatoes, steak filet, and caramelized custard. On another night there were homemade rolls, tomato pasta, pork chops, potatoes, carrots, green beans, cake and ice cream.
Amenities
Our room had complimentary mineral water, a combination safe for valuables, a charging station for camera batteries, bug spray, cotton balls, shower caps, natural organic rosemary honey soap, soap for clothes, hand moisturizer, Cinnebar Green conditioner, and shampoo, Cinnebar thyme body wash, terrycloth bath towels and face cloths.
Facilities Reception and dining tents with a shop and a pool.
Pool Around the corner from the common areas, a 6-foot deep, 40-foot by 15-foot pool sat next to a covered concrete pad. Six wooden lawn recliners topped with bright blue and white cushions provided seating. The pool area felt cozy and private thanks to a stone wall and the tree line that surrounded it on two sides. Large potted palms, gently rustling in the soft breeze, dotted the covered patio. On the other side, two cushioned recliners faced the open bush.
Shop A gift shop near the reception tent revealed the first hint of the camp's architecture. Inside the little shop, we found beaded jewelry, a small collection of Christmas ornaments, polo and T-shirts with the Joy's Camp logo on them, suede handbags, baseball caps, assorted colorful scarves, stylish hats, beaded table wear, and the shampoo and body products featured at the camp among other items. On request, camp staff aided guests with questions and purchases in the unattended shop.
Game Viewing
Animals we saw during our game drives: Baboon, Grevy's zebra, gerenuk, desert warthog, dwarf mongoose, black-backed jackal, buffalo, dik-dik, elephants, reticulated giraffe, impala, beisa oryx, waterbuck, rock hyrax, grant's gazelle, red headed agama lizard, lions, vervet monkeys, and hippo.
Birds we saw during our stay: Superb starling, white headed buffalo weaver, lilac breasted roller, yellow necked franklin bird, black faced sand grouse, black capped social weaver, go-away-bird, yellow necked spur fowl, eastern yellow billed horn bill, spar wing lap wing, sacred ibis, helmeted guinea fowl, Egyptian goose, greater painted snip, black crake, hammer cop, cattle egret, squacco heron, crested franklin, fisher starling, puff crested buster, Von der Decken's hornbill, fan tail raven, goshawk, Somali ostrich, white crowned lapwing, black faced sand grouse, Verreaux's eagle-owl, marshal eagle, vulturine guinea fowl, secretary bird, bateleur eagle, little bee eater, grey headed king fisher, marabou stork, tawny eagle, golden breasted starling, kori bustard.
We also saw naked mole rat dens and termite mounds.
Activities
We arrived at Joy's Camp in the early afternoon. A late lunch and time to relax suited both of us before our afternoon game drive. Thanks to the camp's location within the Shaba National Reserve we were able to see wildlife right away.
Shaba struck us as an unusually scenic reserve. Surrounded by mountains on all sides, the savannah, between undulating slightly rolling hills, was lit up by a desert-like sun. The park featured the animal species we expected to see on an African safari, except for the rhinoceros. There were elephants, buffalo, impala, Grant's gazelle and many bird species. Two special species occupied this park, found only north of the equator in Africa, Grevy's zebra and reticulated giraffe.
The roads in Shaba were sandy and at times dusty. We covered our cameras with clothes that we brought along. We found some of the animals of Shaba like the elephants to be shy. Unlike busier reserves, the wildlife in this reserve found vehicles alarming and would often leave quickly on our arrival.
Our guide took us to a natural spring where animals and birds gathered in great numbers. An enormous herd of buffalo was on the other side of the vivid blue water pools bunched together and facing us like a wall of menacing horns. The water pools teemed with wading birds of different species. When we left the little spring, the sun had nearly set, and it was time to head back to camp.
The next morning we arose early to visit a beautiful area of Shaba where huge rock formations cascaded down to the Ewasonyro River. Ewasonyro means brown. These massive rocks felt like rough sandpaper to the touch. Our guide took us walking across these rocks which were steep in areas. Both of us wore good quality hiking shoes. Fortunately, neither of us fear heights, as this hike took us along precarious places. The river meandered beneath us as we walked along its banks. Towering palm trees grew, scattered on a beach of sorts, by the river. When we arrived at the sandy river edge, breakfast was waiting for us, with our vehicle.
We ate an elegant breakfast prepared for us right on the river's edge. Fresh fruits, cereals and eggs cooked to order served as we sat at the riverside at a table set with all the trimmings. The hike had given us both a good appetite and we enjoyed the bush breakfast.
Later the same day we set out on a game drive around the Shaba Reserve. Shaba didn't disappoint, revealing all kinds of wildlife. The Grevy zebras put on the best show, allowing us to drive right in the middle of a herd and enjoy their antics.
Other sightings in Shaba included a secretary bird, cory bustard, reticulated giraffes, many impala, Grant's gazelles, several species of horn bills, dik-dik, and a personal favorite, a herd of lovely oryx. Because some of the animals of Shaba were shy needing a distance from our vehicle to be comfortable, photography was a challenge.
On our last full day at Joy's Camp, we drove through Shaba Reserve to the famed Samburu National Reserve. A tiny Samburu tribal village separated the two.
Immediately after passing through the gate into the park we noticed the Samburu Reserve was teeming with wildlife. In contrast to Shaba, the wildlife appeared relaxed around our vehicle. Photographic opportunities abounded in this park.
We passed a troop of baboons and a large group of vulturine guinea fowl almost inside the park boundaries. A stunning amaga lizard with his mate and baby were sunning on a stone wall together. A pride of female lions slept nearby enjoying the shade of a large tree. Wart hogs, giraffe, countless birds, waterbuck, impala, Grant's gazelle were actively grazing, romping or resting in the park. An enormous herd of oryx drifted gracefully along in an open veldt. We spent some time sitting and watching them, eventually they drifted close to our vehicle. One lone male bushbuck stood mixed into the large herd, standing out like a beacon. The oryx didn't mind his presence.
Further along on our drive, our guide took us to a river's edge for lunch. Elephants swayed back and forth in the cool shade of a few large trees at the river's edge. A tiny baby nestled between the massive front tree-trunk legs of his mother, acting as baby animals often do in a charming display of antics. Grevy's zebras, impala, Grant's gazelle, giraffe, gerenuk, wart hogs and countless other animal species gathered there, peacefully sharing space and grazing in a "classic" African scene.
Across the river, a large herd of elephants strolled in as we enjoyed our lunch. The herd drank and played in the water. In trees in front of us on our side of the river, a little bee-eater entertained us with aerial acrobatics. A gray-headed kingfisher perched on a nearby branch awaiting an opportunity for dinner to swim by while crocodiles waited patiently on the river's edge below, and a marabou stork landed on a sandbar also hoping to earn lunch.
As we ambled back towards camp, we discovered many other species. The Samburu Reserve was a highlight of our visit to Joy's Camp. Our visit to the park reminded us of a wildlife lover's dream.
Joy's Camp had four safari vehicles and one pickup truck for transport. Our game drives were in Toyota land cruisers with open sides and a covered top. Our well kept vehicle had a capacity of six people and two guides.
On our first game drive, we had two staff, including a driver and guide named Eric Lemalo and a helper named Nemrod. Eric remained our guide (and sometimes driver) during our stay at the property. He had three years of experience with Cheli & Peacock and two years of experience as a guide. Eric and two armed park rangers, one of them named Ibrahim, escorted us on our bush walk. Our guides were knowledgeable, competent and friendly. Our guides provided safety instructions and explained what we were seeing during our game drives. They offered us water, sodas, juices, beer or wine and potato chips and other snacks while on game drives.
We went on game drives during the following times 6:30 a.m. to 11:30 a.m., 4:30 p.m. to 7 p.m.
and 6:30 a.m. to 7 p.m. Normally game drives in Shaba started at 6:30 am and 4:30 pm. The trip to Samburu started at 6:30 am and including the return drive to the camp continued until 7 p.m.
Other
At a 4000 foot elevation, dry, pleasant air accompanied temperatures that were warm during the afternoon and cool after the sun retired. We faced few insects while in Shaba Reserve and almost none at this camp.
There was 240 volts AC 50-cycle power available in the room between 7 a.m. and 10 a.m., and between 7 p.m. and 10 p.m. We could not hear the generator running during our stay. The charging station in our room provided 240 volts AC power in our room with various plugs. We used the charging station to charge our camera and computer batteries.
Each room had its own solar panel which produced electricity and stored it to power electric lighting in the room night and day.
The sink, shower and toilet water were from a shallow well sourced from a nearby local spring. All drinking water, in our rooms and at meals, was complimentary bottled mineral water. The staff drank the well water, but advised guests against drinking it.
The property was a 2011 and 2012 Finalist for Best Safari Property in East Africa from The Good Safari Guide. Joy's Camp was recipient of the Silver Eco-rating Certification from the Kenya government in 2010 and 2011.
In 2011, Cheli & Peacock partnered with the Northern Rangelands Trust (NRT) and their new initiative, the Nakuprat-Gotu Wildlife Conservancy.
Cleanliness
Excellent
Date Of Last Visit September 2012.
Reviewers Article and Photographs by Chester Godsy and Joni Johnson-Godsy
Service The service was excellent. Our room was serviced three times per day. Jules Binks always checked in with us when we returned from game drives or from our tent to make sure everything was going smoothly. When we visited the common areas, a senior guide named George originally from Zimbabwe provided information about the local wildlife.
In the mornings, someone walked by at our tent to wake us up. Staff escorted us at night for safety. During day light hours we could walk unescorted.
Would You Stay Again? Yes.
Contact Information
Address:
Postal:
Cheli & Peacock
P.O. Box 743
00517 Uhuru Gardens
Nairobi, Kenya
Phone:
Fax:
Website:
Email: