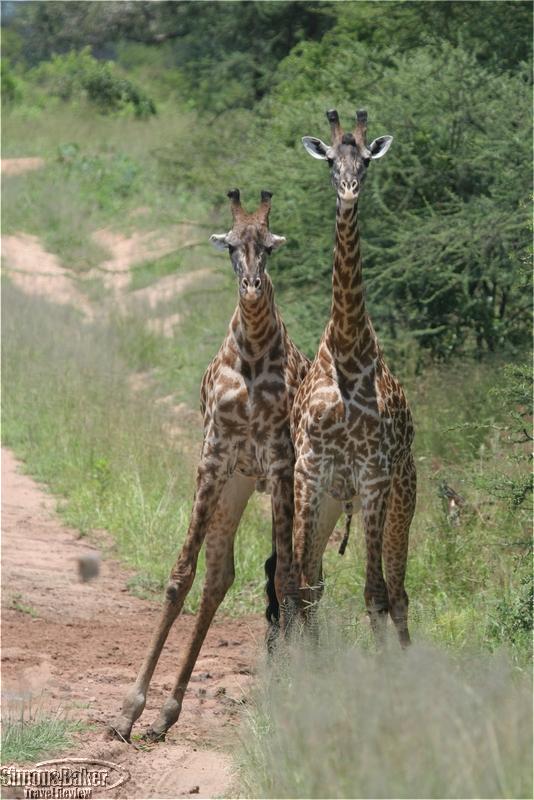 We loved Jongomero's rustic elegance, riverfront location, soothing river sounds, spacious and comfortable tent accommodations, tasty meals and friendly and efficient staff.
Overall Impression
We found Jongomero, named for the He He tribe's word
zongomero
which means great wilderness, in a remote corner of Ruaha National Park, one of Tanzania's fenceless parks dedicated exclusively to game viewing. Described as the "ultimate wilderness" by property manager Greg du Toit, the small luxury tented camp was perched on the edge of the Sand River. Since there were no other camps for many miles, Jongomero guests enjoyed almost exclusive access to that part of Ruaha.
From a lodging point of view Jongomero offered a private and quiet location shared only with a small group o fcamp guests, an attractive riverfront setting, large and attractive bush tents with creature comforts such as hot water showers, and gourmet style meals served at the table, pleasant game viewing, excellent birding, and a nature friendly philosophy.
In spite of unseasonable copious quantities of rain, we were able to squeeze in some game viewing in between the overcast skies and showers. We loved Jongomero's rustic elegance, riverfront location, soothing river sounds, spacious and comfortable tent accommodations, tasty meals and friendly and efficient staff.
Camp Managers
South Africans Claire and Greg du Toit, who had six and 11 years respectively of bush management experience, were in charge of Jongomero. Prior to arriving in Tanzania they worked in game viewing properties in Botswana, Kenya and South Africa.
Class Of Accommodation Luxury bush tents
General Manager Craig Harebottle
Handicapped Access Not wheelchair accessible
Length Of Stay Two nights
Location In the Ruaha National Park in Tanzania
Owned-Managed Charles Dobie
Size There were eight tents and 30 staff including three guides in the three hectare property.
Year Opened-Renovated The camp was established in 2003
Lobby And Common Areas
The décor was subtle with safari elements, neutral colors and an emphasis on comfort. Large common areas for leisure enhanced the ambiance. As arriving guests we immediately liked the attractive living and bar area, the first common area we visited. High ceilings, thatched roofs, cushy furniture and open spaces all enhanced the bush ambiance while providing a shady, secure comfort zone. The adjacent river facing dining area was equally appealing. From our corner table we had a river vista and frequently saw a multitude of pretty birds frolicking in nearby trees and bushes. When the weather cleared up our camp staff set up a pleasant group lunch on the banks of the Sand River.
There were two sculptures by Rob Glenn, one of three giraffes and another of a buffalo.
Bathroom A fold in the tent divided the bedroom and bathroom areas of the tent. The spacious bathroom occupied the rear corner of the tent. It had a pretty wood countertop vanity with twin steel sinks, flush toilet, wall wood shelf with hanging space and large shower with a wood bench. In one corner there was a wicker chair. Hot water was available thanks to solar powered heaters. Although these were most effective during cloudless days, there was always warm water during our stay in spite of cloudy and rainy weather throughout our whole visit.
Room
Our 800 square foot (6 meters wide x 10 meters long x 3.5 meters high) river facing luxury tent (Number 6) was slightly off the ground. It was spacious and well furnished featuring smooth wood floors. Two rustic style twin beds, dressed with duvet covers and framed by side night tables, occupied the center of the tent. There was a desk and director's chair in a corner. On the other side there was a faux leather armchair. White privacy curtains we could open or close hung all around the interior of the tent.
An oversize zippered screen door led to an inviting covered deck that faced the Sand River. To one side there was a wide lounge chair for two with a thick cushion bottom and two extra large cushions. On the other side there were two canvas lounge chairs and a wood table.
We preferred to be out and about game viewing during our visit to Jongomero. But if there were heavy rains our tent was an agreeable place to spend our leisure time.
Meals
With one exception, during our visit, each party of guests had meals at their own table. This allowed us to enjoy the company of fellow guests on the shared game vehicles during morning and afternoon drives and at the cocktail hour while remaining free to quietly take pleasure in our savory meals.
The Jongomero dining room staff stood out for their helpful and attentive service and pleasant demeanor. For lunch we had spicy fish cakes, tomato and bacon salad and potato salad with fruit salad for dessert one day. The second day we had chicken satay with peanut sauce, tomato, green pepper, and cabbage salad with apple tart for dessert. Dinner was slightly more elaborate. One evening the chef prepared Moroccan lamb and peas.
We were pleasantly surprised to discover a modest selection of wines from South Africa and France available for purchase including six whites, one rose, and one sparkling wine. These ranged in price from $25 to $70. There were eight red wines including a well known Meerlust Rubicon for $65 and a Chateax neuf du Pape Domaine Mathieu 2001 for $75.
Amenities
All meals and snacks, twice daily game viewing, bottled water, shampoo, shower gel and soap.
Facilities There was a swimming pool, bar and indoor dining area.
Pool An elevated anti-hippo pool near the entrance of the camp had a striking view of the Sand River. There were lounge chairs with towels for guest use as well as shady and a sunny spots poolside.
Game Viewing
Weather permitting; we met at 4 pm for the afternoon game drive which lasted about two and one half hours. A driver and guide accompanied each group in comfortable open vehicles. These had a canvas cover and side panels that could be lowered when it rained.
Jongomero was at the time of our visit the only camp in Ruaha authorized by the park service to make its own tracks (although that area was impassible during our visit due to the rains). There were three guides on site. Our assigned guide was Priscus. Vehicles were assigned a maximum of six guests.
We saw dik dik, elephant, giraffe, impala, water monitor lizard, lion, leopard, zebra and Nile crocodile.
Birds we saw in order of appearance: white-winged widowbird, fork tailed drongo, sand grouse, grey lourie, hadida ibis, helmeted guinea fowl, slate colored bou bou, paradise whydah, emerald spotted dove, grey headed sparrow, African harrier hawk, coucal, African houp, woodland kingfisher, firefinch, African grey hornbill, Meyer brown parrot, bateleur (eagle), broad-billed roller, yellow-breasted apalis,
Activities Other than lounging poolside, board games, bird spotting, and reading, game drives were the only activities available during our visit. At other times of the year fly camping and escorted walks were possible.
Curios
A few souvenir and utilitarian items were available for guest purchase including branded T-shirts, batteries, and books.
Other The water in our tent was from a bore hole (well). It was filter cleaned twice and was potable. Although bottled water was available on request, we were encouraged to drink the chilled filtered water the camp staff supplied in a thermos to keep recycling bottles to a minimum.
On our second day at Jongomero we received a small lined notebook each with a personalized note from the staff. The notebook was made by deaf artisans at the Neema Crafts workshop in the town of Iringa.
Cleanliness
Good
Date Of Last Visit February 2007
ReviewersArticle by Elena del Valle
Photos by Gary Cox
Service Our tent was serviced twice daily, a morning cleaning and an evening turn down service. Our server in the dining room was helpful, friendly and courteous. Priscus was patient, knowledgeable and always willing to stop at our request.
Would You Stay Again? Yes
Contact Information
Address:
Main office
The Selous Safari Company
P.O. Box 1192
Dar es Salaam
Tanzania
Phone:
+ 255 22 2128485
+ 255 22 2134802
Fax:
Website:
Email: