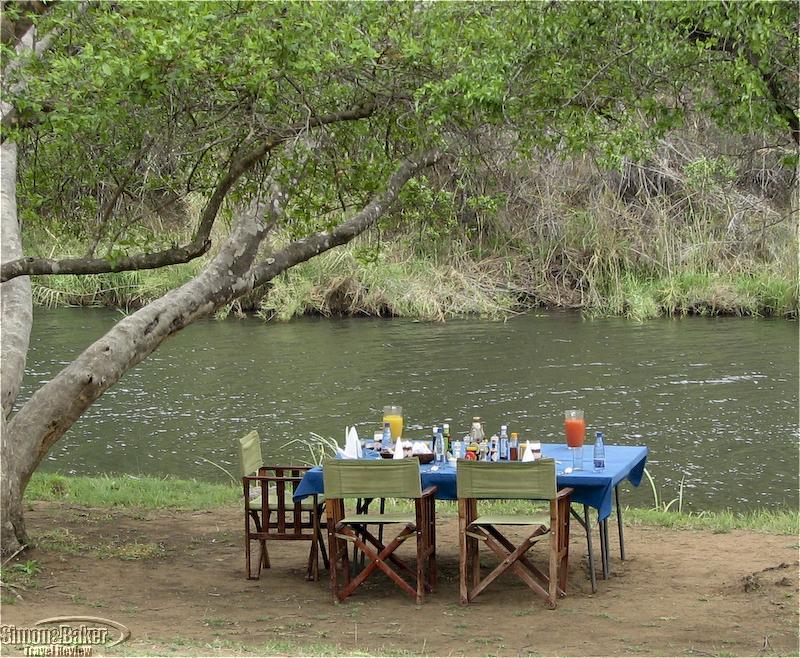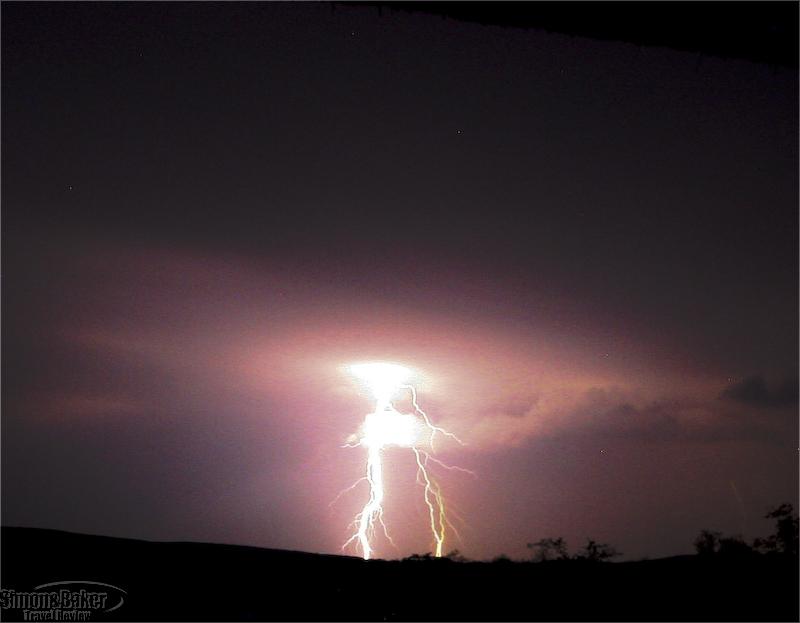 The house with three resident dogs, Toffee (the Jack Russell terrier), Fudge and Igor (a mastiff and border collie respectively), had an intangible quality that made us feel instantly at home.
Overall Impression
A short drive from Johannesburg led us to shady parking in front of Jembisa Lodge where Ané Van Schalkwyk and Steven and Jane Leonard, the executive staff of the property, greeted us warmly late one afternoon. From the parking area we crossed a courtyard to reach the entrance to the north facing house. After a day in the city and a flat tire on the way we were eager to get back to the bush. While Ané showed us around the house and gardens, we discussed our activities preferences with Steven, our guide; then they left to prepare for our evening outing and we sat down to a well anticipated late lunch.
We quickly settled down in our suites and were on our first game drive in time to catch the sunset in the amiable company of Steven and Toffee, a feisty and friendly Jack Russell terrier. We appreciated the bush setting without elephants or lions that allowed us to walk on the grounds at our leisure. Although there were leopards in the area, none had been spotted at the reserve in a while. There were white rhino and we encountered two during a morning game drive, although they were not a danger to guests we were told. At Jembisa, we were able to appreciate the bush itself including birds, plants and insects that often remain behind the scenes at Big Five properties because of the emphasis on predators and large mammals. With Steven's guidance we took time to observe butterflies, lizards, many birds and insects as well as spotting bigger species.
We throughly enjoyed our stay at this six-bedroom exclusive use home away from home in the South African bush. The stand alone house was everything we expected and more. Owned by, and the former home of, a British family for five years, Jembisa (a word created from the family names) had all the conveniences we like: pleasant rooms, spacious and varied common areas where we could relax, friendly and attentive staff, savory comfort food, thoughtful details like fresh flowers, turn down candy, scented elegant toiletries and thought provoking bush experiences. The house with three resident dogs, Toffee (the Jack Russell terrier), Fudge and Igor (a mastiff and border collie respectively), had an intangible quality that made us feel instantly at home.
Children
Since the house was rented for a single party at a time children of all ages were welcome.
Class Of Accommodation Luxury rental African bush home
Connectivity There was no Internet access within the house.
General Manager Ané Van Schalkwyk
Handicapped Access No. It was necessary to climb stairs from the ground floor to reach the bedrooms on the first floor.
Length Of Stay Three nights
Location In the Palala River Reserve in Waterberg area of South Africa.
Owned And Managed Charles Whitbread and Jane Whitbread
Pets Allowed No
Size The five-bedroom house with room for up to 14 guests (10 adults and four children) was on a 3,000 hectare private reserve. Seventeen staff worked on the property. Although the Jembisa reserve was also home to several self catering rental houses capable of hosting a total of 20 people, the area near the house was reserved for Jembisa guest use exclusively.
Year Opened-Renovated The house was built in 1997 as a private home. In 2004, it opened to the public as a luxury rental single group property. Renovations were on going.
Lobby And Common Areas
The spacious two-story stone and thatched roof Afro-colonial house was divided into kitchen, living and dining areas downstairs and sleeping quarters upstairs. Downstairs, the living and dining area was immediately next to the entrance with a large fireplace in between the two. A wood dining room table with seating for six occupied the right side of the room and a living area occupied the left side of the room. There was a small piano against the wall in the dining room. Framed oil paintings and African artifacts of different sizes and motifs hung on many of the downstairs walls. To the left, the living area housed two comfortable looking beige sofas, a coffee table and two dark colored armchairs. A CD player and CDs sat informally in the corner of the living area underneath the stairs.
To the right, past the dining room, the kitchen area was reserved for the staff. In that section, there was also a convenient half bathroom and a breakfast room with a view of the garden and pool. To the left of the living room there was a children's playroom with a ping pong table in the middle. A small sitting room was adjacent to the playroom and next to it there was a library well stocked with Africa books (there was a musty odor in the library), a television and DVD player.
Floor to ceiling double glass and wood doors in the living and dining areas led to a thatch covered deck with terrazzo flooring which quickly became our favorite part of the house. It was home to a set of well used wicker furniture consisting of two sofas, a love seat, three armchairs with cushions and several tables. A gentle breeze and the occasional gust of wind kept the temperature pleasant most of the time we were there, even at night. The dogs too seemed to favor this area and often came to greet us and spend time with us while we were seated there. They did not venture upstairs.
A garden spread beyond the terrace and led, on the right, to a pool area with a view of the bush. There were seven cushioned wood lounge chairs surrounding the pool and two large metal giraffe sculptures nearby.
Inside, two creaky wood stairs, one to the right and another to the left of the entrance, led to bedroom areas on the first floor of the building. Each side of the house had three bedrooms. The two bedrooms we stayed in, each in a corner of the house, had views to the gardens and pool. Our bedroom each had double glass and wood doors that opened onto a small bush and pool facing terrace. Each bed had a duvet as well as fluffy and firm feather pillows. Patterned curtains covered the double doors and many windows at night, allowing in the refreshing breeze while providing privacy within. There was a ceiling fan above the beds, a small individual fan on the night table and a space heater to control the temperature indoors. Thanks to the many windows our rooms had ample sunlight. Also when it was hot out, the interior of the building remained cooler than the exterior temperatures.
Bathroom
Master bathroom one: The focus of the bathroom was a window side bathtub with a green tile base. Against the left wall there were twin sinks. The toilet was in the corner in front of the bathtub and a shower with a glass door took up the space to the right of the entrance door.
Master bathroom two: A bathtub set on a wood and tile base was set against the window. Across from the tub were twin sinks atop a wood base and wood cabinets. Matching wood framed rectangular mirrors hung on the wall above the sinks.
Room Master bedroom one: The master bedroom where I stayed was on the right side of the house. To reach it I turned left at the top of the stairs and walked to the end of the hallway. An initial door led to a dressing area with ample built-in closet space and a safe. Beyond it there was a bathroom. Then came the bedroom area. The room faced the pool and gardens and bush beyond. It had khaki wall to wall carpeting and was decorated in shades of white. A four poster king bed framed by identical night tables and a divan at its base occupied the center of the room. At night the staff would drop mosquito netting to encircle the bed. A swiveling upright mirror on a wood frame stood in the corner of the room.
Master bedroom two: There was a second master bedroom in a mirror position from the first master bedroom on the opposite side of the house. A king bed against a cushy flower patterned headboard and framed by matching wood night tables was in the middle of the room. A wood bench with two cushions sat at the foot of the bed. At night, mosquito netting hung from the ceiling and was pulled over the bed and night tables. A closet cabinet stood in the right side of the room against the corner and next to a luggage rack. The other corner on the same side was occupied by a wood vanity set with an armless cushioned chair, table and wide rectangular framed mirror. There was a decorative fireplace on one side of the room.
Food Staff endeavored to make meal times special. In addition to well set tables they rotated our meal location, seating us on the terrace one time, in the garden another, by the pool thatch, and on the deck. Our first meal at Jembisa was a buffet style lunch for the two of us: baked chicken, vegetable wraps, salad, fresh made rolls (served warm at every meal) and chocolate mouse. Senior staff took turns sharing meals with us. A plated dinner was served next to a lively fire in the garden boma. We had soup, beef fillet with butternut squash, eggplant, mushroom and a vegetable hash. For dessert there were poached pears with vanilla ice cream. There were pinotage and cabernet sauvignon wines to accompany the meals. Lunch the second day was under the thatch area next to the pool with a view of the bush in the background; we had macaroni and cheese, stewed kudu chunks and salad with panacotta and berries for dessert. A chilled South Africa rose went well with the meal. Dinner was beef carpaccio with salad and fried cheese followed by baked kingclip and strawberry pancake for dessert.
Amenities
There were travel size Charlotte Rhys toiletries (shampoo, bath gel, body lotion, room deodorizer, and soap), cotton bathrobes, a safe and complimentary water. Game drives and walks were included in the daily rates.
Pool The pool, set a short distance from the house facing the bush, was 25 square meters large; 0.5 meter deep in the shallow end and 1.5 meters at the deep end.
Game Drives
Since we were the only guests we had the wonderful luxury of deciding our departure time for game drives. The absence of predators meant we could depart slightly later on the morning game drives (7 a.m. versus 6 a.m.) than when we stayed at Big Five properties. Drives lasted about three hours although sometimes they went longer. For example, one morning we went out at 8 a.m. (the previous evening we had gone out on a night drive and returned past 11 p.m.) and returned at 1 p.m. following a very pleasant riverfront bush breakfast; the staff surprised us with the bush breakfast at the end of our morning game drive.
Steven, the reserve manager, was a young and enthusiastic man. He was very accommodating to our interests and preferences. We drove around bumpy gravel roads on a Land Rover looking for bush experiences, stopping for everything and anything that caught his or our attention. Toffee accompanied us on the game drives, getting on and off the vehicle and on and off our laps and the front seat of the 4 x 4 with experienced ease.
Animals we saw during our visit: vervet monkey, waterbuck, giraffe, genet, eland, scrub hare, impala, baboon, African black duck, kudu, bushbuck, wildebeest, zebra, warthog, duiker, white rhino, rock monitor, blue tailed lizard, ground agama, tree agama, leopard tortoise, plated lizard, and Nile crocodile.
Birds we saw or heard: chinspot batis, black headed oriole, African hoopoe, harmkop, Natal and crested francolins, helmeted guineafowl, emerald-spotted wood and red-eyed doves, Wahlberg's and brown snake eagles, pied and brown hooded kingfishers, blacksmith plover, spurwing goose, lilac breasted and purple rollers, black collared barbet, lazy cisticola, southern boubou, lesser striped and European swallows, Egyptian goose, cattle egret, black flycatcher, red crested cuckoo, Cape glossy and plum starlings, sabota and rufus naped larks, marico sunbird, puff back, rock pigeon, red crested korhaan, red headed and masked weavers, white browed scrub robin, golden breasted bunting, wattled and crowned lapwings, fork tailed drongo, and black sparrow hawk.
Plants, trees and insets: gardenia bush (in the garden), marula tree, raisin bush, velvet bush willow, acacia sweethorn; and velvet mite, ant lion (larva and adult), trap door and sun spiders, longhorn, click and dung beetles, emerald, mopane and whitewinged atlas moths, guineafowl, white cloaked skipper, swordtail, and yellow pansy butterflies.
Activities For those inclined to enjoy the bush setting Jembisa offered morning, afternoon and evening game drives. It was also possible to go on independent and guided bush walks. In inclement weather (we enjoyed a marvelous thunder storm one evening) or if we just felt like it there was television, reading, sun bathing, contemplating nature and swimming. A local masseuse was available for on site massages and guests could play tennis on the onsite tennis courts.
Curios
Some souvenirs were available for purchase in the office: branded Jembisa clothing, children's t-shirts and clothing, South African jewelry and crafts such as beaded belts and sandals.
Other The property relied on municipal electricity and had back up generators for the water pumps in case of power outages. There was a power outage while we were there and the staff were well prepared for it; it was only a very minor inconvenience for us. Water was from a borehole and sewage went to a septic tank.
We appreciated that the Jembisa owners and staff were involved in community projects. The Waterberg Welfare Society (WWS), an HIV/Aids organisation supporting those infected and affected by HIV/Aids in the Waterberg area, was started by Jane Whitbread in 2000. It has since grown to encompass many areas of HIV support such as pre-school, counseling, treatment and drop-in centers, as well as a hospice. Jembisa and the Whitbread family support the organization on an on going basis. Jane is chairman of the Waterberg Welfare Society trust, a United Kingdom based trust that supports WWS. Some guests at Jembisa have been able to visit the WWS pre-school, and the youth and visitor centers.
Jembisa supported several local schools and invited guests to bring small items with them to Jembisa such as crayons, rulers, books, paints, and footballs to take with them if they visit the schools. The property owners allowed cropping of reeds from the river beds for construction, thatching grass and firewood on Jembisa land for use by local communities. Jembisa also provided staff training for skill development and education on full or 50 percent bursaries, allowing existent staff to eventually work in positions they trained for through the program.
The Jembisa owners supported good management, husbandry and development of the ecology. A land management and development plan was drawn up the help of Dr Faanie Venter to provide protection of fragile eco-systems, and management of the flora and fauna on the reserve, archaeological site protection and river management. Jembisa is a member of the Waterberg Nature Conservancy which is committed to sustainably using and protecting the entire region.
Cleanliness
Very good
Date Of Review October 2009
Reviewers Article by Elena del Valle
Photographs by Gary Cox
Service We had opportunity to meet several staff members: Ané Van Der Merwe; Steven Leonard, reserve manager; Jane Leonard, assistant lodge manager; David Kekane, chef; and Cliff Sebola and Thomas Ngomane, waiters. Staff were helpful, friendly and always seemed to be there when we needed something. The rooms were serviced twice a day.
Would You Stay There Again? Yes
Contact Information
Address:
P.O. Box 162
Vaalwater 0530
Limpopo Province
South Africa
Phone:
Fax:
Website:
Email: