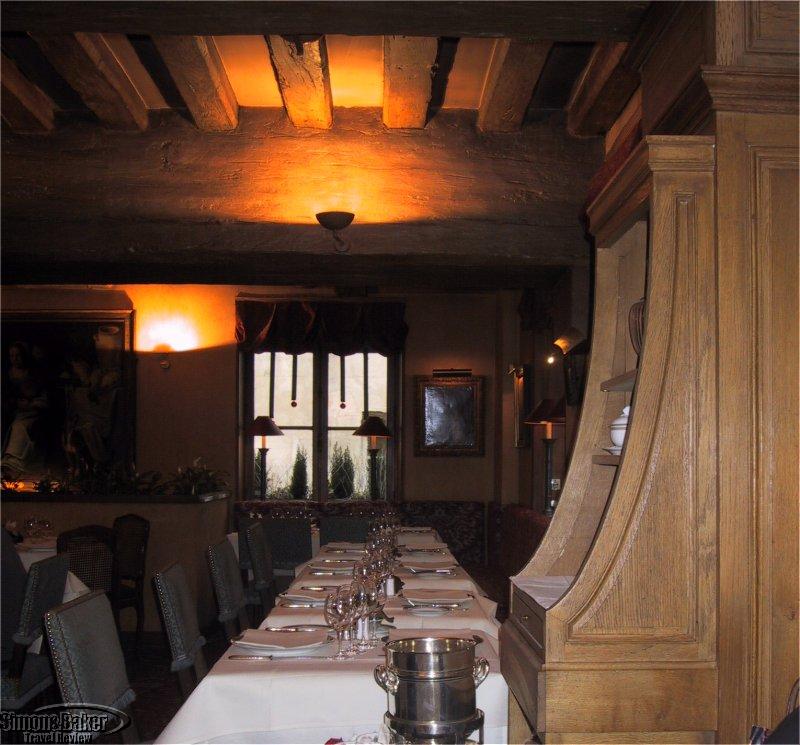 We will return to Jacques Cagna the next time we are in the Latin Quarter.
Overall Impression
We wound our way on foot from our nearby Latin Quarter rental apartment through the cobblestone street of one of the oldest parts of the city to meet friends for lunch at a neighborhood restaurant, Jacques Cagna. Although it was a short walk and we found the restaurant easily, it was cold and by the time we reached Jacques Cagna we were ready to be in doors. Walking in from the freezing cold on a gray Parisian winter day we were thankful for the warm welcome and English friendly attitude.
Once inside, we gladly surrendered our heavy winter coats and followed the server to our table, climbing up old stairs to the cozy main dining room. The room was bright with beautifully set tables and windows all around. It must be even more attractive during the sunnier times of the year. One of the most notable features was the exposed ceiling with wood beams which confirmed its status as a venerable Latin Quarter building.
Lunch was a pleasant affair. We all ordered the set menu and shared a bottle or two of Bacchus' favorite drink to accompany the meal. The rustic, historic family restaurant was a good place to enjoy a quiet meal among friends. We will return to Jacques Cagna the next time we are in the Latin Quarter.
About The Executive Chef
A native of Nice, Chef Cagna who specializes in sauces, inherited his love of cooking from his grandmother. He began his training at Le Meurice and later moved on to Lucas Carton. His first restaurant venture, with his wife's collaboration, was in the 17 arrrondisement. Later they relocated to the current Latin Quarter location.
Chef De Cuisine Jacques Ruivo since 1998
Executive Chef Jacques Cagna
Handicapped Access There was a dining room on the ground floor
Head Sommelier Ph Agatensi since 2004
Location In an old and narrow street of the Latin Quarter a block away from the Seine River
Opened-Renovated Established in 1975
Owned and managed Jacques Cagna and his sister Annie Logereau
Pastry Chef Kaoru Kuroki since 2001
Restaurant Manager Pierre Longueville since 1986
Size The restaurant could seat about 50 people in the main dining-room, 12 in the first lounge and five in the second lounge.
Type Of Restaurant Classical French cooking with modern touches, seasonal specialties
DÉCor-Ambiance The restaurant is located in a historic building in the Latin Quarter, one of the oldest and most picturesque areas of Paris, in a narrow street off St Germain des Prés. Highlights included exposed big oak beams and a collection of 17 century Flemish paintings. Mustard colored walls and red carpeting added warmth to the attractive dining room. We especially appreciated the cushy seats.
Cellars Wine And Alcoholic Beverage Selection
Although Jacques Cagna's wine menu offered a broad range of options, affordable wines were rare. Finding a bottle of wine for less than 100 euros was difficult. This meant if we wanted to enjoy our meal with wine, our cost for lunch would easily double in price. Jacques Cagna housed about 450 different wines on the wine list and about 35,000 bottles in the cellar. Restaurant representatives emphasized the old Bordeaux and Burgundy collections. We noticed a variety of bottles of cognac and after dinner drinks on shelves around the dining room
Special Menus Lunch for 42 euros offering one appetizer, one main course and a dessert from a choice of three in each category. There was also a 90 euro menu.
Meal We had three options for each course of our business lunch menu: From the appetizer options we sampled the lobster omelet ( L'Omelette "Curnonsky" salpicon et bisque de homard ) and the duck liver raviolis ( Raviolis de foie gras, emulsion de champignons ). We ordered the rabbit ( Ballottine et aspic de lapin du Poitou, chutney de cornichons ) but although we arrived just after opening they had run out. From the three main course options we opted for the veal (Onglet de veau, petits legumes confits, sauce porto) and quail ( Caille rotie et fume par nos soins, pain grille et foie gras ). Dessert followed: Rum sponge cake ( Le baba au rhum ) and warm apple slices with spiced ice cream. We accompanied the meal with a bottle of Moet Chandon champagne and a bottle of 2000 Pomerol. We completed the meal with espresso coffees, herbal tea from famous tea purveyors Mariage Freres and sweets ( mignardises ).
Other As many other gastronomic chefs, Jacques Cagna owns two less expensive restaurants near his namesake restaurant, La Rôtisserie d'en Face and L'Espadon bleu. The Restaurant's bilingual website included a video preview for high and low speed Internet visitors and invited visitors to book online.
Date Of Review
December 2005
Ease Of Making Reservations We made reservations a couple of days in advance and were able to secure a table for five without difficulty. When we arrived at the restaurant, there was plenty of room in the dining room.
Reviewers Article by Elena del Valle
Photos by Gary Cox
Service Staff were professional, patient, English speaking, accommodating and tolerant of our American style group. We left with the impression they were accustomed to and frequently welcomed Anglophone guests.
Would You Dine There Again-Recommend It? Yes
Contact Information
Address:
14 rue des grands Augustins
75006 Paris
Phone:
Fax: