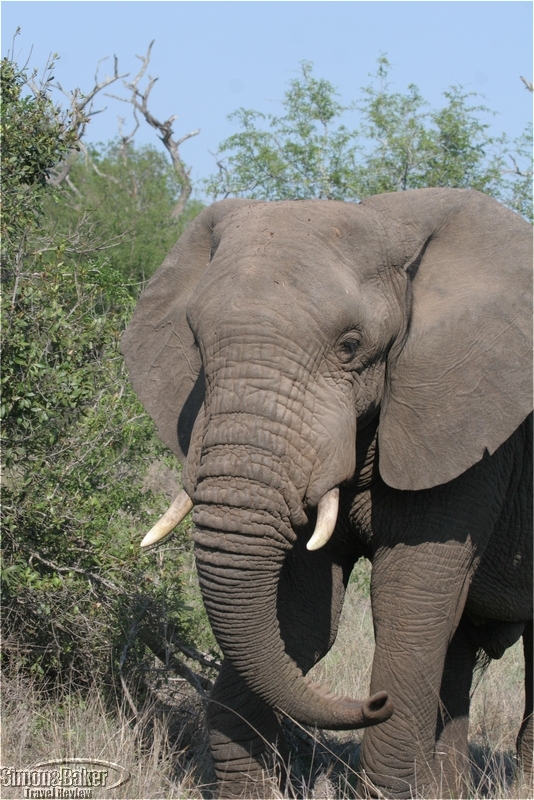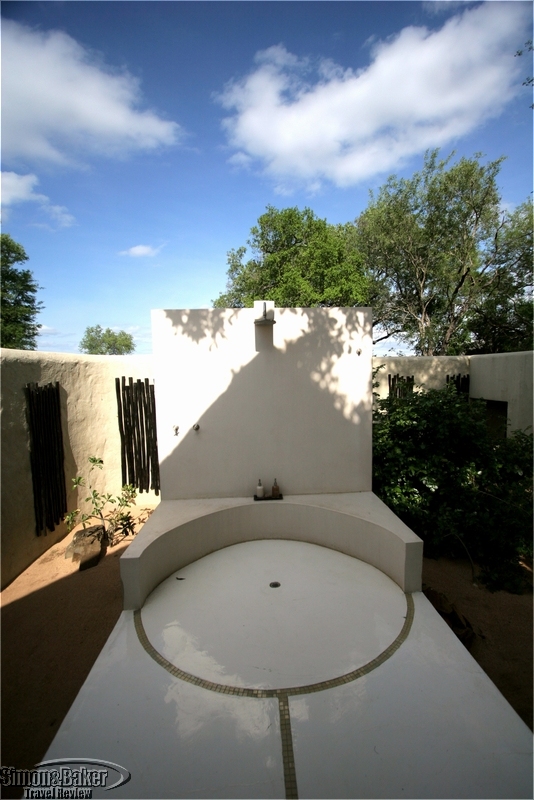 It was special moments like spotting lions across the Sabie River from our suite on a lazy afternoon or enjoying a gourmet lunch with premium South African sparkling wine on our suite pool deck following a morning of game viewing and massages that firmly placed Ivory Lodge on a short list of our all time favorite luxury safari properties.
Overall Impression
A family owned and managed lodge on the banks of the Sabie River across from the Kruger National Park, Ivory Lodge offered luxury accommodations, appetizing meals, Big Five game viewing, and the kind of personal service only a small property can provide. My second stay at Ivory Lodge was even more rewarding than the first. This boutique bush property ensconced within the world famous Sabi Sand Reserve is the epitome of lavish comfort in a game viewing reserve. Although we arrived at the beginning of the rainy season, Mother Nature was kind and the weather was splendid. Our bush facing two-room designer suite with dedicated butler service was magnificent. Our visit was enhanced by delicious meals and in suite spa treatments.
The family built and owned six-suite Sabie River facing property was designed to emphasize luxury service, privacy and exclusivity. Professionally decorated and updated regularly, the lodge was an ideal retreat for aesthetically minded guests as well as couples and honeymooners. Although it was possible to spend the entire stay in our suite and game viewing, the common areas and spa were worth exploring. If we felt like reading or staying in touch with family or friends we could visit the small library. It was stocked with novels and Africa books as well as a computer with Internet access for guests. One of our favorite spots was the Natal Mahogany deck fronting the bush and Sabie River. We enjoyed having lunch and tea under the shade of the deck's towering Natal mahogany tree.
Our 168 square meter suite with private plunge pool was well-appointed, quiet and supremely private. A stylish ivory and black décor was enhanced by the suite's two-room plan which highlighted our bush location while emphasizing comfort. Unless we turned on the CD player, the only sounds we heard in our suite were the territorial cries of neighboring fish eagles and the bush.
The property, like a well staffed designer home in the bush, was memorable for its many luxury amenities. Exclusive surroundings limited to guests in the property's six suites promoted privacy and quiet. Special touches included a dedicated butler who remembered our preferences and was eager to accommodate us; in room dining and spa services; and never seeing or hearing neighbors or staff while in our suite. It was special moments like spotting lions across the Sabie River from our suite on a lazy afternoon or enjoying a gourmet lunch with premium South African sparkling wine on our suite pool deck following a morning of game viewing and massages that firmly placed Ivory Lodge on a short list of our all time favorite luxury safari properties.
Class Of Accommodation
An exclusive five star lodge
General Manager Oliver Richter
Handicapped Access Staff described the lodge as wheelchair friendly but without paraplegic facilities in the suites. It was necessary to go up several few steps to enter the suite's bathroom area.
Length Of Stay Three nights
Location In the Lion Sands Reserve within the Sabi Sand Reserve and west of the Kruger National Park.
Owned-Managed More Family (Nicholas, Robert and Guy More)
Size Ivory Lodge's footprint was 410 meters by 80 meters and 32,800 square meters or 3.2 hectares. There were six suites and a staff compliment of 30 in a 4,000 hectare property it shared with a larger lodge, and luxury villa available for seasonal rental owned by the same company.
Year Opened-Renovated The property was originally purchased as the Kingstown in 1933. Lion Sands Ivory Lodge opened in May 2004. In 2007, the common areas were redone. The conference room was converted to a library, and the lounge and dining room were redecorated.
Lobby And Common Areas
The lodge was designed with "contemporary African Euro sophistication" in mind. A South African decorator and designer, Paula Hatting, worked closely with the owners to fine tune the property's look and feel, visiting twice a year to update as necessary. Salient features included woods, open spaces, sunlight and bush views. The owner's concept was to establish a "classic contemporary feel with a sophisticated Africa influence, set in the natural rugged wilderness of the bush veldt." It was luxuriously comfortable yet simple, a place to spend time.
A leadwood tree occupied a center position in the dining room, reminding dinners that in spite of the gourmet dishes and sophisticated décor Ivory Lodge is an African bush property. There was a well stocked walk-in wine cellar beneath the lounge. The lounge, a great place to enjoy pre and post dinner drinks, had a bar with a small cigar humidor and cushy armless furniture surrounding a fireplace.
A roofless wood deck extended around the side of the bar and lounge area to the opposite side adjoining the Ivory Lodge boma where we sometimes enjoyed evening meals. Lounge chairs, telescopes and dining tables were scattered around the deck making it ideal for informal meals and leisure time.
An elevated walkway led Ivory Lodge guests to River Lodge, a neighboring Lion Sands property housing a fitness center, spa, a full size pool and a bar over the Sabie River.
Bathroom Three steps led to a spacious and attractive open design bathroom with an oval shaped concrete bathtub in the center. Glass doors separated the room from a Zen like inner courtyard with a large outdoor shower in the center. There was also a rectangular shaped indoor shower behind a glass door to one side of the bathroom. A water closet was on the other side of the bathroom. A concrete center island was home to twin sinks and matching twin frameless mirrors. There were built-in glass shelves on one wall and a small vanity area was set against the opposite wall.
Room
Peregrine, our 168 square meter suite, was like a floating room in the bush. It was comfortable, elegant, and striking – simply superb!
The suite had 120 meters under roof and was divided into three distinct bush facing sections with sliding glass windows and oversize glass doors on two sides. There were two air conditioned rooms and a partially open deck in between them. The entire area faced the surrounding wilderness, and thanks to its thoughtful design, reminded us of our bush location.
The air conditioned rooms were divided into a sleeping and bathroom area and a living area. The sitting area had a fireplace, small desk, sound system and well stocked minibar. It was possible to read, relax and enjoy in-room dining in the living area. There was a separate bedroom and bathroom enclosed area across the open deck from the living room. Because they were divided only by glass doors and a hallway, we could see the living room from the sleeping room and vice versa, making the entire suite appear extra large and open. It was necessary to keep the glass doors and windows closed at all times to keep out insects and mischievous monkeys.
The wood deck had an infinity plunge pool, two lounge chairs and an umbrella. Thanks to glass walls, doors and windows in each section, the most noticeable feature of the suite was the stunning view of the Sabi River and the bush from almost any corner of the rooms.
Thatched ceilings and Africa themed art lent the suite a subtle African touch. The suite was soothing and elegant without being over the top. It had light filled rooms with a view; an ivory and black color theme and minimalist décor; pale floors of smooth, polished and painted concrete that felt good on bare feet; and fiber wallpaper. Three remote controlled air conditioners and a multiple speed ceiling fan above the bed provided temperature control in the two-room suite.
The center of the bedroom was occupied by a four poster king bed framed by night tables. Mosquito netting was brought down at night around the bed and night tables, making it easy to reach the phone, a glass of water and items on the night table without having to exit the netting area. There was a concrete half wall behind the bed with a bench for luggage or other items next to it. Sitting up in bed in the morning the first thing we saw was the splendor of the Sabie River.
There were two closets in the corners behind the bed with hanging space and shelves for two. One closet had an electronic safe and there was a full length mirror next to the other. In front of the bed and next to the window there was a divan. Two large round dark wood plates with acorn accents hung on the wall.
The living room had the same style as the bedroom. In a corner there was a hatch for food and beverage delivery (prior to the game drives the staff brought hot beverages). This provided privacy and convenience. There were fruits, nuts, sweets and chocolate in the minibar. The refrigerator had milk, soft drinks, wines and other alcoholic beverages in full size bottles. There was a pioneer CD player and several CDs. An UltraOptech telescope facilitated game viewing.
The room was furnished with a white love seat, two black arm chairs, wood tables and there were several African inspired art works on the walls. On one side of the fireplace there were three wood pieces, one with bamboo, one with rope and one with stone accents. The other side featured three glass hangings in brown and beige. There was an automated spray insecticide system in the room to keep insects, including mosquitoes, under control.
Meals
Meal times were particularly enjoyable at Ivory Lodge. Carefully and lovingly prepared food was a mainstay of our visit. Meals were served in the Mahogany Deck,
boma
, our suite or in the dining room depending on weather conditions and our preferences. In the morning, following our wake up to the sound of the Shangaan Gong at 5 am one of the staff members would drop off a tray in the Bulawayo Club Hatch, a special enclosure that allowed staff to deliver food and beverages without entering the suite. A couple of times we enjoyed lunch by our plunge pool.
The Mahogany Deck overlooked the Sabie River and beyond it Kruger National Park. Like most guests, we liked to gaze out at the bush from the shade of the big Natal mahogany tree that dominated the deck, scouting for animals while having breakfast or lunch.
When the summer weather turned rainy or too windy for outdoor dining, we dined indoors. The most noticeable feature of the dining room was the leadwood tree in the center. Lion sands meals were home style with a strong African influence. The staff emphasized healthy food prepared fresh on the property using locally grown ingredients. This included biscuits, breads and pastries, potjies (stews), salads and desserts. The Lion Sands culinary team was lead by executive chef, Janine Hobbs, who had been with the company for seven years. She was assisted by two senior sous chefs, three pastry chefs and a staff of 42.
Breakfast, a combination of cold buffet and hot made-to-order dishes, was served starting at 8:30 am when we returned from game viewing. We enjoyed a light a la carte lunch at 1:30 pm followed by tea at 4 pm and dinner at about 8:30 pm just after our game viewing drive. If we got the munchies in between meals, there was a well stocked refrigerator in our suite, a fruit bowl and selection of dried fruit, nuts, and chocolate.
There was a fine wine list including French champagnes, fortified drinks, premium South African wines and whiskies, a selection of Johnny Walker labels, and rum. Wildebeest, impala, kudu, oxtail, chicken, eland, ostrich, crocodile, were served during our visit.
Lunch was usually a relaxed and informal affair on the Mahogany Deck or in our suite. Here's a sample menu from our stay: Parsnip and infused Honey Soup of the day; Ivory Platter for two, a selection of Salad greens, Cold Meats, Smoked Salmon, Meat balls, Pickled Onion, Gherkins, Freshly baked Bread, Perinaise; Duck Breast Accompanied by roasted Vegetable and Rocket salad drizzled with a Mango sauce; Kudu Loin Served with crispy fried Potatoes, baby Vegetables and Rosemary Jus (one of our favorites); Chicken Breast Set on flash fried Spinach, sun dried Tomato and Potato crisps drizzled with a Basil Pesto; Risotto Served with Mushroom, Asparagus and garlic sauce
Salad choices: Rooibos smoked Chicken Served with Pepperdews and Feta; Tomato and Mozzarella Served with salad greens and Balsamic reduction; Seasonal: A choice of Lettuce, Tomato, Cucumber, pickles, Croutons, Onion, Feta, Peppers, Herbs and Onion. Sandwich fillings: Lettuce, pickles, pesto, mozzarella, brie, mature cheddar, ham, cold meats, bacon, cottage cheese. Dessert selection: Passion fruit Panna Cotta; South African Cheese board; Preserves and Crackers; and Fruit platter.
We had a choice of the following dinner items: Appetizers options of Prawns Pan fried and accompanied by a watercress – herb salad, Pepperdews and Sesame – Soy dressing; or Tomato soup Served with a Basil Pesto and Mozzarella spring roll; or Seasonal Salad. Main courses options of Eland Loin Set on Sweet Potato Rosti with baby Gems and drizzled with a red wine sauce; or Beef fillet Accompanied by hand cut fries, fresh Asparagus topped with a green Peppercorn Hollandaise; or Kingklip Served with Saffron Risotto, green Beans drizzled with a garlic sauce; or Homemade Tagliatelle Garnished with a Cherry Tomato, Mushroom and Fairview Chevin Cheese sauce. For dessert there was Dark Chocolate and Amarula Parfait with mixed Berry Coulis; or Fresh Fruit Platter; or Cheese Board.
Boma Dinner selections: Two plated appetizers, Potato and Leek Soup or Duo of Crocodile and Kudu Carpaccio Accompanied by a Rocket, Cherry tomato and Parmesan shaving Salad with Balsamic reduction. From the buffet grill: Wildebeest and Pickled onion Espetada; Ostrich Bobotie with Sambals; Balsamic and Wholegrain Mustard Marinated Kudu loin; Oxtail braised in Red Wine and Rosemary; Traditional Boerewors; and Cajun Whole Roast Chicken. Side dishes: Seasonal vegetables served in a Tomato Sauce; Gems Squash filled with Sweet corn and Pecorino; Roasted pumpkin with Cinnamon, Honey and Kahlua; Baked Potato with Sour cream and chives; Yellow Rice; Penne pasta with Basil pesto, Cherry Tomatoes and Chevin; as well as salad and dressing at the table. Desserts: Strawberry Cheesecake, Fresh Fruit platter or Cheese board.
The property management had a personal relationship with the wine farms of the wines they served. It was possible to order wines from the menu for export. Some of the white wines included in the nightly rate: Three Méthode Cap Classique, made in South Africa in the same style and method as Champagne (and often surprisingly good) choices: Villiera Tradition Brut and Pongrácz from Stellenbosch and Moreson Blanc de Blanc from Franschhoek. Sauvignon Blanc: Ken Forrester 2005; Springfield "Life from Stone" 2005, Buitenverwachting 2005, and Klein Constantia 2005. Chenin Blanc: Mulderbosch "Steen-Op-Hout" 2004. Chardonnay: Thierry & Guy Fat Bastard 2005, Klein Constantia 2004, Bouchard Finlayson Sans Barrique 2003, and Mulderbosch 2003. White Blends:Buitenverwachting Buiten Blanc 2004 and Haute Cabrière Chardonnay-Pinot Noir 2005. Off Dry/Semi-Sweet: De Wetshof Rhine Riesling 2004 and Cederberg Bukettraube 2005.
Red Wines available were: Merlots: Hartenberg Merlot and Steenberg 2003; Pinotage: Southern Right Pinotage, Hartenberg 2002 and Moreson 2004. Cabernet Sauvignon: Cederberg 2003, Springfield Wholeberry 2003, and Jordan 2003. Shiraz: Matuba Shiraz-Viognier 2004 and La Motte 2002. Red Blends: Kanu Red 2004, Cordoba Merlot / Cab 2004, Rupert & Rothschild Classique 2003, and Jordan Chameleon 2003.
Amenities
There was shampoo, conditioner, foam bath and body lotion in full size glass bottles. There were also scented bath salts, a shower cap, white candles, two white linen bathrobes and two sets of slippers. There were complimentary water, fruit, snacks, several wine bottles and alcoholic drinks. Ivory Lodge was the only bush lodge where we found chocolates in the minibar. There was a computer with Internet access for guest use, board games, books and satellite TV in the library. There were special touches like sparkling wine on our arrival and sparkling water, bush notes and a sweet on our night tables as part of the nightly turn down service.
Facilities There was a boma for outdoor dining and an indoor dining room. There was also a wine cellar with 1,800 bottles of fine South African wines, bush facing Mahogany Deck, library and a well stocked African souvenir shop.
An exercise room, swimming pool, Lalamuka Spa, and steam room, although located at the River Lodge, a Lions Sands property, were within easy walking distance and accessible to Ivory Lodge guests.
Pool The suite's private plunge pool was 3 meters x 2 meters and 1.5 meters deep. Two lounge chairs faced the pool and Sabie River. The pool deck was one of our favorite places to spend time in the suite. We especially enjoyed sitting on the deck after lunch. When the sun became too hot, we edged the lounge chairs against the shade of the building to keep cool or retreated to the air conditioned rooms.
Spa Although Ivory Lodge guests had access to the Lalamuka Spa at the neighboring River Lodge, most opted for in-suite treatments. Options included facials, massages, and wax treatments. At our request, one morning following breakfast two therapists set up twin massage tables on our porch, allowing us to enjoy the sights and sounds of the bush during the treatments in the privacy and comfort of our suite.
Game Viewing
Ivory Lodge offered early morning (wake up at 5 a.m. and departure 5:30) and afternoon (tea at 4 pm and game viewing departure at 4:30 p.m.) bush drives. Lion Sands Reserve guides were SKS Special Skills certified. SKS, described as the highest qualification for guides in South Africa, covers different aspects such as "Dangerous Animals" and "Birding." Half of the reserve's guides had SKS DA or Special Skills with Dangerous Animals. Our team members were Ranger Marnus, and Million, our tracker.
During the game viewing drives, six guests, a ranger and tracker drove around in open Land Rovers. There was usually a break during the drives when we could enjoy a warm drink in the mornings or a cocktail in the afternoons.
A specially designed console in the game viewing Land Rovers provided storage space for guest items like camera gear, jackets and sweaters. Having the console in the middle meant there were only two guests per bench and a maximum of six guests per vehicle. Only three vehicles were permitted per sighting to avoid stressing the animals.
We saw: lion, leopard, spotted hyena, dwarf, banded and slender mongooses, baboon, vervet monkey, thick tailed bush baby (our first sighting ever), elephant, hippo, white rhino, giraffe, buffalo, tree squirrel, scrub hare, zebra, waterbuck, wildebeest, kudu, nyala, bushbuck, warthog, impala, and duiker. We also saw two highly poisonous black mambas and an African rock python.
Birds we saw: crested barbet, blackeyed bulbul, black crake, Jacobin cuckoo, Cape turtle dove, forktailed drongo, Wahlberg's eagle, Egyptian goose, helmeted guineafowl, grey and goliath herons, African hoopoe, redbilled grey, and yellowbilled hornbills, woodland and pied kingfishers, grey loerie, fierynecked nightjar, threebanded and blacksmith plovers, lilacbreasted roller, Cape glossy and plum colored starlings, saddlebilled stork, hooded and whitebacked vultures.
Activities There were dawn and dusk game viewing drives (about three hours long) with a ranger and tracker team assigned for the duration of our stay; bush walks, board games, a small library (lots of Africa books), satellite TV, working out at the gym, steam room, spa treatments, and shopping. Sometimes there were wine tastings. A computer with an Internet connection was available for guest use in the library.
Curio Shop
There were many African artifacts; beaded, gold and silver jewelry; branded clothing for men, women and children; books; stuffed animals; and handcrafted pewter and wood items. A noteworthy item was a 35,000 rand watercolor by wildlife artist Sue Dickinson. Her prints were also for sale. There were artifacts from Bernard Remacle's Animal Art Unlimited including leadwood carvings from Monday Thabethe who specializes in rhinos.
Other Among the property's many distinctions was fronting the Sabie River for which the Sabi Sand Reserve was named. It offered eco-friendly game viewing following strict policies to protect the land. The Lion Sands Reserve on which the property was located, employed a full-time ecologist to manage and oversee the care of the land.
The Ivory Lodge and Lion Sands Reserve owners were proud of their stewardship of the land. To ensure the land and its game inhabitants thrive guides and guests were required to abide by many rules such as: There was no off road driving for any reason other than confirmed "Big 7" (lion, elephant, leopard, rhino, buffalo, wild dog or cheetah) sightings; there was no off road driving for 24 hours after more than 10 millimeters of rainfall; the minimum viewing distance was 10 meters to any animal unless approached by the animal; no driving down river banks; driving in dry river beds was only permitted in designated areas; no removal of firewood; no fires were allowed without prior permission; no driving on "Sodic" (acid soil) or sensitive soil areas; and a maximum of three vehicles per sighting (some leopards warranted a "single vehicle" sighting status).
Because wild animals could and did walk around in the unfenced property, it was necessary for guests to be escorted to and from their suites in the evening. We were escorted to our suites to freshen up when we returned from the afternoon game drive, as well as to and from our suite for dinner. In the morning and during the day, we could walk at our leisure around the elevated walkways of the property.
Ivory Lodge awards: In 2006 and 2007 Ivory Lodge was voted "3rd Best Hotel in the World" by Tatler Magazine 's 101 Best Hotels in the World; the Lion Sands Private Game Reserve received a highly commended award in the Imvelo Responsible Tourism Awards. In 2007, the Lion Sands Private Game Reserve was listed in the Conde Nast Readers Travel Awards 2007; and
Ivory Lodge was nominated to the Most Innovative Hotel category in Virtuoso's Best of the Best Awards.
Cleanliness
Excellent
Date Of Last Visit November 2007
ReviewersArticle by Elena del Valle
Photographs by Gary Cox
Service From the most senior to junior staff members, Ivory Lodge staff were helpful, service oriented, and well organized. Manager Oliver Richter was affable, well informed and always available to answer questions and ensure we were enjoying our visit. Aubrey, our butler, remembered food and drink preferences and checked we had everything we needed in the dining room and when we had in suite meals.
On our return from game viewing there was always a friendly face to greet us with scented and moist warm or cool towels and sometimes beverages and to escort us to our suites if it was after dark.
Staff used the Shangaan Gong next to the suite hatch to wake us up in the morning. This was a kinder and gentler alternative to the mundane phone wake up of city hotels, and one we looked forward to with anticipation every morning.
Would You Stay Again? Yes
Contact Information
Address:
Lion Sands
Private Game Reserve
P.O.Box 30 White River 1240
Phone:
Fax:
Website:
Email: