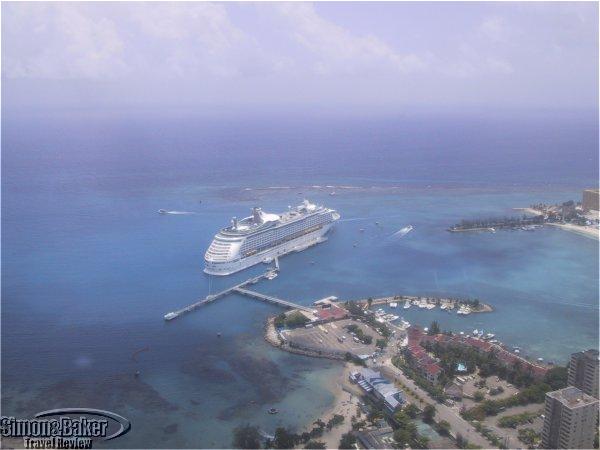 Next time, we'll take the 60 minute flight!
Overall Impression
Our 20-minute mid morning Jamaica Ecstasy flight over Ocho Rios was great fun. After a short drive in our hotel van, we arrived at Island Hoppers and met the captain. He shared some quick pre-flight information and offered us champagne, beer or water. When we were ready, one by one we followed a staff member to the helicopter. Another staff member made sure we were strapped safely in place; had our headset on (so we could hear our captain during the flight) and were comfortable. During the slightly bumpy flight (due to summer pockets of air, our pilot said), which went by all too quickly, we had a bird's eye view of Ocho Rios. The only helicopter company on the island, Island Hoppers was owned and operated by our colorful and experienced New Zealand pilot and his wife.
Just after take off we saw the famous Dunn's River Falls, Dolphin Cove, port of Ocho Rios including a large cruise ship, parishes of St. Ann and St. Mary, White River, Prospect Plantation Great House and school, Rio Nuevo, and Ocho Rios airport. As we passed each landmark or attraction, our captain explained what they were. When we reached our hotel, he flew around it so we could have an extended view. We were pleased to see our hotel from the sky. At that height we could distinguish the land and water features, the buildings and even the approximate location of our room. We returned to the Island Hoppers base flying over 900-foot deep blue water with an excellent view of the coast and fond memories of our tour. Next time, we'll take the 60 minute flight!
About Island Hoppers
Approved by the Jamaica Tourist Board, the company had eight employees including two pilots when we went for our tour. At that time, Island Hoppers pilots had American and Jamaican Commercial Helicopter pilot's licenses. The company owned one helicopter.
About Our Pilot John, our pilot, had 33 years of experience and held commercial helicopter licenses from the U.S., Jamaica and New Zealand. He has flown commercially in New Zealand, Canada and the U.S. as an agricultural pilot, aerial fire fighter, utility patrol pilot, camera pilot and charter pilot. He had flown tours and charters for eight years in Jamaica when we met him.
Established December 2004
Flight Options Island Hoppers offered charter flights, airport transfers, power line patrols, aerial photography, and cinematography flights. There were three tours, varying in duration and distance from 20 to 60 minutes. At 20 minutes ours was the shortest. There was a 30-minute tour called Memories of Jamaica which flew along the coast as far as Port Maria. The Jamaican Showcase, which reached all the way to Kingston, lasted the longest.
Handicapped Access Staff may be able to assist wheelchair bound passengers
Owned John and Susan Morris
Pilot John Morris
Helicopter Our U.S. registered turbine aircraft of indeterminate age, a five-seat Bell Jetranger 206B3, was maintained under the regulations of the Federal Aviation Administration, FAA, and the Jamaica Civil Aviation Authority by FAA licensed mechanics. The helicopter, maintained in Jamaica by Federal Aviation licensed mechanics and inspected and certified annually by a U.S. based inspector, has transported many a V.I.P. The most recent helipad inspection had been in April 2005.
Other Company operated under U.S. and Jamaican law and followed U.S. maintenance guidelines. When we took the tour, Island Hoppers carried $10,000,000 U.S. liability insurance through a U.S. broker. Passengers were offered champagne, beer or bottled water during the flight.
Date Of Flight
June 2005
Reviewers© 2005 Simon and Baker, Inc.
Article by Elena del Valle
Photographs by Elena del Valle
Would You Fly With Them Again? Yes
Contact Information
Address:
Reynolds Pier
P.O. Box 226
Ocho Rios
St. Ann
Jamaica West Indies
Phone:
Fax:
Email: