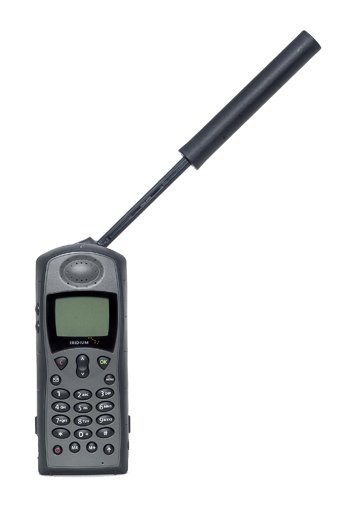 The 9505A is significantly smaller, lighter and more resistant to water, dust and shock than Iridium's original Iridium 9500. It seemed better suited for the conditions we encountered in remote areas of the bush and worked well in the cities (Cape Town, Johannesburg, Port Elizabeth in Africa and Boca Raton, U.S.A.) too.
Overall Impression
In spite of wicked winds (gale force at times), overcast days, sand, rain, rivers, limited hours of access, moving satellites and remote locations in the African bush, we managed to stay in touch with "civilization" during our safari trip thanks mostly to the Iridium 9505A. We were especially thankful for the opportunity because as coincidence would have it our departure was on the heels of Hurricane Wilma. This meant we had to leave in a hurry. We were eager to stay in touch with family and friends to make sure they were all right after the storm. This easy to use and relatively light weight (especially compared with earlier models) phone required clear access to the sky which seemed a simple enough requirement. Being in the African bush meant our tent or room was usually surrounded by a roof and trees to provide shade. Clear access to the sky was almost always a few feet away from our room and lodge.
Although it was not quite like a land line or cell phone and required more patience, determination and effort than regular phones, in remote areas like the bush it was invaluable and the sound quality was often agreeable enough for a conversation, especially if there was no wind. The challenges were inclement weather like rain and strong winds (it was difficult to use during the evenings which sometimes was when we wanted to call to take advantage of the seven hour or more time difference). Sometimes the signal was weak, the connection was garbled or cut off; overall persistence paid off and we were usually able to pick up voicemail messages (and input password codes), make regular phone calls, receive one or two text messages and connect briefly with the Internet using the data kit.
Thanks to the low orbit satellite network, we were able to make (and receive) calls from any place with clear skies (we understand three countries ban the service). Other challenges, were connectivity issues, poor reception, calls dropped, the cost of inbound calls and the public's refusal to call a satellite phone number. On the plus side there was phone number where we could receive calls when the phone was on and messages after hours, when reception was weak or it was inconvenient to have it switched on. Most lodges and camps we visited had restrictions on satellite phone use. They were only allowed in our rooms and open areas (not on game drives or common areas).
When making calls, the flat rate fees were convenient and easy to keep track of. It was nice to know there was customer support if we ran into trouble. The data link capability was limited. We were able to connect to the Internet several times. However, connections were unreliable and dropped frequently, no Outlook downloads were possible due to the low speed and surfing was so slow as to be almost without benefit. The 9505A is significantly smaller, lighter and more resistant to water, dust and shock than Iridium's original Iridium 9500. It seemed better suited for the conditions we encountered in remote areas of the bush and worked well in the cities (Cape Town, Johannesburg, Port Elizabeth in Africa and Boca Raton, U.S.A.) too.
Colors
Black
Complete Kit Content SIM card, High Capacity Lithium Ion Battery, AC adaptor, international plug set, made in Germany cigarette lighter adaptor (input 10-32V, output 6V/800mA), Eastern Pack black carrying case with shoulder strap, leather holster, portable auxiliary antenna, instructions and a data kit which consisted of a short data cable, a software CD and a tripod to stand the phone.*
Made In U.S.A. (future models are to be manufactured in Malaysia)
Manufacturer-Distributor Motorola and Iridium
Retail Price $1899 (available for rent or purchase) or $75 for a week rental plus air time
Size 158L x 62W x 59D mm
Talk Time 38 hours of standby time 3 hours of talk time
Type Of Product Satellite phone
Weight 1 lb with the leather holster on
Features
Rotating antenna, resistant to water, dust and shock, data capable (to transmit data with an optional RS232 adapter), 21 language choices, crisis calling, Vibracall alert and 4 x 16 character illuminated display, battery meter in display, signal strength meter, emergency calling, illuminated keypad, low battery warning, status review of features, visual display of volume settings, automatic display call timer, automatic lock, call restrictions, display call timers (last call/total calls), display/change unlock code, electronic lock, programmable audible call timer, and subscriber identity module PIN availability (security code). Also, volume adjustment (earpiece or ringer), volume under 375cc (22.9 ci), operating frequency: 1616-1626.5 MHz, L-band; Link margin: 15.5 dB, operating temperature: -30/+60 degrees Celsius using external power source; 20/+60 degrees Celsius using Lithium Ion battery, multiplexing method: TDMA/FDMA and power: 0.57 watts average.
Calling features: Auto redial notification, call barring, call forwarding, mobile subscriber busy, subscriber not reachable, clear last digit/clear all digits, fixed dialing international access key sequence (+ key) mailbox for numeric and text (120 characters), access interface, selectable keypad tone (3 choices), selectable ringer tone (10 choices), keypad disable and unanswered call indicator.
Other
WCC had a 24/7 customer service number (1-800-211-2575 and 6111 from the unit itself). The phone arrived with an instruction sheet which was helpful, especially to know what to dial. There was also a WCC sticker on the side with the number of the phone and on the back with reminder instructions on phone use and requirements: Clear view of sky, outdoors, away from buildings and tall structures; rotate and fully extend antenna; press and hold start button; wait until registration is complete; to dial press 0+ for two seconds, country code and phone number; talk with antenna above your head and vertical to the ground.
*Because we didn't have a serial port (most new computers don't) we had to get a USB serial adaptor to connect from the data kit to the Internet.
Country(S) Tested
Botswana, South Africa and U.S.A.
Date Of Review October to November 2005
Number Of Days Tested One month
ReviewersArticle by Elena del Valle
Would You Use This Product Again? Yes for the phone, maybe for the data kit
Contact Information
Address:
WCC Global Satellite Communications
1347 N. Alma School Road, Ste 150
Chandler, AZ 85224
Phone:
+1-480-857-6656
+1-800-211-2575
Fax:
+1-480-857-6898
+1-800-851-0740
Website:
http://www.wcclp.com/rentals
Email: