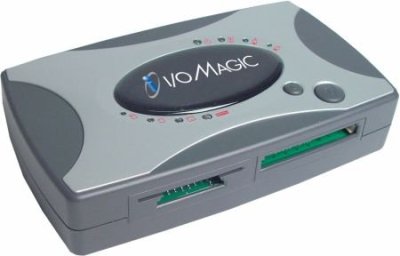 We were pleased with the Digital Photo Library and plan to take it on future trips.
Overall Impression
We chose I/O Magic's Digital Photo Library to backup our digital camera pictures on location while traveling. When our digital camera flash memory cards filled up, we made backups (copies) of our photos with the Digital Photo Library. When we cleared our flash memory cards (deleted all the pictures on them) we were able to take additional pictures.
Our Photo Library, a portable palm sized device with rechargeable batteries, came with a 20 GB hard drive and a built in 6-in-1 card reader. On our trip we were able to backup around 7000 medium and high-resolution images on the Photo Library with some room to spare. Using 512 MB compact flash memory cards, we could reuse our flash memory cards approximately 40 times before running out of space to store the images on the Digital Photo Library.
The Digital Photo Library was easy for us to use: we would insert the compact flash memory card into the slot, press one button to turn on the unit, and press another button to start the backup process. The lights would flash showing that the unit was busy making backups. Our 512 MB compact flash memory cards took around 10 minutes to backup. The manufacturer indicated a speed of about 3.5 minutes per 128 MB. When the backup was complete, the Photo Library powered down after a couple of minutes of inactivity so we didn't have to worry about draining the batteries further. We liked being able to press the backup button to start the backup process; and then walk away from it to do other things while it was busy making the backup.
When we returned home from our trip, we plugged one end of our USB cable into our computer and the other end into the "Digital Photo Library." This allowed us to transfer all of our digital camera pictures onto our computer by copying and pasting our picture folders through a Microsoft Windows Explorer window.
We carried the Digital Photo Library for 30 days on a trip to Africa . We put the Photo Library in our carry on luggage and sent it through airport security scanners. We checked it into bush plane luggage compartments. We carried it in bumpy safari vehicles without any troubles. One precaution we took with the Photo Library was to use it only when fully stopped in a vehicle or in our hotel room after a day of photo shooting. We did this because the device uses a hard drive internally to store the images on (a spinning electromechanical device), which may be sensitive to bumping or shaking when backing up pictures.
While in Africa we were able to recharge it by using power adapter plugs. The unit power adapter was good from 120-240 VAC @ 50-60 Hz and drew low enough power that it even worked in remote facilities with restricted low power requirements. We found having rechargeable batteries to be a big plus on long trips. Since we returned home from our extended trip, we have taken the Digital Photo Library on subsequent shorter day and weekend trips. During those trips we took enough pictures to need backups on the Photo Library to clear out the flash memory cards; this allowed us to take more pictures. We were pleased with the Digital Photo Library and plan to take it on future trips.
Colors
silver and dark grey
Size: (L x W x H) 3.0 x 7.5 x 2.5 cm (5.12 x 2.95 x 0.98 inch)
Download Interface USB 1.1
Download Speed up to 480 kBps (3.84 MBps )
File System Support Standard FAT 12/16/32
Hard Disk Size 20 GB, 2.5 Inch
Humidity 90% RH (relative humidity)
Manufacturer-Distributor I/O Magic Corporation
Operating Systems Supported Windows 98, ME, 2000, XP, Mac OS
Operating Temperature 0 deg C to 70 deg C
Package Contents 20 GB Hard Drive with built in 6 in 1 card reader, power adapter, USB cable, user's manual, installation driver CD, leather case.
Retail Price $199
Supply Voltage 9v to 18 V, comes with Power Adapter that plugs into 120-240 VAC 50-60Hz
Supports Memory Card Interfaces Compact FlashTM Card type I/ type II (CF), Smart MediaTM Card (SM), Memory Stick(MS), Secure Digital card(SD), MultiMedia Card(MMC), IBM MicroDrive
System Requirements Pentium II 400 Mhz Computer, one USB 1.1 port, CD-ROM Drive from driver installation, 32 MB of RAM (64 MB recommended)
Type Of Product Backup storage device for digital cameras
Warranty 1 year limited warranty
Weight 10.1 ounces
Features 20 GB 2.5" hard drive, backups files using USB interface, or card interfaces, Rechargeable batteries came with AC/DC adapter, 128 MB flash transfers in 3.5 minutes, LED indicators showed the status while operating, ran for 2.5 hours on one charge, palm sized device, and easy to use.
Country(S) Tested
Botswana , South Africa , U.S.A. and Zambia
Date Of Review March 2005
Number Of Days Tested 300
Would You Use This Product Again? Yes
Contact Information
Address:
I/O Magic Digital Photo Library
I/ OMagic Corporation
4 Marconi
Irvine , Ca 92618
Phone:
+1 (949) 707- 4800
Tech: (949) 707-4888
Fax:
Website:
Email: