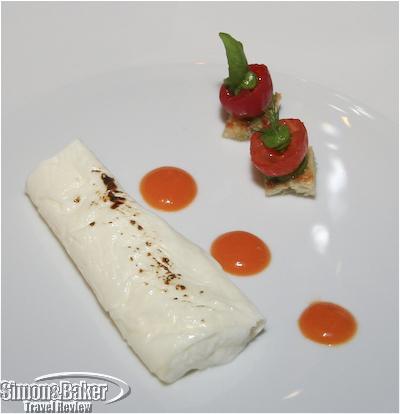 If traveling in southern Italy I would detour to Naples just to dine at Il Comandante.
Overall Impression
Il Comandante (The Commander) was named in honor of Achille Lauro, a Neapolitan shipowner and past mayor of Naples who was a previous owner of the building where the hotel restaurant is housed. Dinner at Il Comandante was a delightful surprise. The staff were polite and thoughtful and the service was punctilious.
Although we dined in a temporary venue (the restaurant's space was being renovated) the dinner service was fine including lovely plates, silverware, glassware and perfectly ironed linen napkins. Four white orchids added a touch of elegance to our table.
What was truly memorable was the food itself. From beginning to end Chef Andrea Aprea's Tasting Menu dishes were refined, artistically presented and delicious. If traveling in southern Italy I would detour to Naples just to dine at Il Comandante.
About The Executive Chef
Before joining Il Comandante, the 31 year old native of Naples was head chef at the Ristorante Signori in Sirmione (Lake Garda). Prior to that he worked in England in Bray on Thames, at The Fat Duck Heston Blumenthal and at The Waterside Inn Michel Roux.
In Italy, he had worked at the Rossellinis in Ravello as sous chef de cuisine, the Bulgari Hotel & Resort in Milan as chef saucier, Hotel Villa San Michele in Fiesole as garde manager chef and the Grand Hotel et de Milan as chef saucier. Chef Aprea had also been chef entremetier at Toto & San Frediano in London, head chef at Restaurant Mcities Live in Kuala Lumpur in Malaysia and chef saucier at L'Artista in London.
Chef De Cuisine Ciro Petrone
Executive Chef Andrea Aprea
Handicapped Access Yes, there was a ramp and an elevator in the building.
Head Sommelier Francesco Palma
Location Within the Romeo Hotel in Naples, Italy.
Opened-Renovated The restaurant opened December 2008. Due to renovations it was temporarily housed on the ground floor of the hotel when we dined there.
Owned And Managed Romeo Alberghi S.r.l.
Restaurant Manager Vincenzo Murolo
Size When it reopens in its permanent space (expected to be in late 2010) the restaurant should have 200 square meters of dining space, 150 square meters inside, and 50 square meters outside; and be able to accommodate 45 guests inside and 16 outside. Fourteen staff, seven in the dining room and seven in the kitchen, worked at the restaurant.
Type Of Restaurant In line with the spirit of the hotel, the cuisine at Il Comandante was designed to be a "blend of flavours and suggestions" inspired by the land and its rich culinary tradition presented in a contemporary style.
DÉCor-Ambiance Chinaware was by Hering, Jl Coquet and Sieger by Fuerstenberg; silverware was by Robbe & Berking and Christofle and the crystal was by Riedel.
Meal
We began with a delicious fish and cauliflower "hamburger" pre-appetizer. To accompany our meal there was a selection of breads including onion, whole wheat, pecorino and break sticks and a monocultivar olive oil from northern Italy.
For the meal proper we sampled the chef's Tasting Menu: Mackerel millefeuille, burrata cheese, "soft and crisp" lima beans and compote of Tropea onions; Roll of milk leaf, buffalo mozzarella, tomato dressing and basil pesto (a favorite); Zucchini cream, zucchini blossoms and salt ricotta cheese; Carnaroli rice, lemon, rosemary and roasted langoustines; and Fillet of turbot, chicory hearts, violet potatoes and light sauce of anchovies. For dessert there were Strawberries, white chocolate, olive oil biscuit and pistachio. The meal was accompanied with Fiano Donnaluna "De Concilis" and Chateau d'Arche Gran Cru Classé 2001 Sauternes.
Special Menus The restaurant offered two six-course seasonal menus, a Land Menu for € 90 and Sea Menu € 100, both excluding beverages.
Cellars Wine And Alcoholic Beverage Selection
In addition to 700 fine wine labels including 2,200 bottles, the restaurant had 45 labels of alcoholic beverages such as grappa, brandy, cognac, armagnac, calvados, whisky, and rum. For example, there were 30-year old Mcallan and 36-year old Glengory Royal whiskies; 1979 La mauny and 1976 St Clement 1976 rum from the French Caribbean; Louis XIII and Richard Hennessy cognac; 1964 Laberdolive Domain de Juarrey Armagnac; 1990 Marc de Bourgogne Romanée Conti and 1986 Fine de Bourgogne Romanée Conti brandies.
Among the wines there were 162 Italian whites, 188 Italian reds, 14 Italian sweet wines, 98 French whites, 170 French reds, 8 French sweet wines, 68 red and white wines from Chile, Canada, and New Zealand. Noteworthy bottles: Domaine Krug Millèsimè 1995, Domaine Armand De Brignac Brut Gold Prestige, Domaine Louis Roederer Cristal Brut Rosé 2000, Domaine Salon Les Mesnil Brut Blanc de Blanc 1997, Gaja & Rey Angelo Gaja 2004 to 2006, Riserva Biondi Santi Bunello di Montalcino 1998 and 1999, Ornellaia Tenuta dell'Ornellaia 2000 to 2004, Solaia Marchesi Antinori 1997, Sassicaia Tenuta San Guido 2005, Domaine La Romanèe Conti La Tâche Grand Cru 2000 to 2004, Domaine La Romanèe Conti Richebourg Grand Cru 2001 to 2004, Domaine La Romanèe Conti Échezeaux Grand Cru 2004, Château Margaux Le Grand Cru Classè 1996 to 1998, Château Ausone 1e Grand Cru Classé A 1998 to 2001, Château Cheval Blanc 1e Grand Cru Classé A 2000, Château Mouton-Rothschild 1e Grand Cru Classé 1995 to 2000, Château Latour 1e Grand Cru Classé 1995 to 2000, Château Lafite-Rothschild 1e Grand Cru Classé 2000 to 2005, Château Le Pin 1997 to 2001 and Château Petrus 2001 and 2003.
Other The restaurant was listed in Guida l'Espresso Ristoranti D'Italia 2010 with a score of 16 out of a maximum of 20 and recommended as best gourmet restaurant in Naples and among the top four in the Campania region.
Date Of Review
April 2010
Number Of Visits One
Reviewers Article by Elena del Valle
Photographs by Gary Cox
Service The service was outstanding. Staff were efficient, polite and helpful.
Would You Dine There Again-Recommend It? Yes
Contact Information
Address:
Via C. Colombo n°45 – 80133
Naples, Italy
Phone:
Website:
Email: