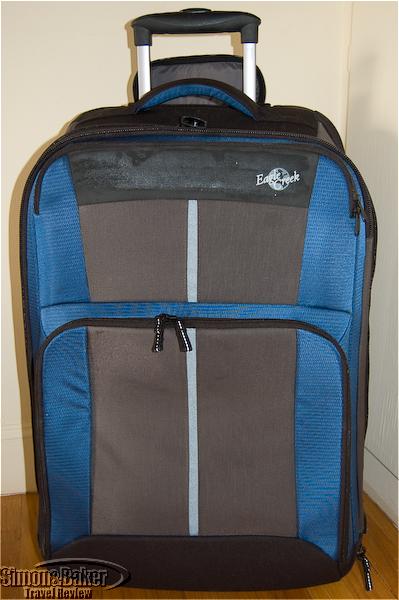 It has become an indispensable accessory for any long, multiple destination journey.
Overall Impression
With airlines issuing ever more restrictive luggage regulations in recent years, I had gradually adopted a rolling duffle bag as my checked baggage for long trips; but I yearned for the stable, tidily organized suitcases of earlier times. Until the recent demise of my latest duffle led me to consider the Eagle Creek Hovercraft 25. Its firm, heavy gauge Cordura nylon shell, coupled with the packing convenience of a hard-sided suitcase and the reduced weight of a duffle made it especially attractive. The broad wheelbase, sturdy knurled wheels (four inches or ten centimeters in diameter) and adjustable height telescopic top handle made it a breeze to steer.
The base also featured a long front stabilizing bar to keep the case upright even when it was heavily loaded. This efficient stabilizer doubled as a grab-bar, which in addition to the large padded top and side handles facilitated retrieval from the most chaotic airport luggage carousel. The front flap of the suitcase had two external high-capacity front pockets with three-sided U-shaped zippers for easy access. The exterior of the Hovercraft 25 was designed to avoid handling damage. It included thoughtful details such as a streamlined shape with no sharp angles or visible seams, deep wheel wells and a rear kick-plate that provided extra protection to the base of the suitcase.
The Hovercraft 25 was as convenient to pack as to handle. Its large, well proportioned opening easily swallowed multiple layers of bulky clothing that could then be neatly flattened under the 14 inch (35 centimeter) wide compression flaps, leaving room in the remainder of this 11 inch (28 centimeter) deep case for multiple easily accessible piles or bags of other travel necessities. In several instances I fitted smaller soft bags inside my Hovercraft 25, each filled with the items specifically required for various side trips. Two large interior netting pockets conveniently fitted in the front flap were large enough for everyday items and toiletries, placing them within easy reach and sight. This bag also featured a two-inch (five centimeter) zipped expansion gusset said to extend its capacity by 15 percent. However the bag has proven so capacious in its original state that after several long trips, I have yet to need the additional space. With its lightweight, smooth exterior, easy handling and gargantuan appetite for my belongings, my Hovercraft 25 travels like a twenty-first century steamer trunk. It has become an indispensable accessory for any long, multiple destination journey.
Colors
Graphite, tomato, marine blue and tree frog green. Mine is blue.
Dimensions 16 x 25 x 11 inches (41 x 64 x 28 cm). Expands to 16 x 25 x 13 inches (41 x 64 x 33 cm)
List Price $249
Manufacturer-Distributor Eagle Creek, Inc.
Materials Main body: 210D Mini Diamond Helix Nylon, 500D Tough Weave. Shell: 915D HP Cordura nylon
Type Of Product Soft-sided, lightweight rolling upright suitcase
Warranty Lifetime, a "No matter what repair policy"
Weight 8 lbs. 14 oz. (4 kg)
Features Protective kick-plate and wheel housing; adjustable telescopic handle for easy wheeling; large, soft side and top handles for convenient handling; bottom front stabilizing bar doubles as additional grab handle; retractable luggage tag sleeve built into the top of the suite case to ensure privacy; expendable main compartment zips-out to add additional 15 percent capacity; interior compression panels to compress and secure packed load; reflective center front center strip for nighttime visibility.
Countries Tested
U.S.A., France, Portugal, New Zealand, and Australia
Date Of Last Review March 2009
Number Of Days Tested 90 days
Reviewers Article and photos by Josette King
Would You Use This Product Again? Yes
Contact Information
Address :
World Headquarters
Magellan's International
110 W. Sola Street
Santa Barbara , CA 93101
U.S.A
Phone :
805-568-5400 (International)
1-800-962-4943
Fax :
1- 800-962-4940
+1 805-568-5406
(International)