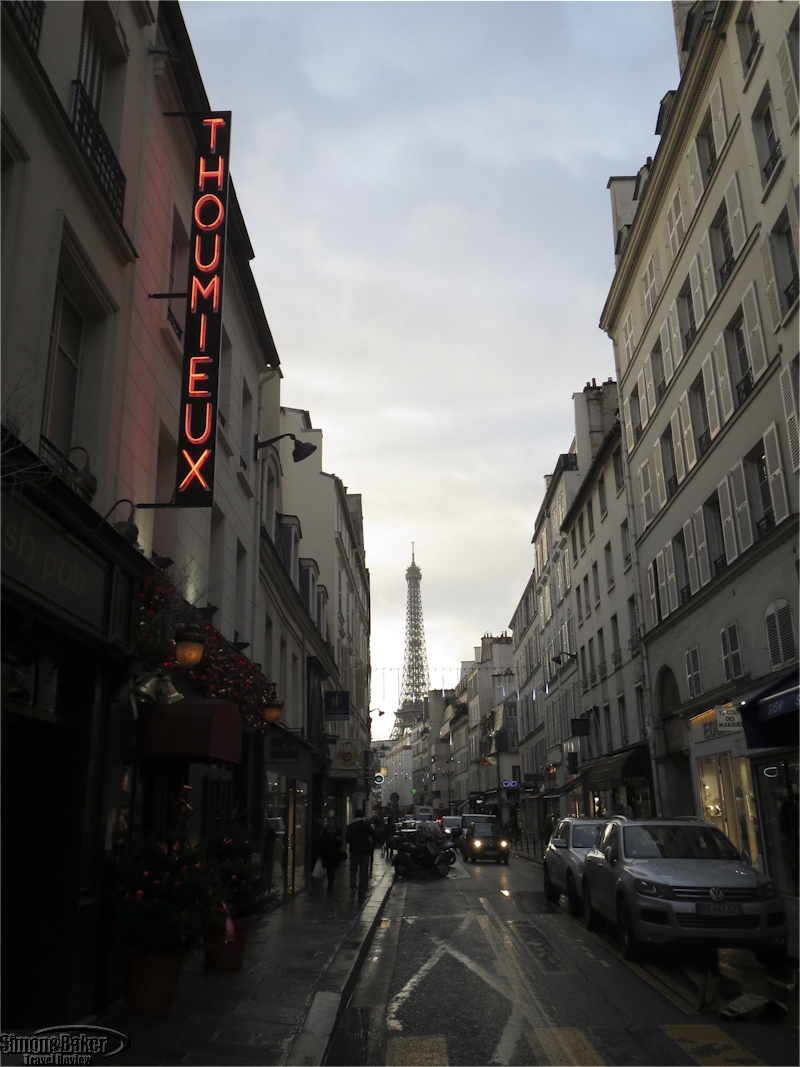 Thoumieux will be on our boutique hotel short list, especially if we have plans to spend time in that part of the city.
Overall Impression
This fifteen room boutique hotel in the desirable seventh arrondisement of Paris was a rare find. In a touristy city with limited worthwhile small hotel options this new property stood out for its location, quiet small rooms with elegant upscale furnishings and amenities, and two dining venues onsite.
What drew us to the hotel was the well rated Restaurant Jean-François Piège. We had sampled the chef's cuisine previously when he was at the head of the Les Ambassadeurs at the well known Hotel de Crillon in the heart of the city, and were eager to try his new restaurant. We took advantage of the opportunity to experience the hotel.
The rich and distinctive décor was attractive. Narrow passageways, the property's vertical design, the dim winter light and the juxtaposition of varied colors and bold patterns in the rooms was unique and sometimes intense. We especially appreciated the cozy and stylish rooms, lavish marble bathroom as well as the thoughtful amenities including fresh baked butter cookies at turndown, in room electronic devices with multiple language settings, and fulfilling breakfast in the gourmet restaurant dining room.
A satisfying lunch at the Restaurant Jean-François Piège, the hotel's gourmet restaurant, following our check out was the perfect end to our overnight stay. Thoumieux will be on our boutique hotel short list, especially if we have plans to spend time in that part of the city.
Children
Yes, children of all ages were welcome.
Class Of Accommodation Luxury boutique hotel
Connectivity There was complimentary WiFi access in the rooms although some applications didn't work for us.
General Manager Mathieu Foureau
Handicapped Access Access to the common areas and guest rooms was via a steep and narrow staircase. One room had handicapped friendly facilities.
Length Of Stay One night
Location On a narrow and lively street in the seventh arrondisement.
Owned and managed Jean-François Piège and Thierry Costes
Pets Allowed Small pets were welcome.
Size The 15-room hotel building shared space with Brasserie Thoumieux and the Restaurant Jean-François Piège. It employed a staff of 74.
Year Opened-Renovated Bought in 1923 by Martial Thoumieux, the former Bouillon Chartier was one of the quintessential addresses on the Left Bank at the time. The current hotel was established in 2008 and completely renovated in 2011.
Lobby And Common Areas
A neon sign on the outside of the building confirmed we had found the hotel. To reach the lobby from the street it was necessary to ring a doorbell at a street level entrance. After we identified ourselves a staff person buzzed us in and we climbed a narrow staircase to a small lobby with a desk, espresso machine, two armchairs, a wood shelf with chef and restaurant products for sale and bar bottles in the bottom. There was also a single, yet stylish, bathroom for hotel and restaurants guests. Similar stairs led upward to the guestrooms.
The concept of Thoumieux grew out of a meeting between Jean-François Piège and Thierry Costes. The property was designed to focuse on a fusion of styles, combining the culinary talents of the starred chef and the appreciation of contemporary living design of his partner.
India Mahdavi, the architect, set out to give each room a unique and intimate feel, striving to remain apart from the standardized decor of many luxury hotels. Distinctive features included Art Deco wallpaper, varied furniture made of leather, lacquered wood, marble and bamboo, refined bed linen, heavy velvet curtains, elegant bathroom tiling, and uncommon light fittings. We noticed a pretty and large planter with bicolor orchids in hallway.
Bathroom It was in this section that the two rooms differed the most. Both had elegant while marble tile and separate water closets. While mine had a clawfoot bathtub surrounded by a shower curtain and a handheld shower head my travel partner's bathroom had a large marble shower with a glass door. His room had a long marble table that started in the bedroom and ended in the bathroom, serving as a desk then converting into the base of the bathroom sink. We liked that the marble floors and walls in the rest of the bathroom including the separate toilet room and shower, even the drain, matched and looked well finished. Recessed lights provided ample lighting in the shower.
Room
We stayed in two adjacent Double Deluxe rooms, rooms 9 and 10, at the top of the stairs and facing Saint Dominique street. We estimate each room was about 25 square meters. We liked the convenient configuration and neighboring doors. While they shared common decorative elements and similar amenities there were differences in layout and furnishings. During our visit, my travel partner's room was slightly cooler than mine; my heater made a constant annoying mechanical sound. The rooms had dim lights, night table reading lamps, and were quiet though street sounds like horns penetrated at times.
Both had small windows facing the street below and neighboring buildings at eye level. We kept the curtains drawn to maintain privacy. The entrance was surprisingly unobtrusive, one door with a ringer. A comfortable and inviting queen bed with a headboard, made with white, crisp linen, feather pillows, a warm and fluffy feather duvet with a leopard design throw, took up the central position. My room had two red cloth armchairs (the other room had only one) and a wood coffee table, brown and beige curtains. The other room had lacquered red built-in book shelves with several books.
Food And Restaurants
We had breakfast in the stylish Restaurant Jean-François Piège dining room which we shared with two other tables. We were served creamy yoghurt with a mild tart flavor, small, thin slices of tender, tasty roast beef, three small slices of buttery salmon which was flavorful with just a hint of fish flavor, toasted small baguette, brioche, two types of jam (apricot, black currant), tiny sliced fruit salad, soft boiled egg, fresh squeezed orange juice and had a choice of several Mariage Freres teas (mint, Earl Grey, Marco Polo).
The small dining room was warm, the sofa seats comfortable with cushions and stools in several prints and colors. We could see and hear some of the staff working in the open kitchen across the room. Notable decorative elements were matching door nobs, wall hooks and the butter dish, pretty lotus flower wall paper in light green, square pattern carpeting in brown and beige, green and blue closet doors, off white with green plant motif floor to ceiling double curtains, shades over the windows.
Amenities
Two white microfiber bathrobes in medium were on wooden hangers. There were heated towels, blow drier, tissues, vanity mirror, bathroom amenities within a box (cotton pads, cotton swabs, shaving kit, tooth brush), slippers, and individual white orchid plants in each room. To satisfy munchies there were complimentary fresh baked almond butter cookies. There was one bottle of complimentary water, an Illy coffee machine with some complimentary capsules in four flavors, coffee cups and plates in branded dinnerware and a well stocked refrigerated mini bar. There was a flat screen Samsung TV, clock radio, wireless phone and iHome for wake-up calls. There was digital temperature control in our rooms.
There were Aesop Australian toiletries, made with essential oils, in 16 ounce plastic pump bottles of soap, body lotion, shampoo, and conditioner. Each room had an iPad preloaded with music, movies and hotel information including room service menus. There were three U.S. Movies (Inception, Shrek 4, and The Green Hornet), and two French films: Potiche, L'Arnacoeur. There were several apps on the iPad including a useful tourism one in French.
Facilities The Brasserie Thoumieux and the Restaurant Jean-François Piège.
Cleanliness
Excellent
Date Of Review December 2012
Reviewers Article by Elena del Valle
Photos by Gary Cox
Would You Stay There Again? Yes
Contact Information
Address:
79, rue Saint Dominique
75007 Paris
France
Phone:
Fax:
Website:
Email: