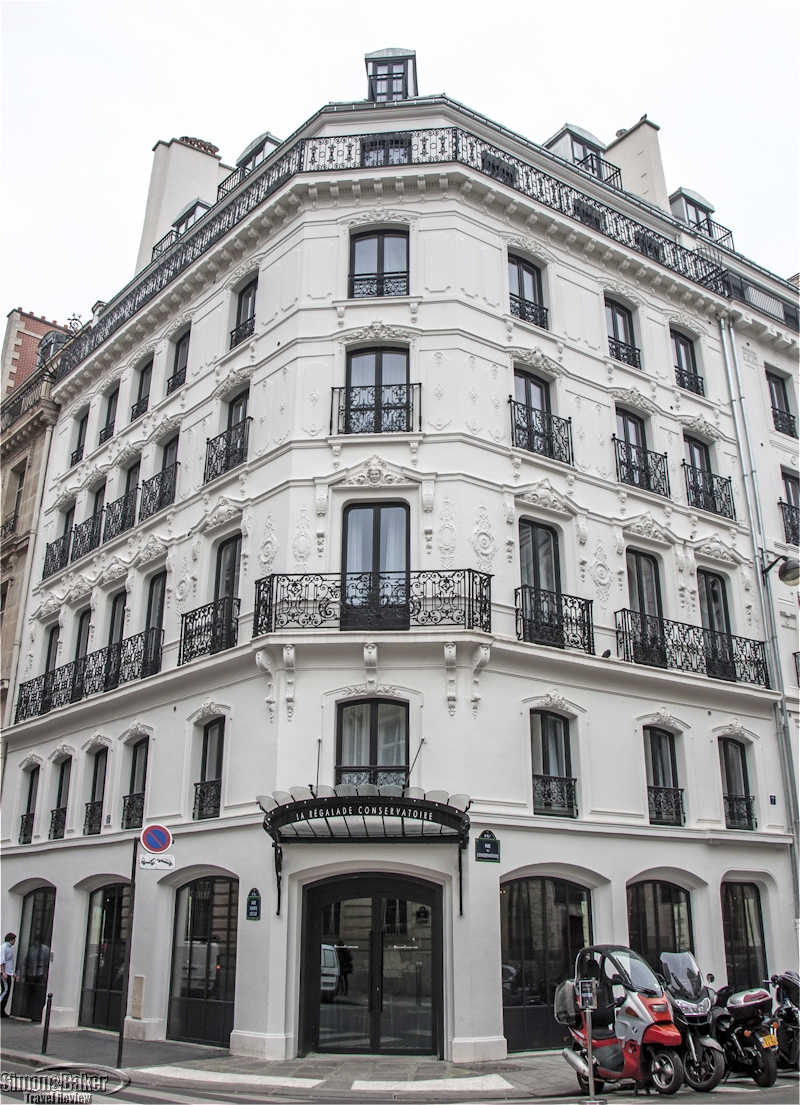 Whether for business or pleasure, the Hotel de Nell immediately became a new favorite central Right Bank address to revisit and recommend to friends.
Overall Impression
In the early 1850s, France's newly minted Emperor Napoleon III commissioned Baron Charles-Eugene Haussmann to undertake an ambitious urban modernization program throughout Paris. Entire popular neighborhoods of medieval alleyways were razed to make way for the broad boulevards and airy streets lined with harmonious residential and public buildings that we know today. In the center of the Right Bank, the ninth arrondissement flourished as a center of artistic and intellectual life. Most of the Romantic elite, Edgar Degas, Eugene Delacroix, George Bizet, Hector Berlioz, Frederic Chopin and George Sand among them, made their home there at some point. To this day, this tony neighborhood off the familiar tourist circuits has retained virtually intact its harmonious 19th century architecture, tranquil courtyards and Belle Epoque charm. But it was notably lacking luxury hotel accommodations; until the recent opening of the exquisite boutique Hotel de Nell.
Behind its impeccably restored Haussmannian façade on a quiet side street, the Hotel de Nell was a haven of contemporary Zen-like serenity just minutes away from the bustle of the Grands Boulevards. French architect and designer Jean-Michel Wilmotte turned the space into a chic minimalist setting that blended mid-20th century European style with oriental influences to create a polished yet casual atmosphere. From the sculptural see-through fireplace that separated the foyer from the bar to the white marble Japanese-style soaking tub and shoji window treatment in my bathroom, it seemed no detail had been overlooked to sooth my senses and ensure my comfort.
Another superb treat was the hotel's restaurant, La Régalade, where Bruno Doucet, one of Paris' leading young chefs, took bistro fare to new heights. His blackboard menu of unpretentious, exquisitely prepared dishes offered as a reasonable prix fixe three-course formula had already become a dining destination onto itself. The hotel's outstanding cuisine gave me an opportunity to experience the superb service of the Hotel de Nell staff. When I called early on the morning of my arrival to reserve a table for dinner, I was dismayed to hear that La Régalade was fully booked for the duration of my stay. However, when I checked in a few hours later, the charming receptionist informed me that she had followed up with the restaurant manager, and if agreeable, my dinner guests and I could be accommodated in the conservatory. This greenhouse-like lounge adjoining the bar turned impromptu private dining room was an ideal setting for our girlfriends evening. And in spite of the remote location of our table we enjoyed vigilant and friendly attention from the serving staff along with the outstanding food.
While on this leisure visit I especially enjoyed the casual luxury and comfort, excellent service and central location of the property, I also appreciated its business amenities and conveniences: reliable high-speed WiFi, a spacious working desk and superior sound proofing in my room, and convenient metro stations within a few minutes' walk. Whether for business or pleasure, the Hotel de Nell immediately became a new favorite central Right Bank address to revisit and recommend to friends.
Children
The Hotel de Nell welcomed children of all ages
Class Of Accommodation Five star boutique hotel
Connectivity There was complimentary high-speed WiFi in my room and throughout the property .
General Manager Arnaud Valary
Handicapped Access There were two rooms especially designed for motion-impaired guests, and emergency alert lights for hearing impaired and brail signage throughout. Additionally, staff received sensitivity and procedural training to welcome guests with various types of disabilities including cognitive impairments.
Length Of Stay Two nights
Location In the heart of Paris' ninth arrondissement, within easy walking distance from the Palais Garnier and the Grands Magasins of the Boulevard Haussmann (including Printemps and Galeries Lafayette), Montmartre and the Nouvelle Athène cultural hub of the Romantic era.
Owned Lisa Konckier-Abrat
Pets Allowed Yes
Size The six-story property had 33 rooms including one suite, and a restaurant that could seat up to 60 guests. It employed a staff of 39, including 18 restaurant personnel.
Year Opened-Renovated The property was purchased by its present owner in 2009. After extensive planning and design, followed by a 26 months reconstruction, it opened in February 2013.
Lobby And Common Areas
The elegant original glass and wrought iron front double doors opened onto a small granite-paved foyer where a glass wall showcased a low see-through white stone fireplace and the lounge beyond. Throughout the common areas, neutral colors and natural light from the street-side windows and the courtyard conservatory created a relaxing, airy atmosphere. The floors were natural exotic hardwoods covered with contemporary oriental accent rugs in shades of indigo blue. To the right of the foyer a long trestle desk dominated the reception area.
The lounge and conservatory occupied the center of the main floor. In the lounge, the walls were a mix of white plaster and wood paneling, with multiple doorways opening onto the conservatory. Lounge furnishings evoked mid-20th century European design, with a pair of X-legged open-arm wing chairs upholstered in nubby white wool and a low bleached wood kidney-shaped coffee table standing by the fireplace. To the rear of the room, coordinated slipper chairs surrounded a round coffee table. The black marble-topped bar with its mirrored backdrop and two molded wood barstools occupied the far end of the room. While most of the lighting came from spots recessed into the ceiling, there were several floor lamps around the room with shades of cylindrical perforated metal over unpolished glass, exclusively designed for the property by Artemide. In the conservatory, groupings of low box sofas and armchairs upholstered in deep blue leather with ecru woolen bolsters and round pedestal coffee tables topped with cream marble tops gave the room a serene oriental feel. Louvered wooden screens created private nooks around the seating clusters. Wall mirrors reflected the light that filtered through the glassed-in ceiling and large potted plants completed the décor.
The library and restaurant occupied the front of the property. To the left of the bar, the library formed an anteroom for the dining room. Its paneled walls had built-in bookcases that held an eclectic collection of attractive French art and architecture tomes. At night when the adjoining La Régalade was fully booked, its four square tables surrounded by comfortable open-arm wood and black leather armchairs could be set for additional dinner seating. A glass-enclosed cellar wall around central black double doors separated the library from the restaurant. Here, the hip black and white décor channeled the timeless casual atmosphere of Paris bistros with a checkerboard tiled floor, square tables lined up in front of black leather banquettes running along the two exterior walls and solid oak chairs. The street entrance of La Régalade was at the far corner of the building on the opposite side of the dining room. On both sides of the central L-shaped bar topped in white marble, wall size blackboards announced the day's menu.
Bathroom
With its deep Japanese-style soaking tub carved from a single piece of white marble, waterfall faucets and roomy separate shower with rain showerhead, the 10 square meter (110 square foot) bathroom was the pièce de résistance of my room. The step leading into the tub, as well as the reclining seat inside it and the bridge shelf holding bathing necessities and votive candles, were made of Oregon myrtlewood. The walls were coated with silver gray tadlakt (waterproof lime plaster traditionally used in palace bathrooms and hammams in Morocco). A wall size oval mirror topped the long rectangular double sink. Under the sink, a shelf held thick terrycloth bathrobes and slippers, a generous supply of bath towels and a hair dryer. The water closet was located to the left of the entrance foyer.
Room My 25 square meter (270 square foot) Prestige Room, Number 5.5, was a serene light-filled retreat decorated in a monochrome palette of taupes and white with black accents. On the facade wall, three large French doors draped in gossamer linen opened onto a long wrought iron balcony. They were the main decorative element of the room, framing the eye-level view of the romantic 19th century Mansard rooftops of the neighborhood and the elegant dome of the Comptoire National d'Escompte de Paris (once a foremost 19th century financial institution). Heavy white cotton draperies could be drawn for privacy. The clean contemporary lines of the custom-designed furnishings enhanced the sensuous luxury of the materials. The lush king size bed clad in pristine ultra-high count cotton stood in the center of a soft handmade rug of organic Swedish wool, itself showcased by the silvery sheen of the exotic wood floor. All the light fixtures, floor lamp next to the sinuous white wool armchair, hanging desk lamp and bedside lighting were original Artemide designs of perforated metal and polished glass, with the bedside ones partially inlayed into the tall pale wood headboard to overhang the drum bedside tables. A long writing desk of the same pale wood with a contrasting black desk chair sat along the far wall. A 36-inch LCD television screen hung above the desk. A large armoire built into the small entrance foyer provided storage space.
Food And Restaurants
A generous, health-conscious continental buffet breakfast was served in the bar and conservatory on weekdays and in the dining room on weekends (when the restaurant was not open for lunch). It included a variety of fresh-squeezed juices, yoghurts, granolas and cut fresh fruits, and freshly baked breads and breakfast pastries. Cooked breakfast dishes were available on demand.
Dinner at La Régalade was casual bistro dining at its delectable best. We had barely settled down when a terrine of divine paté de campagne materialized on our table, complete with a bowl of tiny cornichons and basket of hearty country bread from Thierry Breton. It was a challenge to resist tucking in with abandon. We solved it after helping ourselves to (almost) ladylike portions by begging our server to remove the temptation. As the meal proceeded we were glad for this foresight. I started with an appetizer of marinated raw scallops with a finely diced mixture of tart green apples and slivers of aged Comté cheese under a thatch of baby frisée drizzled with chive oil. Served at room temperature that allowed the flavors to develop, this unusual combination was light, crisp and most of all delicious.
My friends black (from squid ink) risotto with shrimp roasted in garlic and Espelette pimentoes was equally divine. For my main course, I opted for a slow-cooked rolled veal breast served in its braising juices on a bed of mashed potatoes and topped with roasted baby leeks. The serving was more than generous, but I couldn't refrain from cleaning my plate, with barely any help from my friends who where too busy enjoying their roasted lamb with mushroom and fingerling potatoes in garlic sauce and grilled grey bream with fennel and green apples respectively. We were fast reaching a state of satiated bliss, no doubt helped along by a lovely bottle of Alsacian red Vin d'Arbois, by the time our desserts arrived. My Grand Marnier soufflé was just the right balance of cloud-like sweet tanginess, and the warm chocolate cake with its oozing fudgy center and a generous dollop of vanilla bean ice cream on the side was also heavenly. But most irresistible of all was the Riz au Lait Grand Mère, which mercifully came in a size meant to be shared: a succulent creamy rice pudding served with a pitcher of orgasmic hot sea-salt butterscotch. It was the ultimate comfort food, and at the risk of sounding disloyal, we all declared it even better than grandmother used to make.
Chef Bruno Doucet, who graciously stopped by late in the evening, believes in steering clear from overly elaborate cuisine. His goal is to focus on the best seasonal products from France's heartland and turn them into simple, rigorously prepared dishes; and "allow the honest food to take center stage." Paris diners obviously agree. Whether for dinner seven days a week or lunch Monday through Friday, reservations were not only prudent, but usually necessary.
Amenities
In-room amenities included a complimentary welcome plate of home baked madeleines and rich chocolate cookies, a bottle of Evian water, a menu of five different types of pillow firmness and materials available on demand, a large electronic safe and an iPod docking station. Evening turndown chocolates were from nearby confectioner A la Mere de Famille (a Paris institution founded in 1761). There was also a mini bar and a Nespresso coffee machine with an assortment of capsules at an additional charge.
Bathroom amenities included bathrobes and slippers, magnifying mirror, hairdryer, facial tissues, cotton pads and swabs, fingernail file, shower cap, shoe polish glove, sewing kit and votive candles. Individual sizes of high quality organic house brand toiletries included facial soap, shower gel, body scrub, shampoo and conditioner.
Facilities There was a restaurant, La Régalade, a bar and a library.
Cleanliness
Excellent
Date Of Review April 2013
Reviewers Article and photographs by Josette King
Service Excellent. Every member of the staff with whom I came in contact during my stay was genuinely friendly and thoughtfully proactive. The room was serviced twice daily.
Would You Stay There Again? Yes
Contact Information
Address:
7-9 rue du Conservatoire
75009, Paris
France
Phone:
Fax:
Website:
Email: