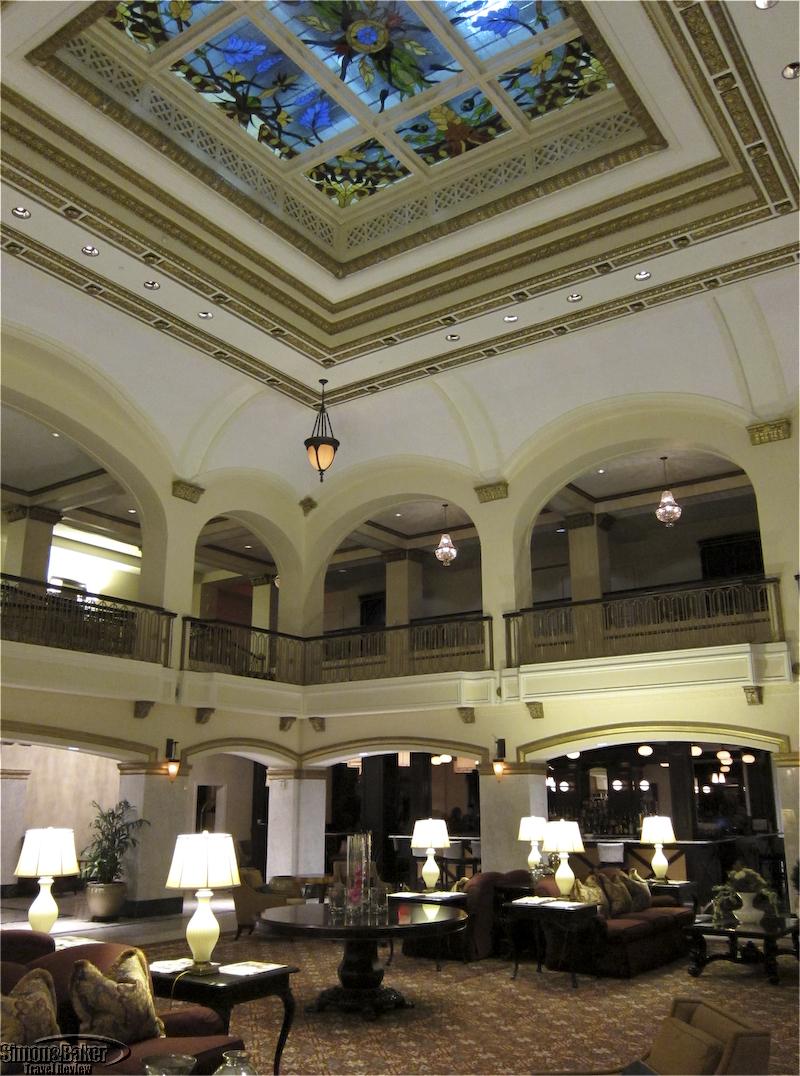 This beautiful historic hotel with 130 guest rooms had many pluses and will be on our list to return to for a future visit to the Quad Cities.
Overall Impression
This historic hotel originally opened in 1915 and had just remodeled and reopened in December 2010 shortly before we stayed there. We found the location of this hotel, in Davenport just a few blocks from the riverfront, to be excellent for access to the Quad Cities.
Our first impression upon our arrival on a cold wintry day was positive. As we entered the main lobby we discovered a warm fire burning and a very friendly bellman who greeted us at the door. This property had many appealing facilities including handsome common areas, restaurants, a well equipped fitness center, a spa and conference facilities.
Although the weather was extremely cold, it was actually perfect for bald eagle viewing which we were excited about trying during our stay. The locals say that the colder the weather, the better the eagle viewing because the eagles will begin to gather up in a few favorite spots which can easily be reached by car or by walking down to the riverfront.
We found the rooms to be very warm, comfortable, clean, stylish and quiet. When we arrived back at our hotel after being out in the cold we found the soaking tub to be a great way to take the chill of the winter off. There was a TV installed in the mirror in the bathroom which allowed me to catch up on the news while I soaked in the tub.
From the hotel we could reach most of the points of interest we planned to visit. There was a little construction still underway at the hotel during our stay, but it did not detract from our experience in any way. This beautiful historic hotel with 130 guest rooms had many pluses and will be on our list to return to for a future visit to the Quad Cities.
Children
The hotel welcomed children of all ages.
Class Of Accommodation Luxury hotel.
Concierge Donna Montgomery
Connectivity Complimentary high speed WiFi internet was available in the room.
General Manager Wesley Ludoff
Handicapped Access Yes.
Length Of Stay Three nights
Location This hotel is located in Davenport, Iowa. The Quad Cities International Airport is 6 miles from the airport. When we were there the hotel had a complimentary shuttle service to the airport.
Managed Restoration Saint Louis
Owned Purchased by Restoration Saint Louis in 2009. The owners when we visited the property were Amy and Ahmrit Gill.
Pets Allowed Dogs and cats under 40 pounds were welcome. Service/guide dogs of all sizes were welcome with a per stay fee of $50.
Size There were 130 rooms in the 11 story brick hotel with 150 people on staff.
Year Opened-Renovated The hotel first opened in 1915. It reopened after renovation December 2010.
Lobby And Common Areas
From the main entrance area we walked down a hallway of polished marble to the front desk in a large central common area with a beautiful lighted stained glass ceiling. There were several restaurants like Bix Bistro and Lounge, and Beignet Done That coffee shop close by.
The hotel had many dramatic rich earth tones of deep browns, dark sky blues and classic tans. The décor was stylish and the furniture looked comfortable. The artwork in the hotel was created by local artists and there were designer touches throughout. The ambiance was warm, inviting and friendly.
Bathroom
Our 5 foot by 9 foot bathroom included a 3 foot by 5 foot bathtub and shower combination and a full size mirror with a flat screen LCD TV built in. The towels in our bathroom were particularly luxurious and thick.
Room We stayed in a Standard Room, Room 509, with two firm and comfortable queen beds. The room was approximately 15 by 20 feet with a separate alcove space for closets and windows. The room was decorated with the same style and color theme of earth tones of the hotel.
Our room had a mini bar, complimentary coffee and tea, speakerphone with voice mail for up to 20 minutes and local calls, laptop safe, a network data port, wireless internet access, MP3 alarm clock radio, flat-screen HD satellite and cable TV with pay per view movies and games, and a complimentary daily newspaper upon request.
Food And Restaurants Meal options included in-room dining, Bix Bistro and Lounge, Beignet Done That coffee shop, and Bowling Alley Café.
Amenities
Our room had bathrobes, ironing board, Gilchrist & Soames body lotion, shampoo and conditioner, a security safe, a stocked mini bar and refrigerator, self service tea and coffee, microwave oven, ice bucket with ice tongs, flat screen HD TV with satellite and cable TV with pay per view movies and games, MP3 radio alarm clock, and a complimentary daily newspaper upon request. Laundry, dry cleaning, bellman and valet services were available.
Facilities There were several places to eat, Bix Bistro and Lounge, Beignet Done That coffee shop, Bowling Alley Café, whirlpool, outdoor sun deck, bowling alley (under construction), game room and amusement center, indoor heated swimming pool, full service salon and day spa, fitness center with cardio and strength equipment.
Fitness Center And Spa There was a full-service salon and day spa, complimentary access to the fitness center with cardio and strength equipment.
Pool There was an indoor heated swimming pool approximately 20 by 50 feet in size.
Conference Facilities
This hotel had six meeting rooms with a total meeting space of 10,000 square feet. There were four meeting personnel working at the hotel. The meeting rooms included the Gold Room, 5,000 square feet large, the Davenport Room, 2,000 square feet in size, and the Club Davenport, 1,100 square feet large. For smaller gatherings guests could request the Bettendorf Room, Moline Boardroom and the Rock Island Boardroom.
Other From this hotel we could easily and quickly reach all of the destinations we were interested in visiting including local restaurants, Figge Art Museum, Rock Island Arsenal and Clock Tower, Davenport and Rock Island riverfront, Village of East Davenport and LeClair U.S. Army Corps locks and dam for eagle viewing.
The hotel practiced resource conservation by changing bed linens every third day and at checkout. They provided a card that we could leave on the pillow in the morning to request the linens be changed out. Guestrooms and suites were non-smoking.
This hotel used a pass key that we waved near the sensor rather than the type of pass key that runs into a slot. We needed this key to use the elevators and to enter our room. We found this type of pass key easy, reliable and effective to use.
Cleanliness
Excellent
Date Of Review January 2011
Reviewers Article by Chester Godsy
Photographs by Chester Godsy and Joni Johnson-Godsy
Service The room was serviced on a daily basis by housekeeping. Evening turndown was available upon request. The staff members we met were very friendly.
Would You Stay There Again? Yes.
Contact Information
Address:
Hotel Blackhawk
200 East 3rd Street
Davenport, Iowa 52801
Phone:
Toll Free:
+1 563 322 5000
+1 888 525 4455
Fax:
Website:
Email: