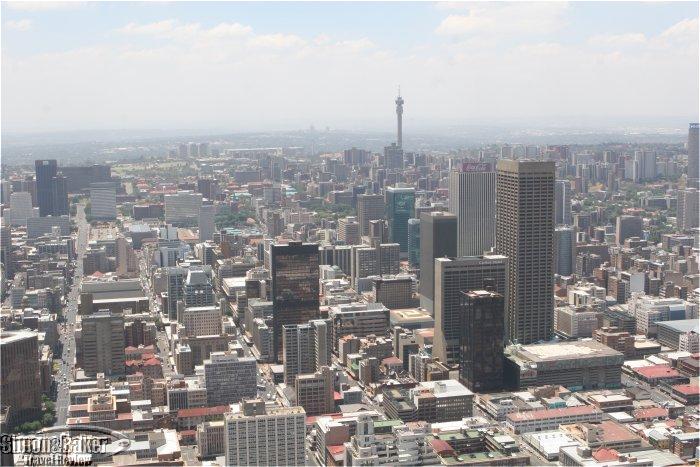 It was a fun way to spend the morning in the not-so-touristy Johannesburg.
It does not appear that either of these organizations still operate to perform this service. In routine checks of the links below, they now show no reference to helicopter flights and the MCC Aviation domain is no longer active.
Overall Impression
Our 45-minute drive from Sandhurst to Lanseria International Airport on the northwest outskirts of Johannesburg was straightforward and uneventful. We found parking easily and entered the small airport looking forward to a panoramic flight. We cleared airport security in the company of our affable pilot Alistair and walked across the tarmac to a five-seat Squirrel helicopter. Minutes later, after a safety briefing, we were airborne and heading into Johannesburg with a platter of snacks and a carton of fruit juice for each of us. Hot air caused the flight to be bumpy so we had to eat the snacks later when our stomachs had settled.
During the half an hour sightseeing flight, which was so much fun it seemed to last only minutes, our altitude was 5,300 feet. We flew over Johannesburg city center, Gold Reef City, Soweto, Sandton, Rosebank and back to Lanseria. Although the bumpy flight and hazy weather made photography challenging, we enjoyed good viewing. We paid close attention to Alistair's explanations of the sites. A brief distraction and the landmark he mentioned would be behind us. During the flight we became familiar with the overall layout of the city including areas and landmarks we had visited or heard of such as Four Ways Mall, the Montecasino Complex and the remaining old gold sites. This bird's eye view gave us an appreciation of how large, populated with houses and low buildings (except for the downtown area there are few tall buildings) and spread out Johannesburg is. It also allowed us to see parts of the city that due to time constraints, safety or choice we would not visit by other means. It was a fun way to spend the morning in the not-so-touristy Johannesburg.
About Mcc
Aviation Part of a large conglomerate of companies, MCC Aviation had a staff of five including four pilots.
About Our Pilot Alistair had 10 years of flying experience during which he had logged more than 5,000 flying hours. Prior to working with MCC Aviation, he had been a pilot for the Midrand Town Council. He also worked as a freelance pilot and for the National Airway Corporation.
Equipment MCC had five helicopters and two Lear jets available for charter flights including Bell Longranger 4, Bell 407, AS 3509 Squirrel, Bell Jetranger 3, Agusta 109K2 (twin), HS125 and a Gulfstream II.
Established 2003
Flight Options Panoramic flights were custom designed for each guest group. There were no set flights.
Handicapped Access No
Helicopter We flew on a 1992 five-seat AS350B Eurocopter Squirrel
Manager Dustyn Geldenhuis
Owned Mike Barnes, MCC Group of Companies
Pilot Alistair Brown
Date Of Flight
November 2005
Reviewers Article by Elena del Valle
Photographs by Gary Cox
Would You Fly With Them Again? Yes
Contact Information
Address:
Weekends Away
Adventure Breaks cc
P O Box 104
Linbro Park
South Africa, 2065
Phone:
Fax:
Address:
MCC Aviation
PO Box 984
Lanseria
1748
Republic of South Africa
Phone:
Fax:
Email: