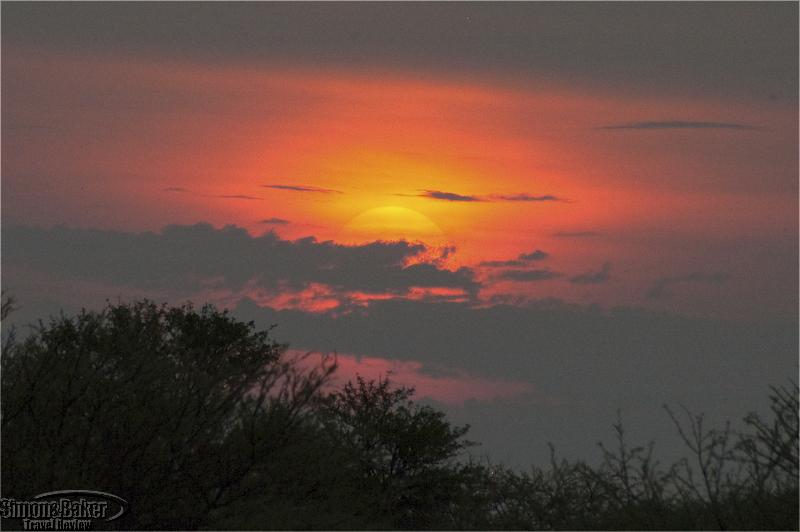 I will recommend Haina to any Kalahari-bound friends, regardless of the demographic composition of their party.
Overall Impression
Haina Kalahari Lodge gave me an immediate sense of home, a delightful but puzzling first impression from a place tucked in a remote conservancy at the northern edge of the Central Kalahari Game Reserve (a 20,386 square mile, 52,800 square kilometer, semi-arid immensity roughly the size of Switzerland; and the second largest game reserve in the world after Tanzania's Selous). The reason became obvious once I found out that this oasis of laid-back luxury in the heart of some of the harshest wilderness in Southern Africa was originally intended, and functioned for a decade, as a private multi-family holiday retreat before it began to welcome guests in 2007.
The warm welcome and thoughtful attentions of management and staff made me feel like a personal friend whose preferences were promptly catered to. Not only was I remembered by name by everyone from the moment I arrived, but seemingly trivial details were immediately noted, such as how I preferred my tea, or where I liked to settle to tend to my e-mail. On my second morning at Haina, I found a card table and chair set for me at the exact spot I had favored the previous day.
Game watching around Haina exceeded my expectations. One especially memorable day started with a cheetah stalking an impala for its breakfast, and after many sightings of smaller predators, antelope and birds, ended with a thrilling encounter. We had stopped near a quiet waterhole for a relaxed sundowner break when a powerful growl erupted nearby. It amplified to a full-blown roar that made the air around us vibrate as it rippled through the bush; a stern notice that we were trespassing! Our unflappable guide Mike Itatolneng calmly motioned us to return to the land cruiser. Instants later we were slowly driving in the direction where the sound had originated. We soon came across two male Kalahari lions with their distinctive black-tipped mane, lounging under a thorn acacia. We observed each other for endless minutes before they became bored with us and regally vanished into the bush.
Another unforgettable experience of my visit was a daylong drive to Deception Valley, the dusty bed of a river that meandered through the area some 16,000 years ago. Today only the illusion of water remains, in startling mirages that can be observed in the distance. Game viewing, mainly antelopes and birds on the day we visited, was remarkably abundant for such an arid land. We visited the area where American Zoologists Mark and Delia Owens had lived in tents during their seven-year research sojourn on Kalahari lions and brown hyena (their findings were later chronicled in their book Cry of the Kalahari, which had kindled my interest to this little known area when it was first published a quarter of a century ago).
For me, Haina Kalahari Lodge proved an ideal place to settle in and explore at leisure the unique environment of the Central Kalahari. Because of the seclusion of the accommodations, which also included a dedicated Family Tent, and the flexibility of the staff, it was a family-friendly lodge where children of all ages could be accommodated without negative impact to other guests. I was only aware that one such family with three small children was visiting while I was there because, having noticed the well-mannered youngsters by the pool, I chose to enjoy time in their company. I will recommend Haina to any Kalahari-bound friends, regardless of the demographic composition of their party.
Camp Managers
Jacques and Chantal Nel
Class Of Accommodation Luxury wilderness lodge
Communications Reliable satellite WiFi Internet access was available at the main lodge. Satellite phone was available for emergencies. There was no mobile phone service in the area.
Handicapped Access No
Length Of Stay Four nights
Location On the northern border of the Central Kalahari Game Reserve in the center of Botswana, 105 miles (170 kilometers) south of Maun.
Owned-Managed The lodge was privately owned by Jannie Rautenbach and Andre Du Preez, and Drs. Heloise Smit, Johan Venter and Tom Meyer. Deon Cuyler was general manager.
Power Electricity was solar-generated throughout the lodge, with a back-up diesel generator for emergencies.
Size The lodge occupied a 10-acre (four hectare) area within the 27,000-acre (11,000 hectare) conservancy. It consisted of 10 guest tents capable of accommodating up to 22 guests. It employed a staff of 22 including two guides and two rangers.
Transportation It was an easy 30-minute flight by bush plane from Maun airport, the main gateway into Botswana's safari areas, to Haina's private airstrip. Flights could be arranged through the lodge, that also provided transportation to and from the airstrip. Haina could also be reached by road from Maun with a four-wheel drive vehicle. The drive was said to take approximately three hours. Getting around the property and the conservancy was either by land cruiser, quad bikes or on foot.
Year Open-Renovated Haina was built in 1998 as a private retreat for the five owners. It was renovated and opened to guests in 2007.
Lobby And Common Areas
Under a soaring thatched roof, the main lodge was an inviting oasis of laid-back modern African comfort: a stylish contemporary environment with soft leather sofas, beautifully crafted African woodwork, a modern bar with beverage refrigerator, solar-generated electricity and an efficient WiFi Internet connection. The lounge opened onto a large sundeck and a crystalline salt-water swimming pool (bore-holes in the Kalahari tend to produce salt water). To the rear of the lodge an open-air lounge overlooked a small waterhole ideally located for armchair game and bird-watching. A large
boma
(fenced-in enclosure) housed a campfire pit and separate grill for cooking and dining under the stars. The superbly appointed guest tents were sited for total privacy, none visible from any other structure within the property.
An expansive hardwood platform under a peaked thatched roof held by rough-hewn tree-trunks formed the main lodge. It housed the lounge on the right side of the entrance steps, with the library on the left. The dining area and bar were to the rear. The décor throughout was contemporary African style: modern furniture mingled with African occasional pieces and art. The structure was opened on three sides to overlook a large fenced courtyard in the front, with the sundeck and pool area to the right and the open-air lounge and boma to the rear.
In the lounge area, two tan leather sofas and three matching cocoa brown armchairs were arranged around a square wooden coffee table. A long brown leather banquette flanked by two black African carved barrel end tables completed the seating arrangement. Toss pillows were made of local textile with natural geometric designs on black and brown background. Behind the rear sofa, a long credenza held the all-day coffee and tea service, and a large jar of home-baked cookies. The library featured two overstuffed loveseats covered in natural canvas, and two leather armchairs matching those in the living room. They were arranged around a rectangular wooden coffee table on a cowhide throw rug. Tall glassed-in cases held a variety of books on local flora, fauna and safari-related topics, and a small display of local artifacts. The dining area had a long, family-style wooden table surrounded with matching chairs. Along the back wall, a tall glass-fronted beverage refrigerator formed a backdrop for the bar. Next to it, a long built-in counter served as a buffet table for breakfast and lunch.
Bathroom
The beautifully appointed bathroom occupied the rear of the tent, with both back corners enclosed by wooden partitions and bamboo doors. The right enclosure housed the flush commode. The left corner held the shower, with both outer partitions glassed-in for a floor-to-ceiling view of the bush. A tall storage armoire sat on the front outer side of each enclosure. A bamboo ladder leaned against the wall to serve as a towel rack. At the center rear of the tent, a teak double vanity with a marble top held two glazed pottery sinks topped by twin mirrors and a magnifying mirror. A deep, freestanding white porcelain bathtub sat in the center of the room, fitted in a black wood pedestal. A matching black wooden shelf placed across the top of the tub held an assortment of toiletries.
Room My 580 square foot (54 square meter) superior luxury tent under thatch, Pangolin, had a deep front veranda with an African carved chaise, a square wooden table and two director chairs. The chaise was my favorite spot to doze off in the heat of the afternoon, lulled by the sounds of the bush. From the veranda, a center-zippered opening led into the wide, airy tent with an open floor plan. On each side, three net-screened windows allowed the light to filter in and enhance the elegant black and white color scheme. The floor was dark hardwood with black cowhide patchwork throw rugs. The furniture was of dark polished wood. In the center of the tent, the king-size canopied bed draped in white mosquito netting faced the veranda. The headboard and two bedside tables with their netting backdrop formed a visual divider between the sleeping area and the bathroom. On the backside of the bed's headboard, a long dressing table with a bench seat doubled as a writing desk. A long black leather bench outlined the foot of the bed. In the front corners of the tent, two armchairs with black and white graphic cushions provided indoor seating. A butler tray held a full coffee and tea service. At night, lighting was provided by two tall bedside lamps with square burlap shades.
Food All meals were served either in the main lodge's dining area or poolside, starting with a buffet-style continental breakfast or full English breakfast on demand prior to the morning game drive. Lunch was served buffet-style, and dinner was plated. The food was consistently delicious. The three-course dinner usually started with soup followed by a main course of meat (usually local beef or game) and fresh vegetables. A vegetarian option was available. Twice during my visit, dinner was a barbecue, with General Manager Deon Cuyler overseeing the proceedings.
Amenities
Room amenities included daily laundry, a full coffee and tea service including a tin of biscotti, a thermos bottle of iced water and bottled water. A small butane burner and a stainless-steel teapot allowed for freshly brewed tea or instant coffee. There was an electronic safe and a basket holding mosquito and insect repellent, a flashlight and an emergency horn in one of the armoires. Bathroom amenities included two bathrobes and slippers, a box of tissues, a stack of bath and hand towels, face cloths, face soap, laundry soap, and pump bottles of body wash, shampoo, conditioner and body moisturizing cream. Votive candles were arranged around the room. A walkie-talkie allowed me to communicate between the tent and the main lodge.
All meals, soft drinks and alcoholic beverages were included, as were all daily game viewing and desert experience activities.
Pool The 13 foot x 23 foot (four by seven meter) swimming pool sat in the center of a large, sun-drenched deck. Four wooden lounge chairs with green and white-striped cushions and rolled pool towels were lined on the deck. On the far side of the pool, a long dining table surrounded with folding teak chairs sat under a thatched awning. Most meals were served there during my stay.
Game Viewing Game I sighted included: lion, cheetah, black-backed jackal, spotted hyena, warthog, ground squirrel, steenbok antelope, gemsbok, impala, springbok, blue wildebeest, eland, kudu, oryx, giraffe, zebra. Birds included: black and crested korhaan, blacksmith plover, tawny eagle, rufous-napped lark, ostrich, greater kestrel, yellow, red and grey hornbill, spotted dikkop, painted snipe, white-crowned and crimson-breasted shrike, black-shouldered kite, ant-eating chat, pale chanting goshawk, Namaqua sandgrouse, red-billed stilt, swallow tail bee-eater, bateleur eagle, lilac-breasted roller.
Activities In addition to twice-daily game drives in open land cruisers, activities included a visit to a bushmen camp on the conservancy. The bushmen shared with us some of the details of their daily lives and identified the roots and plants they harvested for food and medicine. They also demonstrated for us one of their traditional rain dances. Daylong excursions in the Central Kalahari Game Reserve, including Deception Valley, were available. This was an activity that I especially enjoyed.
Cleanliness
Excellent
Date Of Last Visit October 2009
Reviewers Article and photographs by Josette King
Service Excellent. Every member of the management and staff was attentive and thoughtful. My tent was serviced twice daily. Laundry service was especially prompt and with every piece returned meticulously ironed.
Would You Stay There Again Yes
Contact Information
Address:
Private Bag BO 48
Maun, Botswana
Phone:
+ 267 6863469
+ 267 72991580 (mobile)
Website:
Email: