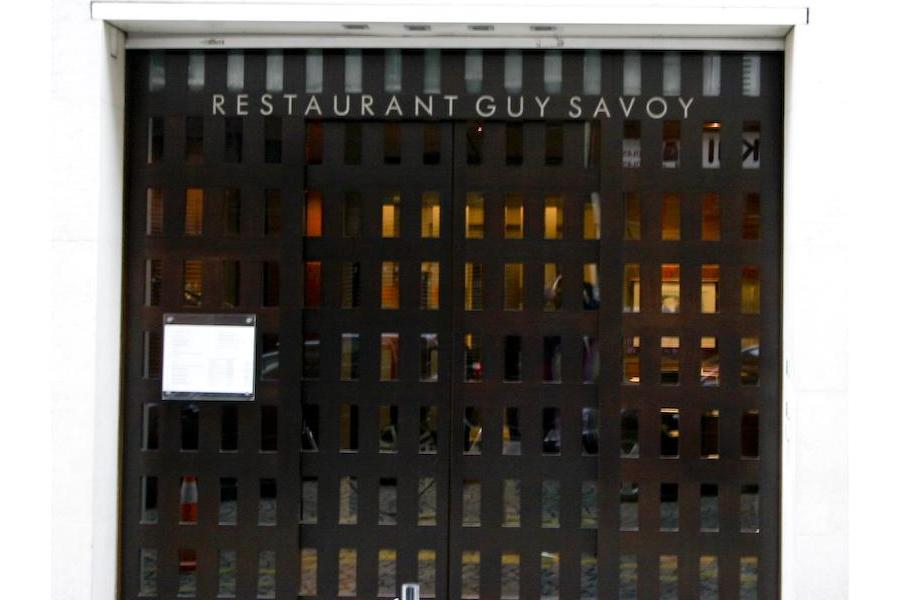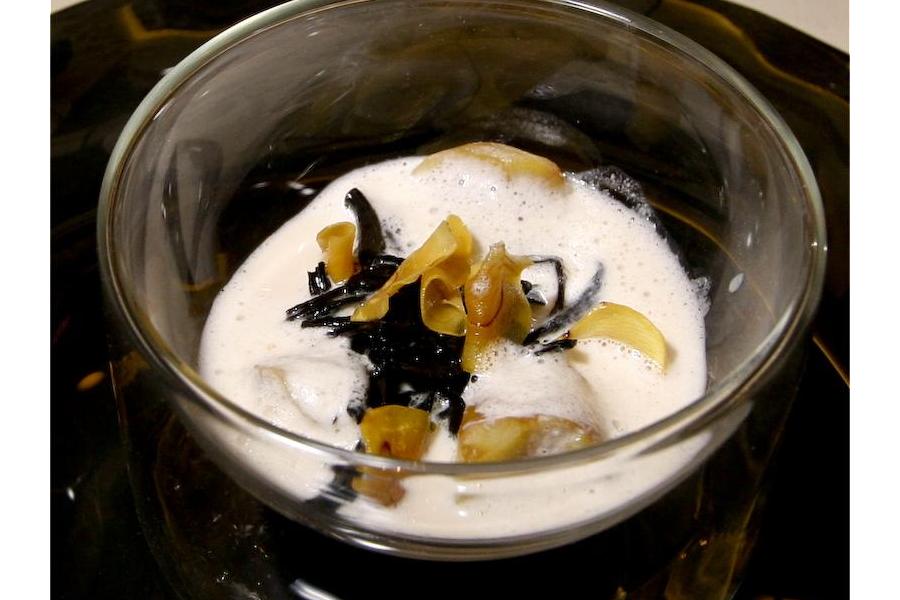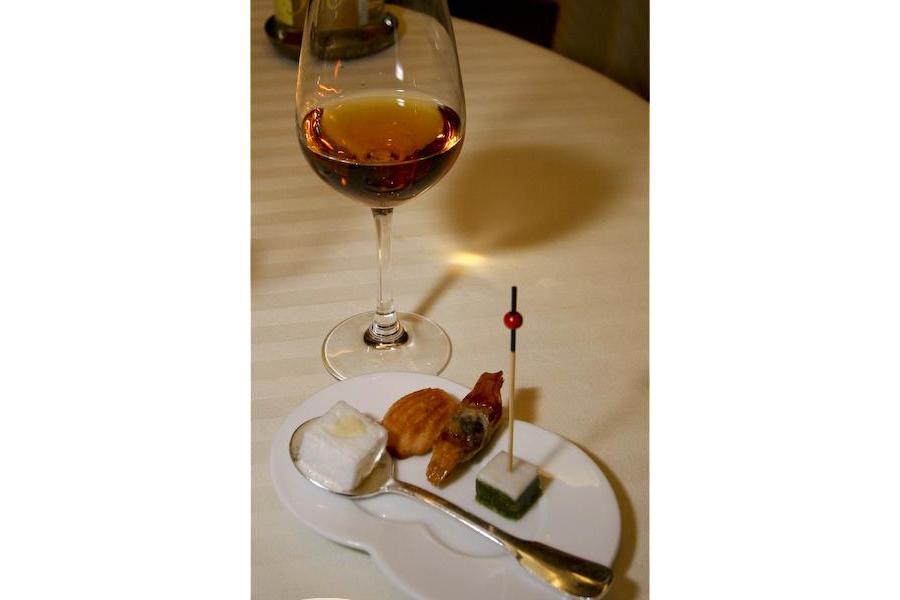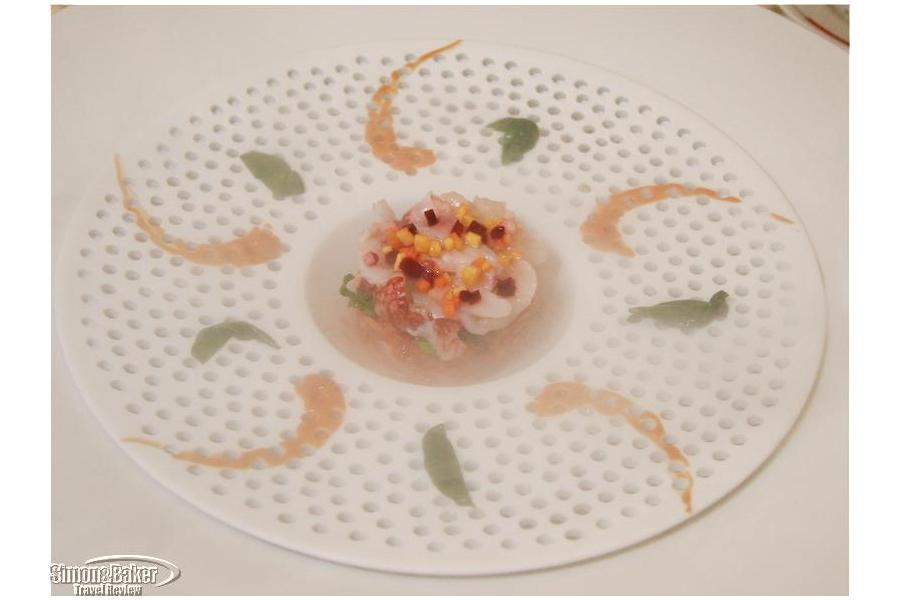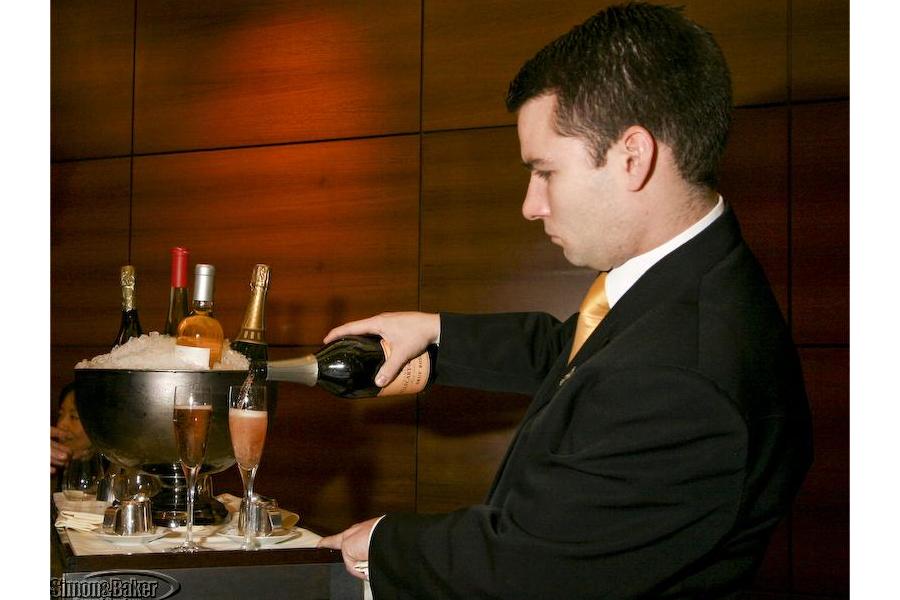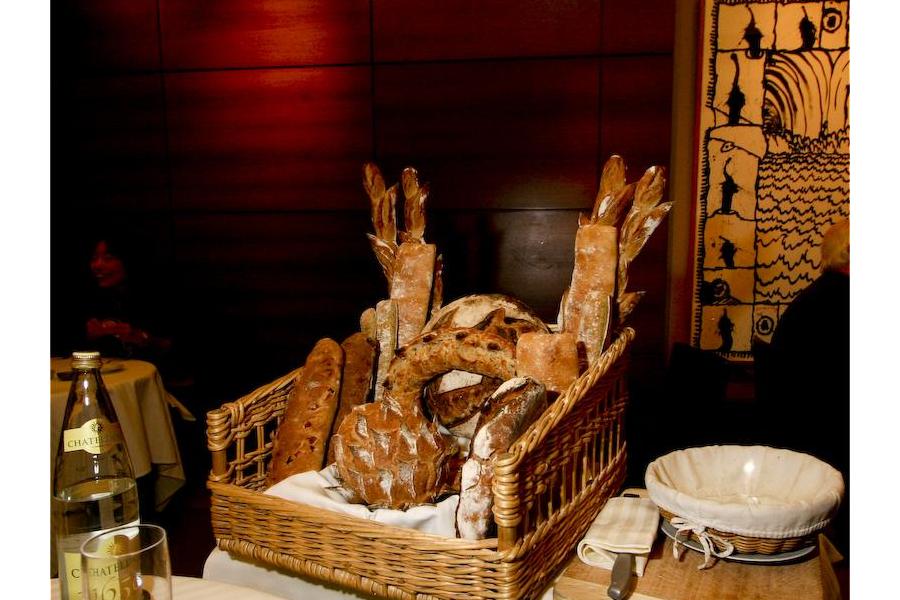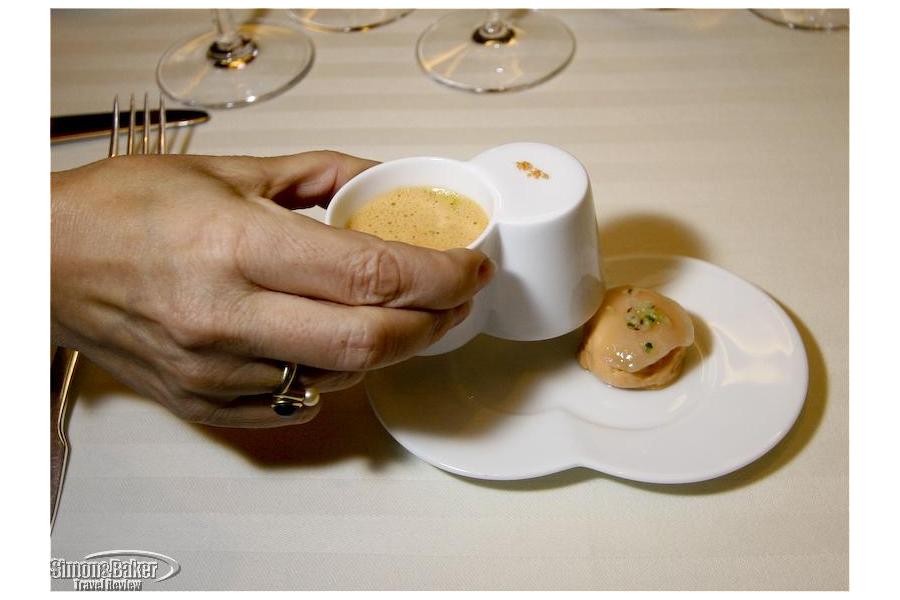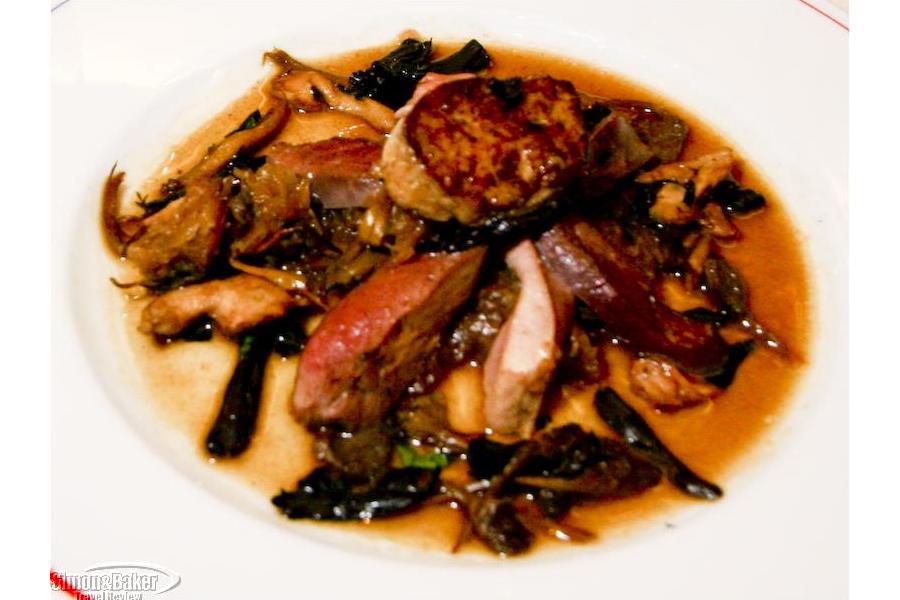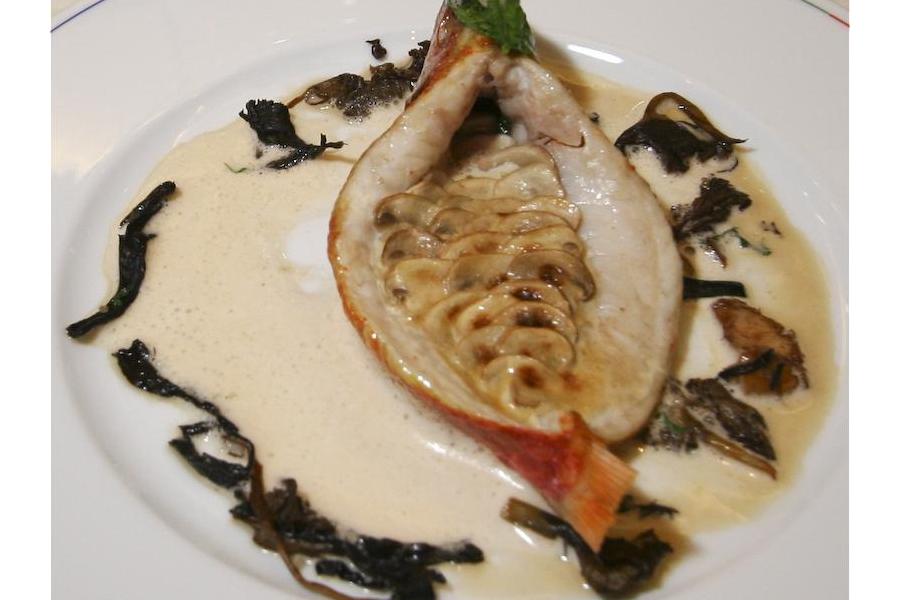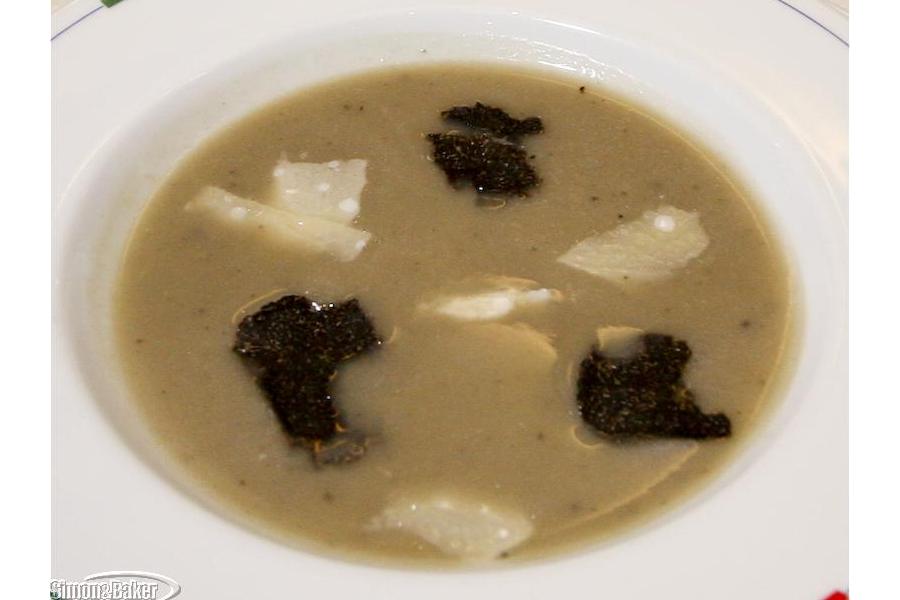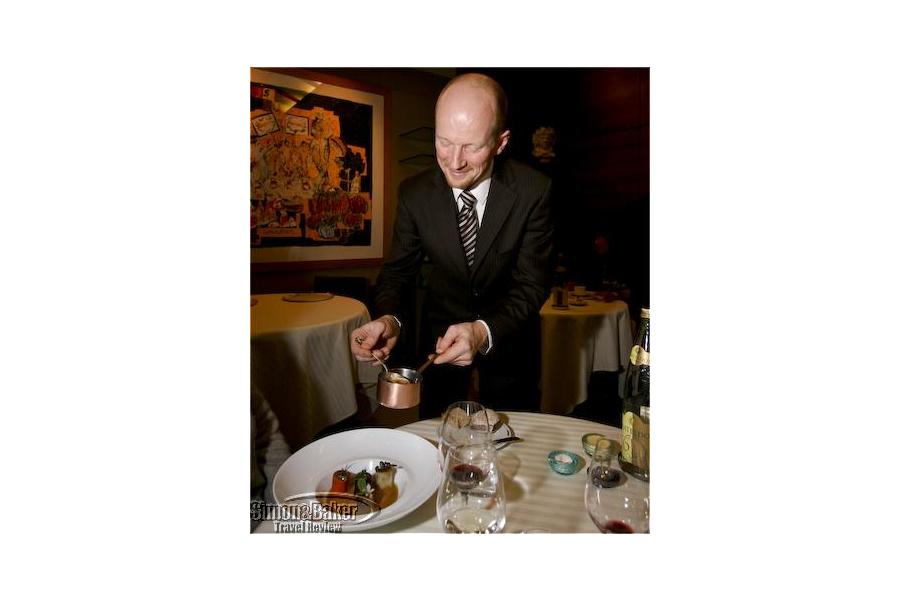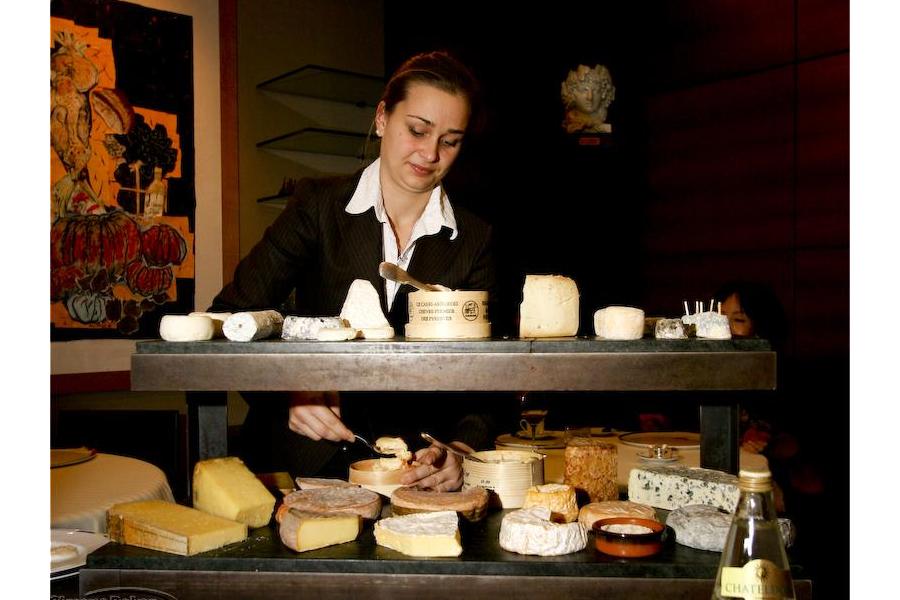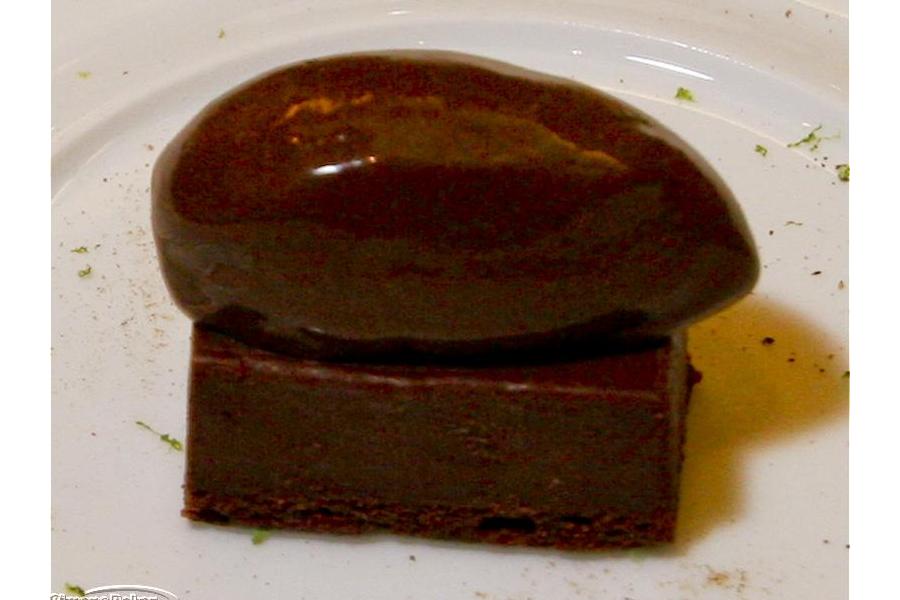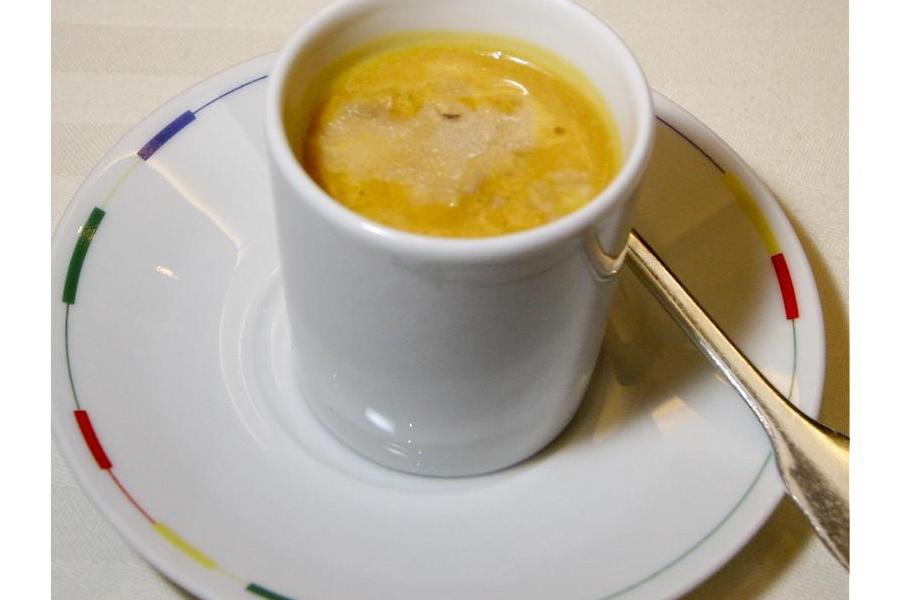 We wish him continued success and look forward to a return visit in the near future.
Overall Impression
From the outside this small restaurant on a quiet Paris street revealed little of the gourmet treasures and extraordinary service hidden inside. It was a brutally cold day when we last visited Guy Savoy's main establishment. We arrived early and were waiting across the street for the restaurant to open when we observed other guests entering. We quickly followed them in to find welcoming staff just inside the doors at a reception desk. They whisked away our coats and guided us to a small dining area in the rear of the restaurant.
As we walked to our table I remembered the understated décor with diverse objects d'art scattered around the dining rooms from my last visit. The soft earth tones blended pleasantly with the quiet dining room. As soon as we sat down someone offered us aperitifs. Bite size amouse bouche , menus, sparkling bottled water and the wine list soon followed. We surrendered our meal and wine selection to the chef and sommelier and the results were highly rewarding.
Our visit to Restaurant Guy Savoy resulted in a delicious and perfectly prepared and served meal. The ambiance in the sober and art filled dining room, the meal service, including fine cutlery and silverware, glassware and dinnerware, and friendly and professional service enhanced our gourmet experience. Our lunch at the well known establishment was more than a series of delicious courses. It was an event.
That the individual dishes were a surprise was our choice. That every course was artistically presented and exquisite was to the credit of chef and his staff. At the same time, the service was seamless; the kind of service that matched the superb heights of the meal.
While we were at the restaurant we had a brief opportunity to visit the bustling kitchen and greet the chef. He looked ebullient. Chef Savoy is a gifted chef, and a happy man surrounded by a competent and enthusiastic team who excel at what they do and are proud to do it. We walked away convinced the renowned chef is at the pinnacle of his career. We wish him continued success and look forward to a return visit in the near future.
About The Executive Chef
Born in Bourgoin-Jallieu in 1953, Guy Savoy decided to become a chef at 15. Between 1968 and 1976 he trained with chocolate-maker Louis Marchand, then with the Frères Troisgros, Lasserre, at the Lion d'Or in Geneva, and the Oasis in La Napoule. He spent the following two years with Claude Vergé at La Barrière de Clichy.
In 1980, he opened a restaurant in his own name on Rue Duret in Paris, earning his first Michelin star a year later and the second by 1985. In 1987, he relocated the restaurant to Rue Troyon. Over the next 10 years he opened seven bistros and published a collection of recipes. In 2000, he received the Legion d'Honneur medal from the French government. Michelin awarded his restaurant the highly coveted third star in 2002. After handing over the management of his bistros he dedicated his efforts to establishing other restaurants such as a Maitre Albert, a left bank grill, and Le Chiberta. Most recently he established a Las Vegas satellite with his son Franck. In 2008, the President of France awarded him the title of Officer of the Légion d'Honneur.
Chef De Cuisine Guy Savoy
Executive Chef Guy Savoy
Handicapped Access No
Head Sommelier Sylvain Nicolas
Location On a small side street just off the Arch de Triomphe and the Champs Elysees
Opened-Renovated The restaurant was established in 1980 and remodeled in 2000 by architect Jean-Michel Wilmotte.
Owned And Managed Guy Savoy
Pastry Chef Christian Boudard
Restaurant Manager Guy Savoy
Size There were 48 staff members who looked after up to 65 guests in a 150 square meter dining area, sub divided into three dining rooms.
Type Of Restaurant Contemporary French gastronomic cuisine
DÉCor-Ambiance
The first thing we noticed about the restaurant was the wood grating and glass door. Once inside, the essential elements of the restaurant were stone, wood and leather. The space was comprised of a succession of dining rooms with partitions, windows, mirrors and lighting designed to set off the sculptures, paintings and other art objects.
Placed around the dining room were objects and artwork of varied types: African Shield from Northern Cameroon from the Kirdi Period of the early 20 th century, one of the first African pieces acquired by Guy Savoy in 1993 in a Parisian gallery; Senoufo Bird, a 19 century wooden sculpture from Ivory Coast; Jar, a 19 th century terracotta pottery from Mali; Bozo Statue, an early 20th century painted wood sculpture from Mopti, near the Niger valley; Lithographs by Bram Van Velde; Yoruba Statue, a large wooden sculpture from Nigeria from the early 20th century; " Terre-Eau ," an oil and charcoal on canvas collage by Fabrice Hyber; A 19th century painted wood Cabinet from Pakistan; " Compotiers ," a painting on paper by Georges Autard; Ijo Bird, a painted wood sculpture from Nigeria from the early 20th century; a late 19th century wooden Balinese Harp; Woman with Bowl, an early 20th century Yoruba painted wood statue; "The Fat Lady," a small pottery statue from the Tang Dynasty 618-907 BC from China; "Waiting Man," a iron statuette; " Rouge ," an oil on canvas by Georges Autard; " Terres D'Afrique ," a black-lead pencil drawing by Merri Jolivet; Dogon Heads, small bronze sculptures from Mali; Chapea de Clown," a painting on paper by Georges Autard; " L'Eau a la Lucarne ," an ink lithograph by Alechinsky; Match Head Buddha, an original sculpture by David Mach; Jean-Pierre Rives, an iron and steel sculpture on loan from the artist; "Quatre Saisons pour un Festin," a painting on paper and collages by Georges Autard; and " Petit-Dejeuner, Dejeuner, Diner ," a painting on paper and collages by Georges Autard.
Cellars Wine And Alcoholic Beverage Selection
The restaurant had about 900 types of wine and 15,000 bottles. Emphasis was on France with all the French regions represented. There were also wines from the United-States, Italy, Spain, Portugal, and Hungary.
Special Menus There was a Prestige Menu which included six courses, two cheese courses and two desserts for 275 euros ; a Textures and Flavours Menu, for 345 euros, which included eight courses, one cheese plate and two desserts; and in winter the restaurant offered a Truffle Menu for 480 euros.
Meal
We began with a glass of Billecart Saumon champagne and a nibble of
foie gras
"club sandwich." Soon a bottle of Chateldon water arrived followed by bread and two types of butter, sweet and salted as well as sea salt and pepper. There were several kinds of bread to choose from
pain a la chataigne
(with chestnuts),
pain aux cinq céréales
(five grains),
tourte Auvergnate a la farine seigle
, and
niche au levain naturel
.
There was a seafood cream with a surprise lobster and scallop mousse. Next we had a chestnut decomposition of contrasting textures mushrooms, crunchy chestnuts and chestnut confit. We had one of the house specialties, Homard bleu "cruit" en vapeur froide , a Brittany lobster with "fog" served in an especially designed plate. We were surprised, as were our fellow diners, when white "fog" appeared on our plates. Once the cold steam disappeared green and orange and a chilled lobster consommé remained on our white plates.
Next there was Filets de rouget barbet poelés, jus au foie, beignets d'herbes et pommes Maxime's , a surf and turf snapper with mushrooms and a snapper liver sauce which was refreshed by a young lady. Succulent, fresh tasting and delicate, it was one of my favorite dishes. A small serving of pumpkin with white truffle cream followed. I was pleased to see another house specialty which I remembered from a previous visit to the restaurant, Soupe d'artichaut a la truffe noire, brioche feuilleté aux champignons et beurre de truffe , an artichoke and black truffle soup served with parmesan cheese shavings and brioche with truffle butter. To die for.
Game birds were next: pheasant, wood pigeon and wild duck served with a duck foie gras . This dish was superbly prepared, though full of bold flavors and well suited for the stout hearted. A vegetable and mushroom palate cleanser and lovely cheeses helped us transition to the varied desserts. We sampled cabre ariegeois, camembert, époisses de Bourgone, Langres, Roquefort, Crottin du Loiret and a three year old comté.
There was a refreshing Granny Smith plate; Noir made of pepper, cardamum, and chocolate ganache. It was fragrant and flavorful. There was also a magnificent early grey sorbet, a warm slice of tarte tatin. Coffee was accompanied by a philo dough with pistachio and almond pastry and a madeleine.
Sommelier Sylvain Nicolas was kind enough to pair some beautiful wines to match our extraordinary meal: Savemmieres "Le Bel Ouvrage" 2005 Domaine Laureau from the Loir Valley, Puligny-Montrachet "Vieilles Vignes" 2005 Domaine Vincent Girardin, Saint-Yulien Chateau Langoa Barton 2001 from Bordeaux, Riesling Grand Cru "Muenchberg" 2004 Domaine Ostertog from Alsace, and Passite di Pontelleria 2006 "Ben Rije Donna Pugata.
Other Across the street from the restaurant there was a private dining room. Late in the meal we were invited to visit the kitchen which had areas for dessert service, wine service, appetizers, and a service-hatch at which Guy Savoy himself officiated twice a day.
Date Of Review
2006
2008
Reviewers Article by Elena del Valle
Photos by Gary Cox
Service Hubert looked after us during the meal. Solane, a young woman with a kind smile, also stands out in my memory. A team of mostly young and friendly staff members brought us food, water, bread, butter and wine and looked after our well being during the multiple course meal. Service was outstanding.
Would You Dine Eat There Again-Recommend It? Yes
Contact Information
18 rue Troyon
75017 Paris
France
Phone:
Fax:
Website:
Email: