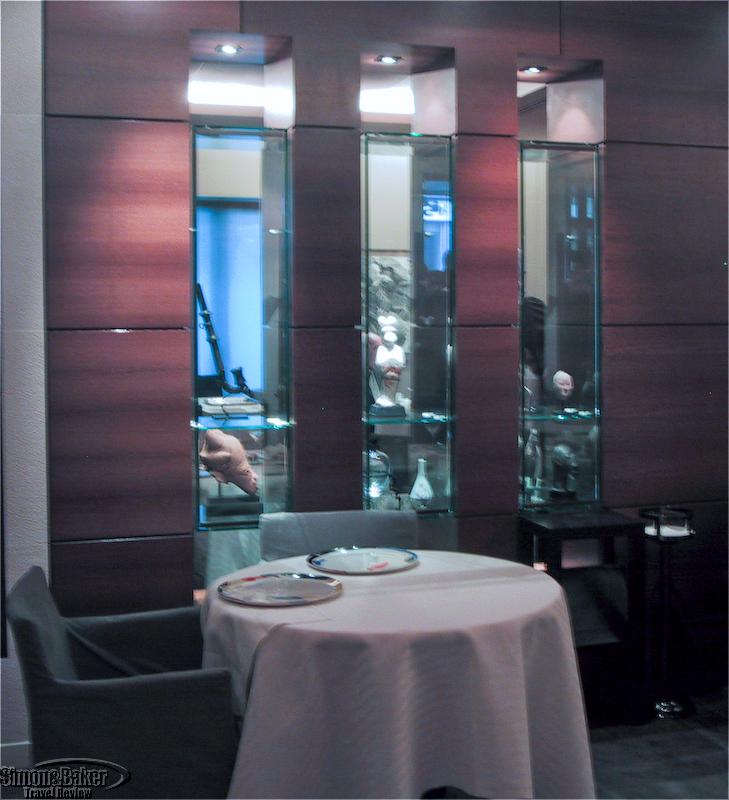 Beyond the meal itself, the most remarkable quality that will draw me back to Guy Savoy was the friendly, professional and genuinely welcoming service.
Our most recent visit to this restaurant can be found
here
.
Overall Impression
I arrived with hand luggage in tow directly from the airport at the famous Parisian restaurant looking forward to lunch. The sole guest at my table and a woman I half expected to be treated with disdain, a not unfamiliar experience at other temples of French cuisine. To make matters worse I had requested the special online menu. My table near the entrance had an excellent view of the dining room but I feared the staff would forget me. To my delight, they regaled me with abundant attention and extraordinary service.
The "Inn for the 21 st Century," as the restaurant is described in promotional materials, was on a small street just off the Champs Elysees. It was named for owner and chef Guy Savoy, a nouvelle cuisine trailblazer in his heyday. I had been there for dinner many years before and remembered it fondly. Inside the décor was modern filled with wood and sunlight. Stark primitive artifacts and bright oversize abstract oil paintings gave life to the otherwise serious dining rooms.
I had hardly sat down when the Chef himself made an appearance. He stopped at my table, among others, and welcomed me graciously. Instantly, I felt, well, welcome. In these days when so many of the great gourmet icons are overseeing someone else's cooking and developing their corporate empires, it was reassuring to see a hands on chef still welcoming guests individually. A moment later, one of the many young and handsome servers arrived with a chilled champagne trolley to offer me an aperitif. With a glass of Billecart Saumon champagne in hand I perused the menu and placed my order.
The special web menu, the most affordable option, was particularly favorable for first time guests wanting to sample the cuisine and visit the restaurant. The three course menu included one choice from several options for the appetizer and main course. It was also possible to order a wine pairing. My favorite dish was one of the restaurant's signature dishes, an appetizer, Soupe d'artichaut a la truffe noire, brioche feuilletée aux champignons et truffes . It was an ethereal artichoke soup made with black truffles, and brioche with mushrooms and truffles. Remembering the soup I can understand why the artichoke is one of the chef's favorite vegetables. His words come to mind: "If you respect and worship the raw materials, you can do as you wish."
As with other top tier Parisian restaurants, there were many special touches like designer dinnerware, silverware and crystal glasses; nine types of bread paired with each course; and two types of butter served in pretty crystal containers. Beyond the meal itself, the most remarkable quality that will draw me back to Guy Savoy was the friendly, professional and genuinely welcoming service.
About The Executive Chef
Guy Savoy, who believes "Cuisine is the art of instantaneously turning produce suffused with history into happiness," began his first apprenticeship with chocolate-maker Louis Marchand in 1968. He later worked with Freres Troigros, Laserre, Lion D'Or in Geneva and the Oasis in La Napoule. In 1980 he established his own restaurant, earning his first recognition from the Michelin reviewers just a year later. He earned the second star in 1985 and relocated the restaurant to its present location in 1987. Over the next 10 years he opened seven bistros and published a collection of recipes. In 2000 he received the Legion d'Honneur medal from the French government. Michelin awarded his restaurant the highly coveted third star in 2002. After handing over the management of his bistros he dedicated his efforts to establishing other restaurants such as a Maitre Albert, a left bank grill, and Le Chiberta. Most recently he established a Las Vegas satellite with his son Franck.
Executive Chef and chef de cuisine Guy Savoy
Handicapped Access No
Location On a small side street just off the Arch de Triomphe and the Champs Elysees
Manager And Head Sommelier Eric Mancio
Opened-Renovated Guy Savoy opened his restaurant in 1980 on the Rue Duret in Paris. He moved to the current location in 1987. The restaurant was redesigned in 2001.
Owned and managed Guy Savoy
Pastry Chef Hugues Pouget
Size The restaurant could accommodate 65 guests. There was a staff compliment of 48.
Type Of Restaurant Gastronomic
DÉCor-Ambiance
From the street the most noticeable feature was the distinctive wood and glass entrance. The restaurant was decorated in gray and stone colors with wood partitions by Jean_Michel Wilmotte. Artifacts from Guy Savoy's collection including bright abstract oil paintings added a splash of pizzazz to the muted background.
His collection includes paintings by Georges Autard and Bran Van Velde; painted plates by Tony Soulie and Jacques Bosse ; Yoruba and Bozo statuary; Dogon bronzes; and artifacts from Bali, Cameroon, Ivory Coast, and the Tang Dynasty. There were also works by Jean-Pierre Baquere, Isabelle Emmerique, and Jean-Pierre Rives.
Tableware was designed by Laurent Beyne; plates and chairs were designed by Jean_Michel Wilmotte; knives by Laguiole; china by Anne Xiradakis and other plates by Didier Le Hen.
Cellars Wine And Alcoholic Beverage Selection
Restaurant manager Eric Mancio worked double duty as wine steward. The cellar collection of 14,000 bottles is divided into classic and modern wines. Salient items in the classics include a 1892 Yquem, and Margaux and Latour bottles from 1928. Guy Savoy served Alsatian wines from Andre Ostertag's collection before it was fashionable; Rhone Valley wines from Christophe Sabon of the Domaine de la Janasse; from the Languedoc Jacques Damitio wines; and early Sauternes produced by Christophe Gachet.
Meal Two pre-appetizers accompanied the champagne glass: a foie gras morsel served on a toothpick and crunchy soup in a thimble sized bowl. When my appetizer arrived, I tasted the two types of cold fish on the plate, leaving the remainder without in any way indicating my disappointment. Moments after the waiter removed the plate, Hubert, who had taken my order, arrived. He insisted on replacing the fish with an artichoke soup. More to humor him than anything I agreed. The soup, a house specialty, was magnificent.
The "three" course meal was an artichoke soup, Soupe d'artichaut a la truffe noire, brioche feuilletée aux champignons et truffes ; delicious grilled and poached pigeon with truffle mash potatoes, Pigeon "poché-grillé", "noxi-cresson", cuisses confites a la maniere classique ; and a festive multi mini-dish desert. Between the dessert courses and the mignardises from the dessert trolley there were 16 sweet flavors: pear and chestnut, chocolate, chocolate mousse, passion fruit macarrons pastry, pear ice cream, and candied chestnut ( marron glace ) ice cream with crème anglaise .
Special Menus The restaurant changes its menu four times a year. For first time guests wanting to sample the restaurant's offerings, there was an online three course menu for 100 euros. It included optional wine pairing for 10 euros per glass of wine. The Prestige Menu, served for the entire table, included one pre-appetizer, five dishes, cheeses, and two desserts for 230 euros. A Textures and Flavors menu costing 285 euros included one pre-appetizer, six dishes, cheeses, and two desserts. A truffle menu was available in winter and a mushroom menu was available in the fall.
Other
Part of the secret at top restaurants is the quality and freshness of the raw ingredients. Guy Savoy is no exception. The restaurant purchases food items from specialized suppliers. They buy rib veal from Rober Morel, a butcher and cattle breeder in Bourgoin-Jallieu; lamb comes from Castille; and poultry from Bresse in eastern France. While vegetables are delivered twice daily from gardeners near Paris, herbs and salad greens come from Drome in southeastern France.
In 2006 Guy Savoy had three Michelin stars. A Guy Savoy restaurant opened at Caesars Palace in Las Vegas May 2006.
Reservations Required I was able to book a table for two a couple of weeks in advance.
Date Of Review
2006
2008
Reviewers Article and photos by Elena del Valle
Service The staff offered some of the most exacting, attentive – and friendly – service I have had in a restaurant of this caliber in a long while.
Would You Dine There Again-Recommend It? Yes
Contact Information
Address:
18 rue Troyon
75017 Paris
France
Phone:
Fax:
Website:
Email: