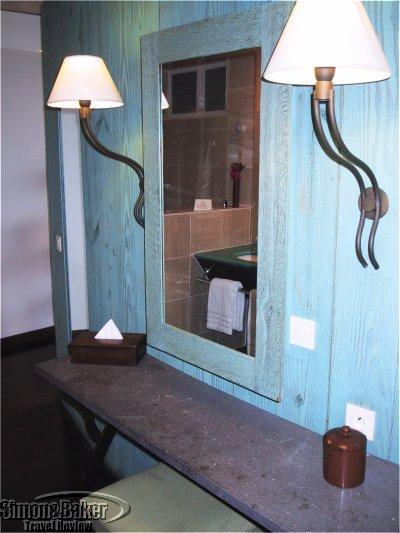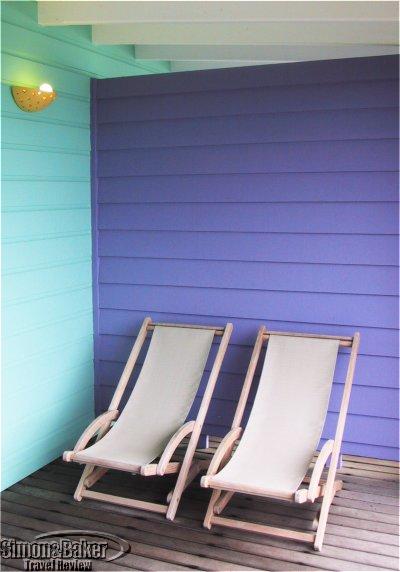 That afternoon we made a toast to the precious details that made the Guanahani a wonderful property for an island getaway and contemplated a prompt return.
Overall Impression
We had barely entered the arrivals area at the modern Gustave III airport, hot and tired after a long day of travel, when we encountered Xavier, the Guanahani representative who was waiting for us. He collected our luggage and walked us over to his waiting van, where he provided us Evian bottles and Hermes refresher towelletes. These small touches meant a world to us and were the promise of things to come. At the hotel , he waited while we went through a five minute check-in, and then drove us to our room.
The next afternoon found us on our porch listening to the sounds of the surf and lunching on delicious and hot room service Thai prawns and a French style turkey club thinking what a wonderful time we were having in spite of the overcast and rainy weather. The most striking thought we had was that if we had unlimited funds, this is how we would want to live (at least part of the time): at a property like the Guanahani .
Salient features of the 16-acre Guanahani , named for the first island Columbus discovered in what is now The Bahamas on his maiden voyage, were its ideal situation on a protected cove with beachside and hillside room options, quiet ambiance, high standards, Internet connectivity, sleek modern look combined with bright Caribbean theme, outstanding view of the bay from our room, extraordinary service, good food, and manicured grounds. Next time, we would consider a room or suite slightly closer to the beach and restaurants though we would be hard pressed to surrender our remarkable ocean/island view. Although we were disappointed with the weather, we found lazing in our room – where we could order room service, watch DVDs, listen to CDs, get online (weak signal) or just read – was a fun and relaxing way to spend our vacation. That afternoon we made a toast to the precious details that made the Guanahani a wonderful property for an island getaway and contemplated a prompt return.
Class Of Accommodation
four stars
Concierge Yanne
Connectivity Complimentary wired and WiFi connectivity was a pleasant surprise. Although the connectivity signal was weak and intermittent and the speed slow, we were able to connect and make extended use of our connection, with a wireless setup from our room. In addition, there were three computers with flat screens and a dedicated library area for guest use in the hotel lobby. There were notebook computers available for rent for 40 euros a day (1,200 euro deposit required).
General Manager : Marc Thézé
Handicapped Access very limited due to hilly landscapes, steep inclines and uneven ground, challenging even for someone with a cane or walking disability
Length Of Stay three nights
Location on the Grand Cul de Sac on the northeast end of the French island of Saint Barthélemy
Owned Colony Capital ( U.S. company based in Los Angeles )
Pets no pets allowed
Size 69 rooms including 30 suites, 38 double rooms and 1 three bedroom villa in a 16 acre property
Year Opened-Renovated 1986 and renovated in 2004
Lobby And Common Areas bright blues, oranges and pinks peppered the lobby. Fresh flowers and beautiful accents were sprinkled liberally throughout the property. From the gecko designs, to the pastel colors, comfortable and cushy sofas in the library/lobby area, spotless bathrooms in the common areas. There were not many places to spend time during inclement weather, we discovered shortly after our arrival in the midst of several days of rainy weather.
Bathroom We liked the wooden "wall" design behind the bed which led to an open (no door) bathroom area the width of the room. This area included a pleasant door-less shower, his and her sinks with a towel rack underneath. Across from these there was a large vanity to store cosmetics and toiletries and a full length mirror. Our bathroom area was spacious with subdued lighting, clean and appealing.
Room
Our 40 square meter (431 square foot) Ocean Bay View room (#65) with a high ceiling had a splendid view of Marigot Bay from almost anywhere in the room. The stylishly decorated room featured white walls with original artwork (oil painting of Christopher Columbus the three ships by Louis Scuipel), dark wood floors, a king bed with a white cotton bedspread, a wood headboard and glass covered matching wood night tables on either side of the bed. One night table had a phone and the other a small clock. There was a fan over the bed though we preferred to run the efficient European style air conditioner round the clock to minimize the clammy humidity. There were lamps on the wall above each of the night tables, one on the desk and another on an armoire/minibar. There were 14-foot wide sliding glass doors framed by white curtains leading to a covered porch with a wood table and two wood chairs with white cushions and two canvas chairs.
Our only disappointment in the room was that there were no comfortable lounge chairs were we could laze when we preferred to stay in (because of the rainy weather we ended spending much more time in our room than we had expected). The lawn chairs were not comfortable for more than a few minutes and the wood chairs were okay for a meal though not to read or lay in. As a result, we ended up lying in bed when in the room for extended time periods.
Inside the room there was a wall facing glass covered wood desk and matching armless chair with green fabric cushions. Next to it there was a small wood table and two arm chairs with the same green fabric cushions as the ones on the desk chair. On the opposite side of the room there was an armoire with a flat screen Sharp satellite remote controlled TV with 14 channels (including CNN, HBO, CNBC and the Lifetime) and a multi-zone DVD player. Inside there was a refrigerated minibar and next to it a shelf full of minibar snacks; the bottom was made up of three drawers where we placed our folded clothes during our stay. We found a closet in the back of the room with space to hang clothes on one side, shelves for folded clothes and an electronic safe on the other.
Food And Restaurants there were two restaurants: L'Indigo, a beachside restaurant for breakfast, lunch and dinner and Le Bartolomeo, a gourmet restaurant open nightly. It was possible to order room service from both. We ordered lunch from room service (from L'Indigo). It arrived very quickly and was served with a tablecloth on the porch. Though the French fries were only lukewarm, the Stir Fried Prawns with Lemongrass Green Curry, Chinese noodles and crunchy vegetables were hot (in temperature and spice); the turkey club was rich with lots of mayonnaise and an egg salad like flavor. We also tried the cheeseburger and it was warm when it arrived and well prepared with American cheese and a fresh burger bun. The condiments came in individual miniature sizes. Dinner at Le Bartolomeo was delicious.
Amenities
we found light and cool to the touch cotton bath robes and matching slippers with the Guanahani logo in our room. There were also Hermes toiletries including soap, shampoo, body lotion, and conditioner . For sun protection there was a toiletry size bottle of St. Barths brand sun block. There were also shower caps, manicure sets (nail file and orange stick), make up remover pads, mosquito repellent and coils (to burn) and cotton swabs. There was 24-hour room service and twice daily room service.
Beach an inviting (1/8 mile) white sand beach peppered with several layers of lounge chairs and thatch roof protection welcomed beach oriented guests. The water was very calm and clear and the sand soft on the feet. The beach looked inviting in spite of the extensive layer of sea weed just beyond where the waves broke against the sand. Oversize wood benches and chairs beckoned groups to gather and converse next to the beachside bar. Hungry guests could order drinks from the comfort of their lounge chairs and find a restaurant and restroom steps away.
A water sports center offered complimentary snorkeling and windsurfing equipment, pedal boats, canoes and instructions on their use. For a fee guests could rent motor boats or jet-skis with an escort, go water-skiing or scuba diving (through an outside vendor).
Facilities lobby with library and three computers for guests, two floodlit tennis courts (and a tennis pro), two swimming pools, Jacuzzi, pool bar, two restaurants Indigo and Bartolomeo, 8-room spa, jewelry shop, water sports and fitness centers and boutique.
Fitness Center And Spa an air conditioned fitness center with large glass windows on one side was open 7 am to 7 pm was near the beach. It had three treadmills, an elliptical machine, cross-training, stationary bicycles, leg extension, lat machine, chest press, adjustable and flat benches and set dumbbells. There was an eight room Clarins spa and Leonor Greyl beauty salon.
Pool a 17 x 5 meter (approximately 51 x 15 feet) swimming pool with a large Jacuzzi in the middle was adjacent to Indigo restaurant and the beach. Another pool with access limited to those 16 and older was housed in the spa building. Both pools looked clean and welcoming.
Conference Facilities
there was a meeting room large enough for 25 with overhead and slide projectors, phone, and separate restrooms. Other audiovisual equipment could be rented from outside vendors.
Other Complimentary breakfast, airport transfers, parking and flight confirmation were included. Beachside child care (for 2-6 year olds) was available daily from 9 a.m. to 5 p.m. The Guanahani was a member of the Leading Small Hotels of the World,
Check-In-Check-Out Process Ease
excellent
Cleanliness excellent
Date Of Review May 2005
Reviewers Article by Elena del Valle
Photos by Gary Cox and Elena del Valle
Service We found some of the most helpful, courteous, efficient and pleasant service staff we have encountered on any island in the Caribbean and beyond. What a pleasure! Nothing we asked for was a chore, requests and questions were responded to with alacrity, room service staff were jet fast responding to calls and delivering food and requested items.
Would You Stay There Again? Yes
Contact Information
Address:
Grand Cul de Sac
97133 Saint Barthélemy, F.W.I.
Phone:
Fax:
Website:
Email: