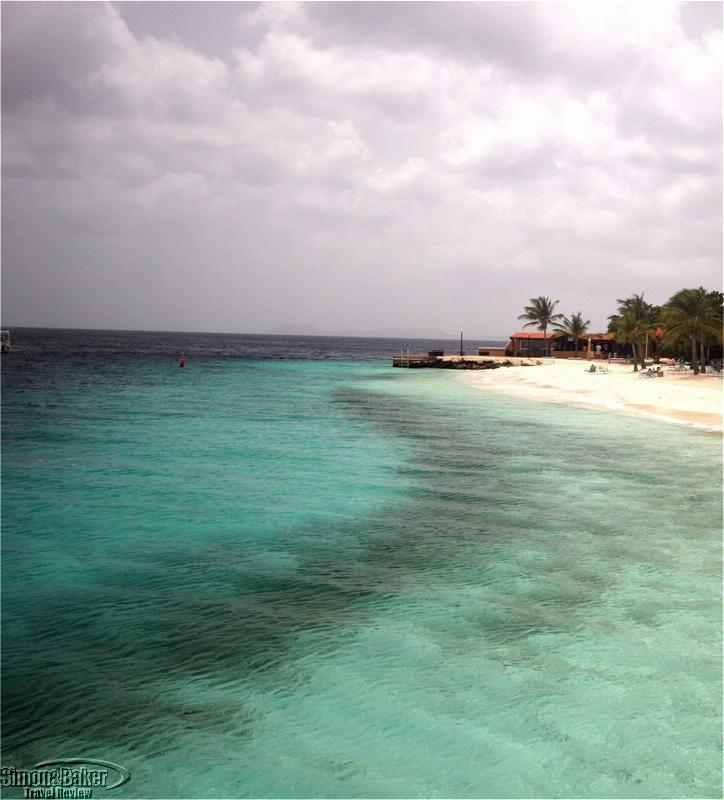 Uncrowded boats, friendly and helpful staff, and well run operations with on time departures made the dive facility ideal for us during our stay at Harbour Village.
Overall Impression
The Great Adventures Dive center was onsite at the Harbour Village Beach Club property making it convenient for club members and guests. By far the main activity seemed to be dive courses, shore diving, and diving and snorkeling boat excursions. Snorkeling and diving on the Harbour Village beach were easy and there was a small sailboat wreck about 40 feet deep off of the beach. On several occasions we took advantage of the easy shore dive opportunities to explore the nearby wreck and Something Special reef. Other times we went on boat excursions.
Because we visited the island during the shoulder season, most of the time the groups on the boat were small. Although the groups increased in size as the weekend approached reaching 12 one day, more than once we were the only ones to sign up for boat dives. Usually the crew would take us out on a 39 foot boat. Once or twice we also went out on the Harbour Queen, a 42 foot boat with two 380 horsepower engines. Since we were few, both boats had plenty of space to stow scuba tanks and gear and for us to sit in the shade or topside in the sun with the day's boat captain.
Once at the dive site we took a giant stride to enter the water and exited using one of the two large ladders, quickly and easily. There was always a staff member on hand to look over our set up and help us out of the water.
Traveling to Bonaire and not diving is like going to a gourmet convention and not eating. As we were certified open water divers (I was certified on a previous stay at Harbour Village by Great Adventures top boss Leonel Martijn) we decided to take advantage of the diving opportunities whenever possible.
Gary took the PADI Advanced Open Water course including a Nitrox specialty with veteran diver and instructor Malin Kaijser. Perhaps because it was the shoulder season, he was the only student. Malin invited me to tag along a couple of times. Although I was a bit anxious, I went with them on a deep dive reaching 97 feet when we visited the Hilma Hooker wreck. The hardest part was on the surface. Once underwater, it was a piece of cake!
The next adventure I joined them in was the fish identification dive. Using underwater notepads and pencils we took notes of the fish we spotted at Something Special reef, which was a short swim from the Harbour Village beach. On our return, we tried to describe, using our drawings, the fish we had seen during the dive and identify them with Malin's help and the fish identification book.
The waters surrounding the island of Bonaire are a protected marine park. Everywhere we went the reefs were amazing. We saw myriad varieties of fish, coral, and sea life. Even at 15 feet the viewing was excellent. In deeper water we saw more of the reef and some less common specimens like seahorses, frogfish, turtles and an eagle ray. Diving with Great Adventures was relaxed and fun. Uncrowded boats, friendly and helpful staff, and well run operations with on time departures made the dive facility ideal for us during our stay at Harbour Village.
Average Duration Of Visit
Dive excursions by boat usually lasted a couple of hours depending on the location of the dive site. We spent about an hour diving and the rest of the time was dedicated to boarding, getting to the dive site and back and getting in and out of the water.
Description The dive center offered introductory options, such as a daylong resort course, for those curious about diving. Guests could also complete an Open Water Referral program or Open Water Diver Certification (the program I completed although I completed most of the class work prior to my arrival) during a weeklong stay. There were a number of advanced options too such as Advanced Open Water, Medic First Aid, Rescue Diver, Nitrox and Search and Recovery. In addition to the dive and snorkel gear there were Sunfish and Kayaks available for guest use.
Established It was established in 1995
Handicapped Access Staff members have taken individual wheelchair bound guests on dives. For details contact the dive center directly.
Location In a corner of the Harbour Village property next to the beach
Manager Leonel Martijn
Open All year
Owned-Managed Bonaire Harbour Village Corporation
Size A staff of six, three instructors, two diver masters and a diver in the office looked after guest needs seven days a week. There were two boats: Harbour Queen, a 42 foot Newton (2 x 3116 Caterpillar 380 HP each) built in 1999 and Harbour Belle, a 32 foot Island Hopper (3208 T) built in 1996.
The 200 square meter center consisted of an air conditioned shop, a storage area, an open terrace and dock with ladder to the adjacent beach (were dive skills were tested), an enclosed class room area and an equipment area where the tanks, BCDs (Buoyancy Control Device), wetsuits, snorkels, fins and other equipment were stored for daily use and rental.
Staff The dive instructors were Leonel Martijn with 19 years of experience, Malin Kaijser with 18 years of experience and Nolly Thode with 23 years of diving experience. Leonel and Malin had worked together for 17 years. Etienne Soliano, with seven years of experience, and Alfonso Rodriguez, with three years of experience, were dive masters. Marvis Bernabela, also a diver, looked after the dive shop. Malin was thorough, patient, and helpful; she focused on making us independent divers within our diving skills proficiency.
Transportation A rental car was ideal to get around the island. Many locals and visitors got around on bicycles. It was also possible for Harbour Village guests to rely on the hotel staff for an airport pick up and drop off.
Restaurant In between dives, we enjoyed room service or delicious lunches at La Balandra, the restaurant of the Harbour Village Resort.
Souvenir Shop The small shop sold diving and marine life books, dive gear, T-shirts and related items.
Sea Sightings At the hotel, Something Special (shore dive site), and open water dives we saw: banded butterfulyfish, bar jack, bearded fireworm, beckett goby, bluehead, blue tang, brown garden eel, creole fish, crevalle jack, eagle ray, fairy baslett, French angelfish (juvenile and adult), French grunt, frog fish (green, yellow), greater soap fish, mahogany snapper, pike blenny, princess parrotfish, rainbow runner, sea cucumber, seahorse, sergeant major, sharpnose puffer, spotted goat fish, Spanish hog fish, spotted baby moray eel, squirrel fish, stoplight parrotfish (male and female), trump fish, trunk fish, and yellow goat fish.
Date Of Visit
May 2007
ReviewersArticle by Elena del Valle
Photos by Gary Cox
Would You Visit This Attraction Again? Yes
Contact Information
Address:
Harbour Village Beach Club
Kaya Gobernador N. Debrot No. 71
Bonaire
Dutch Caribbean
Phone:
Fax:
Website: