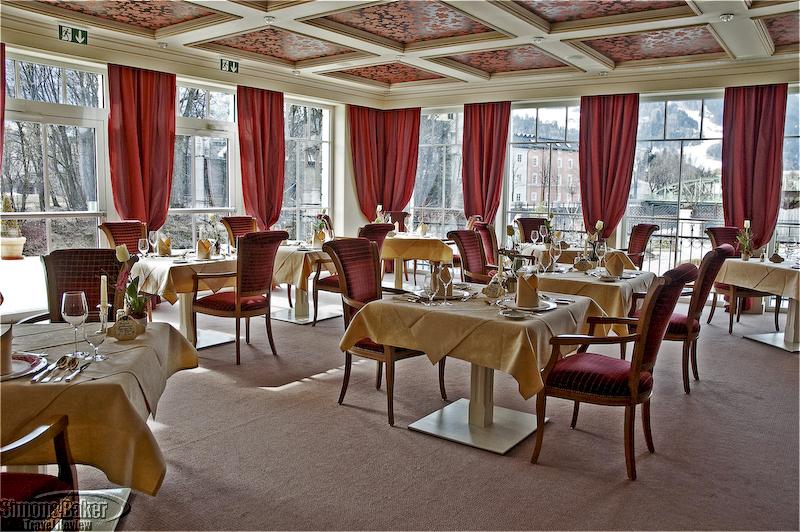 I will be keen to revisit it when my travels take me back to this lovely East Tyrol corner and when any European itinerary allows me to schedule an extensive detour.
Overall Impression
Lienz is a lovely little medieval town in the farthest reaches of southern Austria. Tucked away in a picturesque valley between the Grossglockner (one of the highest peaks in the Alps) and the Dolomites, it is prime four-season vacationing country for mountain sports aficionados. But for me, despite the 13
th
century castle, the ancient churches with their well-preserved frescos and the pristine alpine landscapes, the city's main claim to fame was in the remarkable Grandhotel Lienz. This newly constructed luxury retreat and its unique spa came as close to perfection as any boutique property I have ever come across, and more than justified the few hours' journey from Vienna.
This outstanding hotel was the brainchild and arguably the masterpiece of Heinz Simonitsch, a prominent international hospitality executive who had been awarded the title of professor by Republic of Austria 's President for his "special work in the diplomatic, education and welfare area." A decade ago, the Austrian native fell in love with the city and decided to retire there after a brilliant 39-year career in the Caribbean, where he is widely recognized for transforming Jamaica's Half Moon from a faltering property into a world-class resort. He had no sooner settled in Lienz that the city fathers coaxed him out of retirement. They challenged him to develop one more world-class property, in their town. After extensive planning and two years of construction, the family-owned and managed Grandhotel Lienz opened its doors in May 2009.
Here, every aspect of luxury hospitality and service reached a whole new level. Guests had their reserved table in the dinning room for the duration of their stay, and their own numbered parking space in the underground garage. Just off the garage, the ski-storage room had heated boot racks. There was also a bicycle room for summer use. The layout of the building ensured that guests, wrapped in the lush bathrobes found in their room for that purpose, had access to the spa or wellness center without traversing any of the common areas. The spa's heated indoor/outdoor swimming pool overlooked the river and the mountains; access to the outdoor part, which was also an oversized whirlpool, was by walking through sliding doors only partially submersed ("for ladies who prefer not to wet their hair" it was explained). In addition to the stunning two-story spa with sophisticated treatment rooms, multiple saunas and steam room and serene relaxation lounge, the wellness center featured a state-of-the-art medical facility that offered individual health consultations, preventive medicine and medical checkups.
Professor Simonitsch, who remained involved in the direction of the property, together with Hugo Westreicher, his brother-in-law and managing director, went to great lengths to accommodate their guests. That once included reworking the angle of the garage entrance ramp to accommodate a low-to-the-ground chassis when Austrian owners of a legendary brand of Italian sports cars decided to hold their annual convention at the hotel. My own transportation needs were far more modest as I had opted for a train journey from Vienna. However, I was stunned to discover that at Grandhotel Lienz, a pre-arranged pickup at the train station actually meant that a bellman was standing on the platform to greet me and take control of my luggage. Throughout my stay, I was consistently delighted by the level of personalized service and thoughtful attention from the staff.
And I loved the elegant home-like atmosphere of the décor, "created by my wife, Elizabeth," Professor Simonitsch mentioned with justified pride. Throughout the spacious, light-bathed common areas opening onto terraces that overlooked the river and the mountains, Elizabeth Simonitsch had designed opulent intimate spaces that were an invitation to linger, as was my suite. I was actually delighted that the winter weather was uncharacteristically inclement during my stay, which gave me a guilt-free excuse to spend long hours each day enjoying the many pleasures of the spa, then nestle in the oversize chaise by the wide glass doors of my sitting room to admire the surrounding alpine vistas.
While the area was rich in natural and historical resources within easy reach, I found Grandhotel Lienz a worthy destination onto itself. I will be keen to revisit it when my travels take me back to this lovely East Tyrol corner and when any European itinerary allows me to schedule an extensive detour.
Children
Yes
Class Of Accommodation Five star luxury hotel
Connectivity There was complimentary high-speed WiFi in my suite.
General Manager Johannes Westreicher
Handicapped Access Yes
Length Of Stay Four nights
Location In the state of East-Tyrol, in southern Austria, at the crossroads of several European destinations. Salzburg, Austria, was 200 kilometers (125 miles) or a 2.5 hour-drive to the northwest; Munich, Germany, 225 kilometers (140 miles) or a three-hour drive to the west; Venice, Italy, 250 kilometers (155 miles) or a 3.25 hour-drive to the south, and Vienna, Austria, 450 kilometers (279 miles) or a 4.5 hour-drive to the east.
Managing Director Hugo Westreicher.
Owned and managed Grandhotel Lienz was owned jointly by the Simonitsch and Westreicher families.
Pets Allowed Yes
Size The five-story property had 76 rooms and suites
Year Opened-Renovated The property opened in May 2009
Lobby And Common Areas
The central two-story entrance foyer and reception had a soaring vaulted ceiling, with an elaborate crystal and gilded metal chandelier hanging in the center of it. Under the chandelier, a circular glass table on a Corinthian column pedestal base held a display of tall amethyst geodes. The floor was of white and black marble. To the left of the foyer, against a backdrop of dark knotted pine panels, a long reception desk with a matching wood base and a thick beveled white marble top was outlined by an oriental carpet runner. Crystal table lamps with pleated silk shades stood at both ends of the reception desk. Against the front picture window, an identical table lamp rested on a round occasional table between two straight back, rolled-arm armchairs upholstered in red wool. At the rear of the foyer an overstuffed sofa covered in green, taupe and red plaid provided additional seating. To the right of the foyer, elevators and a broad staircase led to the upper floors.
A lounge occupied the rear end of the building. Its far wall was a series of glass double doors draped in striped emerald and ruby silk that opened onto a wide terrace overlooking the river. The walls were dark knotty pine paneling and white plaster. The floor was covered with crimson carpeting with gold design. Lighting was provided by tall brass candelabra style floor lamps with silk shades. Matching sconces hung on the walls, alternating with impressionist-style oil paintings in gilded frames. Multiple groupings of wingback chairs upholstered in crimson striped velvet and jade cotton brocade were gathered around rectangular coffee tables. A long oval bar surrounded by 10 high-back leather chairs occupied the left side of the room. At the opposite end of the lounge, a large cinnamon marble fireplace was topped by a rectangular mirror in a gilded frame. A coordinated 18 th century clock and a pair of candlesticks sat on the mantle.
Bathroom
A large dressing area separated the bedroom from the master bathroom at the rear of the suite. It too could be closed with double pocket doors. The floors and walls of the bathroom were tiled in travertine marble, as were the glass enclosed walk-in shower and the face of the large oval bathtub. The long walnut vanity held two sinks set in a honey-colored marble counter top. Identical marble covered the ledge of the bathtub. There was a long rectangular mirror over the vanity, flanked by two sconces with silk shades. Next to the vanity a door opened onto a separate water closet with a commode and a bidet. In addition to the master bath, there was a guest bathroom next to the entrance door to the living room, with identical tile work, a single sink vanity and mirror matching that of the main bath, a commode and a glass-enclosed semi-circular walk-in shower.
Room My 78 square meter (840 square foot) Royal Suite, Number 218, was decorated in shades of taupe and amethyst with fuchsia and gold accents, and lush taupe wall-to-wall carpeting. Double sliding doors draped in heavy amethyst silk opened onto a long balcony with a glorious view of the river and the mountains. The sitting room had a long rolled-arm sofa upholstered in taupe suede with amethyst silk toss pillows. It faced two wingback chairs covered in coordinated purple and taupe striped silk, across from a rectangular walnut coffee table holding a fruit bowl and a vase filled with bright yellow lilies. A chaise covered in matching striped silk and gold brocade sat next to the sliding doors opening onto the balcony. It faced a large LCD television screen raised on a brushed-steel pedestal. Additional sitting room furniture included a writing desk with a high back chair, a credenza holding a coffee service, and a bookcase with an assortment of reading material in several European languages. Two large square oil paintings of purple flower close-ups in gilded frames completed the décor.
In the bedroom, the king-size bed headboard was covered in gold damask. On both sides of the bed, small chests of drawers served as bedside tables. They held glass-based reading lamps with pleated silk shades. A long bench outlined the foot of the bed. It was covered in amethyst plaid silk similar to the upholstery of a wingback chair that stood in the front corner of the room. A small LCD television screen hung on the wall above the chair. The bedroom could be closed off from the living room by extra-wide walnut pocket doors. A similar set of pocket doors separated the bedroom from the dressing area and bathroom.
Food And Restaurants
Meals were superb at the Grandhotel Lienz, beautifully prepared, artfully presented and unfailingly delicious. The breakfast buffet was a copious combination of local
charcuteries,
assorted smoked fish and cheeses, and an irresistible display of fresh-out-of-the-oven breads and
viennoiseries
. There were also fresh fruit salads and compotes, and a vast array of yogurts, muesli and other healthful choices. Eggs and hot breakfast meats were prepared to order.
Dinner was not merely a meal at Grandhotel Lienz, it was a most enjoyable culinary experience. In addition to the à-la-carte dinner menu, Chef Christian Flashberger surprised his guests each evening with a different degustation menu that lent a new meaning to the phrase "what's for dinner tonight?" The cuisine was contemporary continental with strong Austrian influences. The night's offering usually started with an imaginative amuse-bouche , followed by an elegant consommé or appetizer, choice of a meat or fish main course and another difficult choice of beautifully ripened local and European cheeses or decadent dessert. Both were offered, of course, but I usually assuaged any feeling of over-indulgence by passing on the cheese. There were five dining rooms, each with a different decorative theme and widely spaced tables, to ensure an intimate dining atmosphere. The menu was identical for all dining rooms. Guests had a reserved table for the duration of their stay. My table was in the Salon Fleur, a corner room with two glass walls draped in ruby silk overlooking the terrace and the mountains. Burgundy velvet dining armchairs surrounded the large square tables clad in crisp beige linens. At night subtle indirect lighting and candles filled the room with a romantic glow. The hotel also had a well-stocked wine cellar with a 150-label wine list of mainly Austrian and European wines. The wine cellar could be used for private dinners or wine-tastings.
Amenities
Room amenities included a Nespresso machine and assorted coffee capsules, bottled sparkling water, a welcome fruit bowl, electronic safe, shoehorn, shoe brush and a tote bag to carry personal necessities to the spa. Bathroom amenities included bathrobes and slippers, magnifying mirror, hairdryer, bathroom scale, facial tissues, cotton balls and swabs, nail file, shower cap and a dispenser of Bogner hand cream. Toiletries were Thé Blanc by Bvlgari in individual sizes of hand-milled soap, hair wash and conditioner, body wash and moisturizer, and aftershave moisturizer.
Facilities There was a restaurant with five separate dining rooms served by a common kitchen, a lounge and bar, wine cellar, spa, medical wellness center, conference facility and a basic business center.
Fitness Center And Spa The stunning 1,400 square meter (15,000 square foot) spa was a superb retreat distributed over two levels, connected by stairs and an elevator. Under the expert direction of Anita Obersteiner, the facility included six treatment rooms where a staff of four licensed and highly experienced therapists blended the best practices of various international massage schools to develop the treatment best suited to a client's specific needs and preferences. I especially enjoyed my rejuvenating Gold of the Dolomites new moon herbal peel and oil massage. The oils used for this treatment were custom-blended with alpine herbs handpicked locally. The formula varied with the phases of the moon to maximize the energetic effectiveness of the process and for a unique aromatherapy experience.
The lower level of the spa offered several variations of heat therapy to suit guest preferences. In addition the traditional steam room (with herb-scented steam) there was also a salt steam room with a briny, ocean feel. There were two sauna options as well, the classic dry Finnish 90-degree Celsius version and a cooler 60-degree "bio-sauna" with a touch of hydration. The inviting main relaxation room featured a central flower arrangement encircled by rattan lounge chairs. There were also cozy nooks with comfortable armchairs and chaises along the hallways and off the entrance foyer with its buffet of organic herbal teas and dry fruit and nut snacks.
In addition to the spa, the on-site medical facility under the direction of Peter Lechleitner, M.D. offered a variety of medical check-ups and preventive medical consultations. Individually targeted therapies were available that combined scientific Western medicine with traditional Chinese medicine, acupuncture and homeopathy.
Pool The 6 meter by 12 meter (20 foot by 40 foot) indoor pool was set in a wide natural stone terrace surrounded on three sides by glass walls that made the most of the serene mountain views. The front wall featured an electric sliding partition that connected the indoor pool to the large exterior heated whirlpool. Comfortable dark rattan lounge chairs were lined around the interior terrace and tall potted tropical trees marked the corners of the pool. In the small entrance foyer leading into the pool area, tall wall shelves held generous stacks of oversized white bath towels.
Conference Facilities
The property had a self-contained conference facility with its own entrance, reception foyer and flexible space equipped with modern audiovisual and communication technologies. The conference space could accommodate up to 80 people, or be divided with soundproof air walls into three breakout rooms.
Other Grandhotel Lienz was one of the earliest adopters of eco-friendly practices for hospitality properties in Austria. The property was heated through a heat exchange process with a large nearby underground lake. Hot water was solar-heated. Starting with the construction process, special attention was given to insulation and use of energy-saving devices throughout the entire building so that the property did not use any gas or oil as energy sources. Trash was rigorously recycled, and kitchen waste prepared for bio repurposing.
Cleanliness
Excellent
Date Of Review February 2011
Reviewers Article and photos by Josette King
Service The suite was serviced twice daily. It was fully refreshed during the evening turndown service. Every member of the staff with whom I came in contact was friendly and efficient. The dining room staff was outstanding. The maitre d'hôtel and servers were unfailingly attentive, and remembered every detail of my preferences.
Would You Stay There Again? Yes
Contact Information
Address:
Fanny-Wibmer-Peditstrasse 2
A-9900 Lienz
Austria
Phone:
Fax:
Website:
Email: