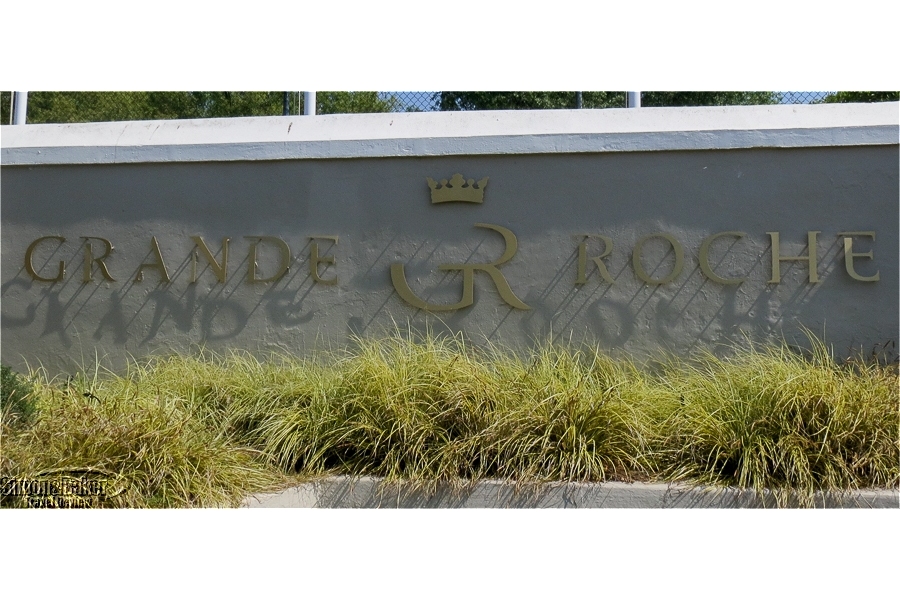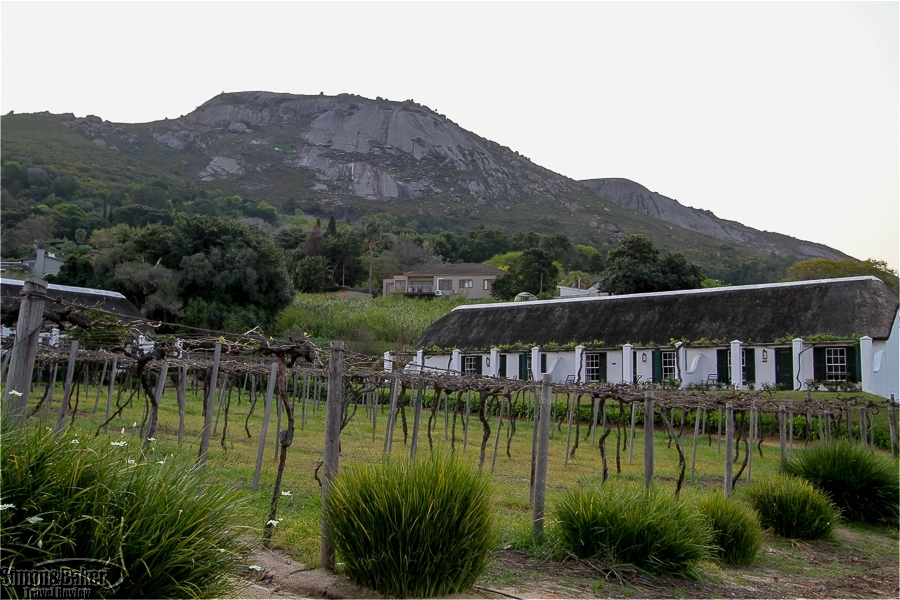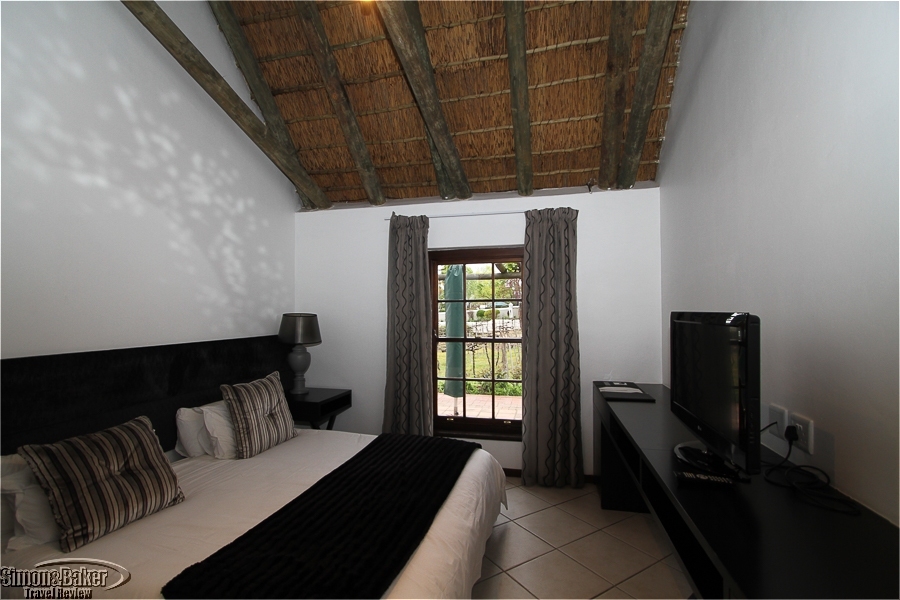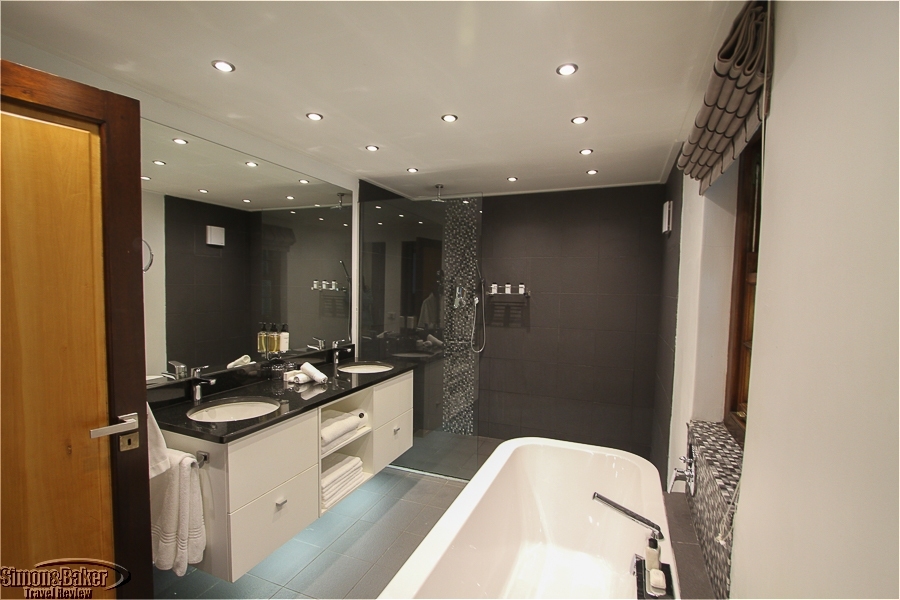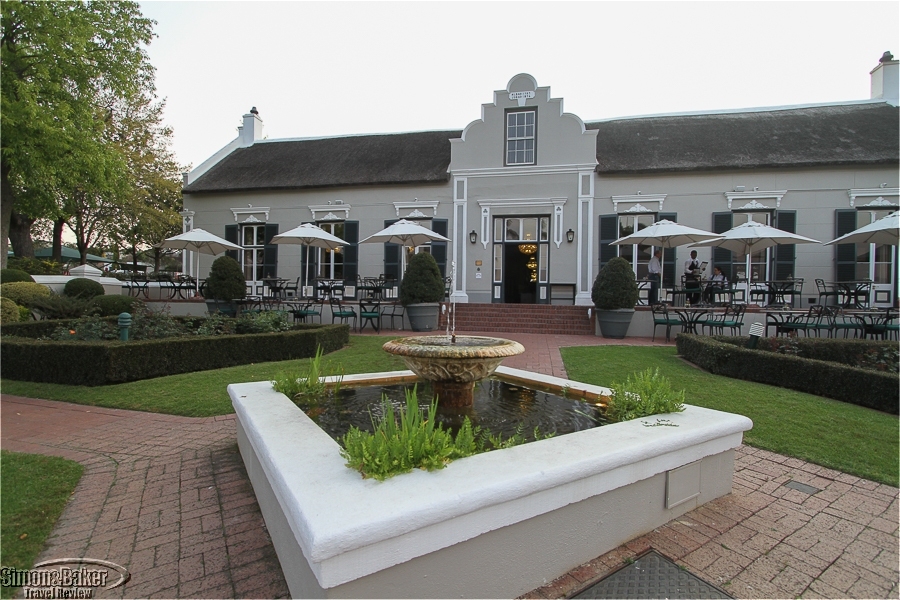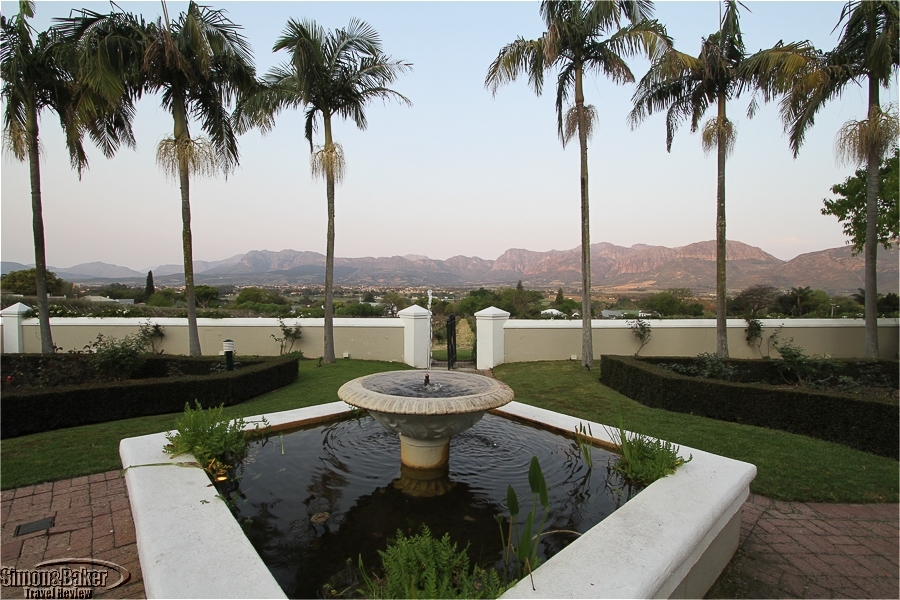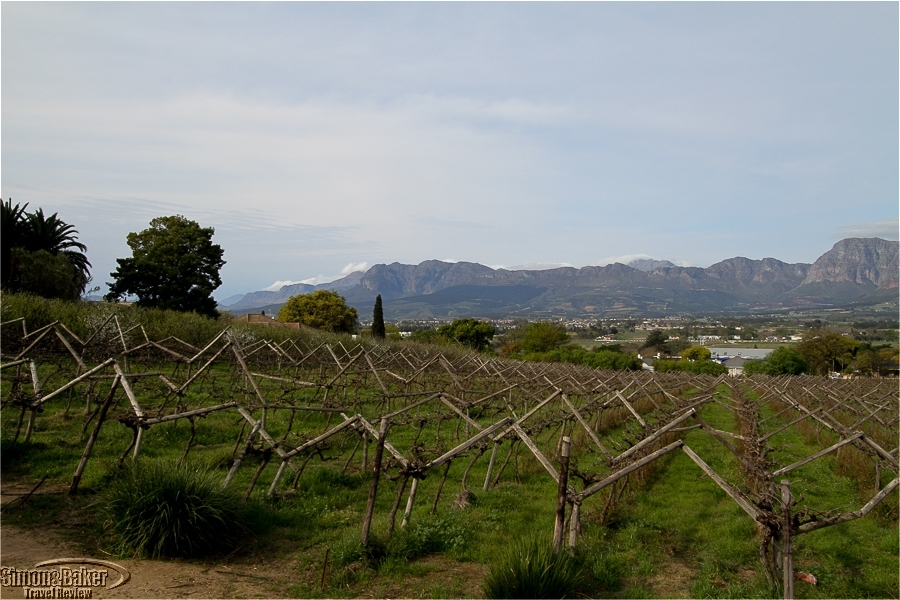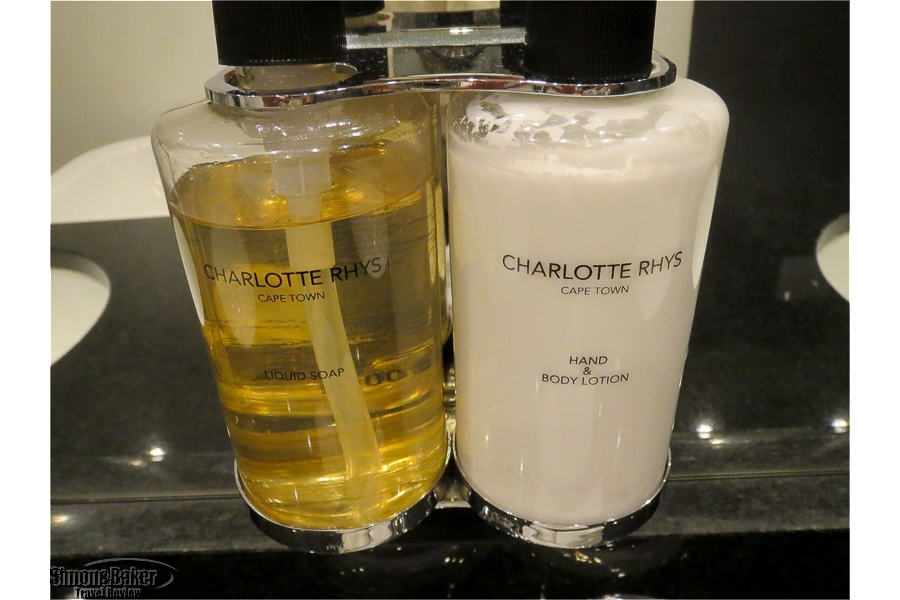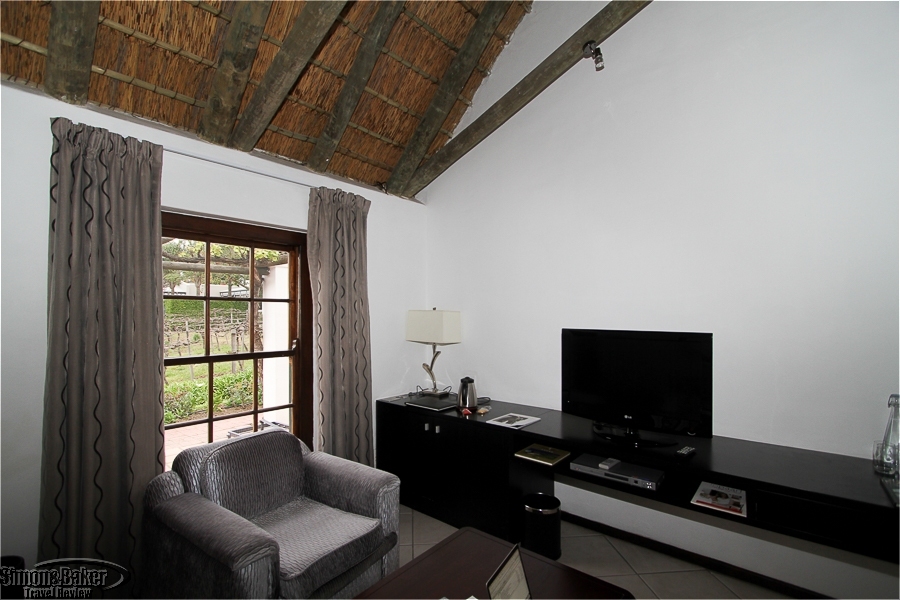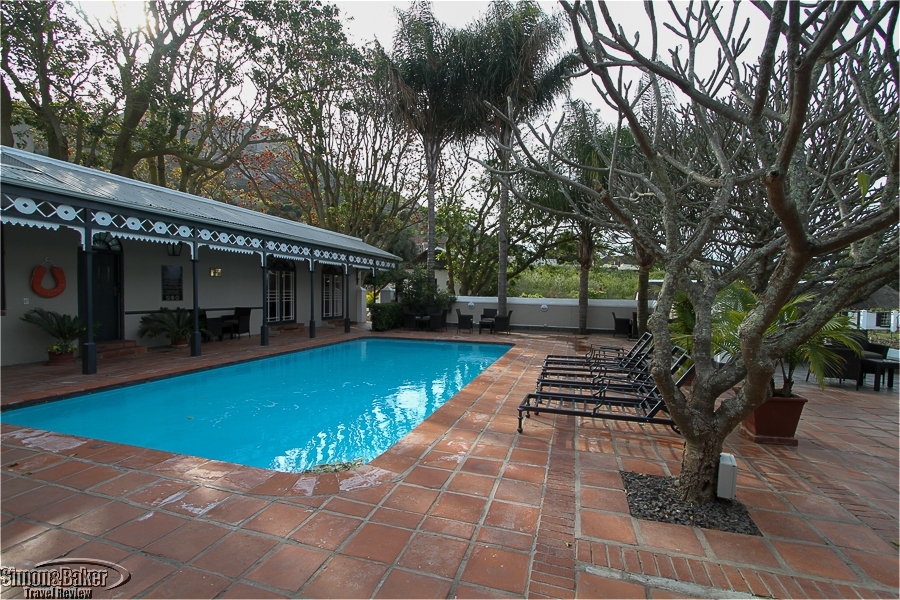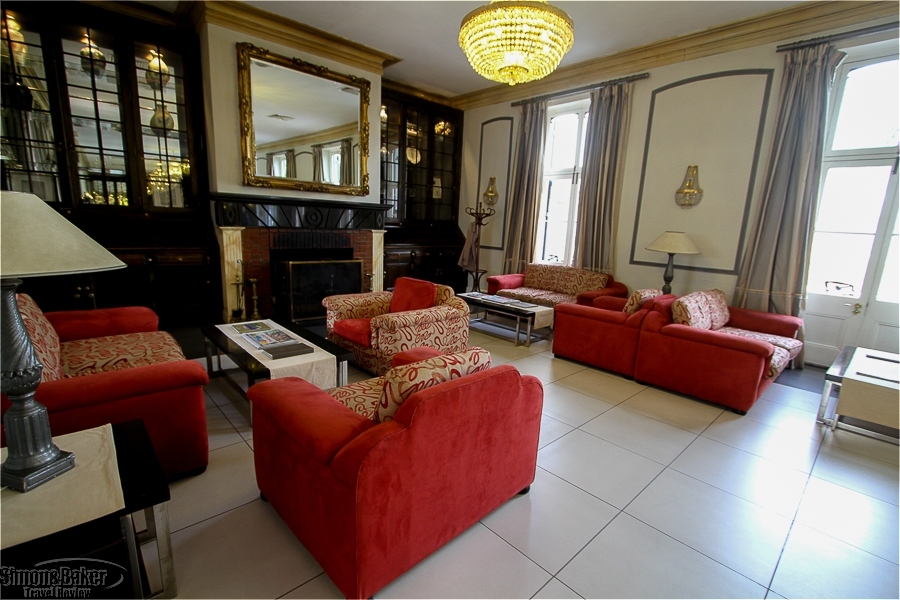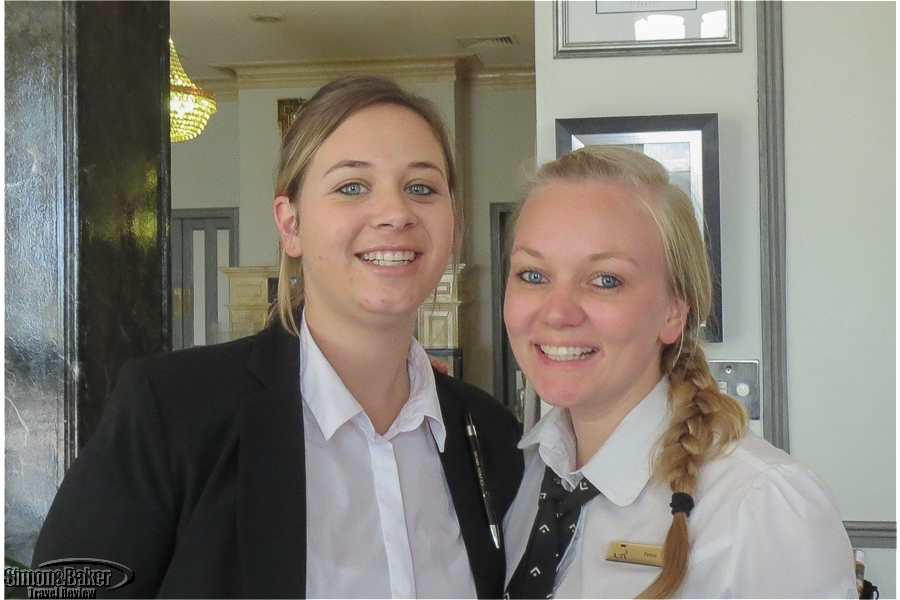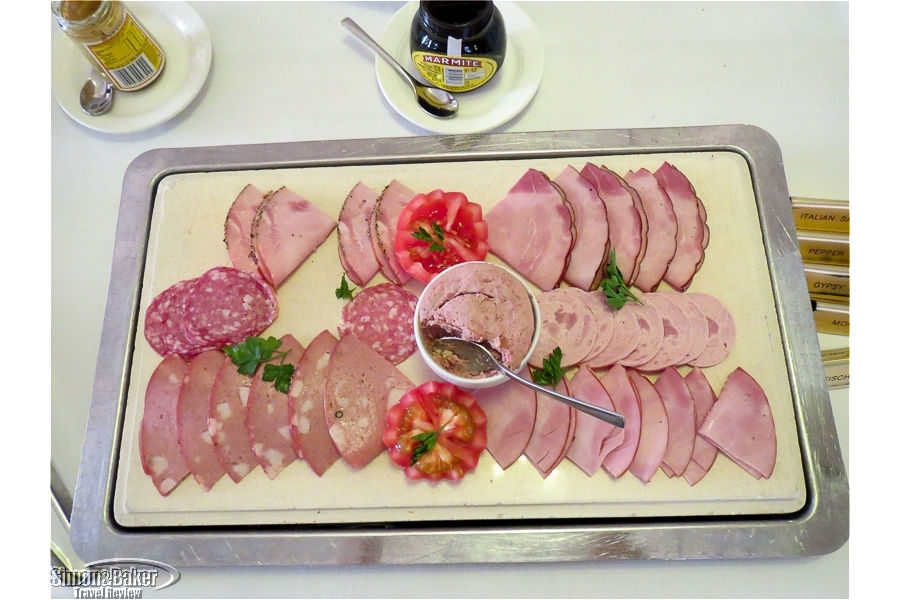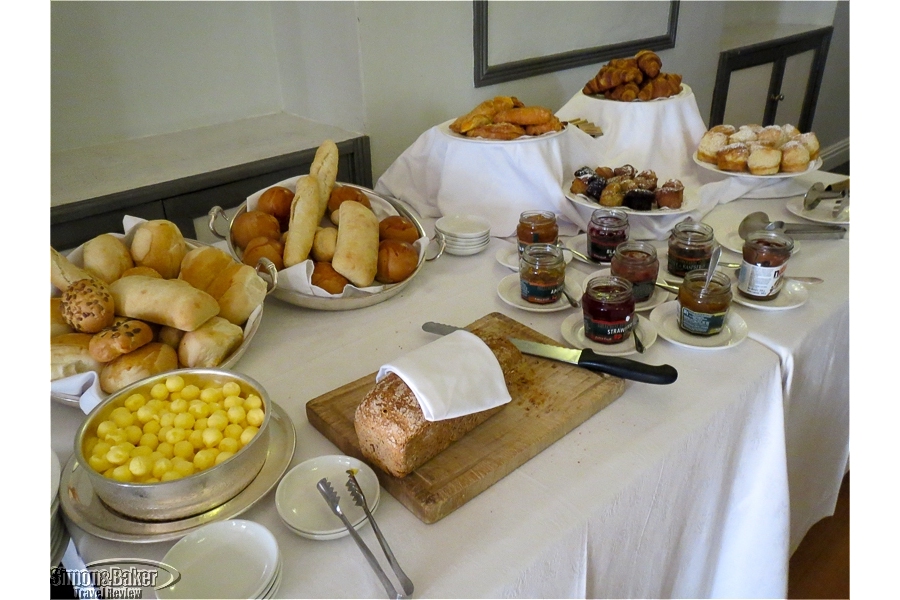 The Grande Roche's intimate ambiance, vineyard setting with mountain views, spacious and well appointed suite, friendly and service oriented staff, and fine dining restaurant made a fan out of me on my first stay.
Overall Impression
From the moment Judain from reception greeted me in the off street gated parking lot until his colleague Fenna waved good-bye from the main building terrace I felt welcome at the Grande Roche Hotel. Amenities like fresh flowers, wine and tasty treats in my suite on arrival added to my comfort. Smiling faces and offers of assistance met me at every turn. The staff followed up courteous words with immediate action. For example, when the WiFi in my suite wouldn't work Judain bent over backwards until it was fixed. Like her staff Anja Bosken, general manager, who I met for dinner, was a charming and welcoming host.
My spotless suite had African touches like a thatched roof and modern conveniences like flatscreen televisions and a modern bathroom with a separate shower and bathtub. I especially liked the property's historic character (one of the buildings dated back to the early 1700s), setting on a vineyard and working farm, mountain views, and its lovingly tended gardens with fragrant flowers.
The Grande Roche's location at the foot of Paarl Rock, intimate ambiance, vineyard setting with mountain views, spacious and well appointed suite, friendly and service oriented staff, and fine dining restaurant made a fan out of me on my first stay.
Children
The property welcomed children of all ages
Class of Accommodation Graded a Five Star Hotel
Connectivity Although there was complimentary, unlimited WiFi in the guestrooms and public areas the service in my suite was down during the first day of my visit. A staff member worked diligently late into the night and again early in the morning while I was out, and called the property's technician. By the following afternoon when I returned I was able to connect.
General Manager Anja Bosken
Handicapped Access A representative explained that the property had wheelchair accessible entrances and bathrooms and one wheelchair friendly room.
Length of Stay Two nights
Location In central Paarl
Owned and Managed Grande Roche Estate (property representatives declined to identify the owners)
Pets Allowed No
Size There were 34 rooms scattered across 15 buildings in the 58.77 acre property with 77 full-time and 34 part-time staff.
Year Opened-Renovated Parts of the property were of historic significance. Such was the case with the chapel, which was classified as a National Monument. The Manor House itself dated back to 1717. The hotel opened in 1991 and the most recent renovations were to the conferencing facilities in 2014.
Lobby And Common Areas The management described the style of décor as Rustic Charm. The owner's wife's original artwork was featured in public areas and guestrooms, and in an onsite gallery.
Bathroom The bathroom was contemporary in style with granite gray no skid tile flooring and partial walls. The walls also had tiny tile multicolor accents. In the center there was a standalone bathtub set against the window. Across from it twin sinks were built into a black stone base beneath a mirror as wide as the space for the sinks, which were next to a heated towel rack by the door. A separate shower had a glass partition. It had rain-shower and hand held shower heads.
Room
My 51 square meter, Suite Bonheur, was one of 18 Terrace Suite on the estate. It was mostly quiet and serene, except for the occasional repetitive barking of dogs in neighboring houses and loud bird sounds.
Located at the innermost corner of a stand alone single story building, it was one of several adjoining suites facing a vineyard and the side of the main building. It had an open patio entrance furnished with metal patio furniture, two lounge chairs at times without cushions, a table and two armchairs also without cushions (it was chilly and overcast during my late winter visit).
The thatched roof suite had high ceilings, recessed lights, tile floors, contemporary furnishings, and wall mounted air conditioning and heating remote controlled units in the living and bedroom areas. There was also underfloor heating in both rooms. There were glass framed drawings and LG flatscreen and Samsung televisions, one in each room, on the walls.
The entrance was via the living area which was furnished with a comfortable love seat and two armchairs in gray. They faced a rectangular wood coffee table in the center set atop a dark blue and khaki sectional rug. A side table was home to a vase with fresh flowers and a telephone. There was an upright lamp next to the love seat. A built-in wood black wall to wall cabinet housed a minibar with a mini refrigerator and hot beverage service.
In the bedroom, a large bed took up the center space. A built-in headboard extended from one end wall to the built-in closet with shelf and hanging space. There were matching black wood night tables with identical lamps. There was a telephone on the night table on the left. Across the room there was a built-in cabinet with a television above it. There was a rectangular stool in front of the cabinet, where a circular mirror hung on the wall. Gray curtains with black accents hung over the windows, providing shade and privacy from passing neighbors and staff. Inside the closet there were extra blankets and pillows as well as an electronic safe, insect repellent, flashlight, shoe and sewing kits, blow dryer and laundry list.
Food And Restaurants I had breakfast and dinner at the hotel during my stay. The breakfast buffet consisted of sliced fresh fruit, deli meats, cheeses, cereal and a variety of breads. On the second morning, taking advantage of the sunny weather I had a pleasant breakfast on the terrace, facing the property vineyards and the mountains in the background. Dinner at Bosman's Restaurant, the hotel restaurant, both nights was outstanding.
Amenities
There was 24-hour room service, laundry service, complimentary WiFi internet access, cotton robes, slippers, umbrellas, electronic in-room safe, fresh flowers, half a bottle of wine and mineral water on arrival, satellite television, complimentary hot beverage self service, stocked mini bar with snack selection, twice daily housekeeping service, individual heating and cooling air-conditioning, and underfloor heating.
There was a 120 milliliter bottle of Charlotte Rhys bath salts, and refillable bottles of liquid soap and hand and body lotion, two bars of soap, and 100 milliliter bottles of shower gel shampoo and conditioner. There were also magazines, vanity mirror (on the wall next to the sinks), shower cap, and vanity kit. There was an oversize mirror on the wall between the bathroom and the bedroom. A floor level light in the bathroom was convenient. At turn down there were chocolate mints. There was Vivreau still and sparkling water in environmentally friendly glass bottles with reclosable tops.
Facilities There was a fitness area, treatment room, children's and adult pools, tennis courts, historic chapel (for weddings), meeting center and restaurant.
Fitness Center There was a 17 meter by 8 meter fitness area and one treatment room.
Pool There were two pools at the property, the Courtyard Pool and the Krall Pool. The first was 1 meter by 1.75 meters deep and 5 meters by 10 meters large. The second was 1.5 meters deep and 14 meters by 6 meters large. Neither was open during my winter stay. Although I saw a couple lounging poolside, the pool itself was covered, making it impossible to enter the water.
Conference Facilities
The hotel was able to host group events at: Vineyard Venue (202 square meter large), Amphitheatre (seating for 350), Private Dining Room (maximum of 16 guests), Bistro Allegro, and Bosman's Restaurant (for up to 70 guests).
Other The property recycled whenever possible, used energy saving light bulbs, and served filtered water in reusable glass bottles in its restaurant. I came across a noisy group at the restaurant once during my stay. Fortunately, they only remained one night. There was an appealing scent of flowers in the air, especially near the garden.
Cleanliness
Excellent.
Date of Review September 2015
Reviewers
Photos and Article by Elena del Valle
Service My suite was serviced twice daily. Customer centered service was one of the characteristics I most enjoyed at the hotel. The reception desk staff Fenna, Judain, and also Job, Luisa, Anwar, and Hazel in the dining room were friendly, efficient and welcoming.
Would You Stay There Again? Yes
Contact Information
Address:

Grande Roche Hotel
Plantasie Street
Paarl, 7646 South Africa

Phone:

+27 (0)21 863 5100 and +27 (0)21 863 2220

Website:
Email: