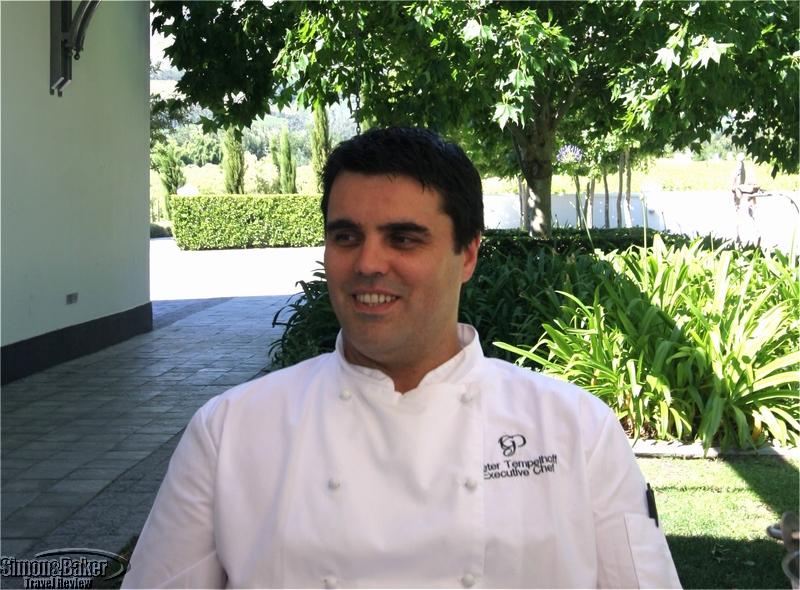 We thoroughly enjoyed our lunch at the Grande Provence Restaurant and look forward to sampling Chef de Jager's cuisine the next time we are in the area.
Overall Impression
On a sunny and breezy November afternoon we drove placidly through the vineyards of the Grande Provence Estate until we found the wine tasting area, restaurant and nearby gravel parking lot. Perhaps because it was our first impression of Franschhoek, when I think of that Cape Wineland village I immediately think of the delicious meal and striking setting we had at the Grande Provence Restaurant.
Once at the restaurant we were glad we had reservations. The restaurant was full and while we were seated we noticed several parties walking away following an unsuccessful impromptu attempt to secure a table for lunch. Although the interior of the restaurant was attractive and there was plenty of indoor seating, the day was so pretty and the terrace setting so outstanding that we chose to sit outdoors in the garden adjacent to the interior dining room. From our corner table we could see the property gardens and vineyards and in the background the imposing nearby Klein Dassenberg Mountains. The entire garden terrace was filled with other guests who, like us, decided to take advantage of the weather to eat outdoors.
Our three-course lunch was made special through a combination of well prepared and tasty food paired with house wines made on the property which enhanced the flavors of the dishes, a stunning garden setting, and attentive service. Chef Peter Tempelhoff had the perfect touch.
His dishes were light when they needed to be and bold when the occasion called for it. The flavors in each dish were in harmony with the overall concept and came together to surprise and delight us. Since we visited the Grande Provence Estate, Chef Jacques de Jager took over the restaurant kitchen. We thoroughly enjoyed our lunch at the Grande Provence Restaurant and look forward to sampling Chef de Jager's cuisine the next time we are in the area.
About The Executive Chef
Jacques de Jager grew up in Kwa-Zulu Natal, South Africa. He completed an intensive chef's course at the School of Food and Wine in 2002 before relocating to the Algarve, Portugal where he worked at Anna's International Restaurant. On his return home to Durban he worked at The Aubergine Restaurant known for its modern French cuisine with Asian influences. He then worked at Chez Colette Restaurant in the Sofitel Hotel in Philadelphia in the United States for two years. During a holiday in South Africa he was offered the job of assistant executive chef at Grande Provence. Following his work in Franschoek he went to Benguerra Island, Mozambique where he worked as executive chef at Azura Lodge. He returned to Grande Provence as executive chef in January 2008. His plans at Grande Provence are to slowly adapt the menu seasonally, keeping the favorites in a new guise, while remaining true to his passion of modern cuisine with a French influence.
Executive Chef Peter Tempelhoff was the chef when we were there. Soon after our visit, Chef Tempelhoff departed and was replaced by Chef Jacques de Jager.
Handicapped Access The bathrooms were designed to be suitable for physically impaired guests. The restaurant, The Tasting room and The Jonkershuis welcomed guests in wheel-chairs.
Location In the village of Franschhoek in the Cape Wineland
Opened-Renovated The restaurant was established in 1694 and the most recent renovation took place in 2004.
Owned Alex Vanherren and a European consortium, part of Huka Retreats which includes Huka Lodge and Dolphin Island, owned the restaurant.
Pastry Chef Nicki Wells
Restaurant Manager Julian Smith
Size There was seating for about 80 guests in the 655 square meter restaurant. There were 30 employees including 17 waiters and 13 kitchen staff.
Type Of Restaurant Continental with a strong South African influence
DÉCor-Ambiance The restaurant was characterized by a contemporary style with African touches and interior design by Virginia Fisher. We enjoyed our lunch outdoors in the sunshine on a stunning South African summer day. The tables were set in the Angels Tears Garden adjacent to The Jonkershuis, The Tasting Room and The Gallery, described as the only sculpture garden on a working wine estate in the country. There was plenty of space between tables and, if we kept our voices down, for private conservation.
Cellars Wine And Alcoholic Beverage Selection
The cellars housed more than one million bottles of wine, mostly house wines, including The Grande Provence 2004, a blend of six varietals only available at the Tasting Room and restaurant the Angels Tears collection, as well as assorted whiskeys, liquors and spirits. The lunch menu, for example, listed two dessert wines as well as KWV 20 year old brandy, Remi Martin, Underberg, Wilderers Fynbos Eau de Vie and Boplaas.
Meal From the Starters we sampled Tian of prawn and avocado with king crab mayonnaise and fermented ginger jelly, green apple foam; Home cured salmon gravid lax with crème fraiche and keta, buckwheat blinis; and Terrine of chicken, sweetbreads and foie gras with fine green bean salad and estate chutney, hazelnut dressing. Between the starters and the Mains the chef sent a nectarine sorbet to cleanse our palates. For Mains we had Orange glazed sea scallops with creamed endive, baby fennel and tortellini, citrus buerre blanc ; and Seared springbok fillet with fondant potatoes, celeriac puree and mushrooms, cherry scented springbok jus. For dessert we had Warm Belgian chocolate fondant with peanut butter ice-cream, honey comb and Rooibos tea bavarois , peanut glass. The staff matched our dishes with the house sauvignon blanc, chardonnay and shiraz all of which we enjoyed.
Other
The restaurant was received the Eat Out Top Ten Award 2007 from
Eat Out
magazine.
Reservations Required The day we were there the restaurant was full and we were glad to have planned our visit in advance.
Date Of Review
November 2007
ReviewersArticle by Elena del Valle
Photos by Gary Cox
Service Alex, our waiter, was efficient, pleasant and knowledgeable. We had only to look up for him and he arrived smiling to offer assistance.
Would You Dine There Again-Recommend It? Yes
Contact Information
Address:
Grande Provence Estate
PO Box 102,
Main Road,
Franschhoek 7690
Western Cape,
South Africa
Phone:
Fax:
Website:
Email: