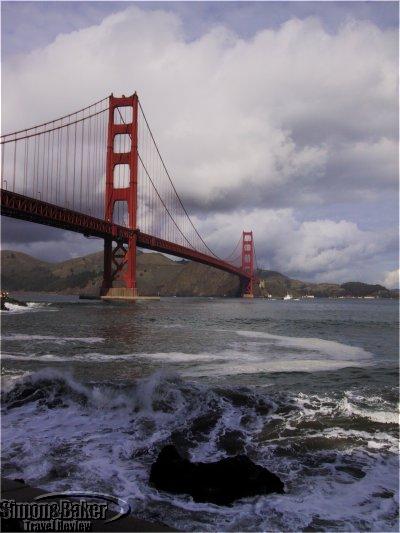 We hope the GoCar becomes available in other cities and look forward to another GoCar ride the next time we're in San Francisco .
Overall Impression
What a marvelous way to discover San Francisco ! Our GPS (global positioning system) guided talking GoCar tour in the two passenger yellow "car," lasted about two hours. Following its prompts we traveled through San Francisco's greater and lesser known sites in a fun, stimulating and independent way. After a brief familiarization, explanation and experimentation phase that lasted a few minutes, we donned our helmets and were on our way. We stopped at landmarks like the famous Fisherman's Wharf and viewing spots for picturesque sightings and memorable photo opportunities at our own pace.
We laughed, screamed, turned, stopped, were stared and pointed at and in general had a wonderful adventure driving in the comfort of our two-seat GoCar through this charming city's neighborhoods, parks and monuments. The GoCar staff were patient, helpful, responsive and a pleasure to interact with. The GoCars were easy to use by young (old and able enough to drive a car) and old alike. We returned to our hotel smiling and shared our discovery with friends far and wide. We hope the GoCar becomes available in other cities and look forward to another GoCar ride the next time we're in San Francisco .
Average Duration Of Visit
two hours
Description the world's first computer guided storytelling car was capable of speeds of up to 30 mph. The GPS technology system, which could tell where we were at any moment in the tour, allowed the program to provide interesting verbal descriptions of various San Francisco attractions and must-see spots as we arrived at each one. A foldable map allowed us to follow our path and decide whether to make changes depending on our interest and time availability. There was a secured small trunk or boot in the rear of the GoCar where we stored our helmets and any other personal items when we stopped and parked to sightsee on foot. Though there were 50 historical points and landmarks in the tour, we never tired of the descriptions, which were entertaining and brief.
Established Spring 2004
Handicapped Access : yes, though driver was required to have a driver's license
Location in central San Francisco . Just a short GoCar ride from the Fisherman's Wharf
Owned-Managed Nathan Withrington and Alasdair Clements
Transportation we took a bus from our hotel which dropped us off half a block away. On the return, we were in a hurry and chose a taxi instead. Parking in the area, for those with rental cars, looked difficult to find.
Tour Highlights Fisherman's Wharf, The Cannery, Marina District, Crissy Fields, Golden Gate Bridge, Baker Beach, Sea Cliff, Lincoln Park Golf Course, Land's End, Cliff House, Ocean Beach, Golden Gate Park, Haight-Ashbury , The Presidio, Palace of Fine Arts, and Lombard Street
Gocar
in detail:
The GoCar has a range of 60 to 80 miles, curb weight of 280 lbs, width 51", length 92", shoulder room 35" and leg room 38" and a fuel tank of 1.5 gallons. Motor: 49cc, stroke 2, and horsepower 2. Made of fiberglass and gel coat and large enough for two passengers, it had dual side mirrors and handlebar steering controls, 2-point lab belts, 2 headlights, 2 tail lights and automatic transmission.
Other GoCar managers were planning to launch an extended version of its current tour in six languages (English, French, German, Italian, Spanish and Japanese). GoCar was nominated by Time Magazine for "most amazing invention of the year 2004." GoCar won second place behind Burt Rutan and SpaceShipOone .
Date Of Review
January 2005
Would You Drive A Gocar Again? Yes
Contact Information
Address:
2715 Hyde Street
San Francisco , CA 94109
Phone:
415-441-5695
1.800.91 .gocar (46227)
Toll free in the U.S.
Fax:
Website:
Email: