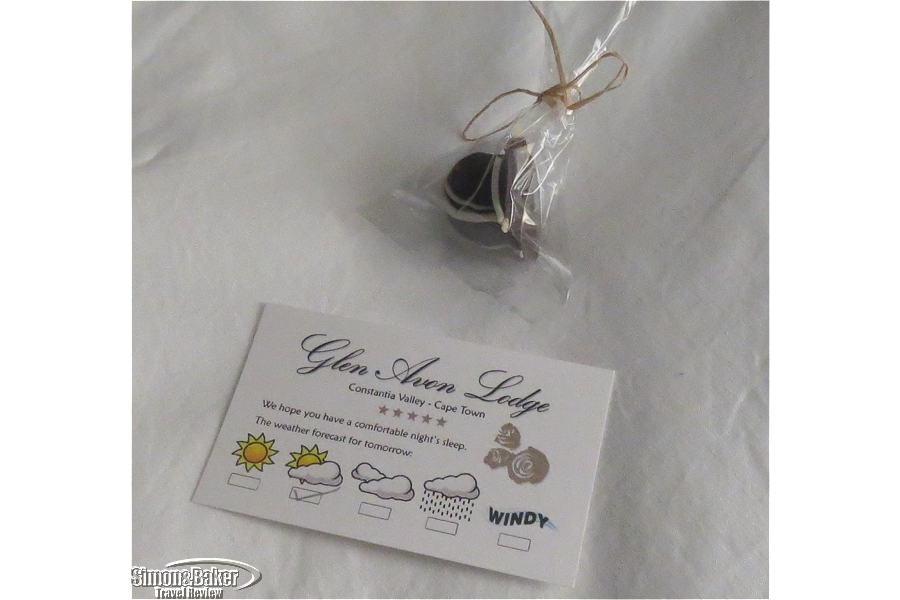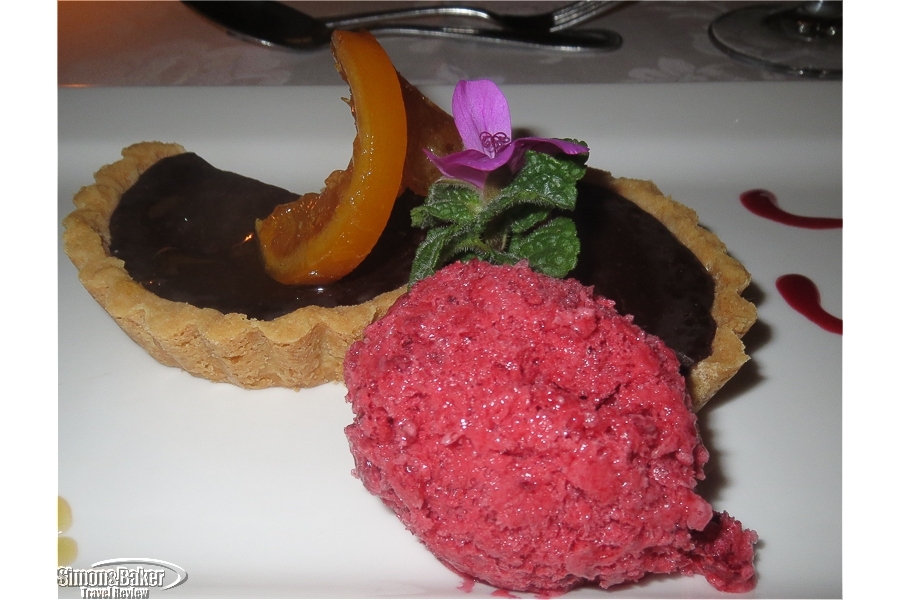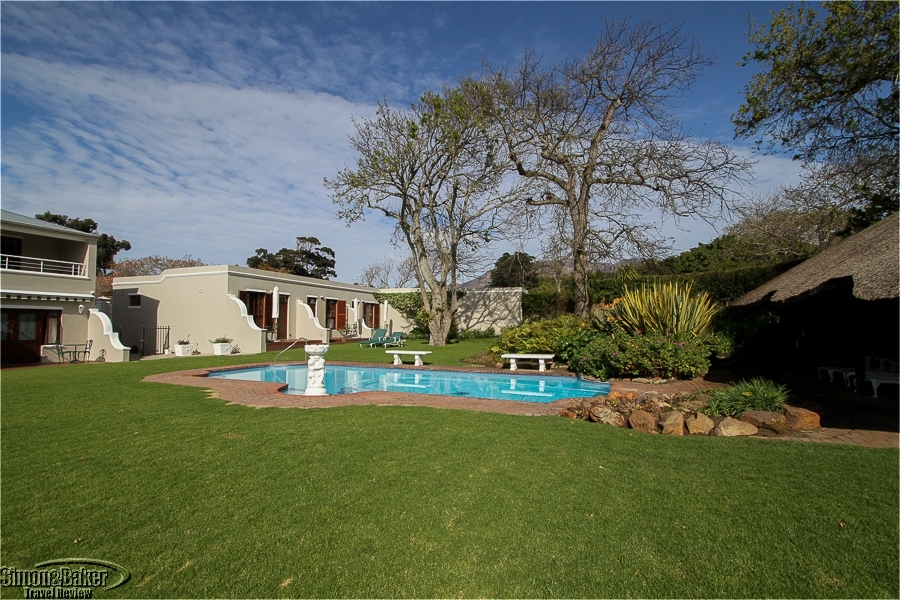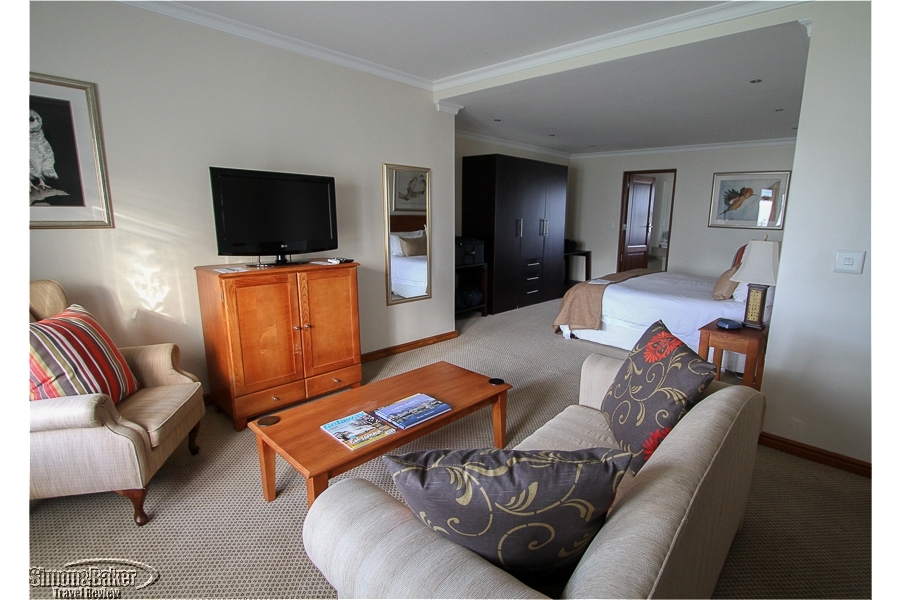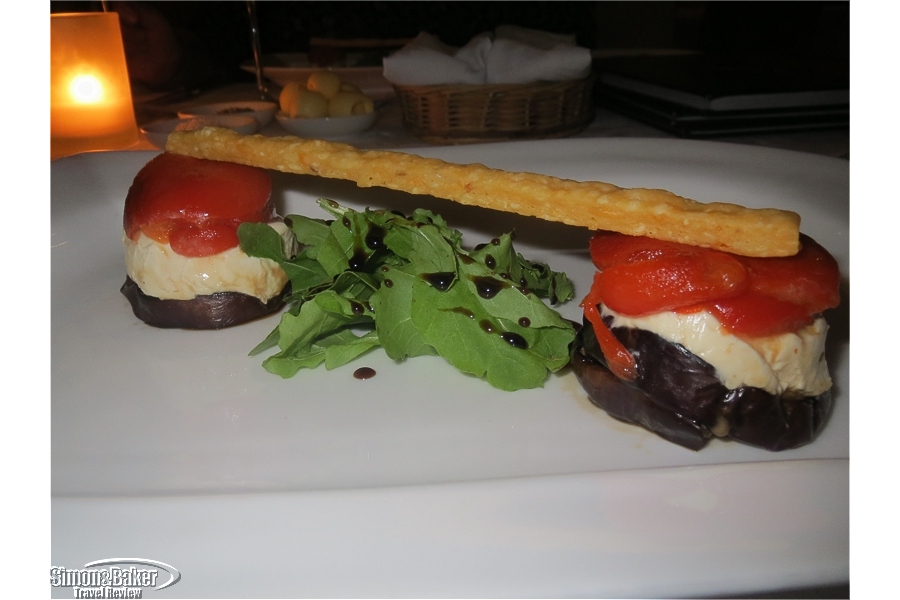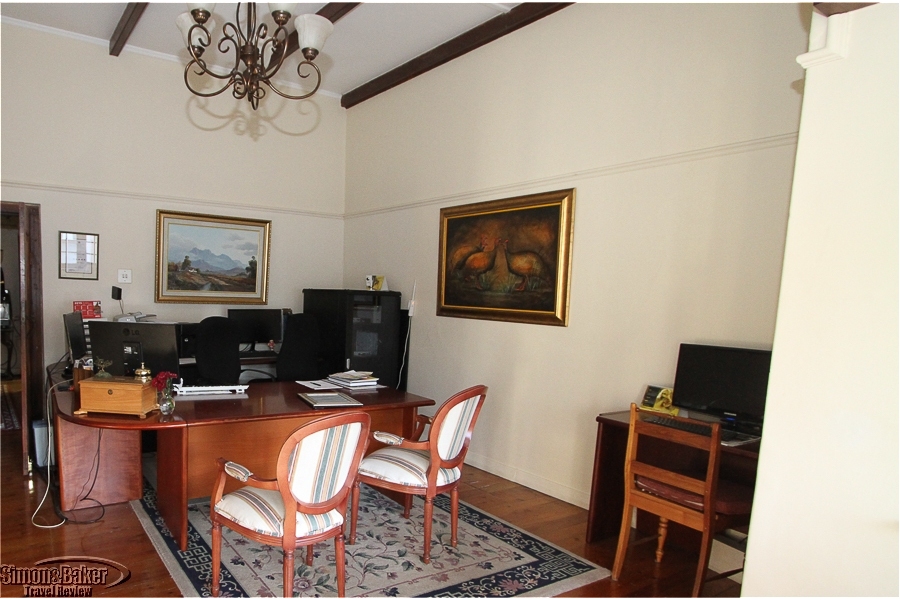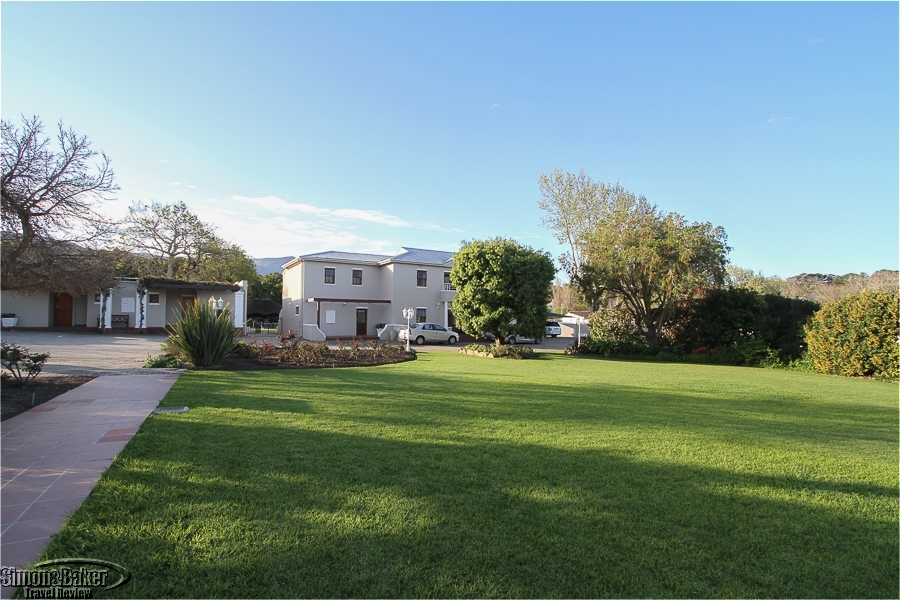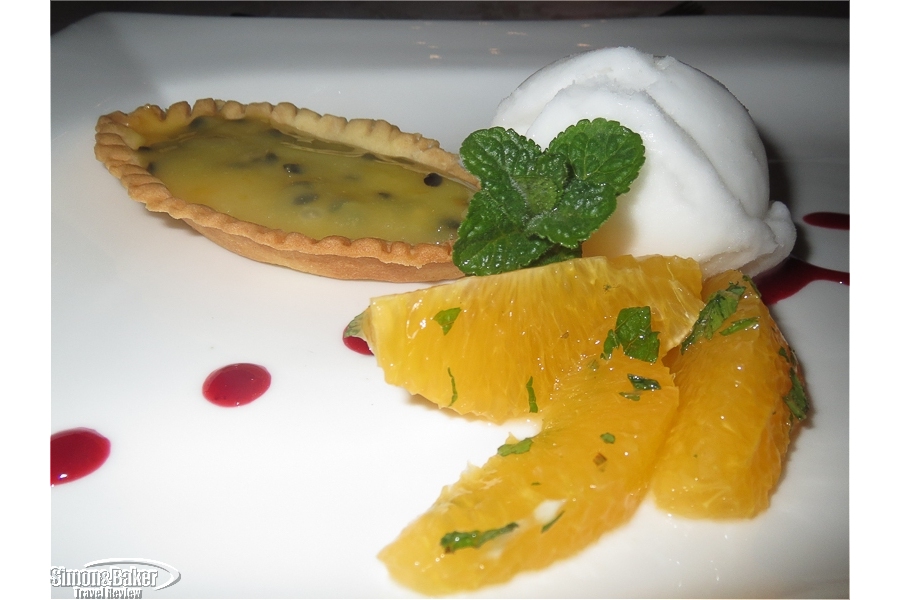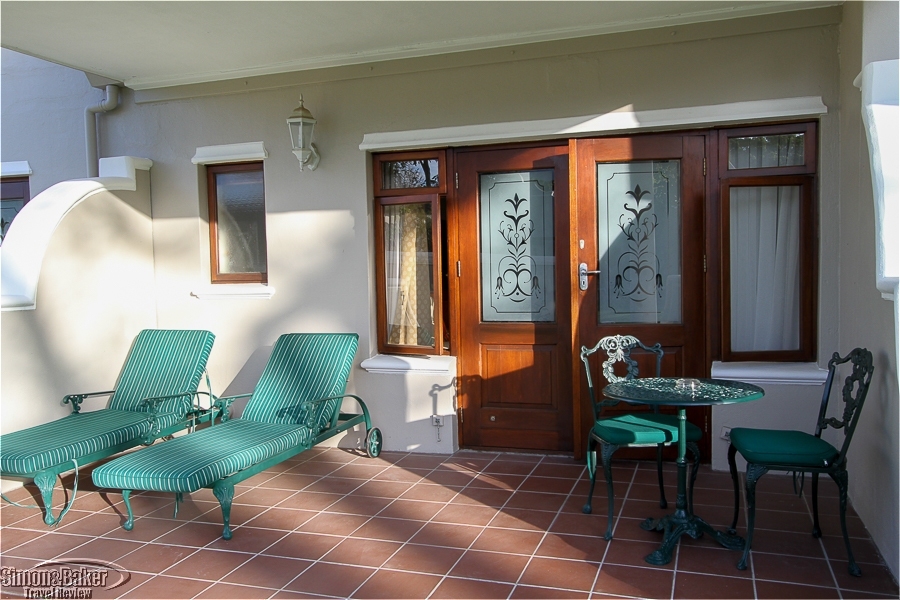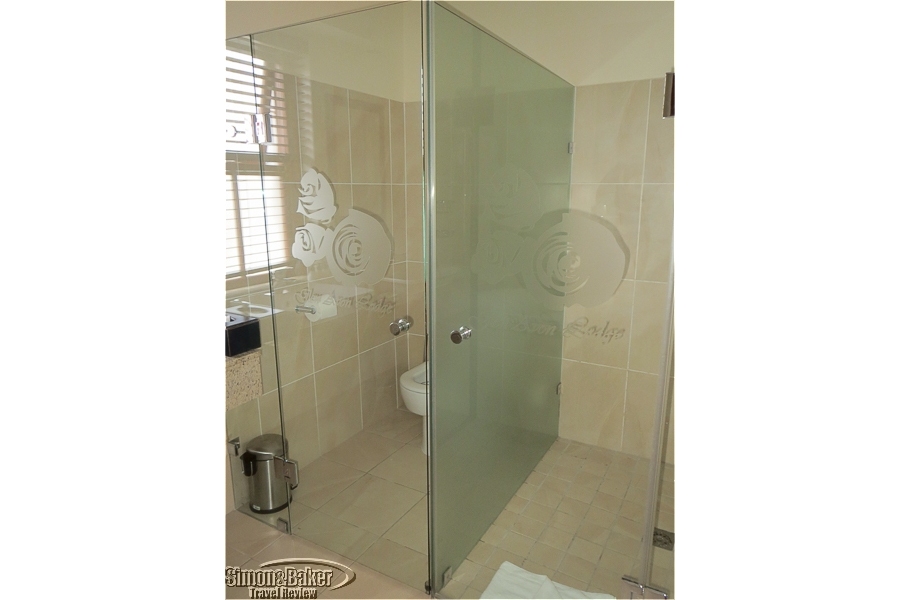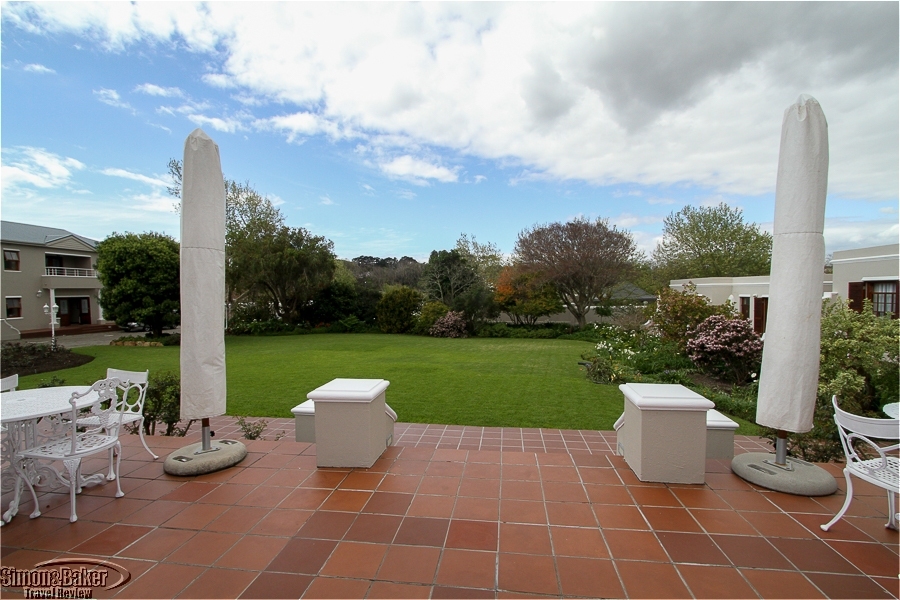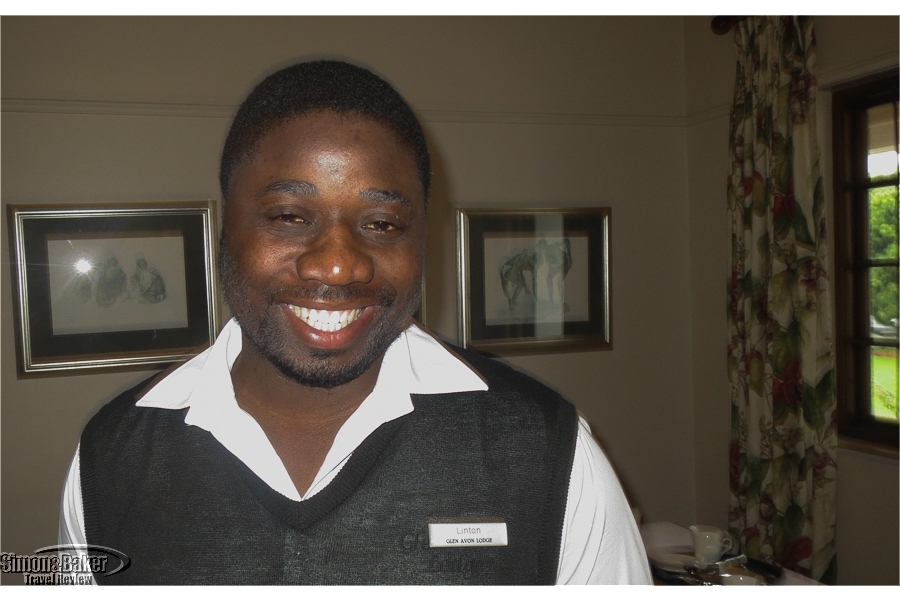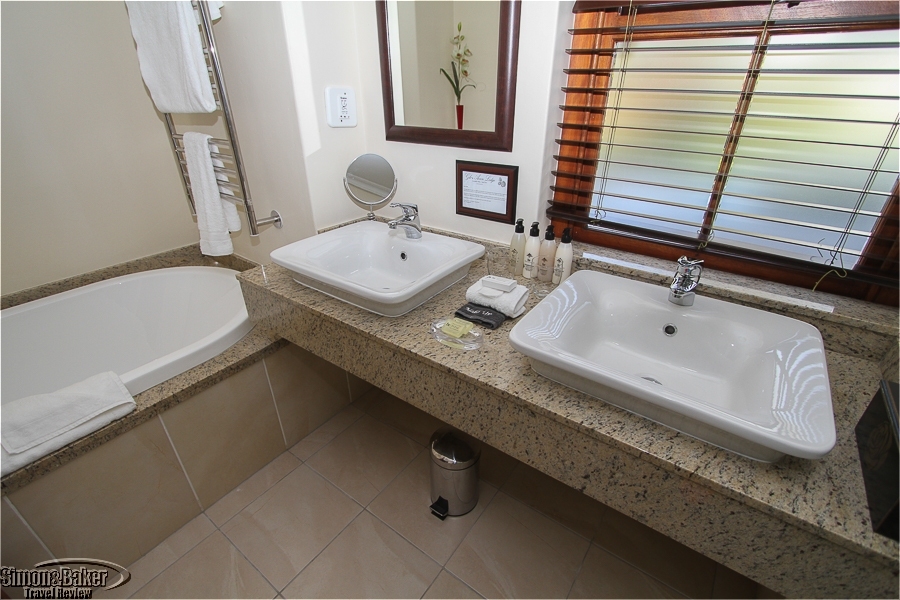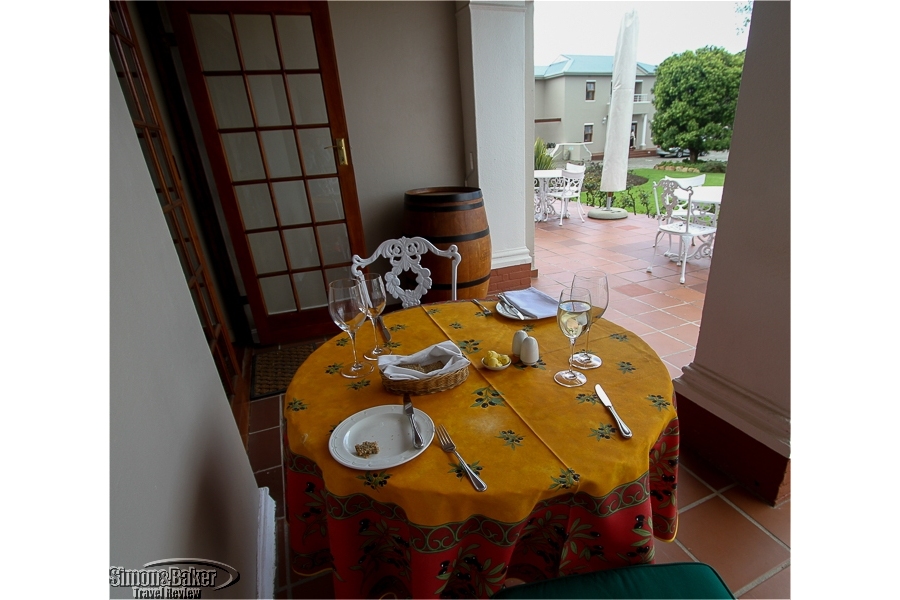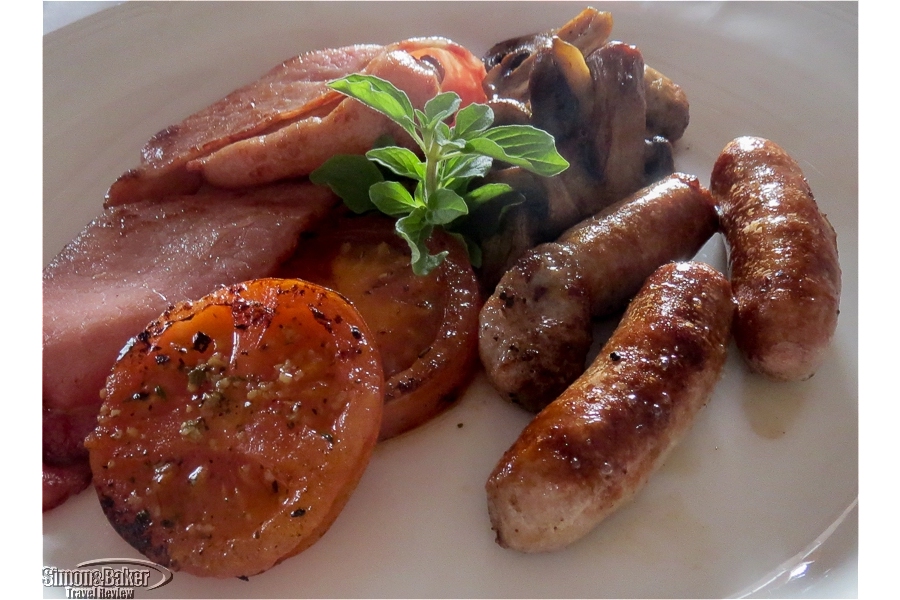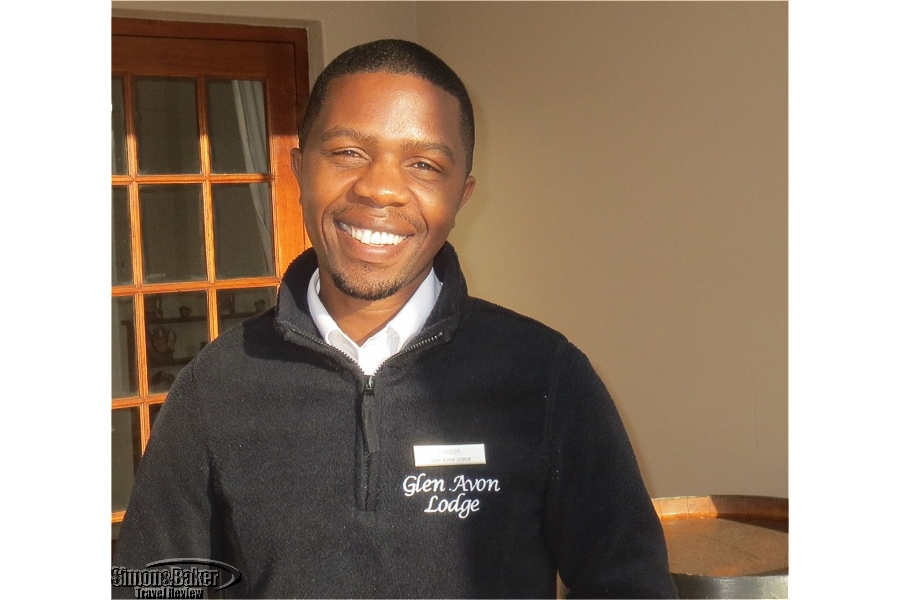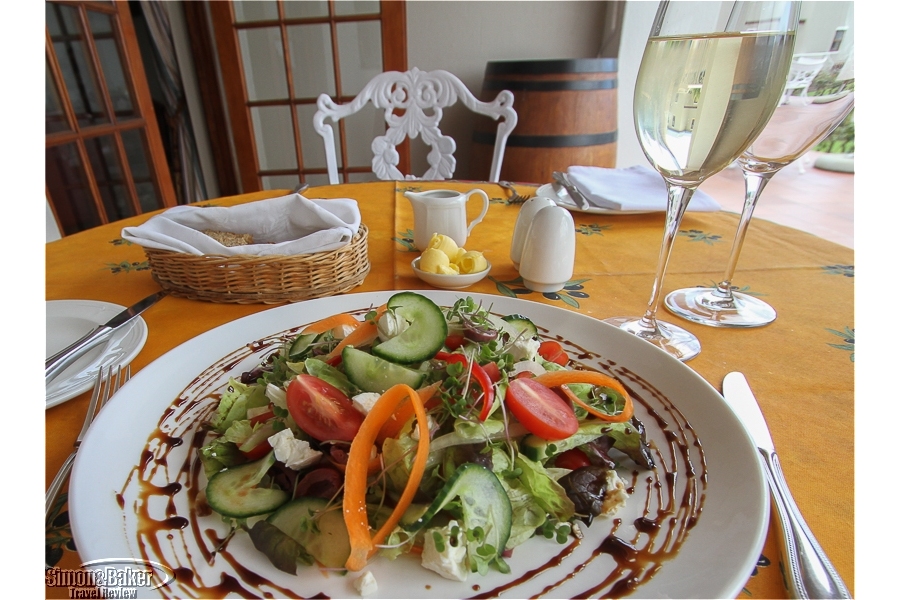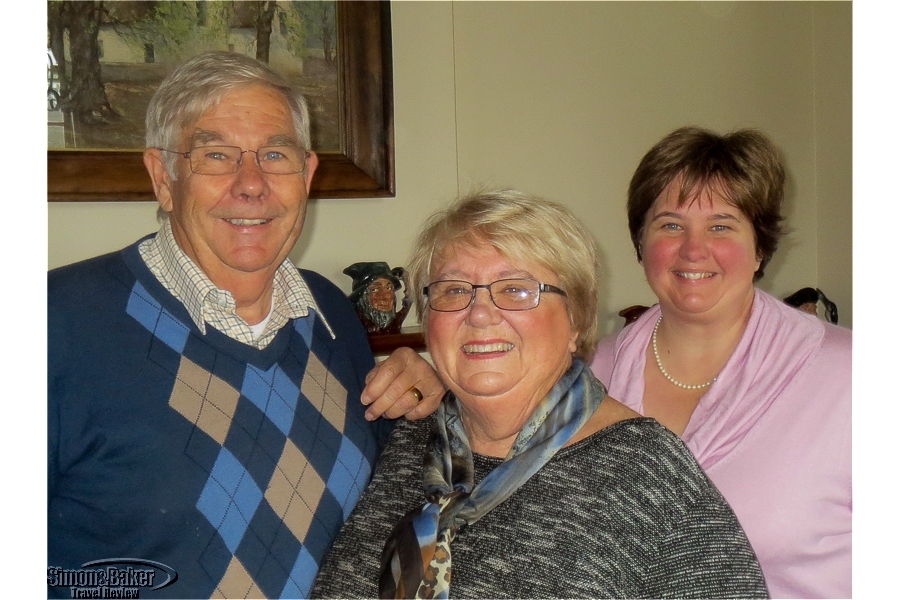 I appreciated the lodge's friendly owners who followed strong responsible tourism practices, historic main building, modern accommodations, comfortable room, service orientation, pretty gardens, and the convenience of an onsite restaurant.
Overall Impression
What I liked most about Glen Avon Lodge, a small historic property (the internal structure and many original features of the main building dated back to 1785 and remained unchanged) in Constantia, a suburb of Cape Town, South Africa, was the owners' welcoming demeanor. From the moment we met I felt a simpatico connection with Annette Stringer. Later, I had a chance to meet her affable husband and Wendy Drummond, her daughter and property co-owner. I appreciated their hard working ethic, straightforward communication preference, employee training and empowerment practices, and efforts to give back to their community.
The 15-room walled property was expanding (the construction area was adjacent to my room), and the weather was at times uncooperative during my two-night winter stay, making it challenging for me to spend time outdoors in its carefully tended gardens, lawns and poolside area. While it was too chilly to linger in the pool facing covered porch I savored quiet time at the end of the day (when the workers had gone home) in my well appointed room with a sitting area and butler's corner.
At Annette and Wendy's suggestion I went on a fun private half day wine tour, which was one of the highlights of my visit to Constantia. But for them I would not have known about the tour company. That type of local insight is one of the reasons I especially enjoy staying at family owned small hotels like Glen Avon. I appreciated the lodge's friendly owners who followed strong responsible tourism practices, historic main building, modern accommodations, comfortable room, service orientation, pretty gardens, and the convenience of an onsite restaurant.
Children
By prior arrangement well behaved children were welcome.
Class of Accommodation Five-star Country House
Connectivity The property offered complimentary cabled WiFi limited to 500 megabytes or one week monitored by Hotspot offsite. Every time I went online I had to click on the terms of agreement button to reenter.
General Manager Wendy Drummond
Handicapped Access For physically challenged guests, ramps and golf cart were available for some rooms. There were walk-in showers in all rooms, and some rooms had no stairs.
Length of Stay Two nights
Location Half a block from a main road in Constantia, South Africa.
Owned and Managed Annette Stringer and Wendy Drummond
Pets Allowed No
Size The 300 square meter property had 16 rooms in five buildings (two of which were two stories tall) and employed 11 people.
Year Opened-Renovated The property opened in 1995. There were major renovations and construction taking place during my visit. They were adding five new guestrooms and a function hall.
Lobby and Common Areas The main building was a historic Cape Dutch structure with contemporary Cape Style touches. It housed a collection of Toby jugs (pottery containers in the shape of an old man) and Old Cape Dutch style original oil paintings with old wooden frames and rolled glass. There were original watercolors in the rooms painted by one of the owners.
Bathroom Thanks to a large window facing the front of the building the bathroom was filled with natural light during the day. It was divided into three main areas: On the left, a bathtub and heated towel rack set against the wall; in the middle beneath the window there were twin square ceramic sinks atop a stone base; and on the right, a glass enclosed water closet next to a shower with a glass door divided by a glass partition with the Glen Avon logo to make it easy to see the glass. The shower glass door also had the logo.
Room
I stayed in Room 15, a 41 square meter Superior Deluxe Suite, one of four rooms in a two-story stand alone building near the entrance gate. My ground floor room faced an external wall and the swimming pool to one side. In a single open area it had sleeping and sitting sections and a closet kitchenette. The room had a high ceiling, double curtains, recessed lights and a contemporary lamp in the living area. Temperature control was possible via a wall mounted air conditioner and heat unit with a remote control. There were also two mohair and wool blankets in the closet and an efficient electric blanket. A full length mirror hung on the wall to the right of the television.
Near the entrance there was a wood desk with an armless chair facing a square framed mirror. Atop the desk there was a telephone, a small lamp and a rectangular flashlight (in case of a power outage). The cloth furniture in the living room was khaki with striped and patterned pillows. There was a love seat that creaked slightly when I sat down, a coffee table, an armchair, and a cabinet housing a flat screen LG television. Khaki mixed pattern wall to wall carpeting covered the floor. Bird watercolors framed with glass hung on the walls. In the far corner by the desk, the kitchenette cabinet had a minibar, Defy microwave, hot water pitcher, dinnerware service for two, toaster and sink. Outside a private covered porch faced the lawn, property wall, pool area and garden. There was a table with two cushioned chairs and two cushioned lounge chairs.
I could hear sounds of birdsong, especially in the early morning. I could also hear my neighbors in their room next door, including their voices, conversations in the hallway of the building, and the sounds of drilling and construction on the property even with the windows closed.
The sleeping area was centered around a large bed (two small mattresses set together as one against a wood headboard) sandwiched between identical night tables with matching lamps. It had a duvet at night and the staff made it during the day. There was an alarm clock on one of the night tables. Across from the bed there was a large wardrobe with hanging and shelf space as well as an electronic safe, two pool towels and a hair dryer. On either side of the wardrobe there were luggage racks.
Food and Restaurants
The property restaurant was only open to guests and friends of guests. During the season, most vegetable were sourced from the property garden, Annette explained. Emmanuel, a Zimbabwean cook who had been working at Glen Avon for nine years, learned his trade from the owner who was a Le Cordon Bleu trained chef.
For lunch on arrival I had a Greek Salad with homemade grain bread (a favorite) and a glass of 2014 Buitenverwachting Sauvignon Blanc. It was necessary to book in advance for dinner, which was a two or three course set menu. I had to select my entree for dinner during the day. I had dinner twice during my stay. On the first evening, the starter was Red Pepper, Aubergine and Goat's Cheese Tian (a favorite) made of two small stacks of roasted red peppers and roasted eggplant with soft goat cheese in the middle. It was served with a Parmesan cheese stick. There were two options for mains (kingklip fish and springbok, both from frozen). I had the Loin of Springbok with Granadilla, Lemon and Honey Sauce, which was cooked medium rare and served with mashed potatoes and mashed butternut squash, mange tout (tender snow peas), and a rooibos (tea) and orange sauce. Dessert was a Chocolate Tart with preserved oranges and mixed berry sorbet. I liked the tart's pudding style filling.
For dinner the second night I had a starter of Prawn Salad made with fresh garden greens and a citrus dressing, followed by an Ostrich Fillet with a chili chocolate sauce. It was prepared medium rare with fresh summer vegetable medley, minus the chili sauce. The second entree option was Cornfed Chicken Roulade. For dessert, there was Granadilla curd served in a pastry cream boat, minty oranges and sorbet.
Breakfast was a combination of a plated fruit and yogurt dish (one thin slice of grapefruit and orange each, a handful of slices of papaya, one thin slice of pineapple, one strawberry and a small container of yogurt with berry compote on top), cold buffet items (cereal, deli meats, cheeses, pastries and bread) and hot made to order egg dishes with sides such as toast (white or brown), sauteed tomatoes, mushrooms, bacon and sausage.
Amenities
Property staff were able to organize tours, car rentals and airport transfers. There were manicured gardens with mountain views. There was a single chocolate truffle with the turndown service. In the bathroom there were Beautiful Earth eco friendly toiletries in 200 milliliter plastic bottles of Grapefruit and Sweet Orange Hand and Body Lotion, Grapefruit and Rosemary Shampoo, Grapefruit and Ylang Ylang Hand and Body Wash, Geranium and Mary Chang Conditioner, Room and Linen Mist, and Grapefruit and Lavender Bath Salts. There was also a shower cap, face and make up cloths and two Rose Geranium and Lemon small bars of soap from the same toiletry brand. The bed had cotton percale linen. There was an electronic safe, air conditioning, bath robes, honesty mini bar, laundry services, hairdryer, emergency lighting, butler's cupboard including tea and coffee making self service appliances, complementary biscuits, toaster, microwave, prep bowl, crockery and cutlery, individual DSTV decoder and flat screen TV. On the porch, there outside cushions for the chairs and loungers.
Facilities Main building housing reception, a lounge area and restaurant; and a swimming pool.
Pool There was a 4 meter by 11.5 meter swimming pool, which ranged in depth between 1 meter and 1.8 meters. Because the construction was immediately adjacent to the pool sitting poolside during the day was less than pleasant. The pool water was chilly. There were lounge chairs and a covered shady area by the pool.
Other
Solar power back up was used in the main building and some of the rooms for those days when the power company shut down electric power. Laundry service was only available for guests spending three nights or longer at the property. The property had held a TripAdvisor Certificate of Excellence from 2011 to 2015. It had a GT-Active Green Certificate from the Green Tourism Accreditation.
Glen Avon was dedicated to being as green and eco-friendly as possible. The managers had recently added heat pumps to all rooms to save on electricity. They had added photo voltaic cells as a backup for power outages and for lighting in some rooms, computers and fridges. All toiletries and some cleaning materials were ecofriendly and some were made locally. The property's toilet system ran on grey and garden water. The property recycled and used vegetable matter for composting. Worn towels and linen were donated to worthy causes yearly.
The property contributed funds to the Soil for Life Project and supported the Original T-Bag project. The Soil for Life project reached out to community members in need to teach them how to grow vegetables, build up the soil on tiny patches, grow enough food to feed their families, and sell the remainder. The Original T-Bag project kept 14 people from the Hout Bay Township employed full-time. As part of the program, lodge staff saved the used teabags in the hotel and guestrooms. They dried them and sent to the little factory, where they were emptied for composting before the bags were painted and used to make articles for sale in the organization's Hout Bay and Cape Town Waterfront shops.
Cleanliness
Very good. There was a lingering food smell in the main building.
Date of Review September 2015
Reviewers
Photos and Article by Elena del Valle
Service The room was serviced twice daily. Everyone I met from Anette, David and Wendy to Emmanuel, the cook, Livison, and Linton was friendly and attentive.
Would You Stay There Again? Yes
Contact Information
Address:

Glen Avon Lodge
No 1 Strawberry Lane
Constantia, 7806
Cape Town
South Africa

Phone:

+27 21 7941418
Fax +27 21 7941419

Website:
Email: