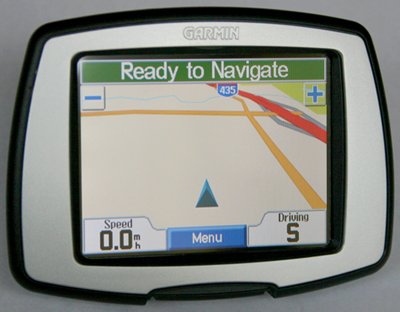 Battery
up to 8 hours, rechargeable lithium-ion battery, includes a 12V car charger.
Colors Black plastic case with a silver plastic border around the color LCD display screen.
Description A street map based GPS that was custom designed for use in an automobile.
Made In China
Made Of Plastic
Manufacturer-Distributor Garmin
Retail Price $349.99 U.S.
Sizes Display: 2.8" W x 2.1" H (3.5" diagonal ), 320 x 240 pixels; Unit dimensions: 4.4" W x 3.2" H x 2.8" D
Warranty This Garmin product is warranted to be free from defects in material or workmanship for one year from the date of purchase. Within this period, Garmin will at its sole option repair or replace any components that fail in normal use. Such repairs or replacement will be made at no charge to the customer for parts or labor, provided that the customer shall be responsible for any transportation cost. This warranty does not cover failures due to abuse, misuse, accident, or unauthorized alteration or repairs."
Weight 9.45 ounces
Type Of Product
Automotive GPS
Features Pre-programmed with City Select® NT, providing street-level detail and addresses, plus listings of nearest restaurants, hotels, ATMs, etc., in the U.S., Canada and Puerto Rico. It had a receiver WAAS-enabled 12 parallel channel GPS, a display: 2.8" W x 2.1" H (3.5" diagonal), 320 x 240 pixels; QVGA transflective TFT with 16-bit color; 64K colors; bright white LED backlight and touch screen, available with maps of Europe, fingertip touch screen interface, look up addresses and points of interest, 2D or 3D map perspective, upload custom POIs, including alerts for speed zones and safety cams, SD memory card expansion slot , StreetPilot Asian Americas in 5 Asian languages (Mandarin Chinese, Japanese, Korean, Thai, or Taiwanese). Screen-width scale 640 feet to 4,000 miles.
Navigation features: Routes automatically calculated with turn-by-turn instructions; custom road preference allows user to prioritize choice of back roads or major highways; automatic off-route recalc shows how to get back on track if the user misses a turn or exit. Trip computer with Resettable odometer, timers, average and maximum speeds. Acquisition times: Warm: Approximately 15 seconds, Cold: Approximately 45 seconds, AutoLocate®: Approximately 2 minutes . Update rate 1/second, continuous.
GPS accuracy: Position: < 15 meters (49 feet), 95% typical, Velocity: 0.05 meter/sec steady state. GPS (WAAS) accuracy: Position: < 3 meters, 95% typical, Velocity: 0.05 meter/sec steady state. Interface USB 2.0 full-speed. Antenna is a Built-in patch; MCX-type connector for optional external GPS antenna connection. Data storage is indefinite; no memory battery required. Temperature range: 32°F to 140°F (0°C to 60°C).
Other
The C330 package included: a StreetPilot c330, Preloaded City Navigator NT
North America
or Europe (full coverage), SD memory card slot, Vehicle suction cup mount with 12-volt adapter, PC/USB interface cable, Quick reference guide.
Country(S) Tested
U.S.A.
Date Of Review Dec 2006
Number Of Days Tested 30
Reviewers Article by Chester Godsy
Would You Use This Product Again? Yes
Contact Information
US Manufacturer:
Garmin International Inc.
1200 East 151st Street
Olathe , KS 66062
Phone:
Fax:
Europe:
Garmin ( Europe ) Ltd.
Unit 5, The Quadrangle
Abbey Park Industrial Estate
Romsey, Hampshire
SO51 9 DL , UK
Phone:
Fax:
Website: