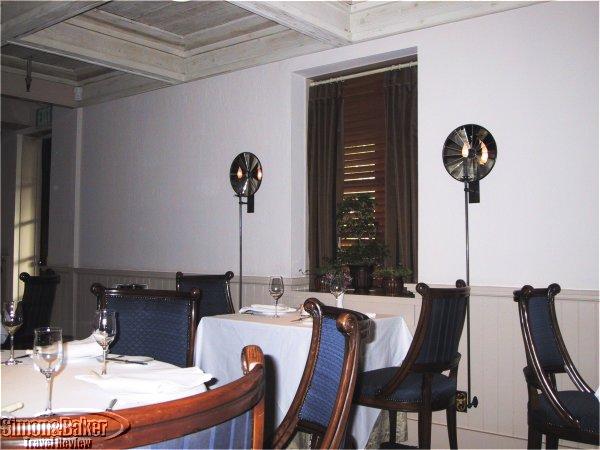 I look forward to a return visit to The French Laundry or sampling one of the growing number of Keller owned restaurants.
Overall Impression
We were intrigued by the air of reverence and hushed awe the mention of The French Laundry inspired. Before dining there we heard from locals it was nearly impossible to get reservations to this California icon of gourmet food. Those who knew someone who had been there said wistfully that it had been excellent and all agreed it was by far the most notable restaurant in the area. Although our initial attempts to secure a reservation failed, eventually we secured a table thanks to a last minute cancellation. It was worth the effort and one hour drive in the dark and winding wine country roads from our rental villa. Next time we will stay nearby.
Service at The French Laundry was superb. Staff members were professional, friendly, and well rounded. The French Laundry served contemporary American cuisine with French influences. In spite of course after course of rich tasting dishes, I never felt overfull. Although I had favorites, everything was appetizing, well prepared and presented.
From the inner garden area, large glass windows showcased the spotless kitchen. I could see staff members near the window chopping vegetables and others further back concentrating on specific aspects of meal preparation. For a few minutes I watched the staff in action, slicing, sautéing, stirring, clearing and cleaning precisely and with the air of practiced and regimented perfection reminiscent of military personnel.
Chef Thomas Keller, who was at The French Laundry the night I dined there, looked serious and focused when we met later that night. He was polite and after a brief greeting returned his attention to directing staff activities. This attention to detail and zealous vigilance, I became convinced, was the secret behind the popularity of his restaurants. Congratulations to the chef and his staff for their many restaurant industry accomplishments. I look forward to a return visit to The French Laundry or sampling one of the growing number of Keller owned restaurants.
Chef De Cuisine
Corey Lee
Handicapped Access The first floor of the restaurant was handicapped accessible.
Head Sommelier Paul Roberts
Location In the town of Yountville in Napa Valley
Opened-Renovated It was established in 1994; minor renovations took place in 2005
Owner And Executive Chef Thomas Keller
Pastry chef Claire Clarke
Restaurant Managers Laura Cunningham, Nicolas Fanucci
Size The restaurant had 62 seats and 2600 square feet of space to house 90 staff and guests.
Type Of Restaurant Contemporary American cuisine with French influences
About The Executive Chef
Thomas Keller is chef and owner of The French Laundry, Bouchon, and Bouchon Bakery, in Yountville, California and Bouchon in Las Vegas, Nevada. In 2004, Keller opened Per Se in New York City, and received a coveted "four-star" rating from The New York Times. Keller is author of the award-winning The French Laundry Cookbook, published by Artisan and in its 18 printing. His highly anticipated Bouchon Cookbook was released in November 2004.
In 2003, Keller collaborated with Raynaud of Limoges, France and the design firm Level on a collection of graceful white porcelain dinnerware called Point sold nationwide. He also entered a creative partnership with renowned silversmith Christofle in designing silver hollowware currently in use at The French Laundry and Per Se. In addition, with The French Laundry General Manager Laura Cunningham, he launched Modicum, a 2000 Napa Valley Cabernet.
In 2001, Keller was named "America's Best Chef" by Time Magazine and as "World Master of Culinary Arts" by a panel of international judges at the Wedgwood Awards. He and his restaurants have collected many accolades in the last decade, including seven awards from the James Beard Foundation: "Outstanding Chef: America," "Outstanding Wine Service," "Best Service," and, in 2005, "Best New Restaurant" for Per Se.
In his teens, Thomas Keller learned to cook from his mother while working at the Palm Beach restaurant she managed. With no professional training, he moved to France and served in apprenticeships in ten Michelin-starred restaurants, including Taillevent, Guy Savoy and Le Pré Catalan. By the early 1980's he was working in New York City where he gained national recognition at La Reserve and Restaurant Raphael. He then opened Rakel, where he developed a loyal following bolstered by rave reviews. In 1991 Keller moved to California to be the executive chef of Checkers Hotel in Los Angeles.
DÉCor-Ambiance The French Laundry was housed in a rustic two-story stone cottage surrounded by a country garden. The decorative style was contemporary with elegant touches. Uniforms were designed by Bragard and Robert Talbot; linens were by Garnier-Thiebaut and silverware from Ercuis.
Cellars Wine And Alcoholic Beverage Selection
The restaurant had numerous wines made exclusively for The French Laundry. The wine department contracted with producers all over the world to do special cuvees for the restaurant. Wines were stored on and off-site in temperature and humidity controlled storage space. Their collection included 1,450 selections from 14 countries.
Meal "Cornet" of Marinated Salmon with Red Onion Crème Fraiche; Purée of Jacobsen Farms Nettle Soup; "Oysters and Pearls" "Sabayon" of Pearl Tapioca with Beau Soleil Oysters and Russian Sevruga Caviar; Jacobsen's Farm "Escargot" Melted Spring Garlic, Sweet Carrots, Applewood Smoked Bacon "Lardons" and Marble Potato "Rissolé;" White Truffle Oil-Infused Custard with a "Ragout" of Black "Périgord" Truffles; Poularde Leg with a "Fricassée" of Provençal Vegetables, Niçoise Olive Sauce; Salad of Sacramento Green Asparagus; Hand-Cut "Tagliatelle" with Périgord Truffles; Sautéed Fillet of Redfish with Piquillo Peppers, Yukon Gold Potatoes, Caramelized Fennel Bulb and "Sauce Bouillabaisse;" Maine Lobster Tail "Cuit Sous Vide aux Beurre Doux, "Devil's Gulch Ranch Green Asparagus, Sunchoke "Rissolé" and Périgord Truffle "Coulis;" "Sauté" of Moulard Duck "Foie Gras" Pickled Ramps, Crystallized "Gros Michel" Bananas and Young Sorrel Leaves; Pan Roasted Four Story Hills Squab with Heirloom Beets; "Reblochon" with Apple and Belgian Endive Salad;
Desserts: Valrhona White Chocolate "Granité", Passionfruit "Consommé" and Niçoise Olive "Nougatine ;" « Coffee and Donuts" Cappucino "Semi-fredo" with Cinnamon-Sugared Donuts; Valrhona Bitter Chocolate "Soufflé", Plumped Michigan Cherry Relish and Brown Sugar Ice Cream; "Mignardises"
Wine pairing the Pierre Gimmonet, Brut "1er Cru" Champagne (with canape), Cantina del Taburno, Falanghina (with escargot), Servin, Chablis, "Montee de Tonnerre," 1er Cru (with pasta) Kiralyudvar, Tokaji, "Cuvee Ilona," Hungary (with foie gras ) Modicum, Cabernet Sauvignon, "Morrell Vnyd," Rutherford (with big meat) Chambers-Rosewood, "Museum Muscat," M.V. (with dessert).
Special Menus Set menu ($175 per person)
Other
French Laundry accepted reservations by phone only (707.944.2380). Each day, they released several tables to Opentable.com, an online reservations website. The French Laundry staff received training education in food, wine and service seminars throughout the year.
A semi-private dining room was available for parties of 8-12. The French Laundry was recognized by a number of publications including the Five-Star-Award from Mobil Travel Guide 2005-1999; "Best in the Americas," Restaurant Magazine in 2005; "Best Chef," Readers' Digest in 2004; #1 in "The World's 50 Best Restaurants," Restaurant Magazine for 2004 and 2003; and "Best Service" James Beard Foundation Award in 2004 and 2003. The French Laundry is a member of Relais & Chateaux, Relais Gourmands and Traditions & Qualité, two French associations.
Reservations Required A minimum of two months in advance
Date Of Review
April 2005
Ease Of Making Reservations Although securing reservations was difficult and frustrating, the service and meal made up for it.
Reviewers Article and Photos by Elena del Valle
Service The French Laundry service was above and beyond the norm. It was stellar. Staff were meticulous, efficient, well organized, knowledgeable, helpful and when appropriate spontaneous. Wine and water glasses, empty plates and cutlery were cleared as if by magic. Spacing in between courses was well orchestrated, including a brief break. After learning of my challenging drive through a mountain passage to reach the restaurant, one of the staff volunteered a printout of driving directions to facilitate my return drive for which I was immensely thankful.
Would You Dine There Again-Recommend It? Yes
Contact Information
Address:
6640 Washington Street,
Yountville CA 94599
Phone:
Website: