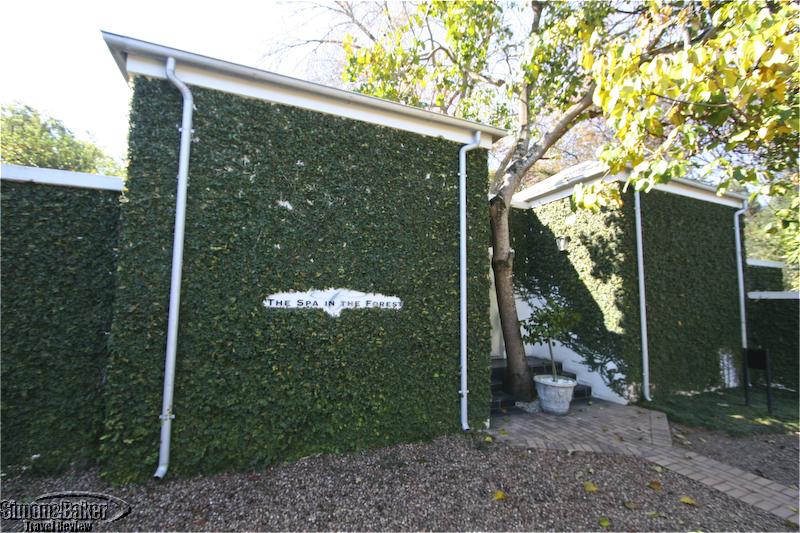 We look forward to visiting this lovely haven of relaxation again.
This property closed in 2013.
Overall Impression
On my second visit to this quiet property I went with my husband. Our two relaxing nights at the lodge, sandwiched within a three week game viewing trip, were a particular success thanks in part to our half day of couples treatments at the spa. I had been looking forward to my spa treatments since we boarded our overlong international flights from the United States and I was not disappointed.
We relied on Spa Manager Natalie McNeil who set up a delightful half day program for us. We began with a shared 45-minute Clarins Relax Bath. Then we had a Clarins Comfort and well-being Signature Massage followed by OPI Spa Pedicures side by side in a couples treatment room. In my husband's own words the pedicure was "one of the best pedicures I've ever had."
We enjoyed the Forest Health Spa at Cybele. The small spa's cozy ambiance, well delivered treatments and service oriented and friendly staff won us over. We look forward to visiting this lovely haven of relaxation again.
General Manager
Natalie McNeil
Handicapped Access There were several steps to enter the spa.
Location At the Cybele Forest Lodge & Health Spa in the heart of the Mpumalanga district between Hazyview and Whiteriver. The area is about 420 kilometers from Johannesburg, 40 kilometers from the Kruger National Park Phabeni gate, and about an hour's drive from the Sabi Sand Reserve.
Number Of Staff There were three permanent therapists as well as relief staff.
Owned Rupert and Barbara Jeffries
Size The single story spa was slightly over 400 square meters in size including an indoor area that occupied 180 square meters and an outdoor area that took up 150 square meters.
Special Training Natalie McNeil, who had an International Therapy Examination Council (ITEC) certification, had worked in five-star game lodges for most of her career. She completed half of the course work for a degree in podiatry so she felt especially qualified as a reflexologist and pedicurist. Genevieve Fouche had over 10 years of experience in the spa industry and had worked at a few health hydros. Although she has macular dystrophy of the eyes which impairs her sight slightly her other senses are heightened as a result, making her, according to her boss Spa Manager Natalie McNeil, "the most incredible therapist and reflexologist."
In order to offer Clarins products and services, the Cybele therapists had received Clarins treatment training. The spa at Cybele was one of the few spas in South Africa to offer the Clarins Signature massage.
Year Opened-Renovated The spa was established in 2004
Common Areas The décor was Zen style. There was under floor heating in the treatment rooms. There was also a courtyard with a lion head water fountain, loungers and a koi pond. Lemon trees and lavender bushes lined the exterior of the courtyard.
Amenities
There were Clarins toiletries, cotton slippers, and cotton bathrobes. There are Clarins samples in our lodge room. The spa shower had Algologie and Clarins products for guests. We were offered a choice of three water infusions: Lemon and Mint, Lemon, Orange and Lime and Ginger.
Facilities Guests had access to sauna, Hydro Bath, indoor and outside showers, outside Roman bath, and a steam room. There was also a swimming pool, restaurant and fitness center at the lodge.
There were two single rooms with en suite showers, one single room with an outside shower, a single room with an outside roman bath, a twin room for couples treatments with an outside shower and a hydrotherapy room with a double size shower. There was also a steam room and sauna.
Lockers And Bathrooms Since spa guests were also guests at the lodge there were no lockers in the spa. It was possible to lock the treatment rooms. There was a locker area with lavatory and shower at the fitness center in a nearby building.
Treatments Experienced
We had the Clarins Relax Bath, Clarins Comfort and Well-being Signature Massage, and OPI Spa Pedicure. The 45-minute foamy bath, designed to promote relaxation and stress relief for sore and stiff muscles was in a treatment room with a bathtub for two in the center. We were provided a cloth container for our clothes, cotton bathrobes and slippers. The room was half lit and tea candles were spread on the edge of the bathtub. The bathtub was half filled with hot bubbly water and Clarins Relax Bath oil. On the sides of the bathtub there were glasses with iced tea and plates with fruit kebabs and yummy strawberries dipped in white and dark chocolate.
When the 45 minutes had passed one of staff members knocked on the door. We briefly showered in the treatment room and donned our bathrobes before heading out to the neighboring couples treatment room where we had our massages and pedicures. The Clarins Comfort and Well-being Signature Massage was designed to relieve tension, combat fatigue, and deal with aching muscles. Those 60 minutes were reparative and relaxing. If we had had enough time before departure I would have returned for a second massage. The extended spa pedicure, designed to soften calluses and relive achy feet, lasted 90 minutes. Although the pedicure was very good, for some reason my nail polish began falling off about three days later.
Contact Information
Address:
Cybele Forest Lodge &
Health Spa
R40 Hazyview Road,
Spitskop Turnoff
P.O.Box 346 White River 1240
South Africa