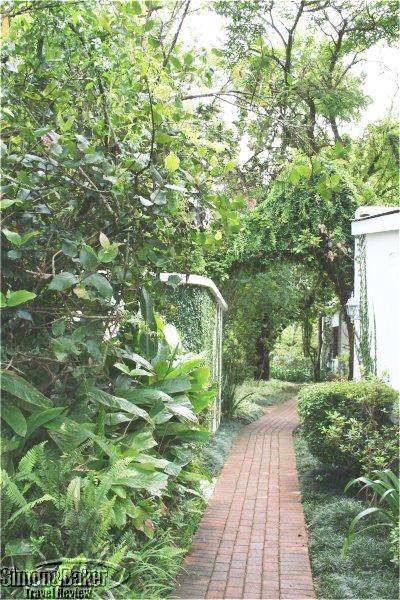 I liked the Forest Health Spa at Cybele for its small and appealing facilities, quiet and soothing ambiance, attentive staff and excellent treatments.
Our most recent review of this spa is
here
.
Overall Impression
Millions and millions of chocolate bubbles swirled at my feet; foaming in a chocolate lover's fantasy. In the dimly lit room, rose petals and candles transported me to an imaginary cloud of soothing silence; while chocolate morsels and chocolate liquor tempted my sweet tooth during the Cybele Spa 45-minute Chocolate Balneotherapy. Prior to that, I enjoyed a back and massage with hot stones and 15-minute stopover in the spa's oriental style steam room with a garden view. My final treatment was a scalp massage right before the spa closed for the day.
The Spa's Zen like ambiance and quiet courtyard set the stage for the many treatments available inside. Looking around it was hard to imagine we were an hour's drive from some of the world's best game viewing. The spa facilities, a short walk from the Lodge rooms, were ideal for de-stressing get away from it all retreats.
The Cybele Lodge where the spa was located was well situated for game viewing enthusiasts driving from Johannesburg to the Kruger National Park area. I liked the Forest Health Spa at Cybele for its small and appealing facilities, quiet and soothing ambiance, attentive staff and excellent treatments.
General Manager
Elizabeth Groenewald
Handicapped Access There were several steps to enter the spa.
Location At the Cybele Forest Lodge & Health Spa in the heart of the Mpumalanga district between Hazyview and Whiteriver. The area is about 420 kms from Johannesburg and 40 kms from the Kruger National Park Phabeni gate, about an hour's drive from the Sabi Sand Reserve.
Number Of Staff There were three therapists
Owned Rupert and Barbara Jeffries
Size There were two single treatment rooms and a double treatment room in the 400 square meter (4,000 square feet) facility attended. There was also a hydrotherapy room with an en suite shower, a steam room for two, two outside showers in private courtyards, and an outdoor Jacuzzi made of natural materials and set in a private courtyard.
Special Training Spa staff were Comite International D'Esthétique et de Cosmétologie (CIDESCO) certified and received in house training.
Year Opened-Renovated It was established in 2003
Common Areas The décor was Zen style. There was underfloor heating in the treatment rooms. There was also a courtyard with a lionhead water fountain, loungers and a koi pond. Lemon trees and lavender bushes lined the exterior of the courtyard.
Amenities
There were Charlotte Reis Toiletries, cotton slippers, and cotton bathrobes.
Facilities Guests had access to sauna, Hydro Bath, outside showers, outside Roman bath, showers in single treatment rooms, and steam room. There was also a swimming pool and fitness center on the property.
Lockers And Bathrooms
Although there were no lockers in the spa, the treatment rooms could be locked. There was a locker area with lavatory and shower at the fitness center in a nearby building.
Other Rather than donning my hiking boots and redressing to return to my cottage, the therapist suggested I walk back the few steps in the thick spa bathroom and cotton slippers. This was a convenient alternative except the floor was very slippery from the rain and the cloth slippers had no traction.
Cleanliness
Excellent
Date Of Review November 2006 / May 2008
Number Of Treatments Three
Reviewers Article and photographs by Elena del Valle
Treatments Experienced I had the Chocolate Balneotherapy (45 minutes), Sportsman Back Massage (30 min) and Hair and scalp treatment (30 minutes). Because the power was out during part of my visit at the spa we changed the treatments at the last minute. The combination deep tissue and Hot Stone Massage felt great. It was described as stimulating "blood circulation and improving the ability to relax" in the spa menu. I was content and noodle legged following my spa visit so it certainly felt like the treatments accomplished their promises to help me relax.
Would You Return? Yes
Contact Information
Address:
Cybele Forest Lodge &
Health Spa
R40 Hazyview Road,
Spitskop Turnoff
P.O.Box 346 White River 1240
South Africa