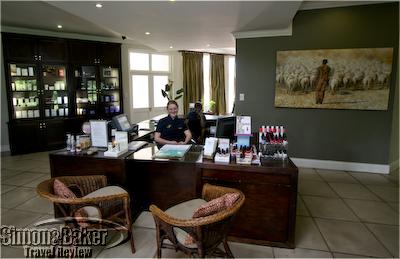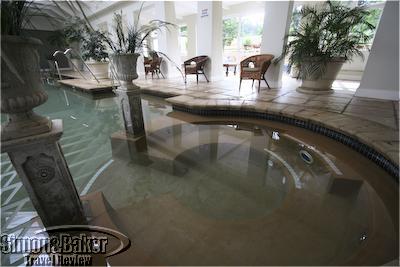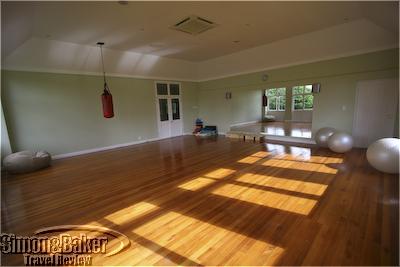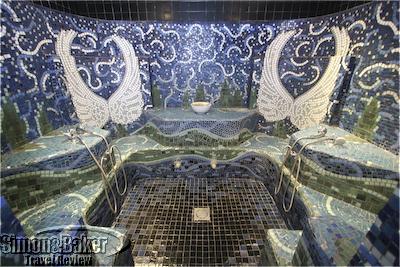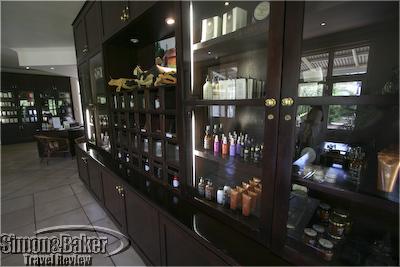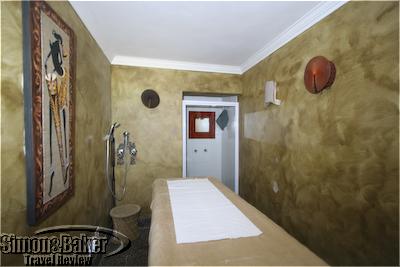 The next time I'm in the area the Fordoun Spa will be high on my list of places to revisit.
Overall Impression
We arrived at Fordoun, named after a loch in Scotland and built on an old dairy, on a Sunday after two weeks of activity filled days, ready for a little down time. It was overcast and rainy with few outdoor activity temptations. At the same time, the small hotel and spa property was quiet following a big event weekend; just what we needed. In light of the weather and quiet ambiance the spa was the perfect indulgence during our overnight stay.
What I remember most about my spa time was the floatation pool (a water filled shallow tank designed for guests to remain weightless in order to promote relaxation), built in the farm's former grain feed silo, because it was the first time I tried a floatation pool; and the spa's Africa themed product line and treatment options.
The family owned and managed spa, built within a working dairy farm, was large and lovingly built. It offered hotel guests and day visitors plenty of treatment and activities options including indoor and outdoor pools as well as flotation pool, Jacuzzi, steam, sauna, rasul chamber, yoga classes, an indoor work out area and a diverse menu of treatment options.
Of the treatments I sampled my favorite was the Nduku Nduku Massage, a vigorous back of the body massage using traditional Zulu Knobkerries and Dr Ndlovu's Artemesia Massage Oil. I especially liked the African looseleaf teas including rooibos red bush tea and artemesia, a type of wormwood, on offer in between treatments in the spa's waiting area. The next time I'm in the area the Fordoun Spa will be high on my list of places to revisit.
General Manager
Melanie Paul
Handicapped Access The spa welcomed guests with disabilities. Staff described the hotel and spa as a wheelchair friendly facility. There was a bathroom able to accommodate paraplegic guests, and a wheelchair ramp into the spa and into the indoor pool.
Location In the Natal Midlands of KwaZulu Natal in South Africa. It's about 90 minutes drive from Durban or five hours drive from Johannesburg.
Number Of Staff There were 11 employees.
Owned Jon and Micheline Bates
Size The spa, housed in a single story building, was 45 meters by 33 meters in size and had 11 treatment rooms.
Special Training At the time of our visit, Fordoun therapists were South African citizens qualified with International Therapy Examination Council (ITEC), Comité international D'esthétique de Cosmétologie (CIDESCO – International committee for esthetics and Cosmetology), and Confederation of International Beauty Therapy and Cosmetology (CIBTAC).The product companies they worked with, Africology and Elemis, trained the Fordoun staff in their specific treatments and the spa provided in house training for Fordoun specific treatments.
Therapists were trained in Bio-energy healing by Brenda McFie, the spa's Energy-Medicine practitioner. Spa Manager Melanie Paul completed an International Organization for Standardization (ISO) 9001:2008 Quality Management systems course with TUV Rheinland, a company that holds courses in quality management systems to implement these standards.
Treatment Rooms There were five single dry treatment rooms, one couples treatment room, three wet rooms including a Vichy Shower, Mud Room and a dry treatment room with a shower. There was a Rasul Chamber, a Hydrotherapy Room, a Traditional Consultation Hut and a Bio-energy Rebalancing Room with crystals, pendulums and energy medicine books used for energy medicine exclusively.
Year Opened-Renovated The spa was established in 2005
Common Areas The Classic English Country interior décor was the work of Micheline Bates. There was original Art by Anne Powley and ceramics from the Ardmore studio. With the assistance of Grice Small and Petit architects and Zan der Thal Executive Spas who provided spa expertise, the Bates Family realized their vision of converting part of their dairy farm into a spa (and boutique hotel). Prior to 2005 cows were milked in what is now the main heated pool area. The Jersey stud bulls and calf pens were where the gym, sauna and steam rooms are now. Until 2002 the cows gathered in what are now the central courtyard and reception areas.
Amenities
Guests were offered Toweling Bath Robes, disposable slippers, Elemis Cleanser, Dr Ndlovu Artemesia Shower gel and Artemesia Hand and Body Lotion, conditioning shampoo, and combs. There were several types of loose leaf teas and coffee in the self service guest waiting area.
Facilities There were indoor and outdoor pools, sauna, steam room, Jacuzzi within the indoor swimming pool area, floatation pool, rasul chamber (tiled steam room), work out room and wood floor multipurpose room.
Pools The Outdoor Pool was 10 meters long and 3 meters wide, with a cascading waterfall. The pool depth varied between 1.2 meters to 1.8 meters. The Indoor Pool, maintained at 30 degrees Celsius, was 17 meters long and 5 meters wide. It had a Jacuzzi inside and was 1.3 meters deep. The Floatation Pool, kept at 36 degrees Celsius in the property's old silo had "stars" that changed color on the ceiling and underwater Reiki Music.
Lockers And Bathrooms
There were 32 lockers in the men's and women's dressing rooms. Each one was stocked with a bathrobe and slippers for guest use during their time in the spa.
Other The spa was recognized in the House and Leisure Best Spa in the House and 2009 Leisure/Visa Best of SA competition. An extraordinary feature at the spa was the availability of Elliot Ndlovu, a Traditional Zulu Doctor and director of the company. Described as a sangoma or spiritual healer and inyanga or medicinal healer, he offered one on one consultations with guests. In KwaNdlovu (Zulu for the place of Ndlovu) the spa staff grew, under the guidance of Dr. Ndlovu, 50 traditional healing plants some of which were used to formulate Fordoun's in house product line. The area was home to a traditional style consultation room and two therapy rooms.
Cleanliness
Very good
Date Of Review November 2009
Number Of Treatments Two activities and three treatments
Reviewers Article by Elena del Valle
Photographs by Juan Cooper
Service The staff were friendly and efficient. At times we were unsure what to expect and the staff provided little guidance. For example, it was our first time in a floatation pool so we were unsure what to expect. After we arrived at the reception, the therapist led us to the floatation pool, suggested we shower before entering and said she would return when our time was up. We experienced a similar procedure with the rasul chamber.
Would You Return? Yes
Treatments Experienced
During my visit, I had a two self driven sessions, time in the flotation tank and in the rasul chamber; and three Africa themed treatments, a facial, a wrap and a massage. Late on the afternoon of our arrival, my travel partner and I had a 30-minute Floatation Session in Fordoun's Floatation Tank built in a restored grain silo. The tank is a saline pool designed to relieve gravitational pressure from the body and induce relaxation. After we rinsed off the salt water we waited about 30 minutes for a lightning storm before walking across the spa to the rasul chamber.
During the 45-minute Mcako Lungisa (rasul clay and steam treatment) we self applied white clay (mud collected from the nearby Kamberg) over our bodies while relaxing in a handsome tiled steam chamber by ourselves for 20 minutes. Then we rinsed off the mud with the chamber's "tropical rain shower" and shower hoses. The treatment left my skin clean feeling and soft.
The following morning I walked to the spa shortly after breakfast. My first therapy was a 75-minute African Earth Experience created to combine traditional Zulu healing and energy medicine and designed to stimulate and cleanse the body. I also had a 45-minute Nduku Nduku Massage, a back of the body massage using traditional Zulu Knobkerries and Dr Ndlovu's Artemesia massage oil.
This treatment incorporated African ingredients raw Artemesia Afra plant, Dr Ndlovu's products and traditional Zulu clay (collected from a nearby location in the Kamberg). After a light spray over the body of Dr Ndlovu's Artemesia Body Spray and a foot cleansing ritual, the therapist applied freshly ground traditional Zulu clay to the body to draw away impurities and leave the skin rejuvenated. I lay on a heated mosaic bed while the clay soaked in and the therapist massaged my head and scalp. After removing the mud with a warm shower the therapist massaged Dr Ndlovu's Artemesia Massage Oil and two African poultice stamps containing salt and raw Artemesia believed to have uplifting and healing properties.
My morning concluded with a 60-minute Africology Facial designed to hydrate, nourish and promote anti-aging.
Contact Information
Address:
Fordoun Hotel and Spa
PO Box 17 Nottingham Road 3280
KwaZulu Natal
South Africa
Phone:
+27 033 266 6217
+ 27 033 266 6630
Website:
Email: