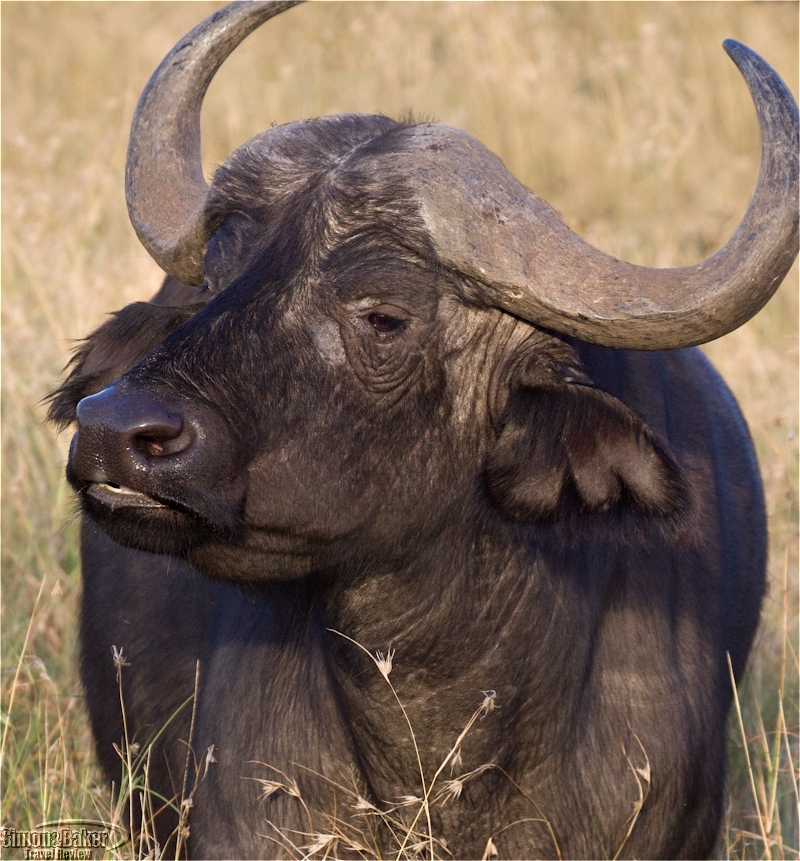 It was the perfect combination of simple luxury set in a backdrop of classic Africa, right in the heart of what we went there to see, a true standout camp.
Overall Impression
Named after the
warburgia ugandensis
tree, referred to commonly as the elephant pepper tree, Elephant Pepper Camp offered a genuine bush experience in the heart of the Maasai Mara North Conservancy. The leaves of the elephant pepper tree are spicy hot and a favorite snack of elephants. These pungent leaves also serve as medicinal cures for local Maasai people. Elephant Pepper Camp offered a classic tented bush experience and some of the best wildlife viewing we have seen on safari.
The camp was luxury oriented without compromising its rustic nature. Nestled in a small low forested area surrounded by the great grassland plains of the North Mara Conservancy, the camp provided wonderful meals, engaging walks and drives, and comfortable tented lodging. Luxury upgrades, including en suite bathrooms with flushing toilets and hot water delivered to the tents, made the rustic experience comfortable.
Renowned for its plentiful diversity and the vast number of wild animals that stretch across the seemingly endless grassy plains, the Maasai Mara features a diverse and mostly intact ecosystem. The rhinoceros is the only animal classically associated with African safaris that is seldom evident in this part of the Mara. Resident animals and birds ignored safari vehicles and went about their lives, providing excellent viewing and photographic opportunities.
One of the great remaining wonders of the natural world is the famed wildebeest migration which takes place in the fall. Grazers like the wildebeest and zebra gather in the Mara in summer in numbers far too large to count. Later when autumn arrives, something compels them to converge together and move south with the rains, crossing the Mara River into the southern portion of the Maasai Mara Reserve, and then finally into the Serengeti in Tanzania by spring. We spent a remarkable full day watching the migration at the Maasai Mara Reserve, a highlight of our trip to Kenya.
Elephant Pepper was an excellent wildlife viewing camp, one that we would revisit repeatedly. It was the perfect combination of simple luxury set in a backdrop of classic Africa, right in the heart of what we went there to see, a true standout camp.
Children
While the camp welcomed children of all ages and children five and under sharing their parents' room were welcome gratis the staff recommended individual families opt for an exclusive use vehicle at extra cost if traveling with a child five years old or younger. The camp policy was to offer the option of early dinners and children's menus.
Class Of Accommodation Luxury tent camp
Connectivity There was WiFi available in the camp. We were not charged for the WiFi, a satellite-based connection which was slower than DSL but faster than dial up. Our cell phone connection showed voice and data available. We didn't use either, but observed camp workers using cell phones for voice.
General Managers Patrick Dessy and Sophie Markides managed the camp together.
Handicapped Access Yes, they have accommodated physically challenged people in the past.
Length Of Stay Three nights
Location The camp was within the protected 69,190 acre Mara North Conservancy in Kenya and next to the Maasai Mara, west of Nairobi. Elephant Pepper Camp could be reached by an hour and a half small aircarft flight from Nairobi followed by a twenty-minute ride in a vehicle from the air strip to the camp.
Managed Cheli & Peacock
Owned Liz and Stefano Cheli
Size There were nine tents including a honeymoon tent within the two hundred meter by seventy-five meter camp. The total area the camp leased from the Maasai landowners was 160 hectares for the camp grounds and an additional 300 hectares as a buffer zone. The camp employed twenty five casual staff, and five guides included two guides in training.
Year Opened And Date Of Most-Recent Renovation Elephant Pepper was initially a mobile safari camp as early as 1990. The last major renovation was in 2011.
Lobby And Common Areas
Two canvas main tents comprised the common area at the camp. The tents sat side by side in a small grassy clearing at the edge of the woods. Rugs and a layer of canvas covered the hard surface both tents were standing upon.
The left tent formed a comfortable gathering area for guests to mingle and share stories. Several cushion-covered wooden love seats clustered around a long coffee table at one end, which often held mugs, hot water and tea. The other end of the same tent, had a sitting area comprised of canvas sling chairs and a few rustic leather and wood stools, easily rearranged to allow multiple small groups. A half-height wooden hutch cabinet housed stemware and assorted liquor drinks. Beaded necklaces worn by the local Maasai people hung on the walls of the tent adding a splash of exotic color and flavor. Two large skulls sat in the common yard, one of an elephant and the other a hippo.
The other tent was slightly larger, and featured a long dining table for family-style dining where all guests could gather, laugh and share stories while enjoying a warm meal. One side of this tent was open to a grassy veldt beyond the boundary of the camp. Out in the field was a small patch of trees visited regularly by elephants and other grazers. A staff member told us a natural mineral spring rose there, explaining frequent animal visits.
Just outside of the common area structures, a fire pit circled by chairs awaited any guest who wished to relax and take in the view of the grasslands. Under the shade at the forest edge, a chaise covered with a colorful Maasai cloth was placed to allow quiet lounging. This area was more private than the other common areas and looked like a perfect spot for visitors to lose themselves in a good book.
Bathroom
A zippered opening within the tent led to our en suite bathroom. We especially liked the beautiful brass sink bowls recessed into a dark mahogany counter. We noticed that when we left our tent and returned later, the brass sinks had been freshly polished by camp staff, to a bright brand-new-penny shine.
Camp staff delivered hot water in urns via a small access door near the sink. The sinks themselves didn't have faucets with running water, but rather wash basins with drains. In spite of the lack of running water, we never ran short of hot or cold water for our needs.
Across the bathroom space there was a flushing toilet beside our bucket shower. A canvas flap separated the two. Upon request, the staff brought us hot water for showers. We usually used just one of the large buckets for two separate showers.
Tent
We stayed in tent number five, the second tent to the right of the camp entrance and common area. A foot path led us there through trees full of colorful birds. A smaller, narrower path then took us around to the entrance on the opposite side of the tent.
The double fly canvas tent was a roomy 25 by 13 feet positioned on a concrete base which extended out past the front entrance of the tent, forming a patio populated by two chairs and a table. A hammock hung between two trees close to the patio. Forest surrounded our tent on three sides, with the remaining side open to the same grassland view the common area showcased.
We liked the crisp white linens topped with a vivid red coverlet on the comfortable king-sized bed. A natural fiber carpet covered the entire floor of the sleeping area. Fabric rugs on each side of the bed kept our feet warm as we stepped up each morning. Small folding wooden tables flanked the bed, each topped with an electric lantern, a bottle of water and a glass. On the side of the sleeping room a bench provided space for our bags and belongings. There was also an open area for hanging clothes and a combination safe for valuables. We appreciated the electric lighting that made it possible for us to find things inside day or night.
The sleeping area of our tent had screened windows on all three sides that were open to the outdoors. These openings were easy to adjust with a canvas flap, and allowed us to decide how much air circulated. Thick trees filled the spaces between the tents, so we never felt a need to close the window flaps for privacy. When a violent thunderstorm passed over one afternoon we closed them all.
Although the nights were chilly, we left many of our window flaps open to hear the sounds of the African bush and the creatures of the night never disappointed us. Every night we fell asleep to the serenade of lions roaring and hyenas yipping.
Food
Meals were scheduled around camp activities which consisted primarily of game drives. We ate breakfast in the bush. After driving and viewing animals in the early morning, the staff found a quiet spot to set up a small cloth-covered table. Cereals and milk, several kinds of fresh local fruits, yogurt, muffins, homemade rolls, egg and mushroom sandwiches, bacon, fruit juices and hot beverages were the main selections.
Lunch was served at 1:15 p.m. after guests returned from their morning game drives. A buffet table parallel to the long dining table was completely covered with food choices such as several different types of pasta salads, green salads, avocado, sliced meats, homemade crackers, breads and fresh fruits. Camp staff served beverages and cleared the table as guests completed their meals. Since Elephant Pepper Camp had its own vegetable garden at meal times greens were fresh and beautiful.
Plated dinners were served at 8 p.m. As was the case for the buffet-style lunches, guests gathered for dinner at the long family-style table. The food was excellent, again featuring fresh greens to complement other parts of the meal. Homemade rolls and soups, meats in delicious marinades, potatoes and tasty deserts completed the menu. Water, hot beverages, sodas, beer and South African red and white wines were included with lunch and dinner.
For breakfast we sampled: egg, bacon, mushrooms, mixed fresh fruit with cantaloupe, fresh fruit (bananas, oranges, apples, watermelon, mango, passion fruit, tree tomato, pineapple), cinnamon rolls, homemade rolls, blueberry muffin, mango juice, yogurt, dried cereal, hot tea and coffee. For lunch the following were available during our visit: pasta, tomato and onion and avocado slices, homemade bread, sliced ham, garden salad, corn salad, macaroni and cheese, cold meats platter, Kenyan cheese board with homemade crackers.
For dinner we had fried cheese appetizer, tomato pasta, snap peas, leeks, baked onion, sweet potato, pork chop, panna cotta; garden salad, goat cheese appetizer, minestrone soup, beef, cauliflower, potatoes with onions, zucchini, homemade rolls; crostini with basil pesto, goat cheese with sun dried tomatoes, vegetable soup, spare ribs in balsamic and honey sauce, mashed potatoes, garden salad, and chocolate mousse.
Amenities
There was a safe for valuables, bath towels and face cloths, hand lotion, tissue paper, bottled water, cotton balls, cotton tips, laundry soap (natural organic rosemary and honey soap), hand soap, shower caps, mosquito repellant, bug spray, Cinnebar Green conditioner and shampoo, and Cinnebar thyme body wash. The staff placed hot-water bottles in the beds at night and in the seats of the safari vehicles in the morning. Two personal umbrellas were available. There was daily laundry service. Local customs precluded the all-male staff from laundering women's undergarments.
Facilities Common area tents with reception, dining and shop cabinet.
Shop At one end of the dining tent, a pretty wooden curio cabinet in a corner was the gift shop of sorts at the camp, an ingenious idea for a camp with limited indoor space. There were camp branded polo and fleece shirts, a few books of local birds and other pertinent regional information, beaded jewelry, ball caps and even a couple of beaded animal sculptures, available for purchase.
Game Viewing
The animals we saw were: Lions, buffalo, elephants, warthogs, a dead leopard, a live leopard, mongoose, reedbuck, impala, topi, baby topi, eland, wildebeest, dead wildebeest, zebra, Maasai giraffe, spotted hyena, Thompson's gazelle, black-backed jackal with pups, Nile crocodile, hippo, cheetahs, buffalo, rock hyrax, Grant's gazelle, Kirk's dik-dik, waterbuck, draft mongoose.
The birds we saw: Hammer cop, hammer cop nest, Rosie breasted long claw female, yellow throated long claw, crested lark, swallows, Egyptian goose, ground plover, black headed weaver, black headed heron, lapid faced vultures, white stork, crowned crane, secretary bird, quail, paradise flycatcher, black bellied bustard, martin, red necked spur fowl, eagle owl, white brown cuckoo, lilac breasted roller, long tailed starling, malachite king fisher, pied king fisher.
Activities
Game viewing was the main offering course on the activity menu although balloon rides and cultural visits were available. The grasslands that surround the camp were so heavily concentrated with wildlife that we didn't have to travel far for immediate satisfaction. Our game drives were within the northern Mara Conservancy, and the day trip to the Mara River was in the Maasai Mara.
On our first game drive on the afternoon we arrived at camp, we had only driven a short distance when we came on a large pride of lionesses lounging in the tall grass. One by one, with a big yawn and stretch, each lioness repositioned in the tall grass. This was our introduction to the Elephant Pepper Pride. We saw the pride several times, and heard them roar every night from our tent.
Our visit coincided with the great wildebeest migration. We spent a full day in the Maasai Mara Reserve, driving to the famous Mara River. We watched countless animals as they gathered together and started to cross as a single mass through the water of the river, but stopped just short of crossing and turned back. Watching these attempted crossings turned out to be a highlight of our trip.
The crossing seemed imminent many times. As hundreds of animals bunched up on shore, it appeared the pressure alone would have sent them splashing into the water. However, we learned it is the zebras decision where and when to cross. It is incredibly dangerous and many would die in the jaws of crocodiles. The zebras stomped and anguished over their decision.
The migration is driven by the need to follow the rains and continually move on to richer grazing. A big storm rolled in, and it rained hard on our side of the river. Because the rains came early in the North Mara Conservancy, the animals were slow to leave. We left the river without seeing a crossing but with a greater appreciation of how tough life is for wild creatures when life-and-death decisions like this one must be made.
For the rest of our stay at the camp, we focused on many more game drives, each with spectacular viewing. A small gorge in the North Mara Conservancy provided endless wildlife watching. Our guide was outstanding, having an innate sense of what the animals were going to do before they did it. A huge group of close to one hundred hyenas called this small gorge home. A beautiful female leopard showed off for us in a tree there, giving us unparalleled photographic opportunities. Lions visited the gorge, and many birds lived there too, including a nesting pair of hammer-cops and Egyptian geese. Not far from the gorge, black-backed jackals had a den, and we enjoyed watching the antics of their little ones. Topi, eland, more wildebeest, zebras, elephants, wart hogs, reed buck, cheetah, impala, Grant's gazelle, Thompson's gazelle, Maasai giraffe, and lions revealed their secrets to us as we traveled throughout that reserve.
We rode on Toyota Land Cruisers adapted into safari vehicles with capacity for six passengers although during our visit there was a maximum of four guests per game drive. The vehicles had a top, and were open on two sides. Our safari vehicle was in good condition and was comfortable. These vehicles had a small table top bench rest for cameras which we appreciated. There were power inverters on the safari vehicles for charging camera batteries. The inverter on our vehicle was temporarily out of operation, so we used an inverter we had brought on the trip.
It rained on one of our game drives. The staff provided us rain gear and lowered the rain flaps on the vehicle. The game drive continued through the rain.
Stanley Kipkoske Too, who had 27 years of experience, was our primary driver and guide. A new guide, Boniface, was with us as well, and Robert was our Maasai guard on the drive to the Mara River. Our guides were knowledgeable, competent and friendly. The only staff person who was ever armed, to our knowledge, was Robert who had a large knife. The staff provided safety instructions and explained what we were seeing.
Game drives were at 6:30 a.m. to 1:30 p.m. and 4:30 p.m. to 7 p.m. On the day that we traveled to the Mara River our game drive started at 6:30 a.m. and ended at 7 p.m. Our game drives varied in duration. They ranged from two and a half hours, five hours and twelve and a half hours.
On every morning game drive, we were served breakfast. On the day-long game drive to the river, we were served breakfast and lunch. Drinks and snacks were served on game drives. These meals, drinks and snacks were complimentary.
Other
This part of the Mara Conservancy sits at an elevation of 5544 feet resulting in nights and mornings cool enough to wear a sweater or jacket. While we were there the days warmed up to a delightful, always comfortable temperature where short sleeves served their purpose well. We noticed the absence of insects and didn't use our insect spray.
During the day, we were allowed to walk from our rooms to the common areas and at night we were provided an escort. We never had to wait long for an escort. We were also provided flash lights and a radio that could be used in emergencies.
The camp had solar-powered electricity 24 hours a day for room lighting and the safari vehicles had VAC outlets for charging. There was no charging station in our room. At night, we gave our camera batteries and chargers to the camp staff, and they returned them the next morning fully charged. We didn't hear any noises from the solar powered electric power system.
Water was trucked in from a local spring every couple of days. The camp provided complimentary bottled water for drinking and brushing teeth. They did not recommend drinking bath or sink water.
Elephant Pepper Camp had received a 2011 to 2012 Gold Eco-rating Certification from Ecotourism Kenya. According to promotional materials only five camps in Kenya had achieved such a rating. The Mara North Conservancy received the the 2011 Eco Warrior Award for Conservancy of The Year from Ecotourism Kenya.
In the past, the camp has supported local efforts like installing rainwater harvesting at the Ololomei Primary School, and delivering water from the Aitong Spring during times of drought, funding classrooms and school cafeterias. The property also supported predator proof fencing for livestock and a livestock reimbursement program for livestock taken by wild predators.
Cheli and Peacock facilitated an award to the Bright Green initiative designed to improve education, establish wildlife eco-clubs, internet training, conservation awareness, waste management programs, renovation of classrooms, rainwater harvesting, and classroom and dormitory improvements.
More than 80 percent of camp staff were hired from local communities. The camp was 100 percent powered by a green solar-energy system. The staff practiced sustainable gardening practices with their own camp plot that provided fresh vegetables for meals.
The Elephant Pepper Camp has worked with the local Maasai community for over 20 years. Cheli and Peacock was instrumental in founding the Mara North Conservancy (MNC). The MNC with 12 member camps has negotiated with over 800 landowners for new land leases. Eighty percent of the revenues go to leases and the remaining to ranger salaries, vehicle surveillance, and infrastructure maintenance. These leases were designed to guarantee that the land is used for wildlife conservation rather than alternative agriculture in return for a stable and transparent source of revenue for the land owners.
Cleanliness
Excellent
Date Of Last Visit September 2012
Reviewers Article and Photographs by Chester Godsy and Joni Johnson-Godsy
Service Our room was serviced three to four times per day. Service was excellent. We interacted with Patrick and Sophie in the camp, and Stanley and Robert on the game drives.
Staff brought hot water twice per day for the sink in the morning as part of our wake-up call, and in the afternoon after we returned from a walk or game drive. They provided fresh water as often as requested for the shower.
Staff tidied up each time we were away for drives and kept the tent spotless.
Would You Stay Again? Yes
Contact Information
Address:
Postal:
Cheli & Peacock
P.O. Box 743
00517 Uhuru Gardens
Nairobi, Kenya
Phone:
Fax:
Website:
Email: