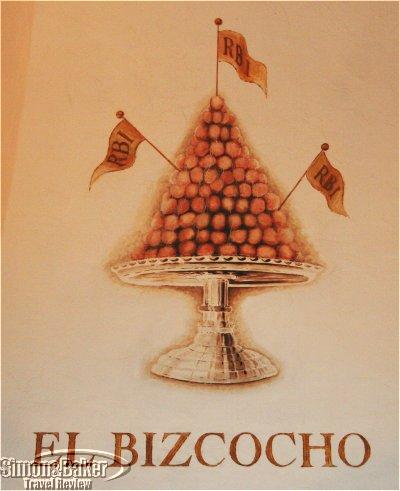 Dinner at El Bizcocho was a special treat deserving a long drive, even a special trip.
Overall Impression
Tucked away in a residential golf neighborhood in northeastern San Diego is an outstanding restaurant led by a dynamic, exacting and talented young chef with immense culinary promise.
In addition to beautifully presented flavorful and sophisticated French style dishes, the meal was enhanced by an extraordinary wine pairing, a pleasant ambiance with live piano music, friendly staff and superb service. For wine connoisseurs El Bizcocho boasts one of the most extensive collections of wines in California with a wine cellar valued at more than $1 million.
I opted for the tasting menu to sample the day's selections including some of the chef's signature dishes like the lobster in vanilla sauce and Lamb En Sous Vide . Chef Gavin Kaysen and his staff exceeded the usual dinner expectations. Every dish, from homemade bread (plain or with caramelized onions) and butter (plain or with fleur de sel and chives) to dessert, was delectable and worth repeating. Dinner at El Bizcocho was a special treat deserving a long drive, even a special trip.
Assistant
chef
Jason Peck
Chef Gavin N. Kaysen
Handicapped Access No
Head Sommelier Stan Streblow
Location Within the Rancho Bernardo Inn property in northwestern San Diego
Opened-Renovated It was established in 1963
Owned-Managed JC Resorts
Pastry Chef Brinn Robson
Restaurant Manager And Wine Director Jeff Wellnitz
Size The restaurant could seat 175 guests and had a staff of 30.
Type Of Restaurant Classic French inspired cuisine
About The Chef
Chef Kaysen, a spoon collector, grew up in Minnesota the son of German and Irish parents. Following his graduation from the New England Culinary Academy in Vermont, he worked under chef Robert Curry at Domaine Chandon in Napa Valley, California. From there, he worked under chef Jacky Vuillet at Auberge de Lavaux in Lausanne, Switzerland where he learned French and basic French cuisine techniques. In London he worked at the Michelin-starred L'Escargot under Marco Pierre White.
In 2002, Chef Kaysen returned to the United States to work under chef de cuisine Patrick Ponsaty at El Bizcocho at the Rancho Bernardo Inn. In 2003, Kaysen won the National Trophy of Cuisine and Pastry. He went on to represent the United States at the International Trophy of Cuisine and Pastry in Paris. He finished first in the fish category and third overall in the world. In 2004, he received the critics Best Chef Award from San Diego Magazine .
He was named chef de cuisine of El Bizcocho that same year. He is seen regularly on local television and is a frequent teacher at the Macy's School of Cooking. In 2005, Chef Kaysen was part of a San Diego culinary team at the Chefs Holidays at the Ahwahnee at Yosemite National Park, where he returned in 2006. He made his first appearance at the James Beard House in New York City in 2005. In 2006, he took first place at the Bocuse d'Or competition in Chicago and will represent the United States at the Bocuse d'Or 2007 in Lyon, France. He was named Rising Star Chef for the month of May 2006 in Restaurant Hospitality magazine.
DÉCor-Ambiance The style emulated early 1920s Spanish décor. The dining room was spacious yet intimate and comfortable. Decorative highlights were the Mission-style columns and natural wood-beamed ceilings that complemented authentic chandeliers imported from Spain.
Cellars Wine And Alcoholic Beverage Selection
The wine cellars included a variety of options from 500 labels and 1,500 bottles. Prices ranged from affordable bottles for $50 to rare wines for hundreds of dollars. For those with a stout heart the liqueur cart offered 100-year-old cognacs, rare ports and single malt scotches.
Meal The meal began with a chilled glass of Perrier Jouet champage nonvintage. The first course was Lobster with avocado, brioche and orange in a fragrant vanilla sauce accompanied by a delightful Condes de Alba "Albarino" with a fruity aftertaste from Spain. Next there was a light and savory Snapper with mussles, clams and saffron accompanied by a flowery "soda pop" marvelous Vega Sinodoa Rose "Garnacha and Cabernet Sauvignon" from Spain. The Foie Gras with plum, pistachio and arugula offered an explosion of flavors and was accompanied by a Ch. Piquey "Sauternes" from France. Lamb with garbanzo, tomato and onion prepared in a En Sous Vide style was accompanied by a Piatelli "Malbec" from Argentina. The transition from salty to sweet was made easy with Fromage an organic cheese dish from a California producer with honey comb, walnuts and arugula and a glass of sweet and "icy" Inniskillin Icewine "Rieseling" from Canada. Dessert was Chocolate with raspberry and salt and caramel ice cream paired with a Villa Banfi Sparkling "Brachetto d'Aquis" from Italy.
Other During the early evening there was live piano music. The restaurant served local produce and seasonal meats and fish.
Date Of Review
September 2006
Reviewers Article and photos by Elena del Valle
Service The service was excellent. The staff looked after guests with care. They served every course in harmony presenting dishes and wines in synch. Wines were cold when they were supposed to be; water glasses were refilled constantly; excess crockery, glassware and cutlery were removed immediately from the table with efficiency and quiet flair. Staff were efficient without being obtrusive; friendly and helpful without wearing out their welcome.
Would You Dine There Again-Recommend It? Yes
Contact Information
Address:
17550 Bernardo Oaks Drive
San Diego, CA 92128
Phone:
Website:
http://www.ranchobernardoinn.com/bizcocho
Email: