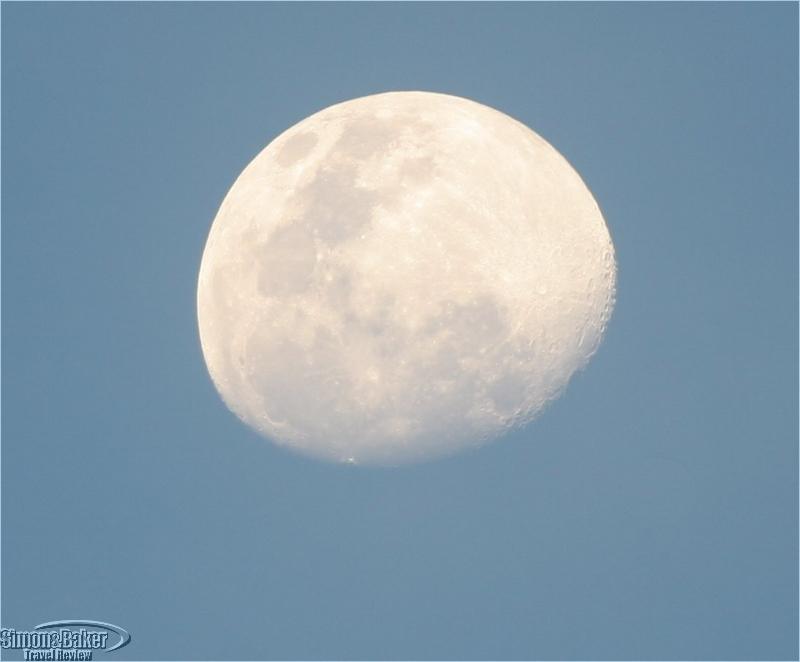 Earth Lodge offered an outstanding game viewing experience and superior value for money.
Overall Impression
Semi hidden in the African bush, Earth Lodge is the most notable architecturally of the four luxury properties in the Sabi Sabi Reserve. Although we had seen photos before arriving, we were surprised by the stark beauty of Earth Lodge and its grounds.
The property was made distinctive by its architectural design, unique construction materials, and decorative style. To enter the lodge we descended from the arrival area down a covered concrete walkway. When we reached the bottom, the first thing we noticed facing us was a large and striking water feature in an open section of the bush facing main building. As we walked around the spacious common areas, one of the staff members explained that the walls were made of a mixture of elephant grass, river mud and concrete which lent the buildings their characteristic appearance.
There was more to Earth Lodge than an atypical façade. The common areas were open with bush styling and a comfort appeal. At the same time, game viewing was plentiful. Our guide went out of his way to allow guests time to enjoy and appreciate each game viewing opportunity during the daily dusk and dawn game drives.
In between game drives, we were free to spend time at the swimming pool, art gallery, spa, wine cellar, Internet room and in house curio shop. Our presidential suite accommodations, the furthest from the lodge's main building, afforded us privacy and quiet. The suite was so complete we had little desire to explore, especially in the heat of the midday South African summer. Our 210 square meter one bedroom suite had two bathrooms, private plunge pool, kitchenette, dining room, lounge, library and covered terrace. We thoroughly enjoyed this space which we happily shared with area animals that frequently came to drink water from our pool or graze in the garden allowing us to watch them at our leisure.
In addition to handsome African style accommodations, outstanding game viewing opportunities, relaxing spa treatments and delicious meals, one of the things we liked at Earth Lodge was the staff's friendly and service oriented attitude. The activities we took advantage of at the lodge such as bush walks, game viewing, spa treatments, al fresco dining by lantern light, a surprise romantic dinner in our suite and watching elephants and waterbuck feeding in the lodge grounds, were always a pleasure. Earth Lodge offered an outstanding game viewing experience and superior value for money.
Class Of Accommodation
Luxury game viewing bush lodge rated five star by the tourism council
Established-Most Recent Renovation Earth Lodge was built in 2000. Sabi Sabi was acquired in 1978 and opened shortly after that.
General Manager Hugo DuToit, the Earth Lodge assistant manager, looked after guests during our visit as the property manager was on leave.
Handicapped Access Guests with handicaps were welcome, although there were no special facilities.
Internet Connectivity Although there was a high speed Internet connection on a dedicated PC, available 24 hours a day at no cost to guests, our efforts to check emails and surf the web were mostly unsuccessful. There was no way to download emails directly to our laptop making it impossible to check emails during our stay.
Length Of Stay Three nights
Owners Hilton and Jacqui Loon
Pets Welcome No pets were allowed in the Sabi Sand Wildtuin
Size Sabi Sabi, set in approximately 6,000 hectares within the 65,000 hectare Sabi Sand Wildtuin, is shared by four five-star lodges, Selati Camp, Bush Lodge, Little Bush Camp and Earth Lodge. Earth Lodge had 13 suites.
DÉCor
The Sabi Sabi properties were built around the bush lodge theme of Yesterday, Today and Tomorrow. Earth Lodge represented tomorrow.
"Earth Shelter Architecture" from the Middle Ages inspired the Earth Lodge architectural style designed to make the lodge merge so well into the landscape as to render it invisible. First, the buildings were excavated into the slope of the bush; then the sand and plants were placed back onto the roofs.
The designers at Earth Lodge were inspired by nature. The lodge had an unusual, unadorned finish achieved by blending natural elements like grass, stone and pigment into the cement plaster. The natural bush vegetation that grows right up to the lodge buildings further enhanced the back to nature futuristic appearance. Examples of the art imitates nature approach were table legs in the shape of impala horns, water lily leaf shapes for table designs, and tree branches for countertops.
There were handsome handcrafted wooden furniture and sculptures by artist Geoff Armstrong. The wood came from trees on the reserve uprooted by elephants or washed up during the floods of 2000.
Bathroom The suite had a master bathroom and a guest bathroom. The bush facing master bathroom adjoining the bedroom was as large as it was appealing to the eye. It featured twin concrete sinks facing a large wall mirror, an oval large concrete bathtub, a glass enclosed shower and a separate area with WC, bidet and a sink with a glass wall facing the Zen garden. From the shower a sliding glass door led to the Zen garden, an outdoor shower and the pool area.
Suite
We stayed in the Amber Suite (presidential), the property's largest accommodations. The 210 square meter suite faced east, allowing us to bask in magnificent African sunrises in the morning from almost any area of the suite including the comfort of our king bed. Like the other rooms at Earth Lodge, our suite was built into the hillside. Although the rear of the room had no windows, sunlight streamed in through several skylights, floor to ceiling glass doors and oversize windows that faced a small garden and the bush.
In the first half of the suite, there were terracotta color painted concrete floors with throw rugs. Straw hue carpets covered the floors in the bedroom and dressing room. Remote controlled individual air conditioning units cooled the suite in the blazing summer heat.
When we arrived a friendly porter brought us to the suite's large wood door in a golf cart. The first thing we noticed when we walked in was the mild scent of room deodorizer and the soothing cool temperature. Just inside the entrance there was a living area framed by floor to ceiling glass doors facing a covered terrace next to a small garden and the open bush. Rust faux suede furniture (a sofa and two matching arm chairs), a glass coffee table, matching side tables, a red throw rug and a fire place occupied the living area. On one side of the room, adjacent to the entrance, there was an entertainment center with a 25 inch Samsung television, DVD and CD player and a handful of DVDs and CDs.
A four seat dining room and kitchenette occupied the next space on the right. The sky lit dining room set featured faux suede rust armless seats and a rectangular table. The kitchenette had a full size refrigerator fully stocked with beverages, coffee and tea service, a sink and a microwave oven.
Across from the dining room there was a library with a built in book case filled with Africa books. There was also a wall facing glass table, a chair and a khaki sofa. A full bathroom with a skylight was was across the hallway from the bedroom. What we liked most about the bedroom, in addition to the large and comfortable king bed with a freeform wood log frame, was the superb view. A plunge pool was set just in front of the floor to ceiling glass doors of our bedroom, allowing us a pool, garden and bush view at a glance.
Behind the bedroom and bathroom there was an extra large dressing room with a seat and foot rest (there was an identical set in our bedroom) wood vanity with mirror, armoire with an electronic safe and luggage rack. A large window in the corner of the dressing room gave us a glimpse of the walled outdoor Zen garden and bush.
Beyond the Lodge's unique construction style, striking oversize wood furniture was the most noticeable decorative feature in the room. Outside the suite there was a covered patio with two wood lounge chairs, a wood bench, and our plunge pool. Although there were some signs of wear and tear in the room it was in overall good shape and working order. Because of the scorching heat of the summer days the plunge pool looked appealing at first glance. When we approached it the water was slightly murky apparently because some of the animals had a habit of using the pool as a drinking fountain.
Meals
The kitchen staff at Earth Lodge obviously enjoyed their work. A combination buffet and made to order breakfast was served at 9 am on our return from the morning game drive. A plated a la carte lunch was served between 1 pm and 2:30 pm in the dining main area. Dinner was served at 8:30 pm following drinks in the lodge bar. Our first two nights at Earth Lodge we shared a table with our ranger and three game viewing companions from that day. The first night we enjoyed an al fresco meal in the
boma
. Dining under the stars with the waxing moon was delightful. The second night, we had dinner in the covered area near the lodge entrance. On our final night at Earth Lodge the staff surprised us on our return from the game drive by serving us a private dinner in our suite.
When we returned to our room, we discovered a romantic lantern lit table set in the covered outdoor terrace. A few minutes later Chef Ivan and Lazarus came by to share the night's menu selections and take our order. We opted for prawn appetizers and soup followed by beef and chicken main courses. For dessert we had the night's espresso dish and a fruit.
Breakfast buffet items we could serve ourselves: Platters of tropical fruit, fruit salad, stewed and fresh fruit; cold meats; Low fat yoghurt with fruit Coulis, assorted nuts and dried fruit; Cereals and toasted muesli; Fresh fruit juice and full cream milk; Home baked bread; Croissants, Danish pastries, scones and muffins and South African cheeses. Made to order options included fried, scrambled, poached or boiled eggs; beef sausage, pork sausage, back bacon, tomato, chef's potatoes and sautéed mushrooms; fish of the day; smoked salmon and scrambled eggs on whole wheat toast; three egg omelette, plain or with a filling of your choice; or Eggs Benedict.
Here's one of our dinner menu selections: Mildly Curried Butternut and Coriander Soup with fire toasted Poppudums, Homemade Herbed Bread Buns, Marinated Red Cabbage Salad with Sundried Tomato and Red Onion, Carel's Famous Bread Salad, Mixed Bushveld Salad, With Mixed Greens, Herbs, Cucumber, Onions, Tomatoes, Feta and Olives Served with a Bush Berry Vinaigrette, Honey and Parmesan Spatchcock Chicken, Beef Goulash with Soured Cream and Paprika, Rooibok ' Impala ' Kebabs, African Ratatouille with Peppadews and Feta, Creamy Garlic Spinach, Corn on the Cob, Mustard Buttered crushed New Potatoes, Traditional Pap and Braai Sous, Warm Chocolate Brownies with Hot Chocolate Sauce and Whipped Cream or Cheeseboard and Fresh Fruits.
The staff endeavoured to use fresh local produce, and combine the best local cuisine with international flair. Venison dishes were a speciality. Our compliments to Chef Ivan and his team for consistently serving well prepared, tasty and artfully served dishes.
Amenities
There was a welcome fruit basket with fresh and dried fruit, nuts and traditional South African fare such as biltong; bottled water, toiletries in the bathrooms (Earth hair products, body lotion, bath salts, soaps, and candles); robes and slippers; electronic safe; mini bar; swimming towels; complimentary sherry; mosquito repellent and sunscreen. There was a pair of newly opened CPC Moonraker 8 x 40 binoculars for game and bird spotting in our suite. Every night we received printed weather forecasts in our suite.
Facilities Earth Lodge had a swimming pool in the main lodge and each suite had a private plunge pool. There was also a spa, including a wellness corner for exercise, Zen meditation garden, curio shop, well stocked walk-in wine cellar, Internet room and library.
Pool The Amber Suite private pool was approximately 5 meters x 3 meters. There were two lounge chairs in the shady section of the patio.
Spa There was a Camelot Spa at Earth Lodge with four treatment rooms (including one for dual treatments). The fitness centre had an exercise bicycle, step machine and free weights and training bench.
Game Viewing
The main activities at Earth Lodge were early morning and early evening game drives in an open vehicle. It was also possible to go on an escorted bush walk. On our second day at the lodge I enjoyed a 45-minute bush walk in the company of two guests, our guide and his rifle. In the morning, following a brief tea and coffee service, we departed at 6 am and returned three hours later at 9 am. In the evenings, we departed at 4:30 pm following the afternoon tea service and returned three hours later at around 7:30 pm. We were escorted by a newly arrived ranger, Chris, who had six months of experience and Louis a native of the area who had more than 11 years of experience as a tracker.
Off road driving was only permitted for confirmed Big Five sightings. A maximum of two vehicles was allowed during a viewing, except when for Big Five sightings when up to three vehicles could be present.
Depending on the number of trainee guides in training, there are up to 30 rangers and 20 trackers onsite at any time. After completing a selection course, run at Sabi Sabi, guides were required to write FGASA exams (Field Guide Association of South Africa), and undergo months of practical training on the reserve.
During our visit we saw: buffalo, bushbuck, duiker, eland, giraffe, hippo, hyena, klipspringer, kudu, leopard, lion, banded and dwarf mongooses, vervet monkey, white rhino, tree squirrel, warthog, waterbuck, and wildebeest. We also saw a puffader snake, giant plated and Nile lizards, five lined skink, and serrated terrapin.
Birds: collared and crested barbet, European bee eater, steppe buzzard, Burchell's coucal, white faced duck, Levaillant's cuckoo, bateleur and Wahlberg's eagles, Swainson's francolin, hamerkop, grey heron, African grey and southern yellow hornbills, woodland kingfisher, black-bellied bustard, grey go-away-bird, square-tailed nightjar, Verreaux's eagle-owl, yellow billed oxpecker, lilac breasted roller, magpie shrike, Burchell's starling, lesser masked, buffalo and village weavers, woodpecker cardinal, .
Conference Facilities
Earth Lodge had a 10 meter x 12 meter conference facility with seating for up to 120 delegates, depending on the set up required. A retractable screen (2.4 meter by 2.4 meter), data video projector, 35 millimetre slide projector, overhead projector, TV and VCR, sound system, whiteboard and flip charts were available.
Other Smoking was only allowed in the bar and adjacent deck and during game viewing breaks. Because wild animals could and did walk around in the unfenced property, it was necessary for guests to be escorted to and from their suites in the evening. We were escorted to our suites in a golf cart to freshen up when we returned from the afternoon game drive, as well as to and from our suite for dinner. In the morning and during the day, we could walk at our leisure around the unpaved walkways of the property. We could, and sometimes did, request transport to and from the Amber Suite to the main building or spa.
The wine cellar had eight types of champagne and four South African Méthode Cap Classique wines as well as a healthy list of South African and imported wines. There were also Kosher wines, wines by the glass and half bottle and cognacs.
Date Of Most Recent Visit
November 2007
Reviewers Article by Elena del Valle
Photographs by Gary Cox
Service Staff were always service oriented and efficient. They smiled and went out of their way to accommodate special requests.
Contact Information
Address:
Earth Lodge
Sabi Sabi Private Game Reserve
Sabi Sand Wildtuin
Mpumalanga, South Africa
Phone:
Fax:
Website:
Email:
Office:
Address:
Head Office
4 Jameson Avenue
Melrose Estate
Johannesburg, 2196
South Africa
Phone:
Fax:
Website:
Email: