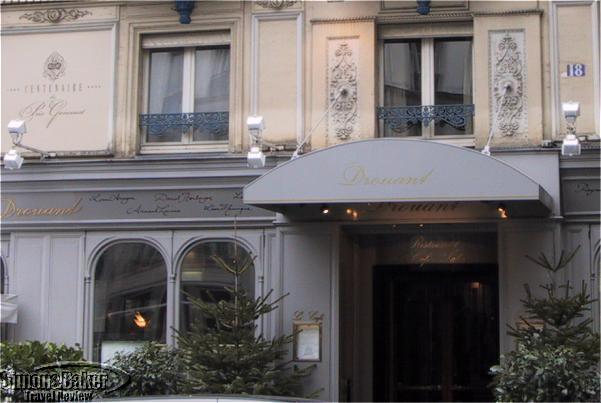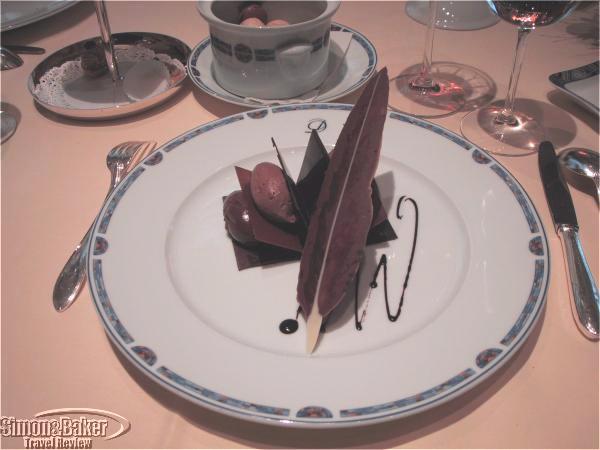 Every time, including this one, we have visited this restaurant we have left satisfied and looking forward to our next visit.
Drouant is under new ownership and management and these descriptions no longer reflect the experience you would have visiting this restaurant.
Overall Impression
Dining at Drouant was like visiting an old friend in a beautiful old home. We felt welcome, in familiar surroundings and an always memorable meal. We found it noteworthy that the meal was as delectable as in past occasions although the assistant chef and assistant sommelier where in charge during our visit.
As chocolate lovers we are especially fond of this historic restaurant, where the celebrated Goncourt, Renaudot and Apollinaire book awards are presented every year. In addition to delicious chocolate desserts, Drouant offered appetizing dishes and excellent service in an elegant and tranquil setting just a few steps from the department store frenzy. Every time, including this one, we have visited this restaurant we have left satisfied and looking forward to our next visit.
Chef
Louis Grondard
Chef&Rsquo;S Training Or Awards Named Meilleur Ouvier de France, Paris 1979
Days Of Operation Monday to Friday
Handicapped Access Limited
Location : Just a block or two off the Avenue de l'Opera
Management Company: Groupe Elior
Metro Quatre Septembre or Opera
Owned Groupe Elior
Pastry Chef Pascal Chanceau
Rer Auber
Restaurant Manager: James Berthelot
Size 50 seats
Sommelier Cyril Menard and chef sommelier Nicolas Loubere
Sous Chef Jean-Pierre Pailleret
Type Of Food: Classic French
Year Opened-Renovated 1880
Style Of DÉCor Contemporary décor with Art Deco touches including the famous Art Deco Pope Emile Ruhlmann wrought iron stairway.
Special Menus-Pricing
Seasonal fixed price menu of 53 euros, chef tasting menu 104 euros
Wine And Spirits Details A broad selection of wines and various price options.
Food
We started with lovely cheese chouquette pre appetizers and our usual champagne coupe. Every course built on the one preceding it until the fabulous chocolate desserts. The foie gras first course with balsamic vinegar and candied citrus was a delight. The crab entree was delicious and unique(
Pannequet de poireaux à la chair de tourteau).
The turbot was excellent without the slightest hint of fishiness, as was the red mullet (
Filet de rouget barbet au minestrone)
. The lamb was flavorful and satisfying (
Epaule d'agneau confite en cocotte lutée)
.
The cheese course was a pleasant transition from the meal to the lighter deserts. The selection of cheeses was excellent for the price. The pastry chef is a master with chocolate, with delightful Macaron and light petits fours. For a chocolate lover, the chocolate book (Quelques Feuilles "de chocolat" en hommage à Jules et Edmond), in recognition of the annual book award presented at the restaurant, is a satisfying and rich dessert that is beautiful and tasty.
Preferred Reservation Method: Phone
Ease Of Reserving
Relatively easy with perhaps a week ahead of time depending on the time of year
Latest Visit January 2004
Service The service staff was unobtrusive, attentive and efficient. Hardly a moment passed before our glasses were refilled or our empty plates were taken away. The assistant sommelier guided us seamlessly in our wine selection to provide a wine that could bridge the fish and lamb we chose.
Would You Dine There Again? Yes
Contact Information
Address:
17, rue Gaillon
75002, Paris, France
Metro:
Quatre Septembre or Opera, RER Auber
Telephone:
Fax:
Email:
Website: