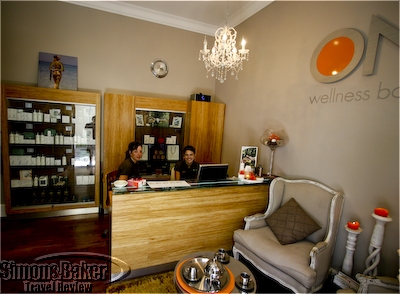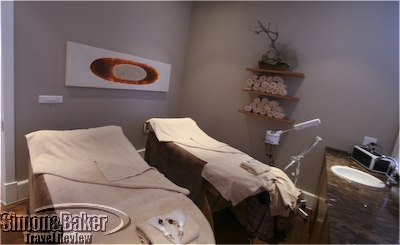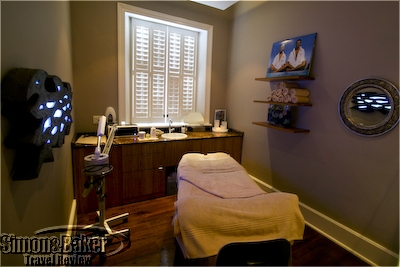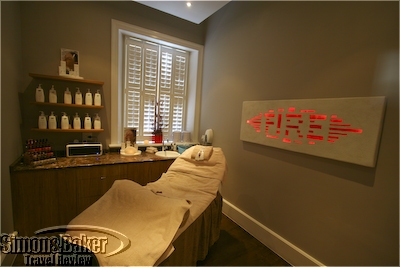 It will be on our short list of spas, especially anytime we're staying near the Waterfront.
Overall Impression
During a recent visit to South Africa, my husband and I dedicated a couple of afternoons to spa pampering and relaxation in Cape Town. This helped us recover from the jet lag from the long international flights from the United States via Europe, and allowed us to spend quality time together. Our first stop was at Onewellness Dock House, a new facility and part of the Dock House Boutique Hotel, where we found secure parking.
This cozy spa was ideally situated across the street from the famous Victoria and Alfred Waterfront mall in Cape Town yet a world away from the noise and crowds. It was spotless and staffed by Leandri Duvenhage and Judy Swart, competent young therapists who were welcoming and polite.
Before we began our treatment sessions, they invited us to spend a few minutes in the spa's Tylarium, a small heated room with the characteristics of a sauna and steam room. The Tylarium and adjacent shower were set aside for our exclusive use, and although there were three treatment rooms, during the time we were in the spa we saw no other guests. It was like a private booking. We throughly enjoyed our treatments and visit to the Onewellness Dock House. It will be on our short list of spas, especially anytime we're staying near the Waterfront.
Established
The spa opened in 2008
Handicapped Access A ramp up to the facility from the road and a toilet with rail were incorporated to assist handicapped guests.
Location Dock House Annexe on the Victoria and Alfred Waterfront in Cape Town
Owned And Managed Queensgate Wellness Holdings (Pty) LTD, a subsidiary of Queensgate Leisure Holdings (QLH)
Size The one story facility occupied 140 square meters of space and employed four therapists and a spa manager.
Spa Manager Christel Rohrs
Special Training Therapists and personal trainers had a minimum of two years of experience.
Treatment Rooms There were three multi-functional treatment rooms, including a duo-treatment room offering a range of skin, body and touch therapies. There was also a Tylarium, a steam sauna variation on traditional sauna bathing with much higher humidity (up to 70 percent).
Common Areas The interior design of the building focused on the old meets new concept, combining contemporary décor and fittings with the Victorian architecture of the Heritage building. It had a colonial style interior, with modern, chic influences. An example of the moder touches was a curtain, in the reception area, made of cut up pieces of old wedding dresses. The interior design was by Lisa Bond from Porcupine.
Amenities
The spa provided Charlotte Rhys body wash, Charlotte Rhys shampoo, Charlotte Rhys body moisturizer, tissue, linen bath robes, slippers, towels and hairdryers for guest use.
Facilities There was a fitness center with Technogym and Kinesis equipment, locker rooms for men and women and a Tylarium (combination of sauna and steam room). Day visitors had access to the pool at the nearby Dock House Boutique Hotel.
Lockers And Bathrooms
There were 16 lockers in the men's and women's change rooms.
Other When we were there the spa was a member of the South African Spa Association. Pevonia Botanica was the spa's preferred line for facials. Pevonia is a spa care line with more than 100 holistic botanical and marine elements professional in-spa treatments. Pevonia offers recyclable, biodegradable packaging and refrains from animal testing.
Cleanliness
Excellent
Date Of Review November 2008
Number Of Treatments Four
Reviewers Article by Elena del Valle
Photos by Gary Cox
Treatments Experienced We had two 60-minute Sports Massages, a 30-minute Basic Pedicure for my husband and a 60-minute Essential Facial, with deep cleansing, exfoliation and a massage, for me. My therapist incorporated the following Pevonia products into the facial: Balancing Combination Skin Mask with a kaolin base, Aromatherapy Face Oil Combination to Oily Skin "Harmonie," Phyto-Gel Cleanser, Mattifying Oily Skin Mask with a kaolin base, homogenized Refining Marine D.N.A. Cream with triphase, Refining Marine D.N.A. Concentrate, Collastin Eye Contour with micro emulsified fluid, and Enzymo-sperides Peeling Cream with high-tech enzymes entrapment.
Would You Return? Yes
Contact Information
Address:
Dock House Annexe,
Dock House,
Portswood Ridge,
Portswood Close
V and A Waterfront
Cape Town
South Africa
Phone:
Fax:
Website:
http://www.onewellness.co.za/
Email: