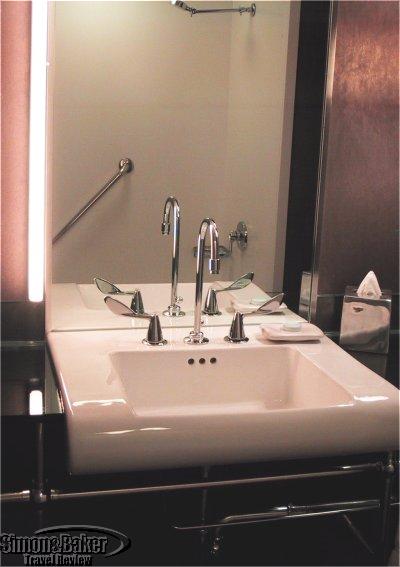 : Our stay at the modern and jazzy Hotel Derek, billed as the first contemporary hotel in Houston , emphasized style and business guest services. Our senses were rewarded with decorative touches in unexpected places. At the same time all our business requirements such as high speed Internet access, fax/printer/copier, and meeting room space were met. Leisure time could be spent poolside, at the 24-hour fitness center, relaxing with an in-room spa treatment or at a nearby spa. For those wishing to shop, the hotel was conveniently situated in the Galleria area and a short drive from downtown Houston .We appreciated the staff's accommodating attitude and the hotel's many amenities and comfort oriented extras (not often seen in boutique hotels), meeting room options, style and business oriented features. A fit for business travelers, the Derek offered leisure options for time in between meetings and after hours. People watchers would surely be impressed by the long list of celebrities and personalities who have called the Derek home during their Houston stay
Overall Impression
: Our stay at the modern and jazzy Hotel Derek, billed as the first contemporary hotel in Houston , emphasized style and business guest services. Our senses were rewarded with decorative touches in unexpected places. At the same time all our business requirements such as high speed Internet access, fax/printer/copier, and meeting room space were met. Leisure time could be spent poolside, at the 24-hour fitness center, relaxing with an in-room spa treatment or at a nearby spa. For those wishing to shop, the hotel was conveniently situated in the Galleria area and a short drive from downtown Houston .
We appreciated the staff's accommodating attitude and the hotel's many amenities and comfort oriented extras (not often seen in boutique hotels), meeting room options, style and business oriented features. A fit for business travelers, the Derek offered leisure options for time in between meetings and after hours. People watchers would surely be impressed by the long list of celebrities and personalities who have called the Derek home during their Houston stay
Concierge
Joseph Chavez
Connectivity In-room high speed Internet access was complimentary
General Manager : Steven P. André, who worked in management positions at The Avalon Hotel in Beverly Hills , and the Burnham, Allegro and Monaco hotels in Chicago prior to arriving at the Derek.
Handicapped Access Yes, all of the rooms were ADA compliant with wide entrances and appropriate sink and shower heights. Additionally, TDD (Telecommunication Device for the Deaf) equipment was available on request.
Length Of Stay Two nights
Location Inside the " Loop " at the intersection of Westheimer and 610 West Loop South. Walking distance from the Galleria mall, one of Houston 's largest malls.
Management Company Amerimar Enterprises, Inc.
Owned Amerimar Enterprises, Inc. and Angelo Gordon & Co.
Pets The Hotel's Dogs & Cats Program provided canine guests with Hotel Derek bandanas, treats, dishes and beds made up with Derek sheets. Feline guests received toys, treats and litter boxes, which their owners were welcome to take with them when they checked out. All pets had to be less than 25 pounds and be kept on leashes or in carriers while in public areas.
Size 314 guestrooms including 10 suites and 16 studio rooms with adjacent business alcoves
Year Opened-Renovated The Derek began operations in January 2002 in a refurbished building
Lobby And Common Areas Designed by movie set creator Powerstrip of Hollywood, California, the Derek's interior combined modern, classic and Texas features. Accents included English white fur covered wingback chairs resting on a cowhide rug, a virtual fireplace or fish bowl (depending on the season) on the lobby's plasma television, and a playful Lucite chessboard. There were also Arthur Meyerson original photos of Houston set in backlight frames throughout the hallways and elsewhere. We loved the outdoor furniture complete with a rocking chair. It was set living room style next to the hotel's entrance where we sat to wait for someone to collect us one afternoon.
Bathroom The long and narrow small bathroom was comfortable and appealing. Instead of the usual bathroom flooring, it had laminate-covered oak wood floor. A bath tub/shower combination sat across from an attractive glass vanity with Chrome fittings and a Kohler sink. Though we liked the style and look of the bathroom, we were disappointed to discover the tub drained slowly and the paint was peeling. On the plus side, the shower head was wonderful.
Room We especially liked the feeling of spaciousness and the bright light in our 480 square foot Studio Room. There were many large windows through which the Houston autumn light shun. Our end unit had a balcony with sliding glass doors next to the work alcove. We overlooked the unremarkable view of the adjacent parking lot in favor of the more pleasant view of downtown Houston in the background. Furniture included a king bed covered with a pinstriped goose down duvet, a glass top night table with a lamp on each side and an alarm clock on one of the night tables. Other features included: electronic safe, mini bar, zenith remote controlled television, long Mohair banquette sofa and wood table, two lamps and a full length mirror. The adjacent office cubby hole had: glass top desk, wireless phone, touch sensitive lamp, another small lamp and fax machine, zenith remote controlled television, rolling office style chair and complimentary High speed Internet connection. Thin walls allowed traffic noise to filter through and we could clearly hear a child in the neighboring room laughing and screaming in the wee hours of the night. Our favorite features were the work alcove, the thick curtains that kept the morning light out for a late weekend morning, and the colorful aquarium video on the television screen.
Food And Restaurants Complimentary breakfast, cocktail hour snacks and a newly opened (the hotel was in the process of redesigning and rebuilding its restaurant when we were there) restaurant, the French bistro moderne. The restaurant included a forty-seat café with a bar, featuring a custom-formed pewter bar top, aged mirrors, custom cement tile floor, classic dark wood banquettes and chairs as well as white marble in-laid tabletops. Bar and café menu items included Hangar Steak and Foie-Gras Burgers for example. The upscale restaurant dining room seated 110 people and the menu featured items such as Wood Plank Cote de Boeuf; Prime Rib for two carved tableside with a Choron sauce, served with a Gonzalez Farm-glazed vegetable casserole; and Marseille Bouillabaisse, a Mediterranean fish and shellfish stew in a Tomato Saffron broth served with garlic toast. Guest could also choose from the 24-hour in-room dining options.
Amenities
German Hydro fragrant toiletries including body lotion, body gel, shampoo and conditioner. Work related: One two-line cordless phone and a regular two-line corded phone, complimentary in-room high speed Internet access, FedEx supplies in closet, complimentary in-room fax machine/printer, VCR, and DVD, oversized in-room electronic safe, complimentary daily newspaper and complimentary overnight shoe-shine. Comfort related: shower cap, sewing kit, shoe shine sponge, ear plugs, choice of pillow-top or firm mattresses, 100 percent goose down duvets, goose down or non-allergenic pillows, mini-bar including gourmet goodies, interactive TV including on-demand movies and Nintendo, an iron and full-size ironing board, in-room coffee/tea maker, cotton pique bathrobes, unattached hairdryer, magnified make-up mirror, access to a complimentary CD library, CD/alarm clock radio, rain shower head, and bathroom dimming night lights. Guests could also avail themselves of concierge, valet, and business center services. There was complimentary transportation within a three mile radius.
Facilities Fitness center, restaurant, conference facilities, a small pool and a Spa Treatment Suite staffed upon request.
Fitness Center Access was possible with the guestroom card 24 hours a day. There were 14 machines including Life Fitness cardiovascular and resistance training equipment such as treadmills, stair climbers, cycling machines and a multiple use machine all with individual TV monitors.
Pool The freeform pool was about 20 feet by 30 feet. The pool area offered direct sunlight or a partially shaded spot under the slatted roof.
Conference Facilities
Meeting rooms were available in a total space of 10,000 square feet Options included a 4,800 square-foot ballroom overlooking the pool; the Rogue boardroom, featuring red leather chairs and a 21-foot table; two executive boardrooms with dataports at each seat; and the Great Room with a residential feel and contemporary seating, a built-in bar and a plasma screen fireplace.
Other During business hours, reaching the hotel presented a challenge due to the heavy traffic resulting from nearby construction. Though we didn't spot any celebs while we were there, a number of famous people have, according to the Hotel, stayed there including: David Carr, Cher , Cheryl Crow, Morgan Freeman, James Gandolfini, Laura Ingrahan, Bon Jovi, Gwyneth Paltrow and Gwen Stefani. The Derek, a member of Preferred Hotels & Resorts Worldwide, Inc., a global brand of independently owned luxury hotels and resorts, launched the Derek "Giving Room" in January 2005. Each month during 2005, the property is scheduled to donate a portion of proceeds from its junior suite, renamed the "Giving Room", to select non-profit groups. The Hotel Derek selected a designated charity each month and highlighted the group by displaying organizational information in the Hotel Derek "Giving Room," on the property's website, in the lobby and in additional hotel collateral materials.
Check-In-Check-Out Process Ease
Excellent
Cleanliness Excellent
Date Of Review October 2004
Service Twice daily maid service in the room. Staff we encountered in common areas were helpful and pleasant.
Would You Stay There Again? Yes
Contact Information
Address:
Hotel Derek
2525 West Loop South
Houston , TX 77027
Phone:
+1 (713) 961-3000
+1 (866) 292-7100
Fax:
Website: