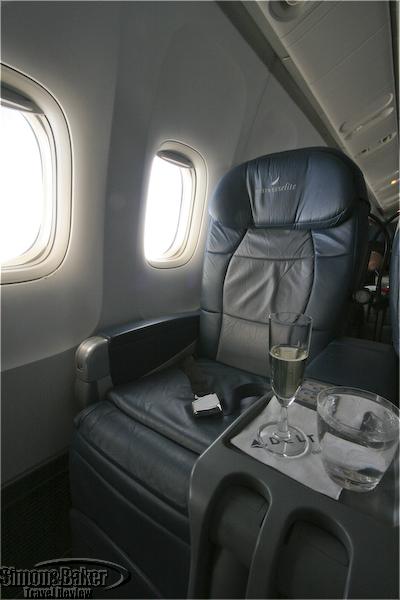 We hope Delta improves its service on existing flights before continuing to add international routes.
Overall Impression
For years we have been fans of Delta Airlines. Generally speaking we have found the equipment, service, routing and terms of service among our favorite, especially for domestic flights. In our experience on many flights, their staff have been, for the most part, friendly, helpful, professional and accommodating
.
So when Delta announced flights from the United States to South Africa we were eager to try their service.
The first time we flew the Atlanta to Johannesburg route we were disappointed. At the time, the service was new and we thought the airline was working out the details. This second trip has convinced us that route does not, unfortunately, showcase Delta in a good light.
What we liked was flying directly from the United States to South Africa instead of the 12-hour layover we had in past years in Europe en route to South Africa (the last time we checked it was possible to have a much shorter layover in Paris). We were also pleased to have access to Delta systems in English including the company website and phone service. Although the booking required several phone calls, staff were pleasant and helpful and there were no cross cultural misunderstandings. The airplane was clean and had a selection of recently released movies and television programs we could watch on demand on our individual touch screens.
What we found disappointing was a number of things that in the aggregate resulted in a flight product and service that was inferior to what we expect in business class from a United States carrier. Cabin staff in the business section in all segments looked and behaved frazzled and at times appeared downright unhappy. The food service was so poor, especially in the segments provisioned in Senegal, that we went hungry or ate from our own snacks in lieu of the menu offerings. In a flight with two eight-hour segments that is not acceptable.
Although the seats reclined to a "sleeping position," the cushion felt thin and the lumbar support insufficient. It was difficult to find a comfortable position to sleep in and we had to frequently change sitting positions to avoid discomfort and pain. Blankets, synthetic, thin and gray, were unimpressive.
Arriving in Johannesburg to discover none of our suitcases arrived with us and that the airline wasn't sure where they were or when they would arrive was, to say the least, a disappointment. After we checked in at our hotel I spent an hour on the phone long distance (on my dime) with two Delta representatives sorting out the location of our luggage. I had to call the United States because by then it was Sunday night in South Africa and the local Delta office was closed. It was only once a supervisor became involved that she figured out two of the suitcases were erroneously listed on a flight that had already departed. Eventually, our suitcases arrived at our lodge at 7 pm on Tuesday, two days after they were supposed to arrive with us originally.
In summary, we will seriously consider another carrier for this route in the future. The flights to South Africa were so disappointing, Delta will not be at the top of our list for other international flights, especially to exotic destinations. We hope Delta improves its service on existing flights before continuing to add international routes.
Aircraft
767-400ER
Class Of Accommodation Business class
Flights We began the international portion of our trip in Atlanta after flying in from our local airport early in the morning. We waited in the Delta Crown room in between flights. Although we checked the departure board and asked the agent in the lounge our flight was listed "on time" not "boarding." We decided to head to the gate anyway and discovered they had begun to board the airplane before we arrived. Our 3:45 pm flight departed at 4 pm.
From Atlanta we flew eight hours and five minutes nonstop to Dakar, Senegal where we arrived at 4:05 am and were scheduled to depart at 6 am. We spent 105 minutes on the aircraft before continuing our trip to Johannesburg, South Africa. During that time, a few passengers deplaned and others embarked. While we waited we were required to get up from our seats while local security personnel checked each and every seat individually and all the hand luggage and asked who owned the luggage. The crew that had flown from Atlanta stayed in Dakar and a new crew boarded. Supplies were brought on board and the garbage was removed. The return from South Africa to the United States had a similar stop in Senegal in the wee hours of the morning.
Length Of Flight Each leg of the two-leg trip was about eight hours and there was a two-hour stop in Senegal in between the two long legs.
Seats-Configuration Seats on either side of the airplane were set in pairs. Each seat was equipped with armrests, audio/video plugs, a pop up TV, electronic footrest and back controls and was capable of extending into a "sleeping" position.
Business Class Cabin
There were seven rows of six passengers each in the business class section.
Business Class Lounges In Atlanta we spent time in the Crown Room and in Johannesburg we were invited to the newly inaugurated Air France lounge. Both lounges had self serve hot and cold beverages, including alcoholic beverages, snacks, magazines, newspapers and reception desk staff. The Air France lounge also had very slow wireless access and showers.
Bathrooms There were three heads (bathrooms) in the business section of the airplane. However, anytime the flight crew came out for a break, that front part of the airplane where two of the bathrooms were located was closed off to passengers and only the third head in the rear of the business section was accessible until the flight crew returned to their area. There was Lather liquid soap and hand lotion in each head and they were in a decent state for the duration of the flights.
Meals
Regardless of how much promotion the bilingual English/French menu included of Delta Chef Michelle Bernstein, whose delicacies we had the pleasure of sampling while she was chef at Azul in Miami, or how hungry we were we were only able to salvage a few items from the servings. Some of the food had such a pungent and unappetizing smell it was all we could do to sit still through the meal service. Even though our tray had none of the offending items it still wreaked in the cabin. Although when we read the menu descriptions they were appetizing we struggled to get through more than one item in the four eight-hour flight segments.
One menu listed Caprese Salad with balsamic vinaigrette with one of the following three combinations: Sliced Prosciutto with celery remoulade and Hummus with caramelized onions and pine nuts; or Cream of Cauliflower Soup and Sliced Prosciutto with celery remoulade; or Hummus with caramelized onions and pine nuts and Cream of Cauliflower Soup. I could not eat any of the Caprese Salad. The tomatoes were wilted and sad looking. The flight attendant brought me the cauliflower soup by mistake. She was in the process of bringing me the dish I had requested when I tasted the "hummus" on my husband's plate. It was unlike any hummus I've ever had and not in a good way. I'm no hummus connoisseur but it was just not good food. I instantly requested the cauliflower soup back. It was single handedly the best item of food they served in all the flight segments.
For mains, the options on one segment were Tender Fillet of Beef and peppercorn sauce with sautéed spinach and macaroni and cheese; Grilled Breast of Chicken in peri peri sauce with roasted new potatoes and an assortment of vegetables; Grilled Fillet of Salmon in creamy saffron and tomato sauce with a medley of snow peas, bell peppers and Basmati rice; or Linguine tossed with spinach in a light Gorgonzola sauce topped with sun dried tomaties and walnuts. My husband, who is a not a fussy eater, ordered the beef and left it after one bite. It was with the Fine Cheese and the fruits plate that I calmed my growling stomach. I did not have the stamina for dessert; my husband ordered the All Natural Vanilla Ice Cream Sundae with your choice of sauces, whipped cream and chopped nuts, garnished with a Pirouline.
Wines had been selected by Andrea Robinson, master sommelier for Delta. The white choices were Guenoc Sauvignon Blanc California 2006; Bodega Lurton Torrontes, Mendoza, Argentina 2007; and the red choices were Wente Crane Ridge Merlot, California 2004; and Mazzei Poggio Alla Badiola, Italy 2005. There were two after dinner options: Chamers Rosewood Vineyards Muscat, Rutherglen, Australia as a dessert wine; and Ferreira Dona Antonia Tawny Port, Portugal NV. The champagne, Duval-Leroy Brut NV, would have been nice except it was so warm it was not enjoyable.
Amenities
There was tax free shopping (tax free shopping was unavailable between Senegal and South Africa they announced over the loudspeaker after we departed from Atlanta). Our business class amenity kit came with red socks, eye cover, toot brush, .85 ounce Crest tooth paste, 44 milliliter Scope mouthwash bottle, Lather Yuzu Bergamot Moisturizer, Lather Lip Conditioning Balm, ballpoint pen and tissue pack. There were Delta noiseless headsets, a pillow and a blanket. There were also meals, snacks, alcoholic drinks including fine wines, champagne and after dinner drinks. Ground amenities included access to the Crown Room in Atlanta and Air France lounge in Johannesburg which offered complimentary snacks, soft drinks and alcoholic beverages and the shower in the lounges.
Entertainment There was a music selection on the airplane system. There were also games, TV programs and on demand movies. Each BusinessElite seat had a dedicated small screen which popped up. We plugged the noiseless headset to watch the movies or listen to music.
Ground Service
Check-in was pleasant. The stopovers in Dakar, in the middle of the night, were disruptive and unpleasant. We had only finally relaxed into a fitful sleep when we landed and had to get up for the on board security check. At the airports it was great to board the flight through a walkway instead of the old fashioned bus that we have experienced in South Africa on other occasions.
Other We departed at 8 am on a Saturday morning from our home and arrived at our hotel room in Johannesburg the following day at 6 pm. Although our flight arrived in Johannesburg one hour early, after two hours of waiting we discovered none of our check-in luggage had arrived. A Delta representative took down our information so they could forward our luggage when it arrived. According to his information one of our suitcases was still in Atlanta. Although he couldn't account for the other two suitcases he explained that he was sure they must be in Atlanta as well since they hadn't arrived in Johannesburg. It was an exercise in frustration to explain to the Delta representative, whose English was less than adequate, where we would be the following days. He did not know where the Kruger National Park or Sabi Sand Reserve were located. Because we arrived in Johannesburg at the end of the day on Sunday and departed for the Kruger National Park area first thing the following morning, we only were able to shop for 15 minutes for replacements on our way to the airport.
According to a recent press release, Delta operates service to worldwide destinations with Delta and Delta Connection flights to 324 destinations in 62 countries.
Route We flew from West Palm Beach to Johannesburg (flight #34) with a change of plane in Atlanta and a two-hour layover in Dakar, Senegal. The routing was the same, in reverse, for the return flights (flight #35).
Cleanliness
Very good
Date Of Most Recent Review May 2008
Ease Of Reserving A Seat Our flights were full in business on all segments. With several months advance booking, we were able to secure the seats we wanted.
Reviewers Article by Elena del Valle
Photos by Gary Cox
Service The service on board was one of our biggest disappointments on these flights. Almost uniformly staff members in the business section were at best indifferent and at worst inefficient and harried, as if they were tired and had more work than they could comfortably handle. On the Atlanta to Dakar portion, for example, we departed in the afternoon and everyone was awake. Staff members however seemed too busy to look after us. The service was mostly slow, inefficient, and dry bordering on unfriendly. We had no drinks during the entire appetizer course of our meal. It required several requests before someone brought us drinks. Although we had different crew members for each eight-hour flight segment, service on the rest of the flight segments was very similar to the first segment.
Would You Fly With Them Again? Maybe
Contact Information
Address:
Delta BusinessElite
from Atlanta, United States to
Johannesburg,
South Africa
140 East 45th Street
New York, New York 10017
Phone:
Website: