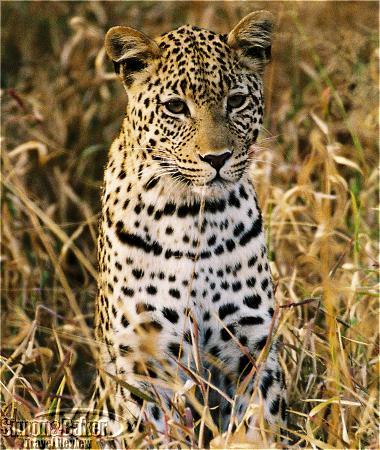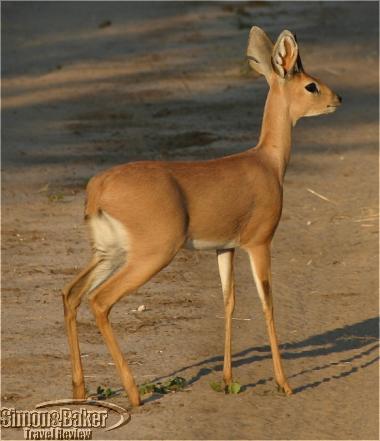 Although relatively simple fare, they were some of the most memorable meals we enjoyed over several weeks in the bush.
Overall Impression
We found Deception Valley Lodge, the only photographic safari lodge in the Central Khalahari Region, graceful, charming and fun. A specialized boutique property situated on a former cattle ranch, the Lodge afforded us the opportunity to enjoy small group outings; and share time and experiences with guests and staff in a convivial environment. There was a quiet and unspoiled beauty in the area which we will miss.
Bushmen, famous for their tracking and hunting abilities, and western guides led our early morning game viewing drives. We spotted leopard, porcupine, eagles, vultures, kudu, steenbok and other animals. Our favorite game viewing hours were in the early morning. Sparse game viewing, uncomfortable seats and a chilly breeze made the night game drives less desirable than the morning ones during our visit.
We especially appreciated the opportunity to learn a little about the traditional Bushmen culture and lifestyle during an interesting afternoon demonstration.
Cook Jackie Minaar and her staff served delicious, freshly prepared meals including local venison dishes such as kudu steaks, springbok mini-steaks and Southern Africa desserts. Although relatively simple fare, they were some of the most memorable meals we enjoyed over several weeks in the bush.
Handicapped Access
Yes
Length Of Stay 2 nights
Location 120 kms southeast of Maun just north of the Central Khalahari Game Reserve
Managed Braam and Susan Bodenhorst; Johnny and Jackie Minaar; Mathew Stares and Fabienne Delacourt (training)
Senior Bushmen Trackers:Malati, Dagan and Xhase
Owned Braam and Susan Bodenhorst
Size 5 chalets and a maximum of 10 guests; concession size: 15,000 hectares (150 km2) and 16 staff
Year Opened-Renovated August 1998
Lobby And Common Areas: The décor featured African and Bushman themes including framed authentic local and Bushmen artifacts. A lounge area near the entrance offeredgueststwo comfortable sofas and four chairs. Adjacent to the lounge was a picturesque bar with high stools. The dining room, with one long wooden table for 12 and heavy cushioned chairs where we gathered for most of our meals, was adjacent to the bar. A porch, facing a bird bath and further away a water hole, wrapped around the front of the main building. We spent our early morning pre-drive and tea times there. The curio shop was in a small second story area behind the bar.
Bathroom : Included a sink, water closet, Victoria style claw foot bathtub; an outdoor shower; and an African design towel rack. There was hot and cold running water. The tap water, piped through a 16 km (30 mile) line from the bore hole was potable.
Room
Our 600 square foot teak floor chalet was situated approximately 50 feet from the nearest chalet and about 100 feet from the main building, which afforded us plenty of privacy and space. From the main slightly elevated walkway, a short path led to our front porch. Inside, there was a small sitting area with a comfortable pillow covered sofa, a table and two chairs. To one side there was a built-in counter top; under that there was a small mini bar. A bathroom was next to the sitting area and then the bedroom.
The sleeping area included two double beds together. They had hard, comfortable mattresses and wonderful duvets for cold nights; there were night tables with lamps on each side of the bed and mosquito nets above each bed (there were no mosquitoes when we visited so we did not use the nets); a small closet stood to one side of the bedroom and a large trunk with a lock (for valuables we were told) was on the floor next to sliding glass doors leading to the porch. There were two chairs in the front porch. In spite of five years of age, the chalet was in excellent condition and spotlessly clean; it was a comfortable place to spend the day.
Meals There was full table service traditional serving including safari themed linen and crystal; and less formal braai (grilled) meals under the stars. A team of Afrikaans, French and locals prepared our plentiful and tasty traditional meals. Notable desserts included: Milk tart, sago and freshly baked rusks, a crunchy bread eaten with coffee or tea in the morning before drives or with afternoon tea.
Amenities
Toiletries including shampoo, bath and shower gel and body lotion; complimentary laundry; open bar and mini-bar in our chalet. This was one of the most generous properties we visited in Botswana with electrical power, allowing us to literally "fully charge our batteries".
Facilities Game viewing private concession, small swimming pool and curio shop (opened on request)
Pool There were small dead birds in the water. They plunged to their death so frequently the staff sc arcely had enough time to retrieve them. The swimming pool water was slightly murky, a common situation we observed in many of the lodges we visited.
Game Viewing Mammals:black backed jackal: kudu: leopard; steenbok; zebra; giraffe; and porcupine. Birds: Anteating chat; bateleur falcon; Burchell's sandgrouse; crimsonbreasted shrike; helmeted guineafowl; hoopoe; knobbilled duck; lilacbreasted roller; purple roller; redbilled quelea; swallowtailed bee-eater; tawny eagle; and whitbrowed sparrow-weaver. Vultures: cape, whitebacked, lappedtfaced, whiteheaded
Activities
Morning, sunset and night drives; guided walks (dry season only); Bushmen Excursion (Lodge specialty). We enjoyed the half day Bushmen Excursion. Had time permitted or had we known in advance, we would have scheduled extra time for Bushmen related activities. The Bushmen experience consisted of two of our Bushmen trackers reverting to "Bushmen" dress by shedding their western clothing and demonstrating some of the Bushmen traditions for: Storing and finding water during the dry season; identifying plants and their usefulness; describing tool building techniques; demonstrating a bird catching technique on a pre-set tree trap; two-minute jewelry making, musical and dancing demonstrations; fire starting and arrow and lance throwing demonstrations. This all took place in pre-selected area near the Lodge.
By prior arrangement: Specialized hands-on Bushmen Excursion; Central Khalahari Day Trip into the Central Khalahari Game Reserve.
Conference Rooms
Arrangements for a meeting space for a small group were possible with advance notice.
Curio Shop A number of Bushmen artifacts were for sale including ostrich shell jewelry, traditional dancing adornments, dolls, and lodge brand clothing.
Other We made good use of the Lodge's Spotter's Guide we found in our room. The Guide listed 67 of the most common mammals and 861 birds in the area. It was easy to find the name of the animal, especially the birds, on the list once we saw it and the guide told us the name.
We had heard that Braam and Susan were wonderful hosts, and we carried greetings from some of the other owners. Much to our disappointment, they avoided us entirely and instructed their staff not to allow us into the non-public areas of the property.
Check-In-Check-Out Process Ease
Excellent
Cleanliness Excellent
Date Of Last Visit May 2004
Reviewers Article by Elena del Valle
Photographs by Chester Godsy and Joni Johnson-Godsy
Service We quickly warmed up to our Afrikaans and European hosts. Two western couples and 12 other staff members looked after the entire property and a group of six guests. The service was excellent and all of our needs were cared for.
Would You Stay Again? Yes
Contact Information
Postal:
Address:
Deception Valley Lodge
P.O. Box 1315
Pretoria , 0001 South Africa
Address:
No. 91, Wenning street , Groenkloof
Pretoria , South Africa
Phone:
Fax:
Website:
http://www.deceptionvalley.co.za/
Email: