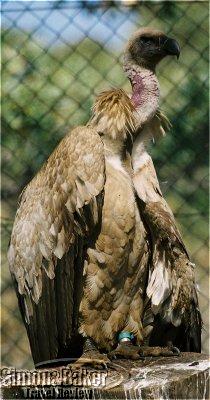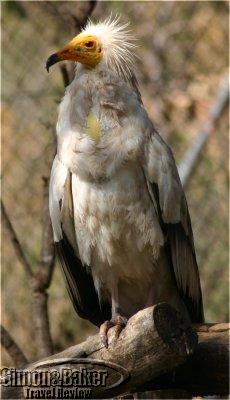 It was a worth the drive to De Wildt to see these beautiful and lithe animals, so elusive in the wild, running around, playing and feeding within feet of our vehicle.
Overall Impression
After four weeks of game viewing in Southern Africa , we still found De Wildt amazing. Seeing cheetahs, king cheetahs, wild dogs, Egyptian vultures or honey badgers in the wild is rare. During our safari trip we were very fortunate to see cheetahs two or three times. We treasured each brief viewing. Visiting De Wildt was like going through a working laboratory, where the staff were the animal caretakers looking after these precious creatures from birth until their reintroduction into the wild or delivery to a zoo. At De Wildt we had a chance to see the wild dogs interacting in a pack, eating and playing; we saw cheetahs and king cheetahs up close next to their fence; we also went inside the caged area where they ran loose, fed and prepared to mate.
Our visit to this 168-hectare wild life refuge home of cheetahs, wild dogs, hyenas, servals, vultures, duiker and other wild animals on the outskirts of Pretoria was educational, lively, inspirational and fun. Established by Ann van Dyk to care for wild animals in need of shelter, De Wildt grew from 50 hectares to its present size. It is famous as the first place in the world where cheetahs and king cheetahs, who have a rare pelt pattern, in captivity bred successfully. Founder van Dyk and her staff's generous dedication to the animals and their long term survival was engaging.
Though the facility gladly welcomed guests and prompted them to tour the Centre and learn about them, it was apparent to us, that their goal was to do as much as possible to ensure that some of the fragile species sheltered there survive the continuing encroachment of civilization on their habitat. It was a worth the drive to De Wildt to see these beautiful and lithe animals, so elusive in the wild, running around, playing and feeding within feet of our vehicle.
Average Duration Of Visit
Half a day allowed us a brief visit with a tour guide and some time to explore the gift shop.
Description A privately owned, non-profit, non-governmental organization, De Wildt was funded by "self-endeavor and sponsorship." Twenty-four staff members oversaw the Centre and its many animals including 120 cheetahs (27 cubs), 87 wild dogs, vultures, brown hyenas, grey duiker, wild cats, servals, African civet, nyala, ostrich, leopard tortoise, impala, suricate (meercat), and honey badgers. Visiting birds: cape griffin, Egyptian,vulture, African white back, lappet-faced and Indian black lappet-face vultures.
Established 1971
Handicapped Access : Yes. De Wildt offered programs for the blind and handicapped.
Location In the outskirts of Pretoria . I n the foothills of the Magaliesberg in South Africa 's North West Province
Owned-Managed Ann van Dyk. There was also a management committee of 10 honorary members including wildlife veterinarians and zoologists.
Size 168 hectares
Transportation We drove to De Wildt, where we parked our car. Inside the Centre, we walked and toured the facility on an open air game viewing vehicle.
Souvenir Shop Proceeds from items sold in the shop contributed towards running the De Wildt Cheetah and Wildlife Centre. There were clothes, posters, slides, jewelry, and household items such as placemats, cushions, cutlery, and sports caps.
Tours: Visitors were able to discover the centre in the comfort of a De Wildt vehicle with a guide in about 1.5 hours (we could have spent hours with the cheetahs). Our guide, Linda Cufflin, was a 10-year veteran who when she wasn't showing visitors around trained the Centre's guides.
Cheetahs
Described by our tour guide as lean, mean speed machines, the cheetahs lived in four distinct areas: Breeding for 2-3 year olds, Lover's Lane (females only), Monastery (males only), and Retirees. The longest surviving of all the large cats, they can move from standing still to 70 kms in three seconds.
De Wildt "housed" various species of formerly and currently endangered animals bred in captivity (cheetah, wild dogs, Egyptian vultures) in large cages and fenced areas. Since they first bred in captivity, more than 600 cheetah cubs have been born at De Wildt.
Other De Wildt offered several fundraising options to supporters including animal adoption, sponsorship, bequest and donation programs. Participants of the adoption program, for example, donated funds toward the type of animal of their choice and received recognition at the Centre, a certificate and VIP treatment when they visit the facility. De Wildt established a nearby lodge for the convenience of guests on extended visits.
Contact Information
Address:
PO Box 16
De Wildt
0251
South Africa
Phone:
Fax:
+27 12 504 1921
(same as phone)
Website:
Email: