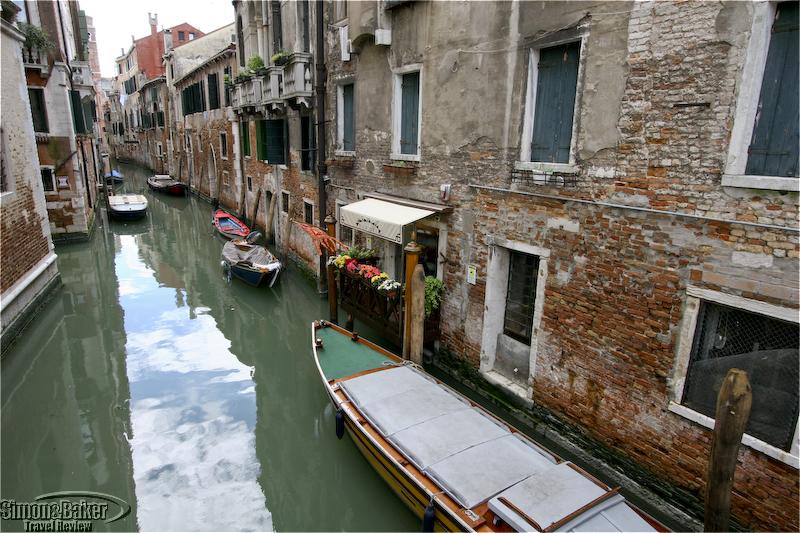 Osteria da Fiore will be on our short list of restaurants to visit the next time we are in Venice.
Overall Impression
The family owned restaurant was hidden away on a Venetian street off the beaten track. At first we thought Fiore (Italian for flower) was the family name. It turned out to be the name selected by the previous owner when he opened the old
osteria
and called it da Fiore. If it hadn't been because we received very specific directions and did a test run a day in advance of our reservations we may have been late arriving. As it was we were the first guests to arrive.
Maurizio Martin, the manager, seated us at a rear table near the canal just before an elderly American couple claimed their seats very near where we sat. A few minutes later Maurizio's wife Chef Mara Zanetti Martin came out to say hello. We had spent part of the previous morning and lunch with Mara and her son Damiano at her home during a private Venetian style cooking demonstration. We were looking forward to sampling some of her other dishes at lunch.
After browsing through the menu we invited Mara to prepare lunch any way she saw fit. She sent copious quantities of delicious food. Although there were many flavors in the multiple-course meal the flavors were subtle so that we never felt overwhelmed, and the overall experience was rewarding and worth repeating. Mara had a knack for bringing out the flavors of the fish, seafood and vegetables in whatever dishes she prepared.
Lunch at the small restaurant was pleasant, made special by the husband and wife team of Maurizio and Mara Martin. Osteria da Fiore will be on our short list of restaurants to visit the next time we are in Venice.
About The Executive Chef
A self taught chef whose grandmother also cooked, Mara Martin emphasized Venetian cuisine and light sauces as the starting point for her inspiration.
Executive Chef Mara Zanetti Martin
Handicapped Access According to Damiano the restaurant has a handicapped accessible entrance.
Head Sommelier Stefano Capolla
Location In the San Polo area of Venice, Italy
Opened-Renovated The restaurant first opened April 1, 1977. In 2002, the family renovated the dining room with the help a Venetian architect.
Owned And Managed Mara, Maurizio and Damiano Martin
Pastry Chef Tamara Mascarello
Restaurant Manager Maurizio Martin
Size There were 13 tables capable of accommodating up to 60 guests in a 150-square meter dining room. The kitchen occupied an additional 150 square meters. There were 16 employees.
Type Of Restaurant The specialty was Italian and Venetian seafood dishes
DÉCor-Ambiance Designed to remind diners of the interior of a modern boat the small interior was decorated with soft understated colors and no paintings. There was Murano glass, Moretti different color glasses, silver cutlery and fine porcelain modern dinnerware.
Cellars Wine And Alcoholic Beverage Selection
The restaurant had a wine list of almost 500 labels. The wines on offerer were 80 percent Italian, 15 percent French and the remainder from around the world.
Meal We began with three selections from the Antipasti: Carpaccio di tonno con olio siciliano capperi e origano di Pantelleria (Tuna carpaccio with capers and oregano), Tartar di scampi su lamelle di asparagi bianchi al profumo di vaniglia (Shrimps tartar with white asparagus), and Baccalá mantecato con asparagi bianchi e bruschetta profumata all'aglio (Whipped venetian codfish). From the Primi Piatti we tried Bigoli al torchio in salsa alla veneziana (Whole wheat pasta with onions and sardines). From the Secondi Piatti we sampled Filetto di branzino all'aceto balsamico (Steamed wild sea bass with stewed apples and balsamic vinegar). It was followed by Green apple and grappa sorbet; Zuppa di ananas e vaniglia con frutti di bosco e mandorle (Pineapple and vanilla soup with berries and almonds); and Crema fritta alla veneziana (Venetian fried cream) served with sugar coated grapes and sugar coated currants. We also had an opportunity to try the restaurant's (Mara's) homemade rich and thick Limoncello, a lemon based sweet liqueur.
Date Of Review
May 2010
Number Of Visits One
Reviewers Article by Elena del Valle
Photographs by Gary Cox
Service Staff were efficient and polite. We were well looked after during the entire meal.
Would You Dine Eat There Again-Recommend It? Yes
Contact Information
Address:
San Polo 2202/a
30125 Venice
Italy
Phone:
Fax:
Website: