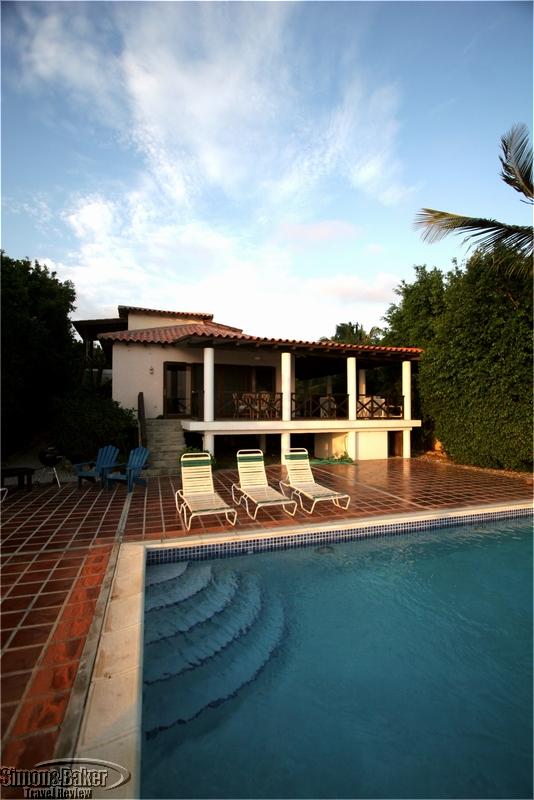 We would recommend this rental house to our friends seeking an outdoor oriented house on the water, in a residential area outside the main town, with cable television and high speed Internet access.
Overall Impression
We were delighted to discover the southern Caribbean island of Bonaire offered many accommodation options, including luxury rental villas. After a few email exchanges with Sunrentals, one of the largest rental agencies on the island, we were rewarded with last minute space in Crown Court 44A, one of their most popular rental homes and one of very few waterfront homes with WiFi. The roomy three bedroom waterfront $2 million villa was in Bonaire's most luxurious residential neighborhood.
According to the agent, the house, owned by a wealthy American who was passionate about the outdoors, had 90 percent occupancy year round divided equally between Europeans and Americans. Our favorite features were the oceanfront location with direct water access, sea views from the kitchen, living room and back terrace, a swimming pool, intimate gazebo, and excellent high speed Internet connection.
We also liked the surrounding residential neighborhood. Crown Court 44A was near enough to shops and the main town in Bonaire for shopping and restaurants and far enough for privacy and quiet. At the same time, we never felt alone. We heard our neighbors on both sides of the house and construction crews from nearby projects.
The house was designed for outdoor enjoyment. Inside, there were three bedrooms, two and a half bathrooms, a well equipped kitchen with countertop seating and a water facing living area with a large TV. Our favorite place to spend time was the large rear outdoor section with a back terrace, gazebo, pool and beyond it the azure Caribbean waters. What the house lacked in luxury and comforts, it made up for in outdoor appeal, especially for sun worshipers and water enthusiasts.
Although the bedrooms had air conditioning units, the rest of the house did not. Hot living areas with little airflow through the center of the house made spending time indoors less than desirable, even at night. Outdoors, ocean breezes made the covered terrace and porch pleasant and inviting.
What made this house such a renter's darling, in addition to the reasonable price, is that a dozen steps down a metal ladder led to salty sea waters and Bonaire's famous marine park for swimming, snorkeling or diving. It was one of only a few rental properties on the island with ocean views, a pool, high speed Internet service, and direct access to the water.
We especially enjoyed the two seat gazebo perched on the edge of the property above the steps and the crashing surf. We would recommend this rental house to our friends seeking an outdoor oriented house on the water, in a residential area outside the main town, with cable television and high speed Internet access.
Class Of Accommodation
Private luxury villa
Connectivity There was complimentary wireless high speed cable Internet access (384 kps). We used it daily during our stay and it worked well most of the time. Event the VoIP (Voice over Internet Protocol) hookup worked well, allowing us to make extended long distance phone calls.
Handicapped Access To reach the villa we walked through a pebbled driveway that led onto a paved walkway and a handful of steps leading to the entrance. Access to the bedroom was up five steps. It was also necessary to climb down steps to reach the terrace and pool area. A metal ladder led to a rocky water access best for experienced divers.
Length Of Stay Five nights
Location In the Sabedeco residential neighborhood about five miles north of Kralendijk
Managed Sunrentals managed the property. They represented 40 rental villas and 28 rental apartments, roughly half of the island's luxury rental inventory.
Owned The owner preferred to remain anonymous
Size Three bedrooms and two and one half bathrooms including 250 square meters under roof on a 1,100 meter lot and 35 meters of oceanfront.
Year Opened-Renovated The villa was built in 2000. In 2007, the swimming pool was renovated and the bedrooms were painted. A small gazebo with two wood armchairs overlooking the water was added to the pool area.
Common Areas
The entrance to the house led to the kitchen. To one side a few steps led down to the garage which was unavailable for renters. Another set of steps led to the sleeping quarters. Next to the kitchen, there was a half a bathroom and to the left there was a living area. Beyond it there was a small porch, a large ocean facing terrace and pool deck.
The kitchen faced the entrance on one side and a side window on the other. There was a side by side LG refrigerator and freezer, Frigidaire stove and oven, and a dishwasher. There was also a toaster, blender, cutlery, pots, pans and dinnerware. We had breakfast at the small kitchen counter with four rattan stools. There was also a rattan and glass dining table on the porch for outdoor dining.
In the living room, two single wood armless chairs accented the living area along with corner shelves for books, sea knick knacks, board games and a small LG CD player. There was a remote controlled 36" LG HDTV with Digital Audio Surround Processor and 26 cable channels including United States and international programming.
There was a small sofa and matching arm chair on the porch next to the dining set. A ceiling fan cooled the porch from the scorching afternoon sun. We hung wet bathing suits and towels on a porch clothesline.
DÉCor Furnishings were comfortable with minimum fuss. The decorative style was casual with six-meter ceilings, neutral colors, a wood beam living room ceiling, Italian tile throughout and lots of windows. The emphasis was on the outstanding sea view and outdoor areas, swimming pool and direct ocean access. Indoor floors were pale Italian rustic tiles. Walls were painted eggshell in the living area and light blue in the kitchen and bedrooms. Furniture was simple and well worn. In the living room, there was a rattan sofa set with seashell motif cushions, two armchairs and a matching table. There were ceiling fans in every room and the living area also had an upright rotating fan which unfortunately did little to alleviate the heat. Rattan planters held plastic plants in the living area and there were plastic flowers in the bathrooms. A small bouquet of local flowers welcomed us on arrival. Although all the doors and windows had screening the odd wasp, bee and mosquito snuck in.
Bathroom
The tiled bathrooms were similar in style and relied on a small window for airflow. The master bath had twin sinks and rectangular wood framed mirrors, a small doorless shower enclosure with a rusty soap stand, a toilet on the side and a towel rack in the corner. The shared bathroom had one sink and similar configuration to the master bathroom. There was ample hot and cold water. Next to the kitchen there was a half bathroom similar in size and design to the full bathrooms.
Rooms There was one master bedroom with an en suite bathroom and two smaller bedrooms with one shared bathroom. The bedrooms had ceiling fans and remote controlled wall unit air conditioning which we were asked to turn on only while we were in the room. The walls were blue. It took about 30 minutes for the room to cool once we turned on the air conditioning.
The master bedroom had a king bed with a white rattan headboard and two matching night tables with lamps. The bedspread was worn and frayed accompanied by synthetic pillows. We appreciated the built in closet. It had ample shelf and hanging space and a small electronic safe. There were four windows with curtains for night time privacy. During the day, we opened the windows to allow the breeze in.
The other bedrooms were smaller than the master; each had two single beds with the same type of rattan furniture, and built in closets.
Amenities
There were a few items in the refrigerator when we arrived including several beer bottles, a bottle of wine, yogurt, milk, two small packages of cold cuts (cheese and Parma ham), eggs, bacon, butter and cheese balls.
Pool There was a 6 foot deep 16 x 4 meter pool on the 70 square meter back terrace. We enjoyed daily during out stay. In spite of the resident iguanas' frequent visits and unwanted souvenirs, the pool was clean and refreshing. Several comfortable lounge chairs were scattered around the pool area, providing us a place to relax, listen to the surf, read or just spend quite time.
Other
Because of the strong surf and shallow rocky entrance area, we battled to enter the water during our weeklong stay. Rental company representatives explained that renters who are experienced divers and snorkelers familiar with the area use the ladder frequently. A half a block from the villa there was a community dock area with step ladder access to the water for divers and snorkelers.
A covered garage and additional unoccupied sleeping area above the house were locked during our stay. There was space in the drive way to park our rental car and a wood fence with a lock for extra safety.
There was a corded phone inside a living room bookshelf which could be used for local calls. The cord was short so we were on the phone for more than a couple of minutes, we would pull up a chair next to the bookshelf.
Although there was no washer and dryer, it was possible to drive to the Laundromat in town or request laundry service from the rental agent. Cleaning, pool and garden service was once a week. For those who really wanted to get away from it all, it was possible to request additional cleaning services, tanks for diving, private dive master instructions, grocery shopping and even a cook.
Cleanliness
Very good
Date Of Review May 2007
ReviewersArticle by Elena del Valle
Photos by Gary Cox
Would You Stay There Again? Yes
Contact Information
Address:
Sabedeco
Bonaire
Netherland Antilles
Sunrentals Bonaire
Kaya Grandi 65
Kralendijk, Bonaire
Dutch Antilles
Phone:
Fax:
++599 717 6136
1 866 464 1786
Website:
Email: