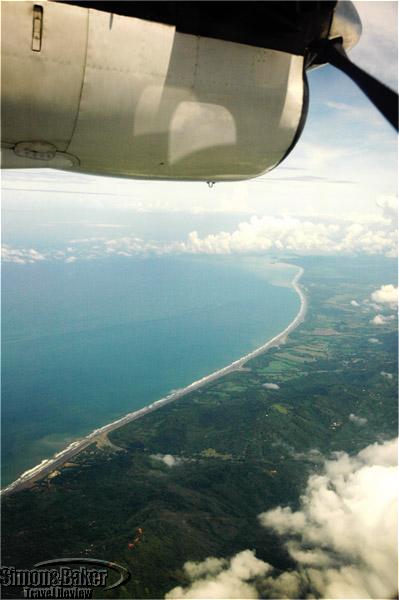 I was glad it was only a transit point on my way to the idyllic southern Pacific coast's Oca Peninsula.
Overall Impression
This tiny nation, with its remarkably diverse topography and natural treasures, was a pleasure to visit. With a landmass of just under 20,000 square miles, approximately the size of the West Virginia, or Denmark, it stands out as a premier tourism destination in Latin America for travelers drawn by its intense biodiversity. After experiencing some of the highest rates of deforestation on the planet in the 1960's and 1970's, Costa Rica engineered radical measures in the past two decades to reverse this alarming trend. One quarter of its land has been set aside for national parks and nature preserves. The country can now boast to being host to a startling five percent of the world's biodiversity, including more than 800 recorded species of birds, 200 species of mammals, and 900 kinds of trees. Costa Rica attracts over one million foreign ecologically-minded tourists per year.
There are natural wonders for everyone to enjoy in Costa Rica. Its 800 miles of unspoiled beaches facing the Caribbean Sea and the Pacific Ocean make it a paradise for surfers, divers and other ocean sports enthusiasts. Between the two coasts, four rugged mountain ranges run north to south to an altitude of 12,500 feet. Mountain cloud forests, white-water rivers and waterfalls abound, as do tropical rain forests. There are also several active volcanoes. Rare and exotic wildlife flourishes, including sloth, jaguars, caiman, several varieties of sea turtles and monkeys, reptiles, and birds too numerous to count.
Although San Jose, the relatively modern capital city situated in a central valley between high volcanic mountains, is the point of entry for most foreign tourists, it is not the most exciting place to visit. As is often the case with Central America's capitals, I found it shrill, polluted and of limited interest. I was glad it was only a transit point on my way to the idyllic southern Pacific coast's Oca Peninsula.
Currency
The local currency is the Costa Rican Colon. At the time of my visit, $1 = 508 Colones
Electrical Current 120 Volt
Health And Vaccinations There were no mandatory inoculations for travel to Costa Rica at the time of my visit. I followed the recommendations of the U.S. Center for Disease Control (CDC) and ascertained that my routine vaccination schedule was up to date prior to the trip. The need for insect repellent skin protection was minimal. Due to the proximity to the equator, high SPF sunscreen was a must. As always when traveling in Central America, unless otherwise indicated at a specific property, I used bottled water exclusively for drinking and oral hygiene.
Cost of visiting Moderate to expensive
Location Costa Rica is located 10 degrees north of the equator. Along with the Caribbean and Pacific coasts, its borders are defined by Nicaragua to the north and Panama to the south.
Measures Metric system
Money Issues Currency could be exchanged at an exchange booth in the Jose Santamaria International Airport, and at an ATM machine in the international arrival hall. Banks and hotels also provided this service. Since U.S. Dollars were readily accepted in places catering to tourists, I did not exchange any currency. I carried sufficient $1, $ 5 and $10 notes for incidental expenses, thus minimizing the amount of local currency I received as change. Credit cards were only reliably accepted in main tourist establishments.
Technology Electricity and running water were available in all areas visited by tourists. Cell phone service and television were widely available.
Time GMT/UTC minus six hours (e.g. U.S. Central Time). Costa Rica does not observe Daylight Savings Time
Transportation With its rugged terrain, only about 20 percent of roads paved and virtually non-existent road signalization, driving in Costa Rica could be a challenge. It was easy to understand the popularity of local air carriers that provided daily service between the main tourist areas with small twin-propeller airplanes capable of accommodating up to 15 people and landing on short grass airstrips. During the green season roads got muddy and occasionally washed out, making four-wheel drive vehicles ubiquitous outside of San Jose.
How To Get There
International flights arrived at the Juan Santamaria International Airport, located 14 miles west San Jose. There were daily non-stop flights between San Jose and the U.S. from Atlanta, Dallas, Houston and Miami, via American, Continental and Delta Airlines. There were also direct flights from major Central American cities via local airlines such as Groupo Taca, Copa Airlines, Avianca and Mexicana. Several European airlines also served San Jose, including Iberia, KLM and British Airways. The Daniel Oduber International Airport located near Liberia, 135 miles northwest of San Jose in the Guanacaste province, had recently started receiving international flights from American, Continental and Delta Airlines. That airport was closest to the Pacific northwest coast. At the time of this writing, citizens of the U.S., Canada and the E.C. were not required to have a visa to enter Costa Rica. They could visit with a valid passport only for up to 90 days. Departure tax was $26.
Because of the shortage of paved roads in Costa Rica, it was most convenient to travel between major tourism areas via internal airlines such as Nature Air and Sansa. Nature Air had the most extensive network and best on-time reputation at the time of my visit. However, it operated out of the Tobias Bolanos Airport, located between the international airport and San Jose. I was forewarned that road traffic into the city was unpredictable, and transit time could run from 20 to 60 minutes. By scheduling accordingly, and arranging with my final destination resort to have a reliable driver waiting for me, I experienced no issues with the transit.
Facilities
Outside of San Jose, where all the amenities of city life could be found, basic necessities were available in smaller towns on a limited basis, as was first aid medical assistance.
Shopping And Souvenirs Costa Rican coffee, rum, some leather goods and wood carvings by local artisan could be found at reasonable prices in tourist areas.
Date Of Last Visit
May 2006
Reviewers Article and photographs by Josette King
Would You Visit Again? Yes