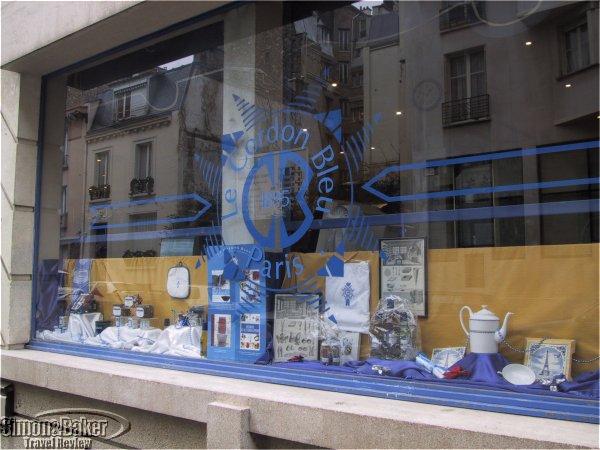 We look forward to other gourmet cooking courses at the Cordon Bleu whenever we are in Paris in the future.
Overall Impression
Ever wonder how the great French chefs create those wonderful dishes? We visited the Cordon Bleu cooking school in Paris to find out. We encountered helpful staff, a friendly and talented chef, a well situated and convenient cooking school with translated (French to English) short gourmet workshops and longer term certificate courses. We participated in a one-hour private workshop in the school's 15
th
arrondissement headquarters. The Cordon Bleu school, started as a newspaper in the mid 1800's, had a staff of 50 including 11 master chefs, and as many as 180 students who participated in private workshops like ours, gourmet courses or certificate programs.
During our hands on private session, translated quickly and easily by one of the school's bilingual staff members, we observed and participated in the preparation of delicious sautéed scallops with an artichoke puree and a balsamic vinaigrette sauce. By the conclusion of the workshop we had prepared three appetizer size scallop dishes, which were expertly paired with a 2000 Graves red wine by the Cordon Bleu's resident wine expert and conducive to a most pleasurable tasting. We left the Cordon Bleu dreaming of returning home and repeating the recipe. We look forward to other gourmet cooking courses at the Cordon Bleu whenever we are in Paris in the future.
About The Chef
Chef Chantefort joined Le Cordon Bleu in 1992 after working as a professional chef in a number of hotel s and restaurants including Royal Malesherbes, la Peniche d'Ile de France, Le Bristol, Le Lancaster, Le Grand Cercle, Coconnas, La Crique, Prince and finally Beaux Séjours in Tokyo, Japon.
Average Duration Of Visit Depended on the duration of the workshop or course
Chef Didier Chantefort, executive head instructor at the school
Established 1895
Handicapped Access Limited access for wheelchairs due to stairs. Check with staff for specifics
Location In the 15tharrondissement in Paris
Owned André J. Cointreau
Size 2,000 square meters; two classrooms for 10 and two classrooms for 14 students
Transportation Via private car, taxi, subway (metro), and bus
Description
A one hour gourmet workshop at an international cooking school with 22 satellite facilities in 12 countries and students from 75 countries. During the workshop, two students, one translator and French chef prepared sautéed scallops with artichoke and balsamic vinaigrette (
St. Jacques poêlees á l'artichaut, vinaigrette balsamique
) for three servings. The appetizer dish was expertly paired with a dry red Bordeaux wine, the pairing described by Patricia Gastaud Gallagher wine department director.
Named "La Cuisiniere Cordon Bleu" in the 19th century the weekly magazine became a renowned cooking school after the first culinary demonstration on an electric stove in 1896.
Restaurant No meals or snacks were available to the public.
Souvenir Shop A number of Cordon Bleu brand items were available for purchase at the reception desk including cook books and video cassettes in several languages including English, aprons, chef hats, knives and cooking utensils, shirts, t-shirts, wallets and more.
Tours Upon request
Other
In addition to its regular certificate programs, Le Cordon Bleu offered workshops for cooking amateurs. A schedule was available on the school website and private workshops were available as well. They also offered an interesting combination of luxury accommodations and cooking programs in conjunction with luxury hotels in France .
President André J. Cointreau
Date Of Review
December 2005
Reviewers Article and Copyrighted Photos by Elena del Valle
Would You Attend Another Gourmet Cooking Workshop? Yes
Contact Information
Address:
8 Rue Léon Delhomme
75015 Paris France
Metro: Vaugirard
Phone:
Fax:
Website:
Email: