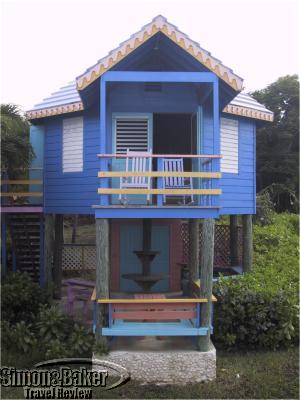 The property is very colorful and has a tasteful island atmosphere.
After a four year closure the property just reopened January 2007
Overall Impression Overall thumbs up. An especially good property for those wishing to be near the airport and still have access to Nassau's popular tourist attractions. When we were there, the restaurant provided great service and high quality food in a lovely setting on the ocean. The property is very colorful and has a tasteful island atmosphere.
Length Of Stay
One day
Location: adjacent to Love Beach, 8 minutes from Nassau International Airport and about 30 minutes from Nassau, New Providence Bahamas
Opened 1995
Ownership-Management The hotel is a part of the Island Outpost properties, and was recently leased by Brian and Jennifer Hew.
Size 18 rooms
Restaurants Bahamian style cuisine, well prepared and with good service. Bahamian food can be a bit greasy at times, and the current management has indicated an interest in creating a lighter menu, particularly at lunch. This restaurant is popular with the locals, so the hotel staff recommend reservations on the weekend. There is work underway to air condition the main dining room for those hot Bahamian summers. The wine list included selections from Australia, South Africa, France and Italy.
Lobby And Common Areas Designed in colorful "junkanoo" theme, with bright colors and small decorative accents throughout. The reception area is easily accessible and cozy.
Bathrooms
The bathroom was a bit small, but adequate. It included a small area for clothing storage and a personal safe just inside the door. The shower had a wooden slatted floor, which was a unique touch though quite comfortable to use. There was no hot water available in our room; this was disappointing after a rainy day of travel.
Rooms Our two-story cottage was located right at the ocean's edge, which was the property's best feature. The air conditioned bedroom and balcony are upstairs. When it is not raining, the balcony provides a pleasant place to sit and contemplate the ocean. The bed was comfortable and the sounds of the water lulled us to sleep. Downstairs we found an open air self-service kitchen and informal dining area.
Amenities
Room supplies were of good quality and selection (Aveda bathroom supplies). Cable television via satellite with Miami local network stations and a CD player with a selection of CD's. Bathrobes, mini safe, stocked mini bar, coffee service and kitchenette downstairs. The front desk offers VCR's and a selection of videos.
Facilities Swimming pool, beach access to nearby beach plus a small cove with sandy beach on the property. Snorkeling and kayaks available, but due to inclement weather, we did not check them out.
Pool The pool area was attractive, but not really completely operational when we were there. The weather was not great, and rain left us unable to rate the pool properly.
Spa No spa on the property.
Check-In-Check-Out Process Ease
Excellent
Cleanliness Excellent – the room and bathroom were clean and free of odors (not an easy task in a humid ocean climate!).
Date Of Review September 2003
Ease Of Reserving A Room Arrangements made by third party.
Overall Service Good service throughout. The key to our room was promised, but never located, so we just left our room unlocked. The staff was very pleasant, more like out-islanders than the usual Nassau service, which made for a nice friendly visit.
Reviewers © 2003 Simon and Baker, Inc.
Article by Elena del Valle
Photographs by Gary Cox
Would You Stay There Again Yes, we would stay at Compass Point for a short stay
Contact Information
Address :
Compass Point
West Bay Street, Gambier
Nassau
New Providence, Bahamas
Telephone :
1-800-OUTPOST
1-242-327-4500
Fax :
Email :