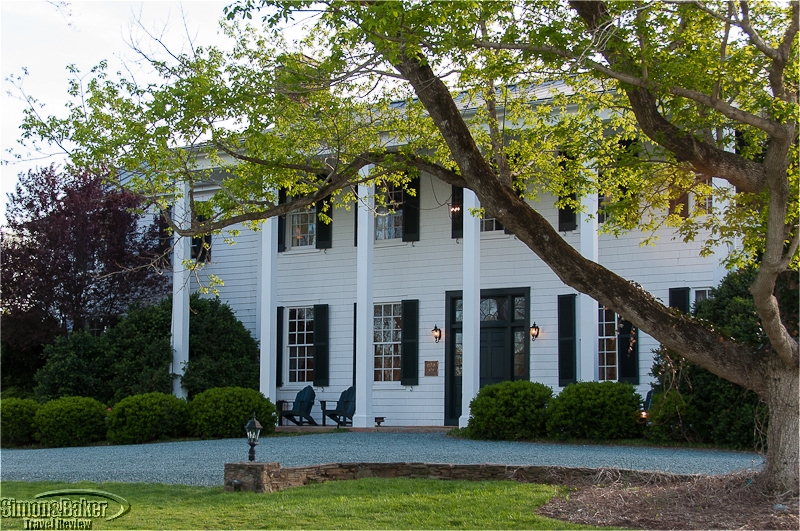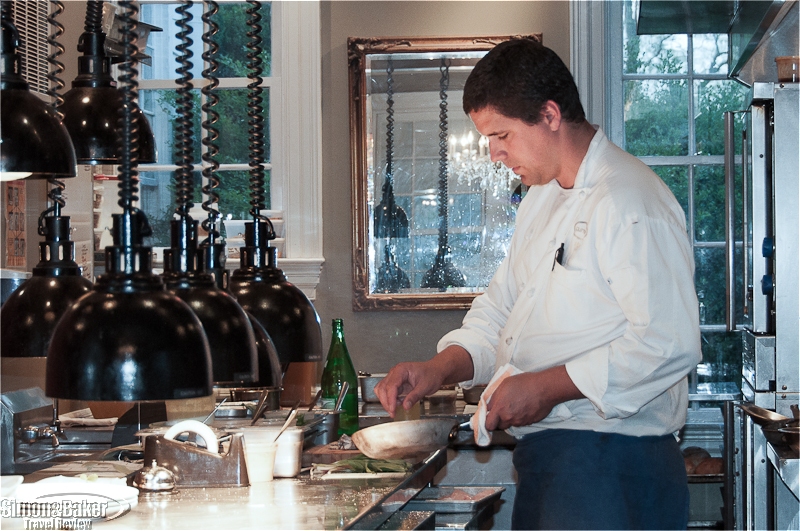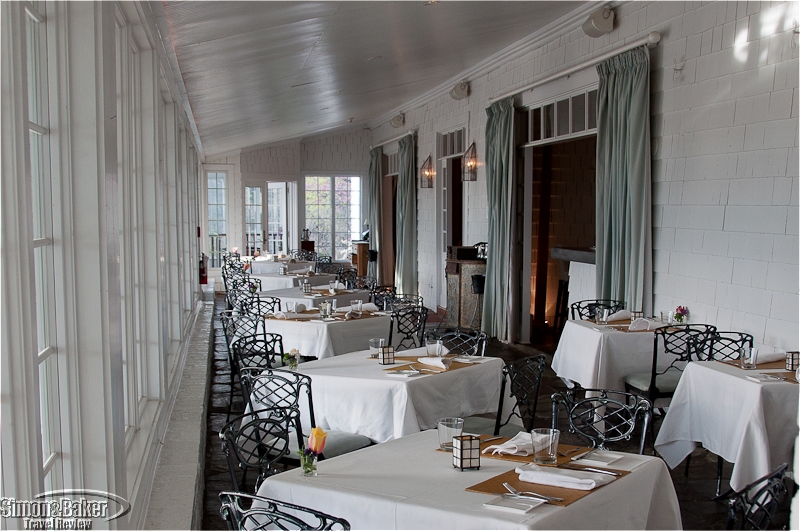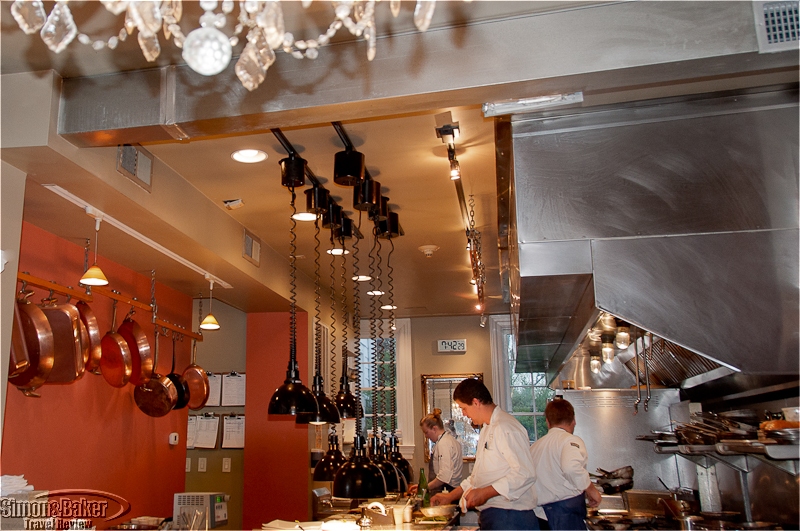 The Clifton Inn kitchen brigade created a unique dining experience for me that in and of itself would justify a return visit to Charlottesville.
Overall Impression
My evening at the Chef's Counter of the Clifton Inn Restaurant was not a mere dinner, it was a culinary jam session where the virtuosity of the performers came through with every bite and pairings of unexpected flavors and texture were the norm. I had just been escorted through the intimate dining room with its tables formally set on white starched linen tablecloths. I had even caught a glimpse of an antique grand piano in a corner. It was the sort of place that spoke of classic fine dining with every detail. I paused at the door of the kitchen to take in the rather theatrical décor. A long row of immaculate copper pans were lined high against a coral wall and a gilded mirror was strategically placed on the far wall of the room to reflect the sparkling crystal chandelier that hung above the pale polished concrete counter. I scanned the room for television cameras and found none. I settled into my tall bar chair and got a full view the "real" kitchen, a working kitchen with state of the culinary art equipment and the organized clutter that ensures that not a single movement is wasted.
Everyone on the team was calm, focused on the moment, visibly enjoying it and yet ready to engage in conversation all at the same time. A chunk of granite materialized in front of me. On it was an artfully arranged amuse bouche, a creamy dollop of apple and fennel puree on a diaphanous crisp green leaf that disintegrated into a burst of flavor in my mouth. "That's dehydrated ramp," Jared Adams, the sous chef, volunteered. "It's a kind of local wild leek. We forage it," he added as though it was the most banal thing in the world. And in Chef Tucker Yoder's kitchen it most likely was. A strong advocate of the farm to table principle, he adjusts his menus daily based on what looks best at the farmer's markets and in the restaurant's own kitchen garden. The meat is raised locally and the fish caught off the Atlantic shores, less than two hours away, someone explained to me.
The evening proceeded like a perfectly choreographed ballet, a well timed succession of delectable morsels to be enjoyed at a leisurely pace while watching creative young artists reinvent gastronomy for the 21st century. Observing the concentration of Chef Yoder as he personally put the finishing touches on every dish, and discussing the finer points of my tasting menu with whoever happened to be working nearest to me, I reflected that there was no better place to enjoy a solo meal than the Chef's Counter. The Clifton Inn kitchen brigade created a unique dining experience for me that in and of itself would justify a return visit to Charlottesville.
About The Executive Chef
Tucker Yoder's culinary vocation was born out of necessity. "My mother became ill when I was in high school," he explained. "I took over the cooking and discovered very quickly I didn't have a taste for plain boiled pasta." A realization that was eventually to take him away from his native Pennsylvania to the New England Culinary Institute in Montpelier, Vermont. He first discovered Charlottesville when he stopped to see a classmate, on his way to North Carolina for an internship interview. He was sufficiently impressed by the culinary environment there that he gave up the rest of the trip and secured an internship at the Boar's Head Restaurant instead, and returned there following culinary school.
After successively working in several area restaurants, he found his mentor in John Haywood, chef and owner of Oxo (a highly popular local restaurant at the time, now closed). With his rigorous classical training, Chef Haywood opened Yoder's eyes to the artistry required to create superb dishes in the grand culinary tradition. Yoder then joined the Clifton Inn as sous chef in 2005 and remained for four years before being lured away by the opportunity to help launch the Red Hen, an innovative farm to table fine dining restaurant in Lexington, Virginia. He returned to the Clifton Inn to take over as executive chef in 2010. In indulging his dual passions for using just off the farm (and sometimes just foraged) ingredients and constantly pushing the limits of classic cooking, Chef Yoder has developed a personal and innovative style that delighted and surprised me with every course.
Executive Chef Tucker Yoder
Handicapped Access Yes
Location On the first floor of the Clifton Inn, in the eastern outskirts of Charlottesville, Virginia, 115 miles (185 kilometers) southwest of Washington, D.C. and 70 miles (110 kilometers) northwest of Richmond, Virginia.
Managed The inn and restaurant were managed by Niall Reid, the general manager.
Opened-Renovated The restaurant opened in 1983. The Chef's counter was added in 2011.
Owned The whole property, restaurant included, was privately owned by Mitch and Emily Willey.
Pastry Chef Kristen Johnson
Size The dining room could seat 80 guests. The Chef's Counter could accommodate up to seven guests. The kitchen employed a staff of five.
Sous Chef Jared Adams
Type Of Restaurant International and contemporary gourmet dining.
DÉCor-Ambiance
The dining room was separated into two areas both with an intimate atmosphere and a distinct personality. The dining room was located to the right of the property's central entrance. A period grand piano with inlays of gold marquetry enhanced the timeless elegance of the room and mirrored the color scheme of the décor. The bleached wood dinning chairs had gold upholstered seat cushions. The tables had floor length gold taffeta skirts under their white linen tablecloths and gold placemats on top. There was eggshell wainscoting on the walls, topped with wallpaper in various shades of brown.
The large double doorways leading to the Verandah dining area had heavy floor to ceiling cocoa brown drapes. Crystal chandeliers and candlestick sconces with silk shades reinforced the romantic atmosphere of the room. The glassed in Verandah dining area had a conservatory feel and a view of the garden. Square tables were surrounded with heavy wrought iron chairs with pale green cushions that matched the drapes outlining the double doors leading to the interior dining room. Lighting was provided by contemporary hurricane sconces hanging from the white shingled interior wall of the conservatory. The Chef's Counter was in the working kitchen of the restaurant, with the active workspace taking most of the room. A wide L shaped bar of white polished concrete stood at the far end, lined with tall bar chairs to accommodate guests.
Cellars Wine And Alcoholic Beverage Selection
The Clifton Inn wine list featured over 200 labels, including a good representation of local Virginia wines as well major wine growing regions of California and beyond. It included a variety of well priced wines by the glass. A range of bar drinks was also available.
Meal At the Chef's Counter, guests had the option to choose from restaurant's menu, which was divided into five categories: delicate, light, full bodied, robust and dessert, or select the tasting menu. I opted for the latter and what followed was a succession of memorable bite size surprises. After the aforementioned teaspoonful of pureed of apple and fennel over a wafer like ramp leaf, a ham and pea salad with chervil followed. Slivers of serrano ham garnished a small pyramid of new garden peas, perfectly crunchy and sweet, and glistening with a peppery dressing. Next came two tiny perfect radishes embedded in the sweetest of butters and sprinkled with coarse grains of sea salt (at the Clifton, the butter was home churned, and the sourdough bread home baked from three year old starter).
Roasted asparagus and field onion were served with a crumbled pistachio beurre blanc. The garden salad of delicate field greens looked as well as it tasted as if it had just been pulled from the kitchen garden. It was served with a garnish of "black dirt" ("black cocoa powder, butter and sugar lightly baked and finely crumbled," Kristen Johnson, the pastry chef, confided). I was tempted to anoint as my favorites the grits encrusted oysters and accompanying wild mushrooms served over pureed apples and brown butter; but then, what of the duck breast, grilled exactly to my medium rare preference, served with a faro pilaf and land cress on a bed of duck stock brown sauce? For the grand finale, I had expressed my wish for "your most typically Virginian dessert." That turned out to be an orgasmic sticky pudding with date puree, candied pecans and caramel ice cream.
Date Of Review
April 2014
Reviewers Article and photos by Josette King
Service The service was excellent, friendly, attentive and professional.
Would You Dine There Again-Recommend It? Yes
Contact Information
Address:
1296 Clifton Inn Drive
Charlottesville, Virginia 22911
Phone:
Fax:
Website:
http://www.clifton-inn.com/dining
Email: