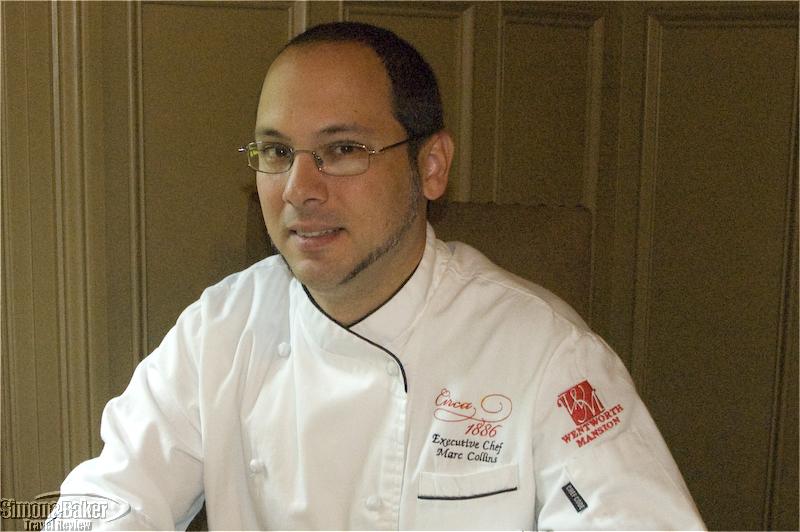 The timeless elegance of the décor was an appropriate metaphor for Chef Collins' style as he wove together elements of traditional southern cuisine and modern French gastronomy to create an imaginative menu of understated sophistication.
Overall Impression Tucked away in the garden of the regal Wentworth Mansion, a vine-shaded trellised walk led to the green door of a charming pink brick cottage. Behind this unassuming facade, a memorable dining experience awaited: Circa 1886, the domain of award-winning chef Marc Collins, who has been in residence for almost a decade. The "cottage" was in fact the beautifully restored 19 th century carriage house the mansion. Its restoration was a remarkable blend of original elements (such as the heart-of-pine floors and stable doors) and seamlessly integrated reconstruction features like elegant vaulted booths, boxed ceilings and flattering lighting. The timeless elegance of the décor was an appropriate metaphor for Chef Collins' style as he wove together elements of traditional southern cuisine and modern French gastronomy to create an imaginative menu of understated sophistication.
About The Executive Chef
A defining influence of Chef Collins' career is his interest in regional culinary traditions. After graduating from the Pennsylvania Institute of Culinary Arts in Pittsburg, Pennsylvania he headed for San Antonio, Texas, and the prestigious La Mansion del Rio where he honed his skills under French Chef Guy Collinet. Later he worked at La Louisiane where French cuisine took on a strong Cajun accent, before moving on to the Fairmont Hotel, where he became executive chef in 1996. He was lured to Charleston and its historic tradition of blending French, English and Caribbean cuisines in 2001, to take over as executive chef of the newly opened Circa 1886. Chef Collins immediately made his mark, going from being singled out as chef to watch by Esquire Magazine in 2001 to leading Circa 1886 to its current status as a AAA Four Diamonds and Mobile Four Stars winner.
The son of an artist, Chef Collins grew up in an environment that encouraged creativity, a mindset that he brought to the preparation and presentation of every dish served at Circa 1886. His cooking emphasized an intriguing modern approach to traditional Southern cuisine, based on seasonally available local products, as well as sustainable and rebounded local fish and seafood. He found inspiration in antique cookbooks of the area as a departure points for some of his signature dishes, such as crab cake soufflé (made with mango purée) and his spicy grilled shrimp over fried green tomatoes with chow-chow. Chef Collins is a founder of the Charleston Food + Wine Festival that premiered in 2006. The yearly weekend festival gives participants the opportunity to meet and get a taste of some of the cuisine of the country's best chefs.
Executive Chef Marc Collins
Handicapped Access The restaurant was located on the ground floor and wheelchair accessible .
Location On the grounds of the Wentworth Mansion
Opened-Renovated The restaurant opened in 2000, in the renovated carriage house of the Wentworth Mansion.
Owned And Managed Richard T. Widman and Marc Collins, executive chef
Pastry Chef Scott Lovorn
Size The main dining room seated 50; the adjoining bar could accommodate 14. An upstairs function room, the Tack Room, was available for private receptions up to 40 guests. Circa 1886 employed a staff 20.
Sous Chef Richard Barlion
Type Of Restaurant Intimate luxury gourmet dining
DÉCor-Ambiance Understated, timeless Southern elegance. The lower part of the walls was covered with elaborate wood paneling in a light antique finish topped by taupe wall paper with deep red accents. The large, square dining tables were surrounded with chairs upholstered in mellow 19 th Victorian taupe and burgundy designs. A lovely antique credenza holding a large flower arrangement and framed prints completed the décor. The back wall was occupied by three deep, spacious booths with vaulted ceilings and subdued lighting that added a touch of intimacy to the space. They appeared to be a favorite for romantic celebrations.
Cellars Wine And Alcoholic Beverage Selection The 275 labels wine list focused mainly on offerings from the main wine regions of France and Italy, including a good selection of well-priced wines and champagnes by the glass.
Meal
The
amuse-bouche
of chilled watercress vichyssoise finished with truffle essence was an omen of the delights to come. With the first course menu offering one of my all time favorites, my decision was easily made. I started my meal with a generous slice of fresh
foie gras
seared to perfection. It was presented on a glaze of Myer's rum and garnished with bittersweet chocolate bread topped with a small scoop of banana gelato. Pure delight! The overall sweetness of the dish was sufficient that I declined my server's thoughtful suggestion of the glass of Sauterne often served with
foie gras
. I continue enjoying instead the flute of Veuve Clicquot Brut I had selected as an
apéritif
. Another first course had held my interest, albeit not sufficiently to make me renounce the
foie gras.
It was a most original trio of cold melon-based soups, that my server, Peter, thoughtfully arranged to have me taste as well.
The trio, a honeydew soup with a garnish of pickled ginger, a cantaloupe soup sprinkled with specks of country ham in a reduction of aged balsamic vinegar, and an especially interesting watermelon-cucumber soup, where both concoctions were served side-by-side in a contrasting red and green display topped with finely chopped cilentro gelée . Served in espresso cups, my tasting-size portions made an exquisite palate cleanser between the foie gras, and the Key Lime Scallops main course. My entrée consisted of three giant seared scallops, each served on a small basil-corn flap jack, and topped puréed buttered carrots, heart of palms and spring peas respectively, for a creative tri-colored presentation. It was a light but satisfying dish that let the delicate, just-off-the-boat sweetness of the scallops come through.
Because I can never resist an extravagant chocolate desert, I chose the Chocolate Hot and Cold assortment. Although excellent, this all-chocolate sampler turned out to be the least interesting part of my meal, or so satiated was I from the delights of the preceding courses that I was not able to do it justice? Hard to know for sure, but what is certain is that my dinner at Circa 1886 stood out as a highlight of my visit.
Other
The restaurant is named for the year the mansion was built
Reservations Strongly recommended, especially on weekend and during the summer season.
Date Of Review
July 2008
ReviewersArticle and photographs by Josette King
Service The service was superb, precisely orchestrated but friendly and unhurried. Although it was early in the week, every table was occupied, but my server seemed to appear by magic at the precise instant when he could answer a question or a wish, or to refill my glass of San Pellegrino water served at the correct temperature, chilled but not iced.
Would You Dine There Again-Recommend It? Yes
Contact Information
Address:
149 Wentworth Street
Charleston
South Carolina, 29401
Phone:
+ 1 888-466-1886
+ 1 843-853-7828
Fax:
Website:
Email: