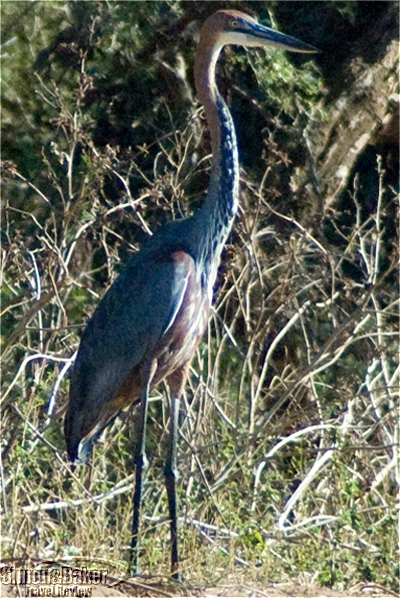 With its casual, friendly atmosphere, superb comfort and close proximity to continual game activity, Chongwe was an especially welcoming place where I could have happily settled for an extended stay.
Overall Impression
Located on the bank of the Chongwe River, at the point where it meets the Zambezi, the Chongwe River Camp offered a panoramic view of the western boundary of the Lower Zambezi National Park. Nestled in a lush grove of winterthorn acacias, this luxurious camp was designed to blend unobtrusively into its splendid surroundings: the steep Zambezi escarpment to the north and Zimbabwe's famed Mana Pools immediately across the Zambezi to the south. Pods of hippos filled the Chongwe like so many moving islands. Meanwhile, on the opposite bank, the park was home to a dense population of elephants and buffalos that constantly filed to the water for a drink or a bath, or came across to visit. More than once, my short walk from the common areas to my tent was delayed while an elephant ambled down the path, claiming its incontestable right of way.
The inspired architecture of the common areas ensured that the guests could fully enjoy the exuberant wilderness surrounding them. The lounge area was furnished with curving concrete platforms lined with thick pads and mounds of toss pillows, with every spot offering a different perspective. The lounge and bar were shaded by an oversized canvas roof stretched from sculptural tree trunks. The long family-style dining table, as well as an additional circular seating area, was set in the open air on an outcrop overlooking the confluence of the Chongwe and the Zambezi. The hospitality was as outstanding as the view, with a full coffee and tea service perennially set in the lounge, the bar open, the friendly and attentive staff constantly at hand, and a wealth of safari options available.
While sunset and night drives across the Chongwe River into the park were interesting, my favorite way to explore this bountiful environment was from a canoe. My guide Wedmore Kumbani, a Shona tribesman originally from Zimbabwe, was a quiet young man with a ready smile and an expert oarsman who could unobtrusively approach a fifteen foot Nile crocodile sunning itself on the bank or navigate around a pod of grumpy hippos. He could also spot from a distance the spectacular birds that inhabited the banks of the river, and smoothly glide to them for an undisturbed close up view. I quickly became a canoe safari enthusiast, with a newfound interest in bird photography! With its casual, friendly atmosphere, superb comfort and close proximity to continual game activity, Chongwe was an especially welcoming place where I could have happily settled for an extended stay.
Location
The Chongwe River Camp was immediately across the Chongwe River from the western boundaries of the Lower Zambezi National Park in southeastern Zambia, approximately 30 minutes by air from Lusaka.
Class Of Accommodation Luxury safari camp
Communications : Internet wireless connectivity could be arranged between 7am and 8pm, at the mercy of the satellite connection. Cellular telephone service was available with a GSM 900/1800 compatible international cell phone. The camp also had UHF and HF radios for emergency communications with the outside world.
Handicapped Access No wheelchair accommodations were available. By previous arrangement, the camp could accommodate hearing or vision impaired visitors traveling with non-impaired companions.
Length Of Stay Two nights
Owner And Manager Christiaan Liebenberg
Power The camp used paraffin lanterns as well as solar powered ones. Solar electricity was available in the lounge to charge batteries for small electronic equipments. A NW-135C adapter was necessary to use the electrical outlets (the kind used in the U.K.).
Size Chongwe occupied about 10 acres (40,500 square meters) of prime river frontage. It consisted of eight guest chalets capable of accommodating up to 16 guests. In addition to a managerial staff of five, the camp included 40 local employees, including four game viewing guides for driving, walking and canoeing safaris, plus three coxswains and fishing guides.
Transportation From Lusaka, reliable charter airline flights were available daily to the Royal airstrip. It was a 30 minute drive on bush roads from Royal to the camp, which provided transportation to and from the airstrip. Getting around the Lower Zambezi National Park area was either by land cruiser, motorboat, canoe, or on foot.
Year Open-Renovated The camp originally opened in 1999. It was fully refurbished each year and the object of on-going enhancements. At the time of my visit, a new suite, the Albida Suite, including two rooms under separate Bedouin-tented roofs and a private plunge pool, was under construction, and scheduled to open in August 2007.
Lobby And Common Areas Set in a grove of mahogany and winterthorn acacia trees, the common areas included a spacious lounge and bar area under a tented roof. Furniture consisted of free-form curving saffron-colored concrete platforms covered with thick pads upholstered in light green canvas and bright cotton pillows made of local weavings. A collection of books on the local fauna, flora and culture was scattered about the lounge area. A large circular open-air seating area with comfortable wooden armchairs overlooked the river. It served as breakfast spot and was an inviting place to socialize around an open fire at night, or to gaze at the starry African sky.
Bathroom
The bathroom was a 250 square foot (23 square meters) open air enclosure in the back of the tent, with high privacy walls of concrete and thatch. Fixtures included a sink made of a slab of polished concrete on a wooden stand with a mirror above, a flush toilet and shower with a stone base built in the far corner of the room. Hot water was available. A wooden shelf tucked under the outer overhang of the tent held ample supplies of bath and face towels and provided storage. Bathroom amenities were some of the most thoughtful that I have seen in camps anywhere.
Room My chalet, Number Six, was a 435 square foot (40 square meters) tent under a thick thatched roof, raised on a brown polished concrete slab. On three sides, multiple windows covered with netting let in cooling breezes and a breathtaking view that reached from the Mana Pools across the Zambezi to the south and to the steep Zambezi escarpment to the north. The front of the tent offered an intimate view of the Chongwe River and the park on the opposite bank. Outside, a thickly padded lounge chair was my favorite spot to read or observe the frequent game activity during the hot hours of the day. The rear of the tent led down two steps to a walled open air bathroom. The tent was invitingly furnished in simple African safari style, with two comfortable double beds covered with white cotton throws, flanked by wooden bedside tables. On the opposite wall, two wooden chests doubled as luggage racks. In the evening lighting was provided by solar powered lanterns.
Food The food was delicious and varied. All meals were served in the open air, on an outcrop between the river and the lounge. Breakfast was buffet style in a circular seating area around a camp fire. Lunch and dinner were served family style at a long, linen clad table.
Amenities
In the bathroom, an attractive display in a palm tray included full size tubes of body wash, shampoo, conditioner, body moisturizing cream, insect repellent, as well as moisturizing soap, feminine hygiene sundries and a pocket-size package of tissues. In addition to the bathroom supplies, chalet amenities included daily laundry, thermos of chilled drinking water, a flashlight, mosquito and insect control products. Use of a safe was available in the main office. All meals and beverages were also included, as well as all daily game viewing activities.
Swimming Pool The pool was 16 by 36 feet (five meters by eleven meters), with depth ranging from four to eight feet (one to two meters). It was surrounded by a five foot (one and a half meter) concrete apron that held three lounge chairs with thick padding and a large sun umbrella. Towels were available on demand.
Game Viewing While at Chongwe, I sighted: elephant, hippo, buffalo, genet, bushy-tailed mongoose, civet, chec ma baboon, impala, bushbuck, waterbuck, Nile crocodile. Birds included: Pel's fishing owl, hammerkop, goliath heron, cattle egret, double-banded sand grouse, African fish eagle, water dikkop, African jacana, African pied wagtail, malachite kingfisher, green-backed heron, reed cormorant, white-crowned lapwing, white-fronted bee-eater, little bee-eater, Egyptian goose, Marshall eagle.
Activities Morning and late afternoon game viewing activities included canoeing, pontoons boat cruises, walks and drives. Fishing for the famed Zambezi tiger fish was also an option. Fishing was on a strict catch and release basis. Game drives were available in the early evening using powerful spotlights to see nocturnal animals. In addition to the rich concentration of game, the banks of the Chongwe were host to a spectacular birdlife.
Other Because of the proximity to wild game, children had to be at least 12 to visit.
Cleanliness
Excellent
Date Of Last Visit July 2007
ReviewersArticle and photographs by Josette King
Service The unobtrusively attentive and friendly staff provided excellent service. The room was serviced twice a day.
Would You Stay Again? Yes
Contact Information
Address:
c/o Kuehne & Nagel
8131 Mwembeshi Rd
(off Lumumba Rd)
Light Industrial Area
Lusaka, Zambia
Phone:
Fax:
Website:
Email: