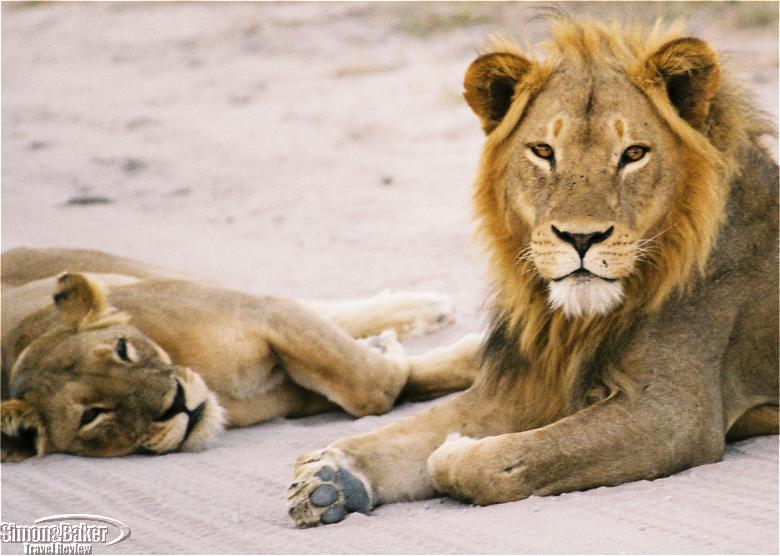 And animals were what Chobe had in abundance.
Overall Impression
We were amazed by the quality of the game viewing near the Chobe Safari Lodge. During our first private river boat ride we saw three of the big five, including a teenage leopard on the bank of the river. Our patient, knowledgeable and able private hire driver/guide Flores led us to one impressive viewing after another, including a sitting buffalo less than 20 feet from our boat; an elephant family with young; a large hippo pod of 20 or more adults and pups; two spectacular African eagles; a 70 year old crocodile and more.
From the porch of our comfortable air conditioned room, we saw vervet monkeys (could have touched them when they came to our porch); and civets during the day. With the porch doors open we could hear the hippos and hyenas at night. On our way to lunch we ran into a pair of squeaking adult wart hogs. We appreciated the flexibility the Chobe Safari Lodge offered for game viewing and other activities. Having the option to enjoy them at the time of our choice by booking a private boat or game drive made the experience more pleasurable and relaxing. That made up for the self-service atmosphere and buffet meals. After all, we were in Africa to see the animals. And animals were what Chobe had in abundance.
Activities Coordinator
Michelle Muller
Handicapped Access 16 ground floor Safari Rooms are handicapped accessible
Internet Connectivity Internet Room with two computers available to guests for an hourly fee. It was open from 8 a.m. to 6 p.m. seven days a week. The connection was down when we visited.
Length Of Stay Two nights
Location On banks of Chobe River; 4 kms from the Chobe National Park and 3 kms from Kasane International Airport; 80 kms from Victoria Falls (across the border)
Operations Manager Emile Muller
Owned John and Louis Mynhardt
Size 74 rooms: 32 Safari Rooms (newest and top in the property); 22 River Rooms
Year Opened-Renovated Built in 1959; Safari Rooms built in June 2002; River Rooms updated in 2003.
Lobby And Common Areas: A historical African theme was evident throughout. We saw sculptures, animal charts, vintage photos and other regional decorative items around the common areas.
Bathroom
: Open design with sink facing bathtub; separate w.c. (water closet or toilet); and separate shower stall. There was a constant parade of insects of one kind of another, especially in the bathroom area, adding to the realism of our Africa adventure. None of them bit or harmed us.
Room Our new looking and spacious luxury safari second floor room and bathroom area was about 500 square feet in size. Decorated with safari motif, it included individual mosquito nets and wall decorations such as pith helmets and spears (not authentic). The furniture included a television, double bed, desk and chair, and small wooden closet and two shelves for folded items. The back doors led onto an open balcony with some comfortable chairs. The monkeys on the property were quite shameless and it was necessary to leave the doors locked whenever we were not on the balcony to avoid having them in our room.
Food And Restaurants
Breakfast (buffet) was served in the waterfront restaurant; lunch (a la carte) and dinner (buffet) were served at the poolside terrace. No room service was available.
We found better selection and hotter food when we arrived early for breakfast and dinner; this was a challenge when we returned from a game drive at 9:45 a.m. and breakfast ended at 10 a.m. The staff graciously held up the meal for our benefit and that of other late arriving guests. Our one lunch experience was disappointing. Though we explained to the waiter we had limited time, it took a long while for the food to arrive; a half an hour after we placed the order the waiter told us one the dish was not available and we could only order the special of the day.
Breakfast included cold and hot sections with cereal, fruits, jams, bread, mushrooms, impala, liver, small pancakes, and made-to-order eggs. Dinner included a selection of local food such as impala, kudu and mopane worm dishes. There were also salads, pasta, chicken, fish, potatoes, sausages, and grilled meats.
Amenities
Valet parking, free parking, shoe shine service. The room had an electronic safe and in-room coffee/tea service. The bathroom amenties were generic hotel quality but did include insect repellent, which was recommended so close to the river.
Facilities Bar, restaurant, conference room (used as an exercise room when available), squash court, boat dock, and curio shop.
Pool Plenty of guests cooled down in the pool from the heat of the day. We lost our desire after getting a close look at the murky water and many leaves in the water.
Game Viewing : Elephant, leopard, buffalo, crocodiles, lion, giraffe, hippo, impala, warthog, waterbuck, puku, Egyptian geese, baboons, vervet monkeys, fish eagles, bee eaters,
Activities
We loved the private tour options which allowed us the flexibility of stopping to quietly observe and photograph the animals at our leisure. We were fortunate to find some of the best game viewing during our four weeks of safari travel in southern Africa. The private boat excursions were especially fruitful; the early morning fishing outing on a tiny river boat, though off season, afforded us an opportunity to visit another area of the river. Game drives in 4 X 4 vehicles were in the early morning or late afternoon just as the boat rides so we had to choose. Our favorite option was the boat ride which allowed us to see many animals, who unafraid of humans, were seen frequently on the shores of the mighty river. Game driving in the Chobe National Park provided us another perspective though the animals there were more elusive than on the boat rides. We returned dusty and tired from the bumpy ride.
The Lodge offered a number of game viewing and tour options for hotel and self catering/camping guests: Afternoon river cruises (morning one during season); day time game drives three times a day (no evening drives were allowed inside the Chobe National Park); private boat hire available from 7 a.m. to 2 p.m.; 2-hour walking safaris (tour lasted 3 hours) at Lesoma Valley near the border with Zimbabwe; bream and tiger fish private fishing excursions (2 to 10 hours); 1.5-hour Namibian village cultural tour only available through two lodges in the area; and day trips to Victoria Falls (Zambia/Zimbabwe); and Botswana's Okavango Delta including a flight in a Cessna, mokoro (canoe) ride and picnic lunch.
The Health & Beauty Center listed manicures, pedicures, massages, and waxing services offered by a part time South African trained and certified beautician. Scheduling these services required a day's notice.
Conference Facilities
One air conditioned conference room for up to 50 people. Basic audiovisual equipment including an overhead projector, TV and VHS, microphone were available.
Other In spite of a light brown color, tap water at the Chobe Safari Lodge was purified and potable. That meant, we were told, guests could enjoy fruits, salads and ice safely.
Three times a week there were aerobic classes in the conference room when it was available.
Guests at the neighboring camp site and the Chobe Safari Lodge, property of the same owners, shared the Lodge facilities and had access to the activities and game viewing drives and rides.
Collect calls were not possible from the Lodge and AT&T service was not accessible. International direct dial calls were possible from our room.
Contact Information
Address:
P.O. Box 10
Kasane
Botswana
Phone:
Fax:
Website:
Email: