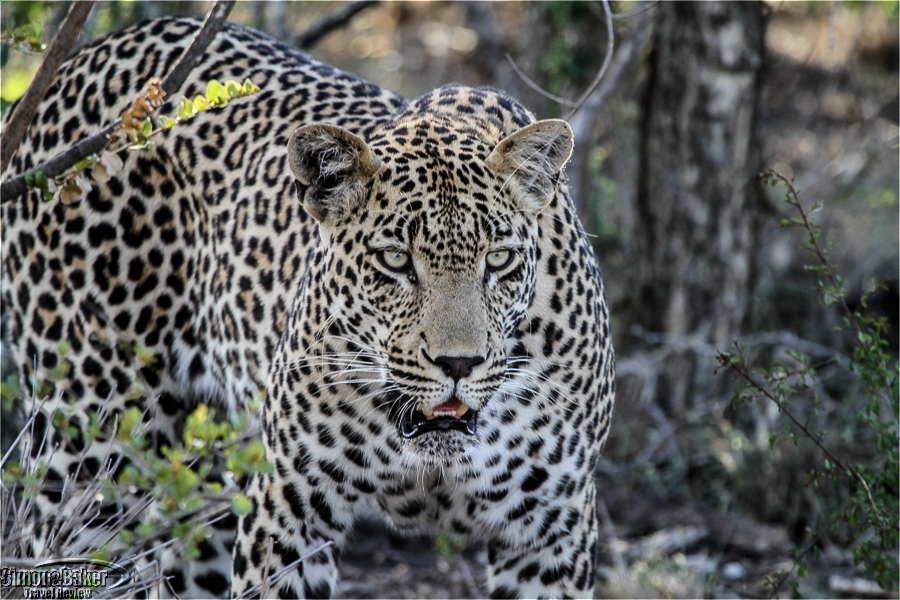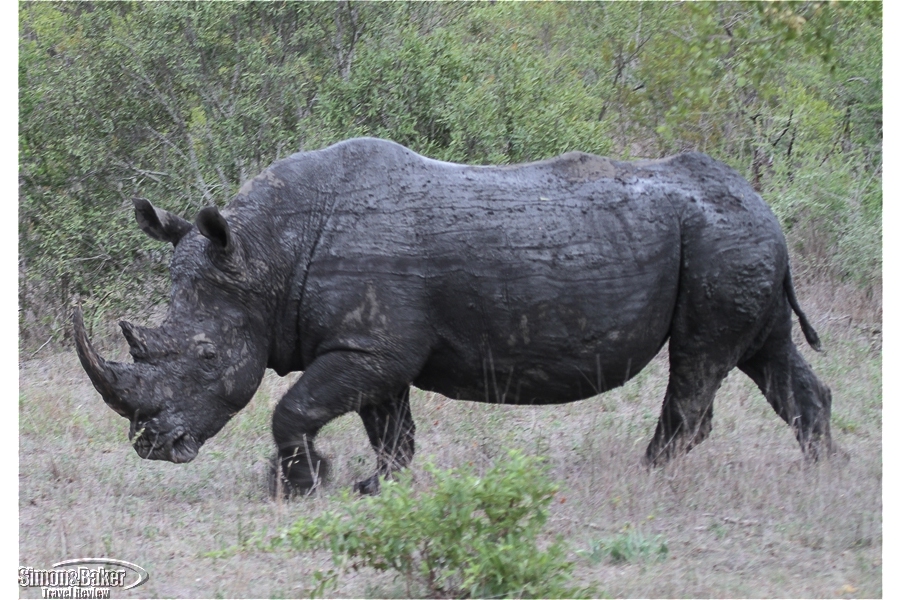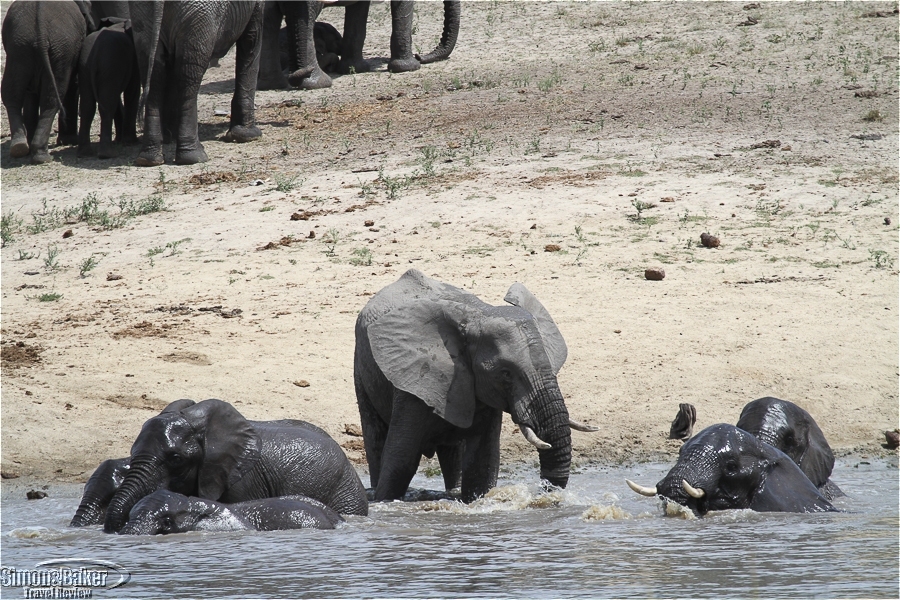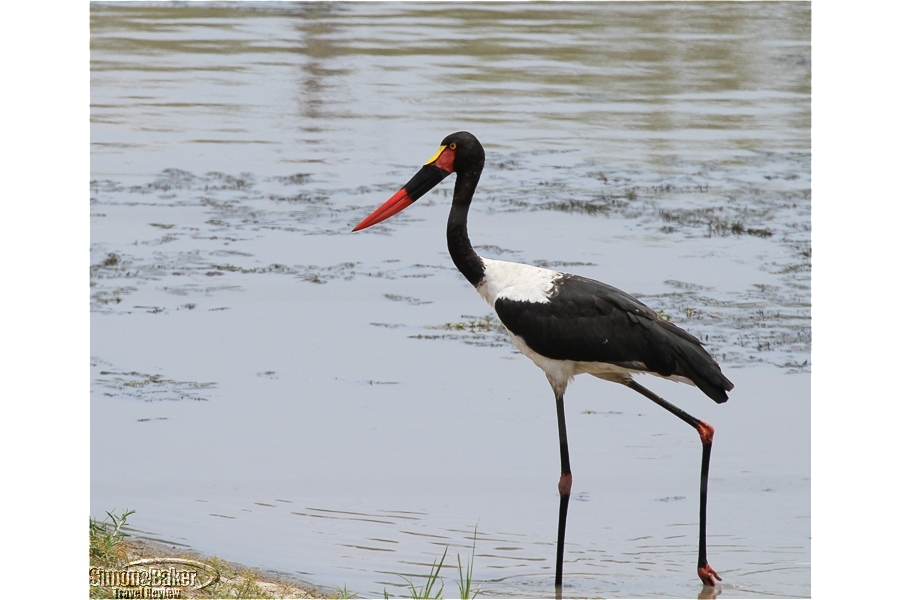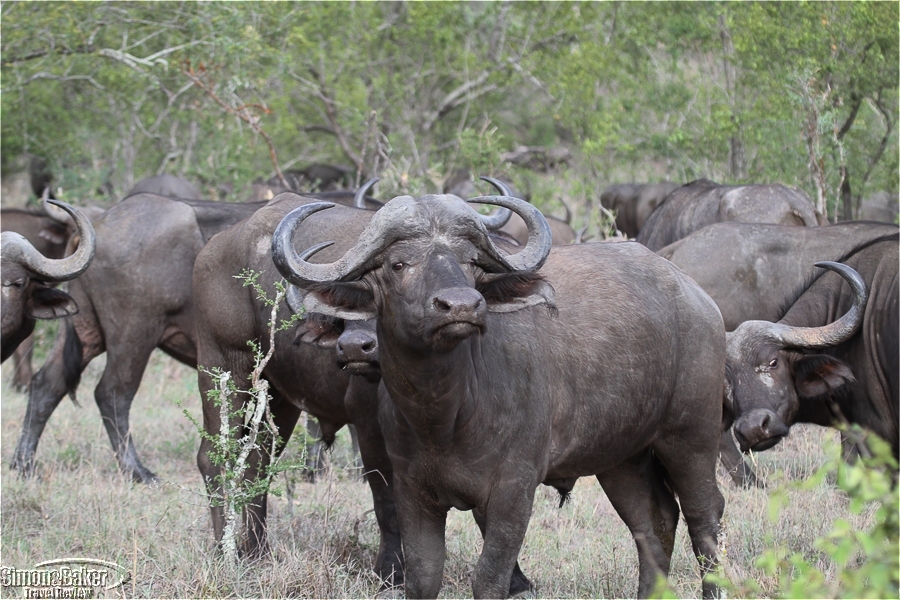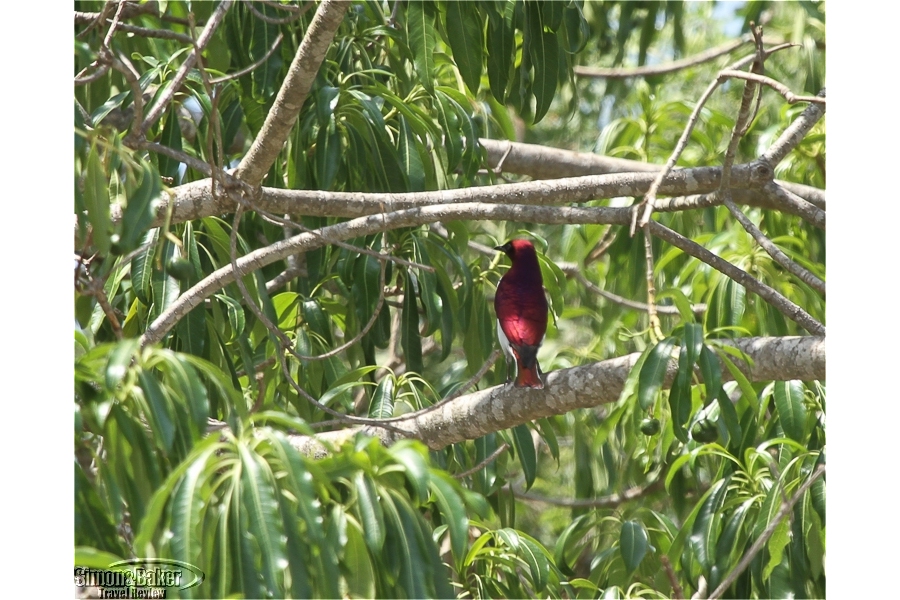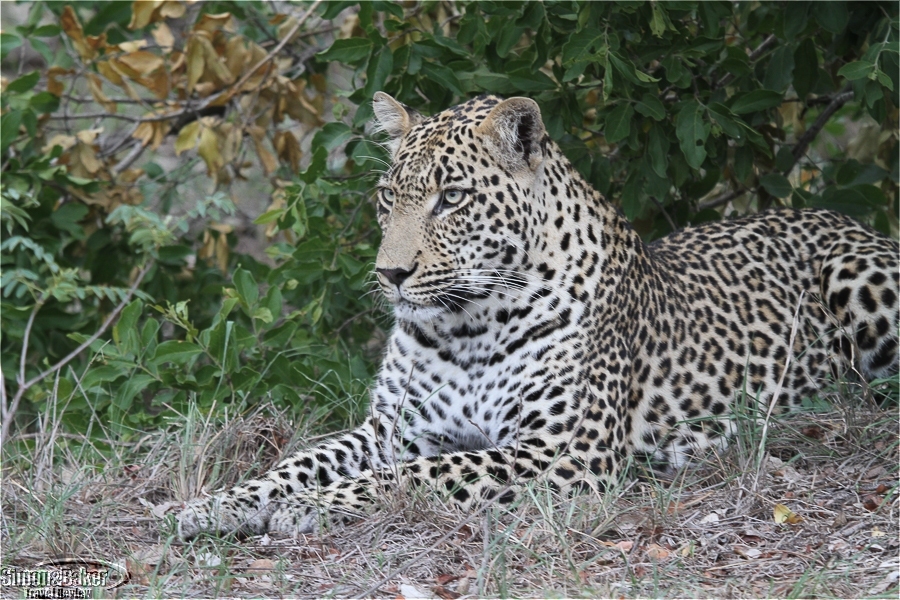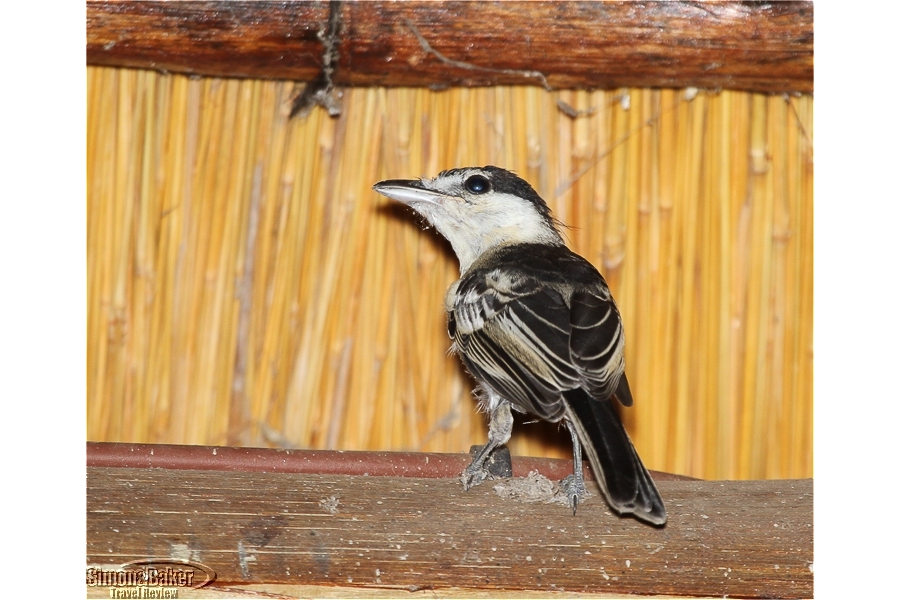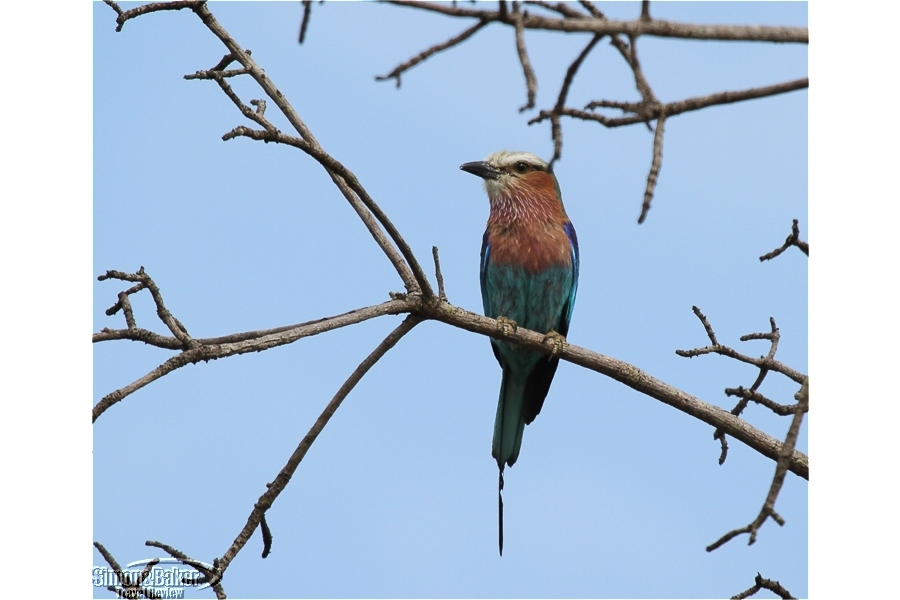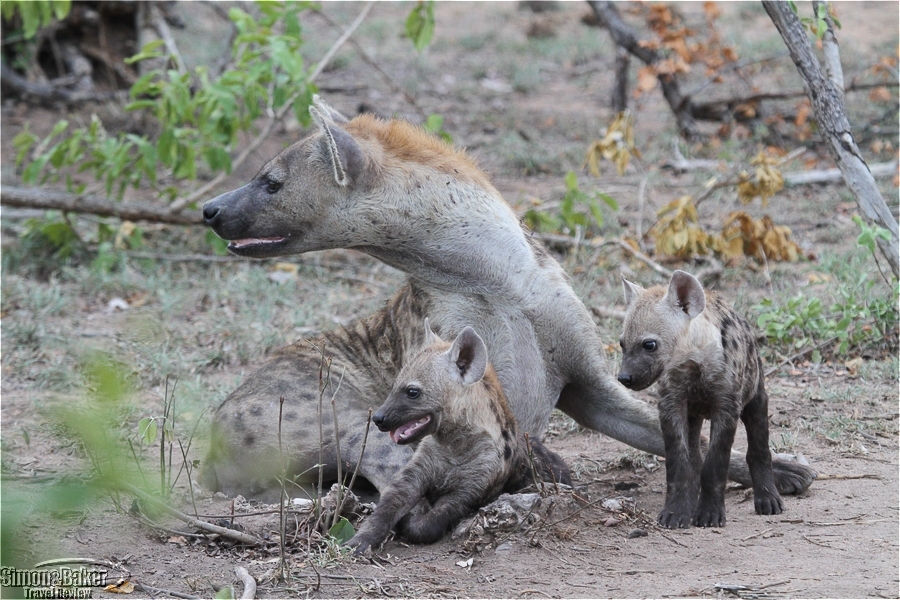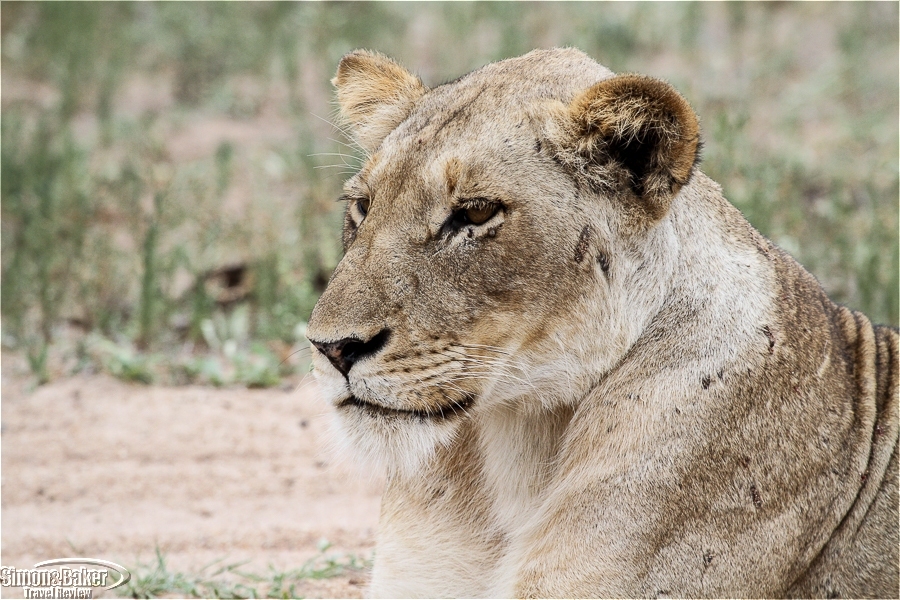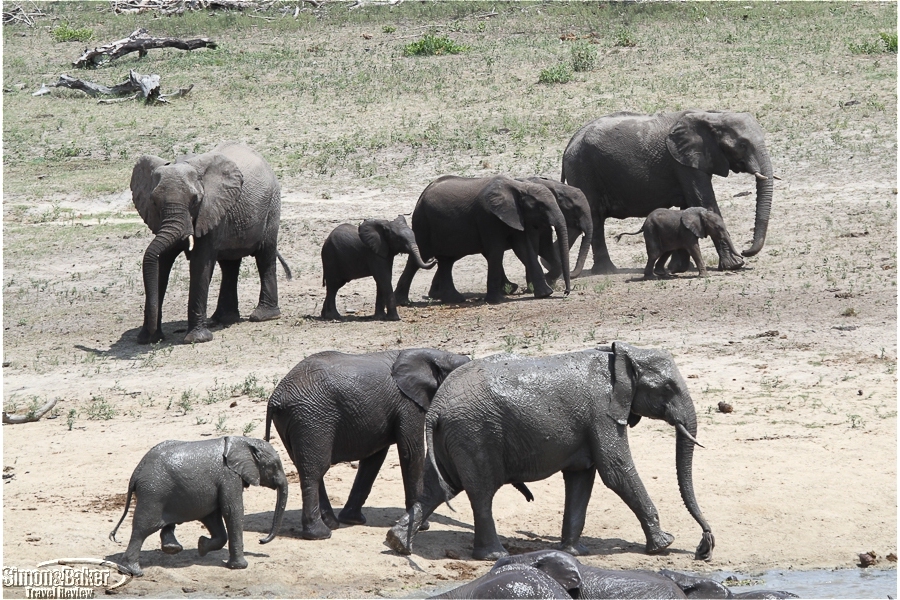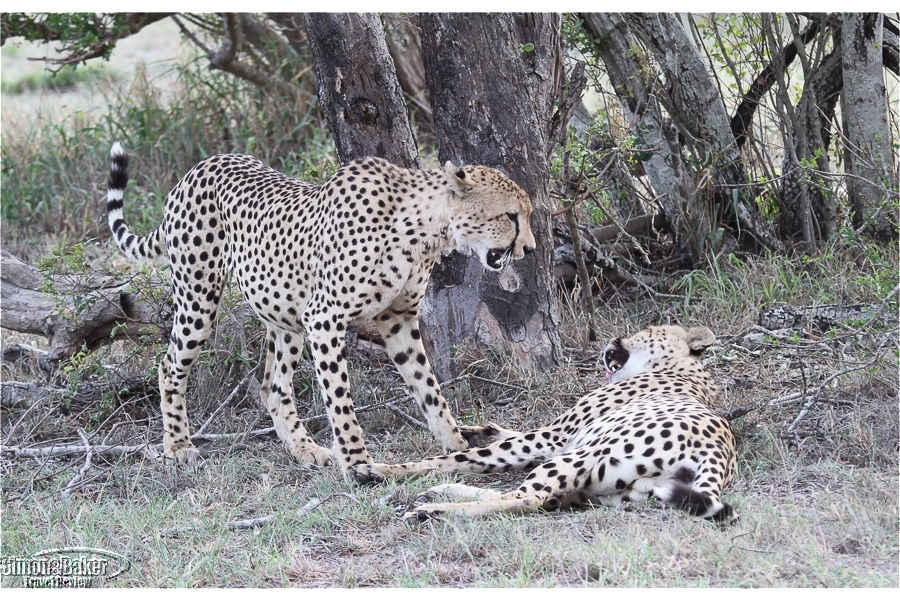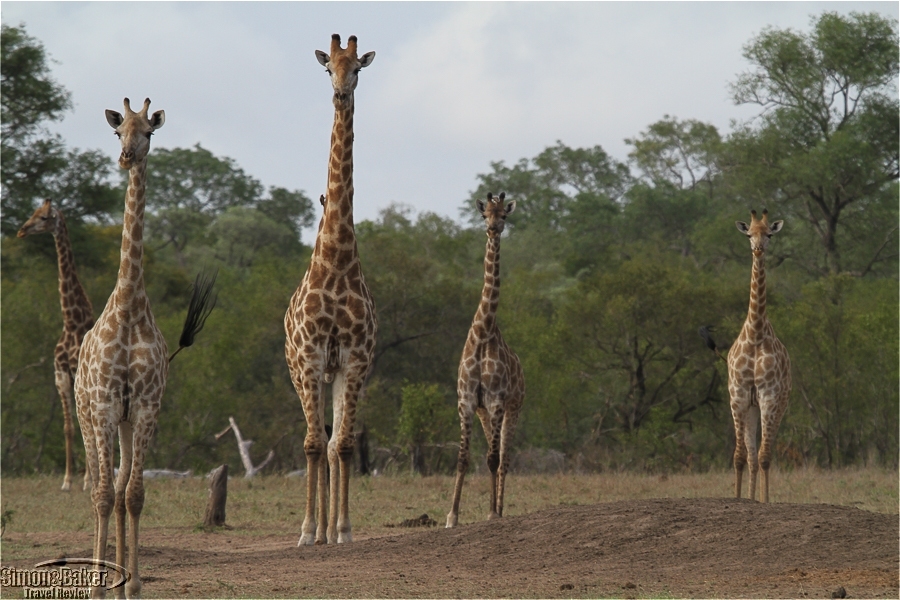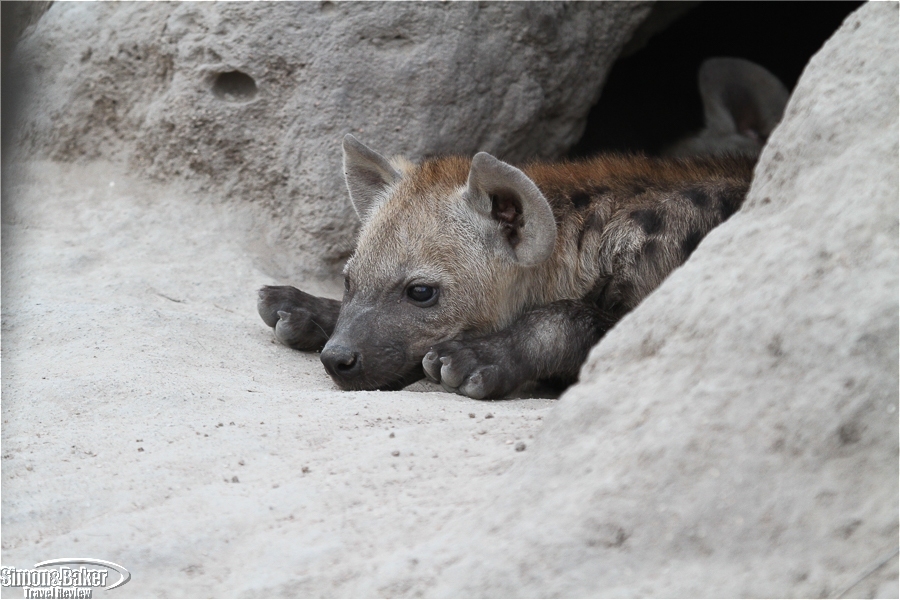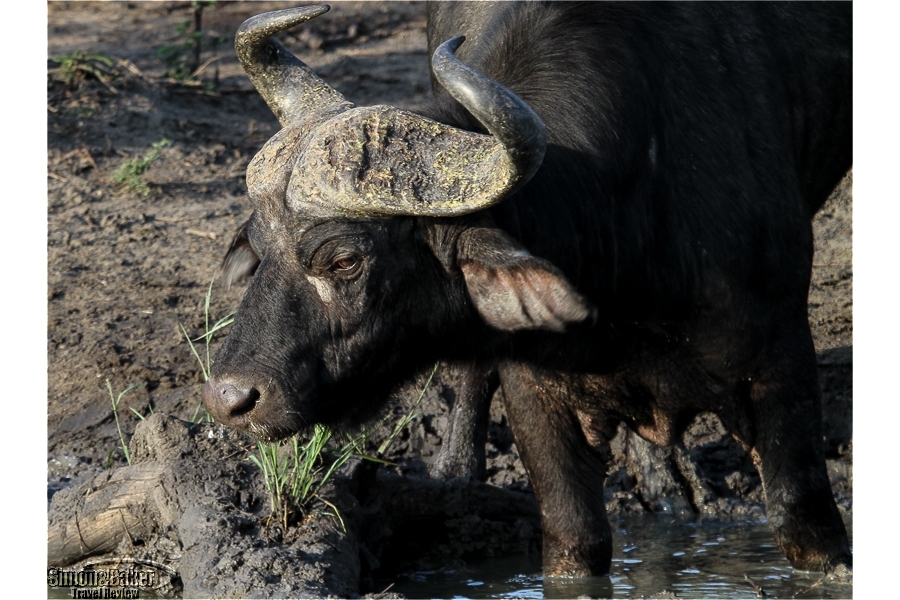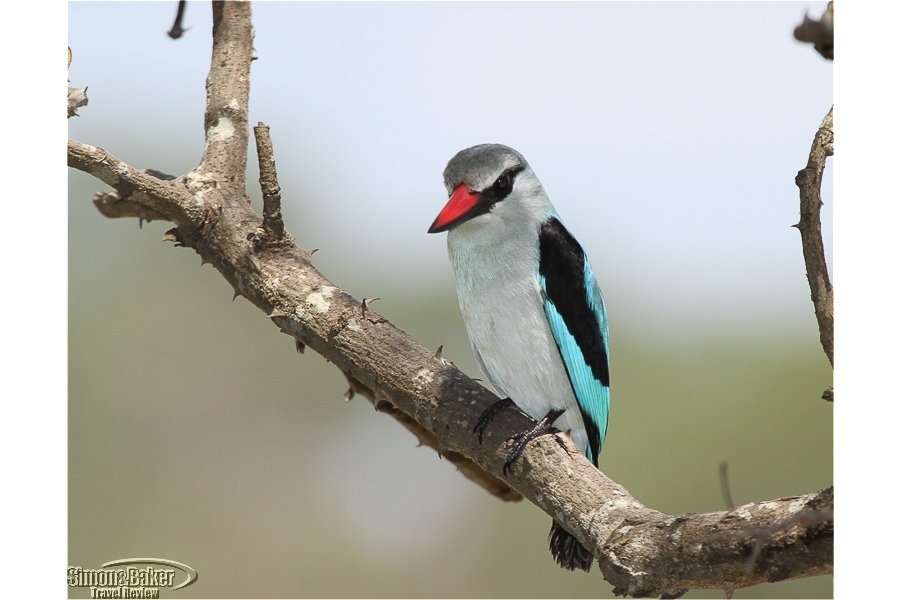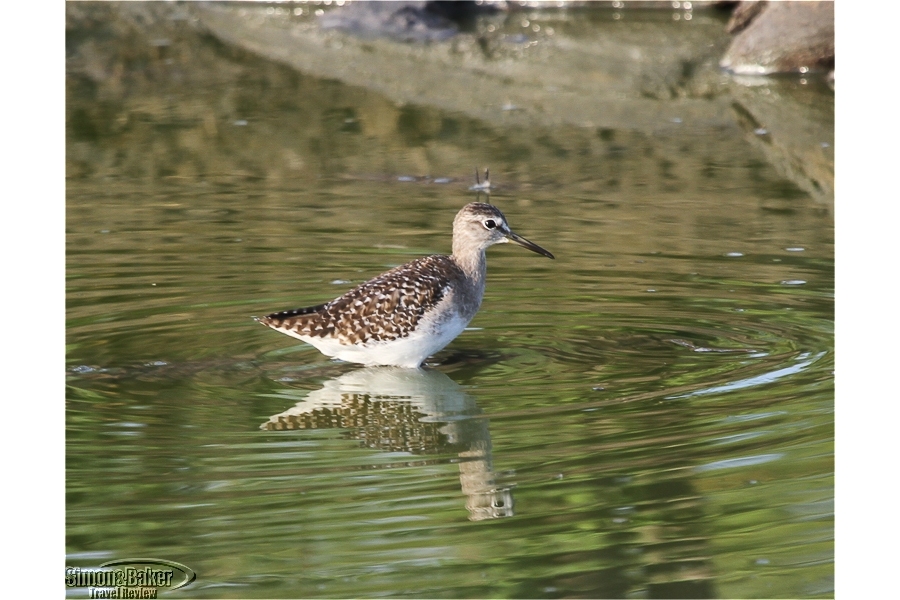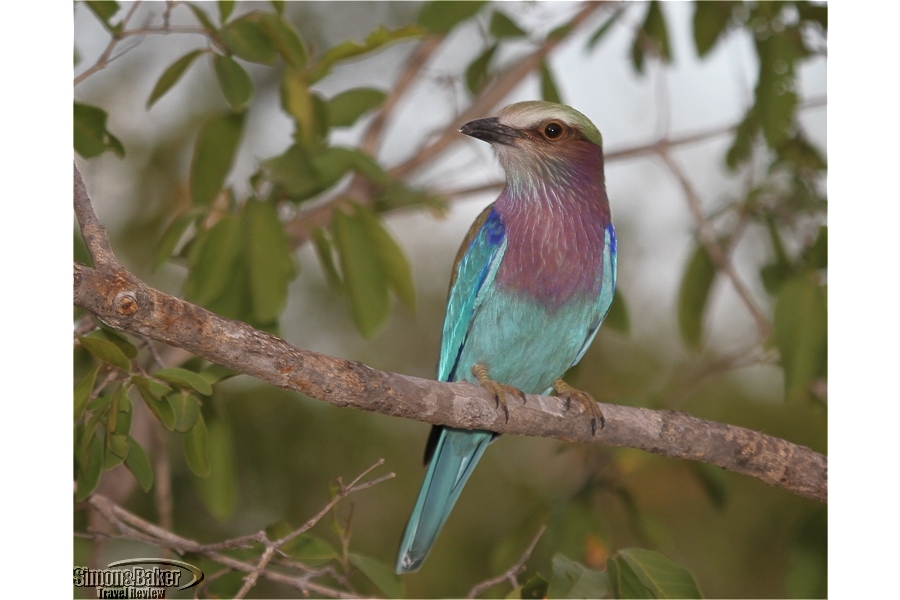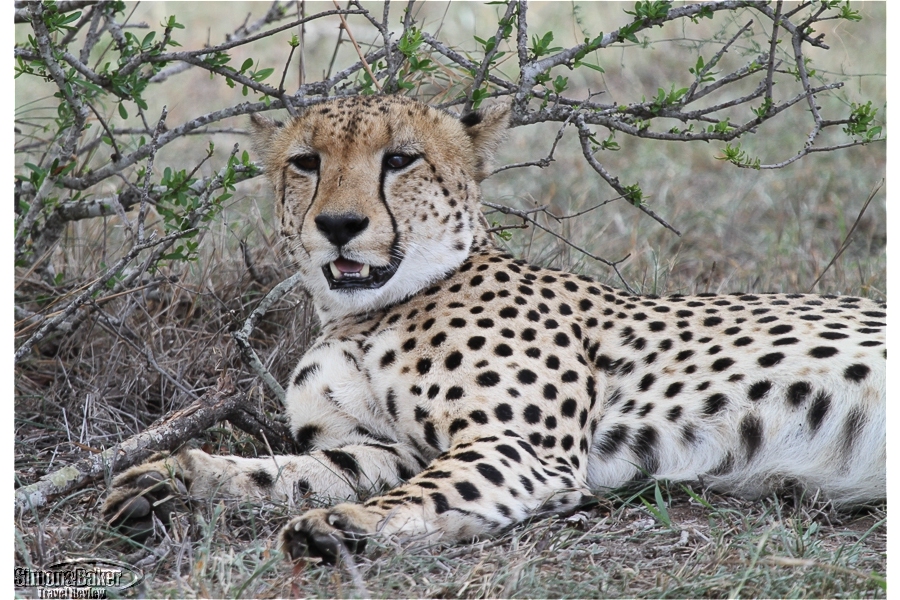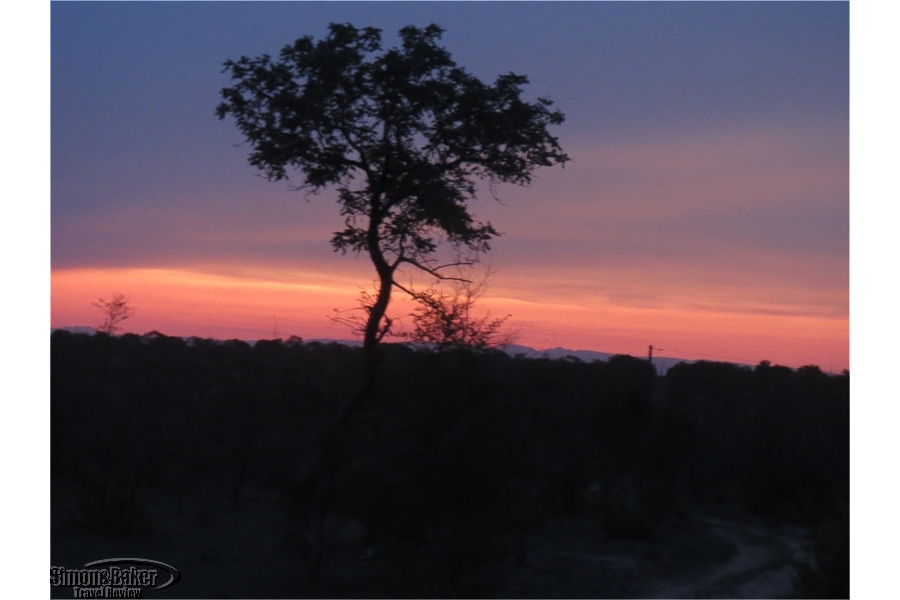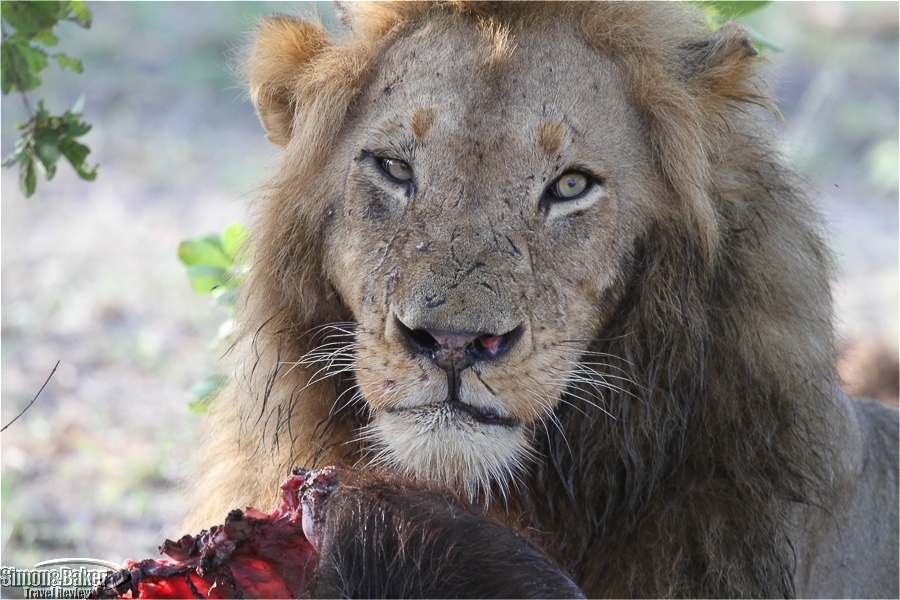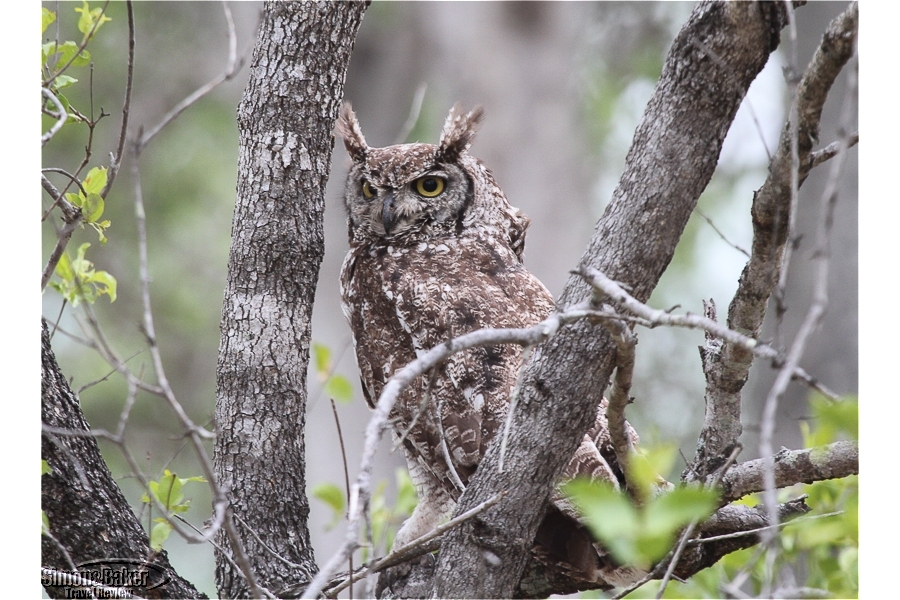 We would recommend the lodge to friends and acquaintances who are fans of boutique safari properties, fine meals with a liberal dose of hot spices, and Big Five game viewing.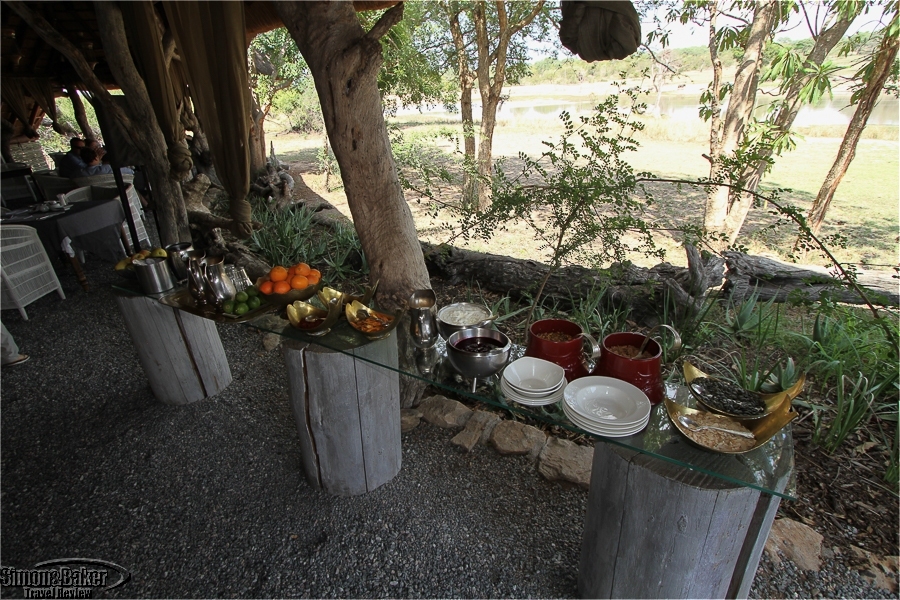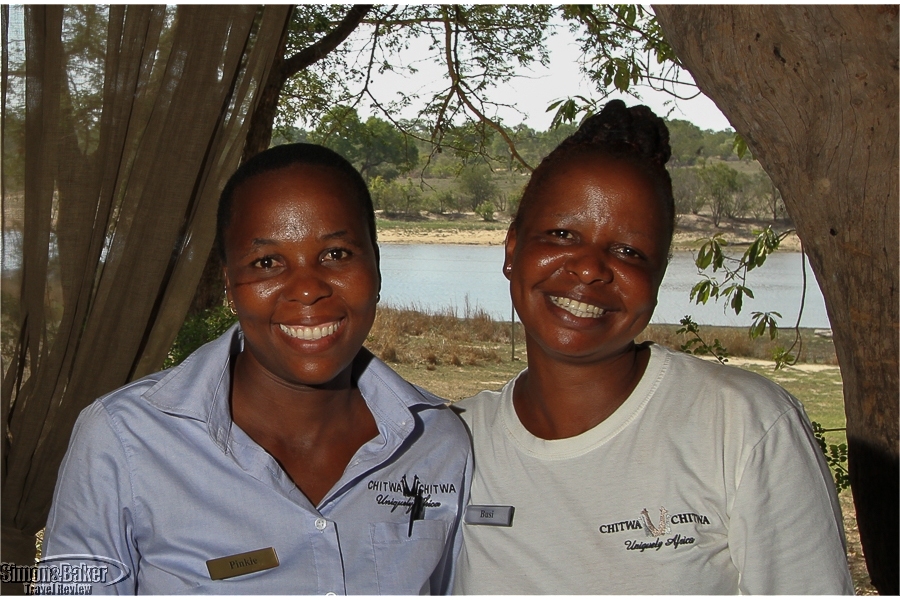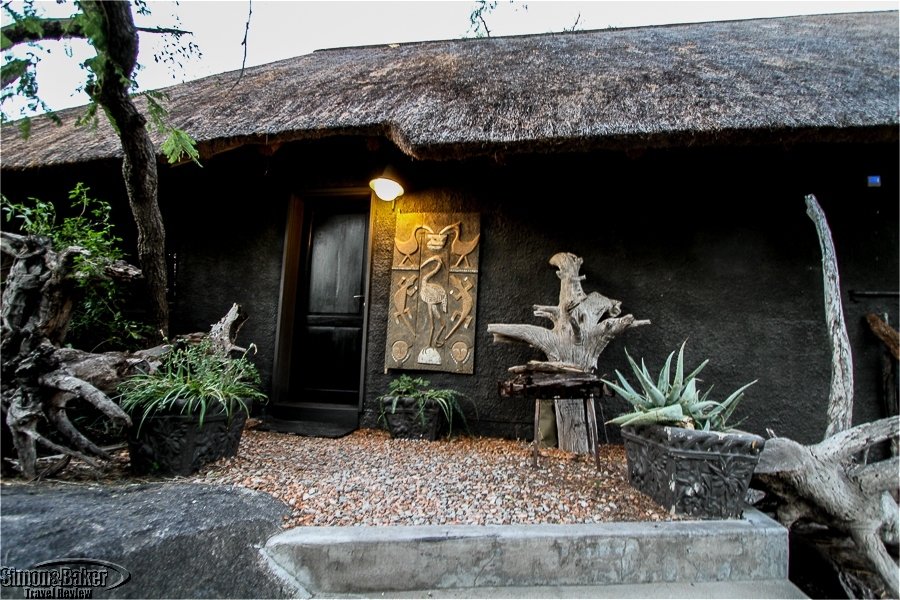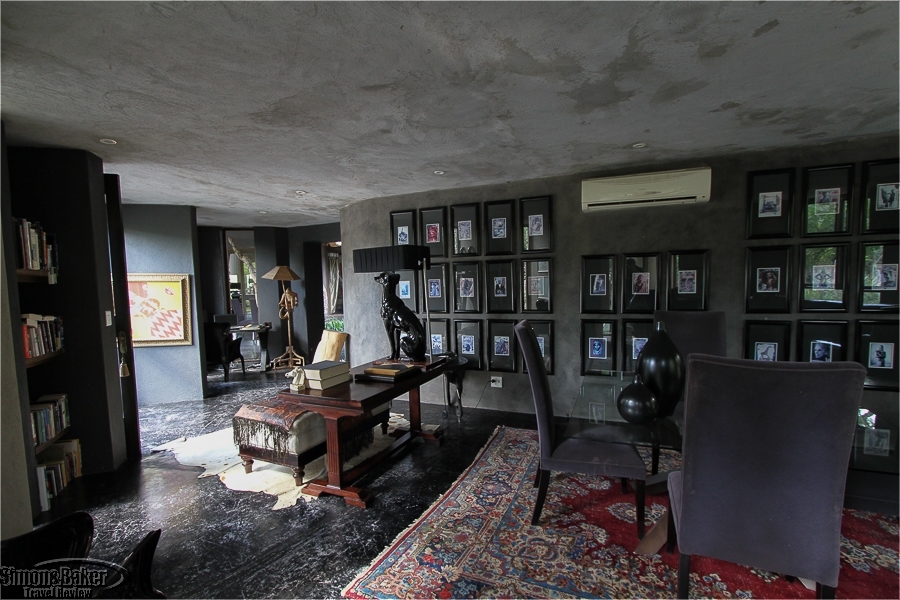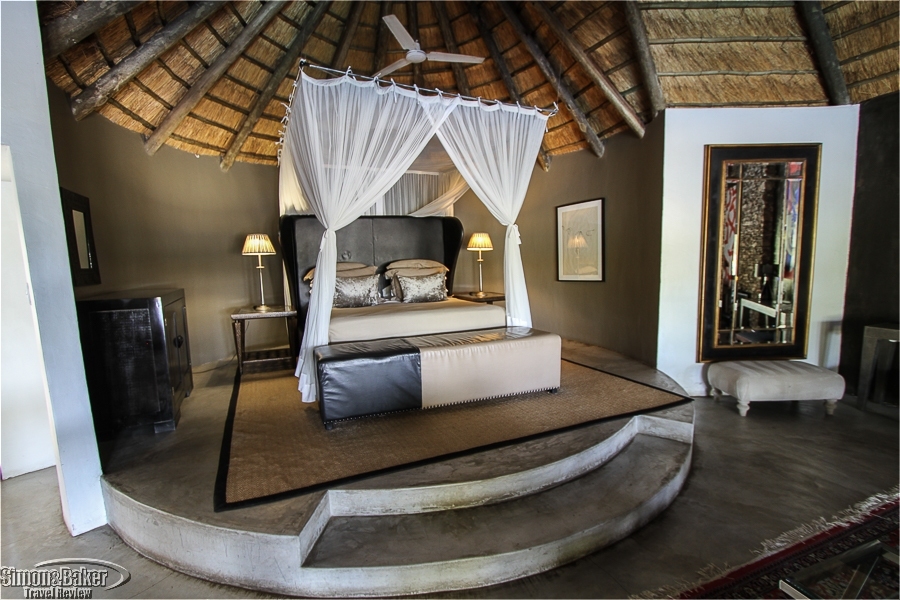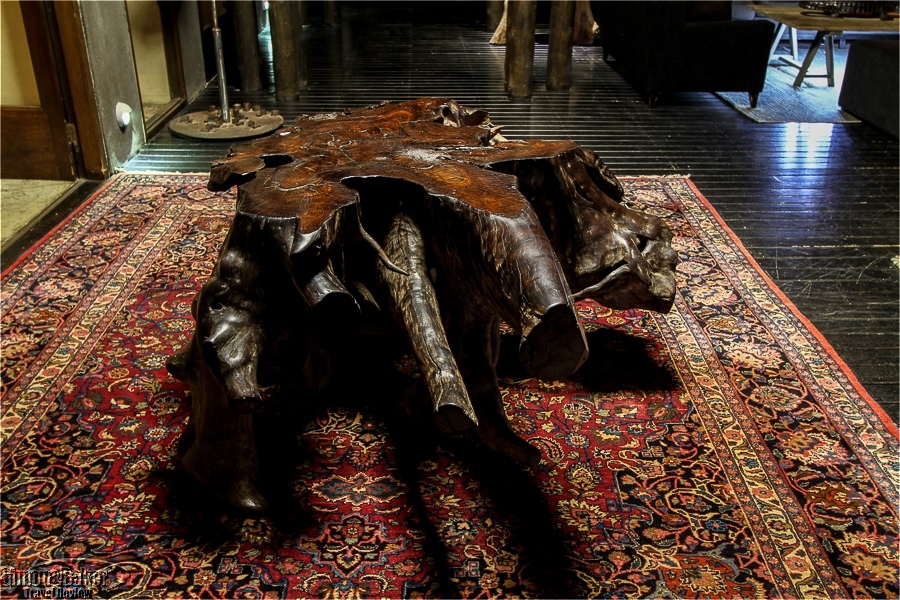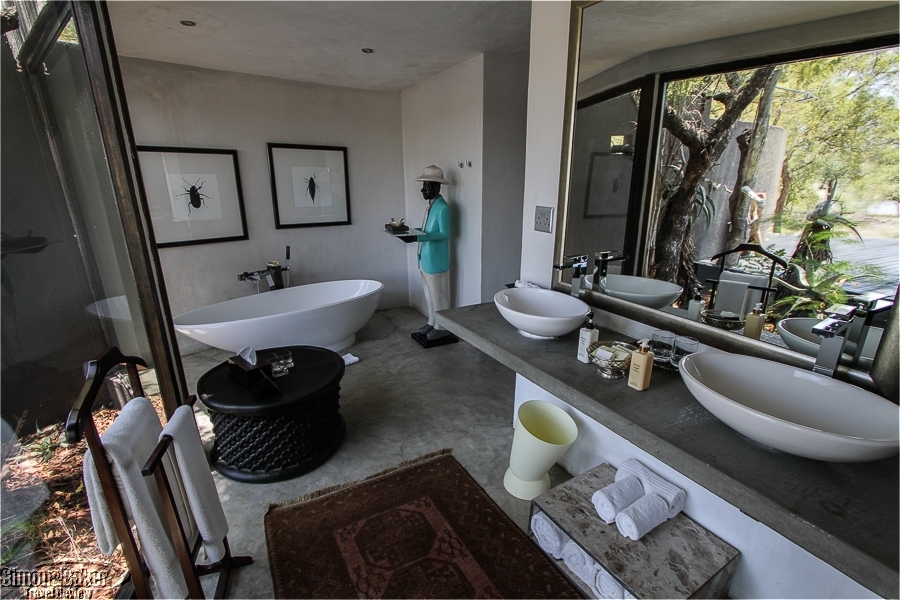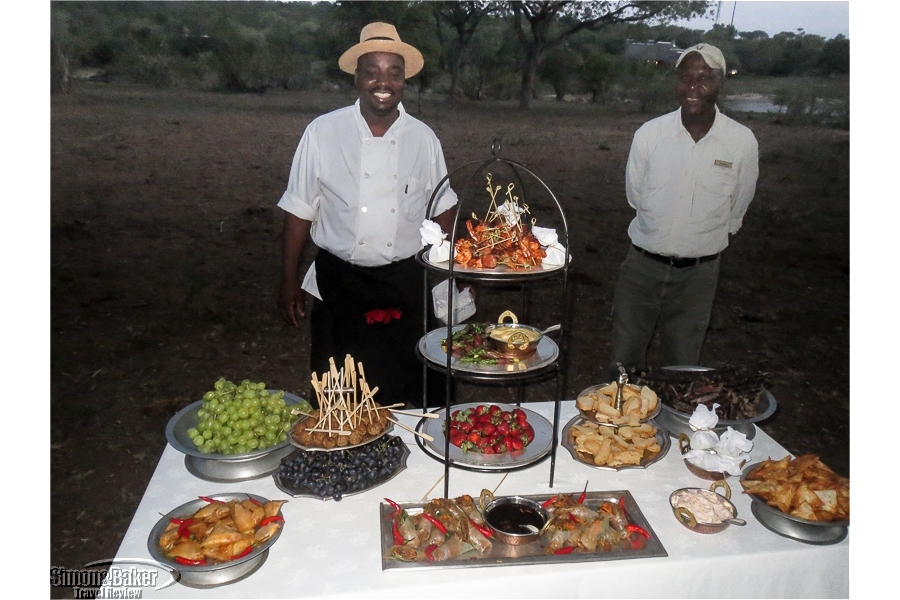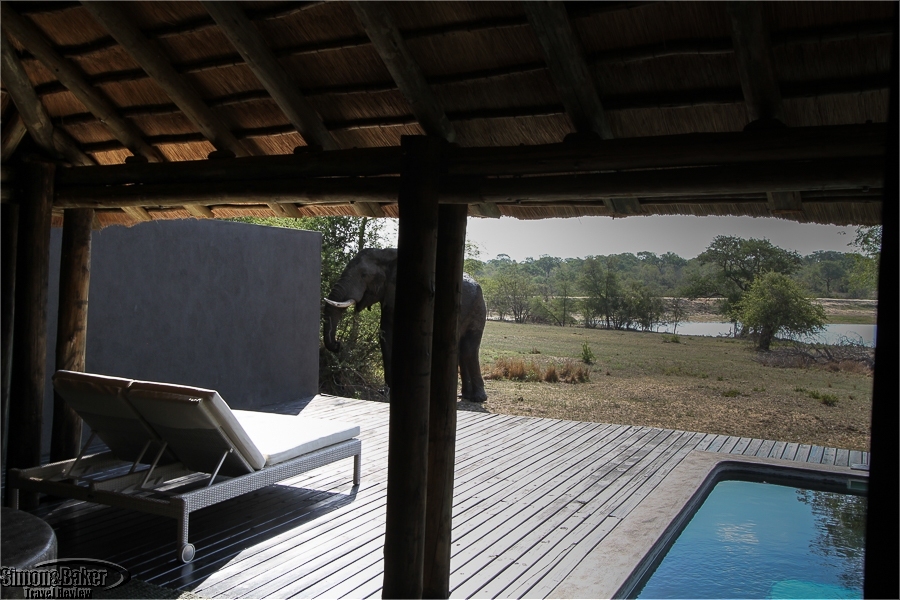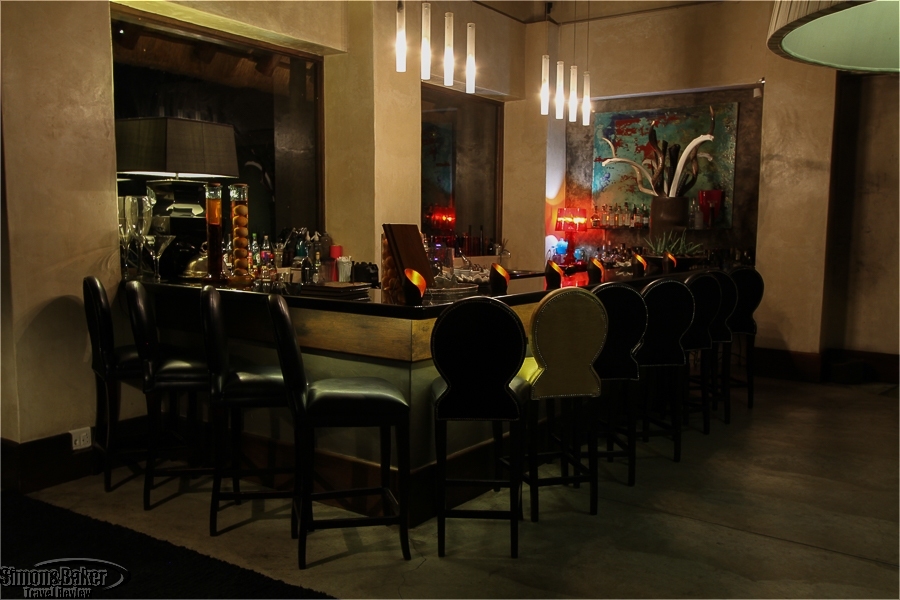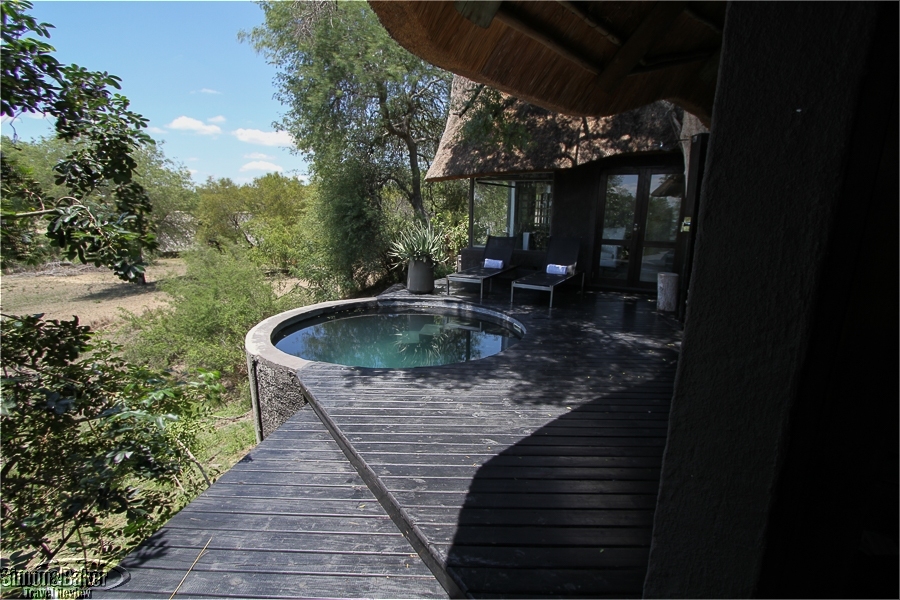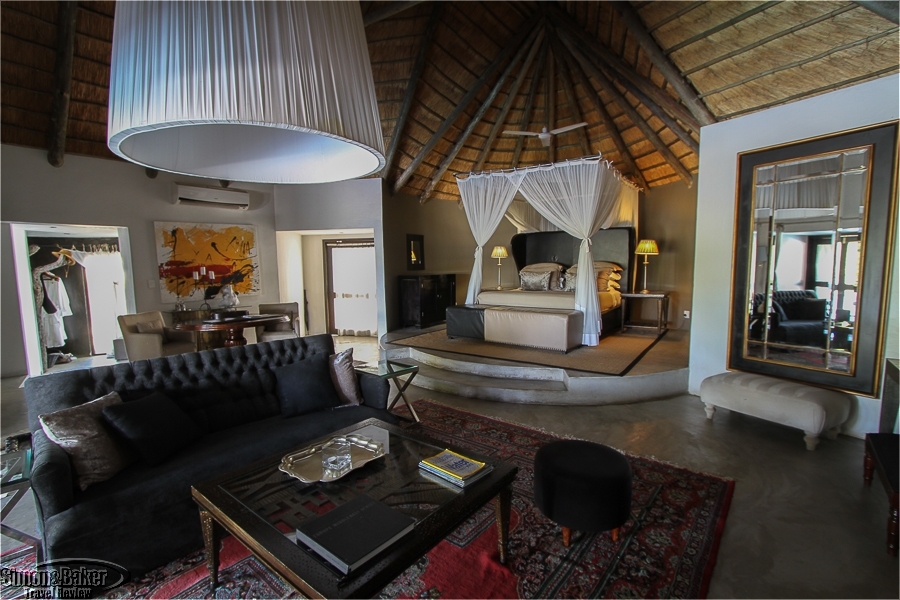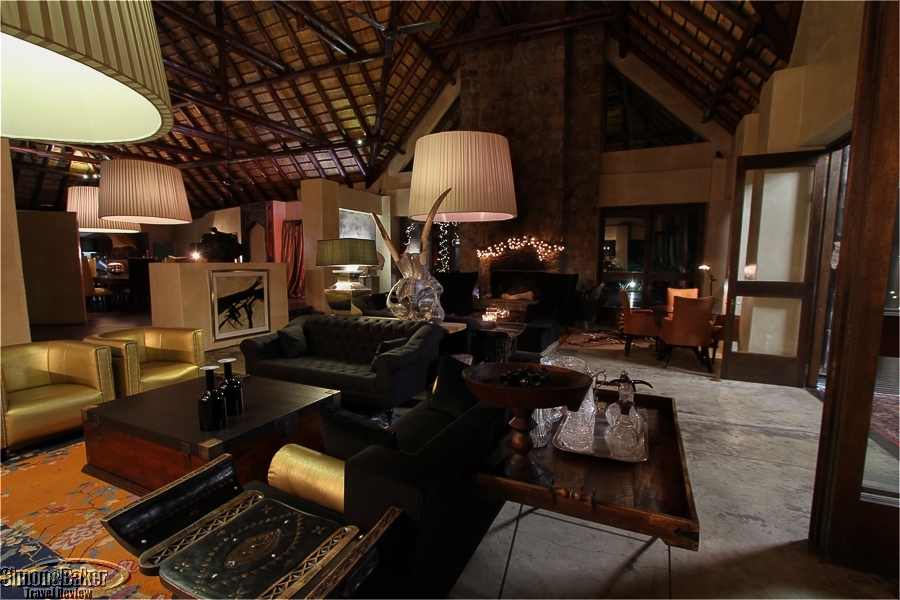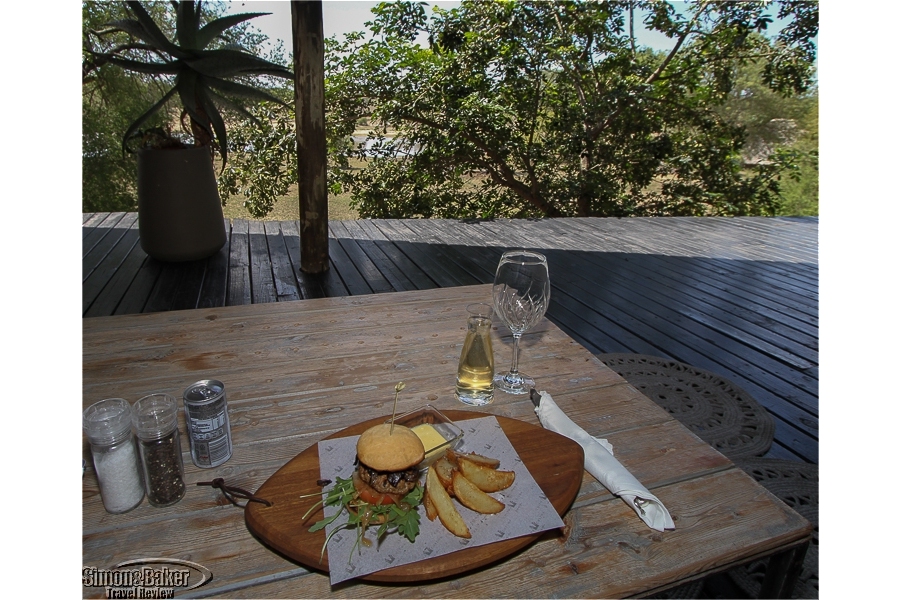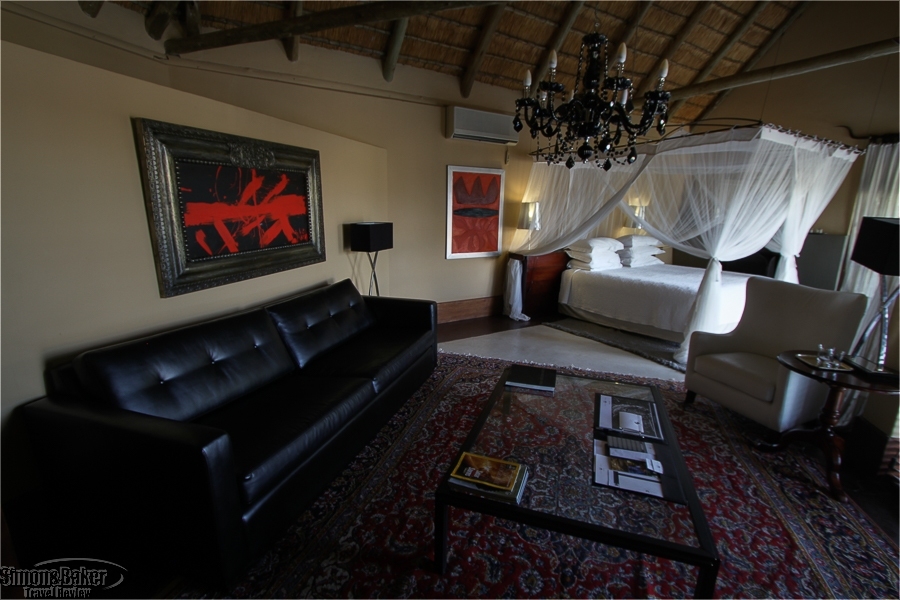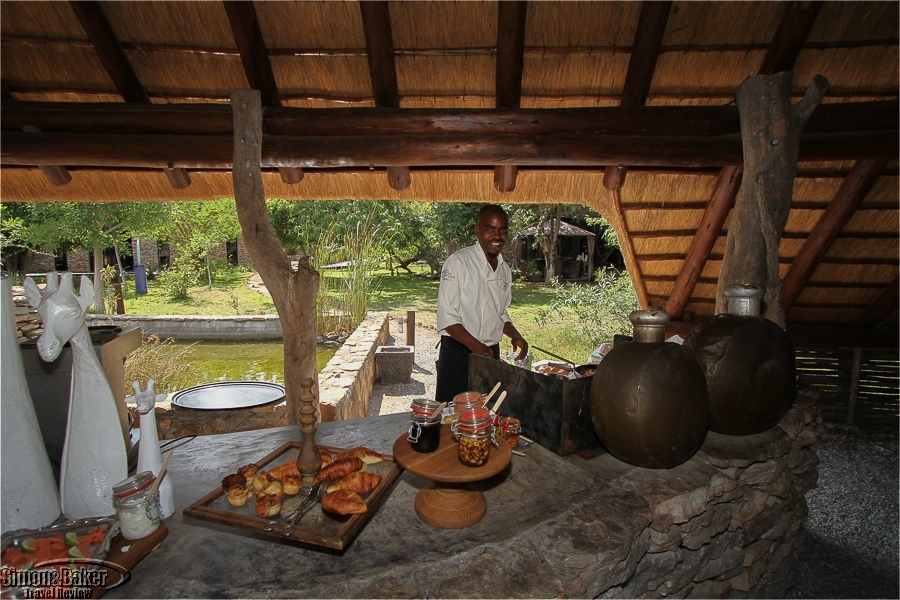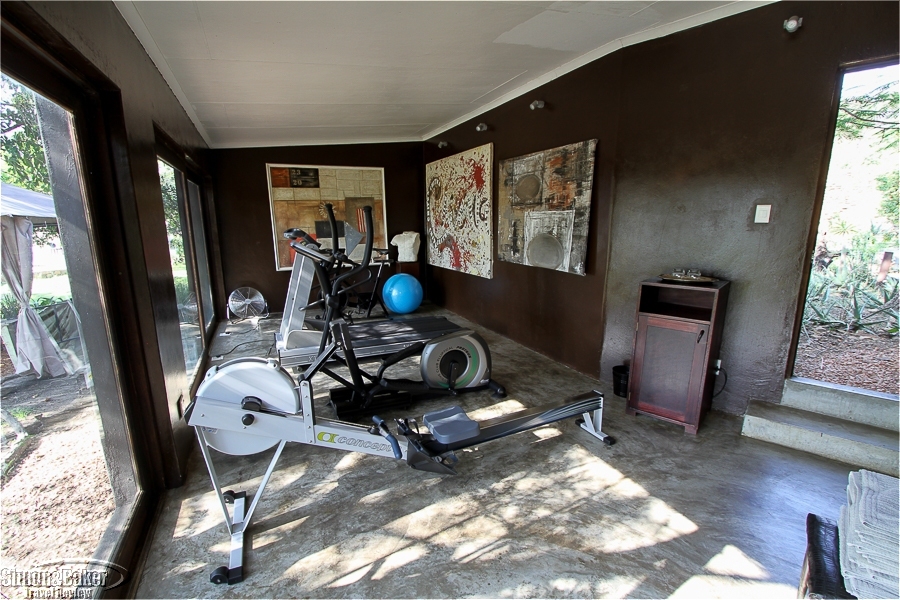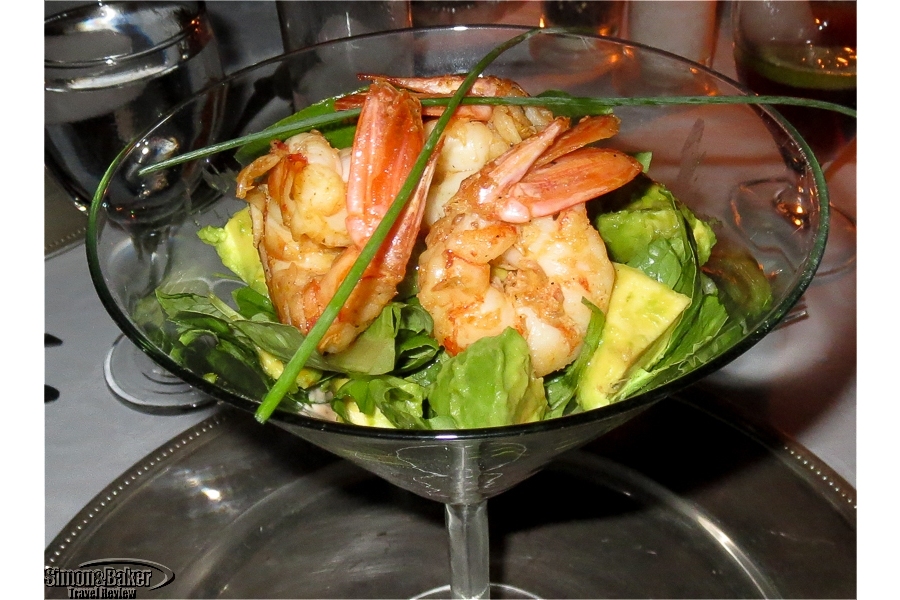 Overall Impression
Situated within the Sabi Sand Reserve, one of South Africa's premier game viewing reserves, the 300 hectare Chitwa Chitwa Private Game Lodge offered an excellent combination of dam front setting, service, intimate ambiance, original art, quiet rooms, luxury accommodations and features, gourmet orientation, and good game viewing with a strong emphasis on the Big Five.
As with our first visit, we liked the comfortable and well furnished rooms with outdoor decks, private plunge pools and distant water views. Made to order meals, dining at a private table and sharing space with only a few other guests enhanced our sense of seclusion. Its dedicated work out and spa treatment rooms as well as a swimming pool were bonus well being amenities we appreciated. We also liked the property's amply stocked gift shop. For short periods we braved the blistering midday heat to spend time on the main deck, where there was good bird viewing on the trees adjacent to the deck and game viewing of the animals that made their way to the dam. While at the property we had excellent photography opportunities. The downside? The only internet access was in the library and office and it was excruciatingly slow. Because we needed to confirm our international flights it was inconvenient. At a time when we want to disconnect from the internet that would not necessarily be a draw back.
We liked Chitwa Chitwa's artistic style, private ambiance, guest focus and foodie orientation, well appointed accommodations, amenities and facilities, including in-room private decks and plunge pools. We would recommend the lodge to friends and acquaintances who are fans of boutique safari properties, fine meals with a liberal dose of hot spices, and Big Five game viewing.
Children
The property welcomed children older than six on safari drives with other guests. Families with younger children were able to hire a private vehicle.
Class of Accommodation Five Star Lodge
Connectivity There was very slow Wi-Fi access in the central area of the property. There was a computer in the library connected to the internet for guest use. On the third day, I was able to connect and download emails.
General Manager Chantal and Stefan du Toit
Handicapped Access The property had ramps for wheelchairs.
Length of Stay Three nights
Location On the northern side of the Sabi Sand Reserve in South Africa.
Owned And Managed Charl Brink
Size There were eight rooms (six double and two two-bedroom rooms) in the 300 hectare property with 42 employees.
Year Opened and Date of Most Recent Renovation The property opened in 1992 and the most recent renovation was in 2009.
Lobby and Common Areas A property representative described the decorative style as Unique with original artwork by Maria Brink, the owner's wife, peppered thought the common areas and rooms.
Bathroom
In Room 9, just past the vanity a wood door lead to a bathroom with polished concrete floors, a white and silver color theme and a beautiful view of the bush and the dam in the background. Because there was no air conditioning device inside the bathroom it was warmer than the room from which it was separated by a partial wall that did not reach the ceiling. The walls were covered with tiny tiles. It had two metal sinks across the room from each other, a doorless shower with two shower heads pointing at each other (not a favorite in part because the water pooled in the middle), a separate bath adjacent to an oversize window facing the bush and dam, and a toilet and bidet behind a glass brick half wall. There was a leather armchair in front of the bath tub and a wood cabinet for towels. There was another small wood cabinet with toiletries in the toilet and bidet section.
The bathroom in Room 1 was divided into a walk-in closet, a water closet and an ablutions area. The water closet was adjacent to the walk-in closet. Behind the closet there was a single space facing the deck and bush. It had a doorless shower with a pretty flower tile design on the bottom half of the wall, stand alone oval bathtub, and twin oval sinks beneath a large square mirror. Glass walls and a door meant clear views of the bush and the deck from that area.
Rooms
We stayed in neighboring Deluxe Rooms 1 and 9. They were in separate buildings set thirty feet apart at their closest point, ensuring privacy and quiet. They were the first two rooms from the game viewing arrival and departure parking and reception area. From the main wood decking that connected the main building and the reception area a narrow dirt path lead to Room 1.  Room 9 was further down, to the left and slightly up via the same dirt path.
Both rooms were furnished in elegant contemporary safari style. They had expansive bush views. The dam could be seen in the distance as well. They had air conditioning (at times the cooling units struggled to keep the rooms cool during our summer visit), polished concrete floors, thatched roofs, over long gauzy see-through white curtains and wood shutters, and comfortable furniture. They had original artwork, including oil paintings and framed photos. Each one was divided into four main sections, a living area, a sleeping area, a bathroom, and a covered outdoor deck with a plunge pool. The living and sleeping areas were in a single continuous space without any walls or dividers.
My room, Room 9, the first room built, was spacious and comfortable although it was showing minor signs of aging in styling and wear. I particularly loved its expansive and elevated views of the adjacent bush and in the distance the dam. Although it was near reception and a two-minute walk from the work out and spa rooms the room offered privacy and quiet. Raised up somewhat from the ground and surrounded by boulders it had a striking side view, through the glass doors, of the bush and dam from the bed, sitting area, bathroom, and especially from the plunge pool deck.
Immediately to the right of the door there was a sitting room furnished with a vanity. To the left there was a walk-in closet and before it a tall wood table. In the center, there was a black leather sofa framed by a wood cabinet on one side and a stone and metal side table and lamp on the other. There was also a rectangular metal and glass coffee table, a white leather armchair, and a wood side table with a lamp.
Four glass and wood door sets lead onto the pool deck, one from the bathroom, one from the living area, and two from the sleeping area. There was a colorful area rug in the living room and a putty color area rug in the sleeping area. Rectangular framed mirrors of various sizes hung above three of the cabinets and the fireplace.
Past the sitting section there was a double bed set against a large wood headrest, which was about 15 inches thick and wider than the bed itself. At night, the staff used the twin silver tone lamps atop it and wood extenders to set up the mosquito netting around the bed. The mosquito net had several holes. There were spiders and other insects climbing around in the net. Tiny bits of thatch fell on the bed sheets. There were six feather pillows, and a thin blanket sandwiched between sheets. During the day, the bed was dressed with a white on white cotton bed cover.
A built-in stone fireplace took up the far wall. Across from it there was a wood cabinet housing a hot beverage service with rusks (South African style hard cookies). At the bottom there was a mini refrigerator stocked with complementary beverages (refillable glass bottles of still water, Coca-Cola and Coke Light, Parmalat individual size milk cartons), two limes and snacks (two candy bars and two 47 gram containers of Pringles potato chips).
The wood deck was a wonderful place to spend time, relax, watch for birds in the neighboring trees and with binoculars for animals in the dam. When it became too hot the plunge pool was refreshing. The deck had two to sides connected to each other, one to the left of the room and one immediately in front of it. To the left there were two comfortable armchairs as well as one large and one small wood table. The other side of the deck housed a round plunge pool, two lounge chairs and an outdoor shower affixed to a tree (a favorite).
Room 1 had a wood and opaque glass door that slid inward when it opened. The entrance to Room 1 led to a round wood dining table and two cushioned cloth armchairs. To the left and up a step on the polished concrete floor there was a large bed, framed by twin wood and glass tables with identical lamps, set against an oversize headboard. At night the staff spread the mosquito netting that hung from the ceiling around the bed. At the foot of the bed there was a two tone bench. On the side there was a wood cabinet beneath a framed wood mirror.
The living area across from the bed was furnished with charcoal gray sofa framed by twin metal and glass end tables, cloth and wood armchair, wood and glass coffee table and stool, all of which faced the stone brick built-in fireplace. A lamp with a huge lampshade hung above the sofa. There was a full size mirror and a stool in the corner next to a table with a phone. A cabinet with a hot beverage service and mini refrigerator, pre-stocked like mine, took up the corner. There were area rugs in the bedroom, dining and living areas. Next to the dining area an armoire housed an electronic safe and some amenities.
Glass and wood doors led onto the deck. Deck furniture blocked one door and the other door did not close well so it was easier to access the deck from the bathroom. The spacious deck, with ample shade, looked onto the bush in the foreground and the dam in the background. It was furnished comfortably with a gray futon, two beige cloth armchairs, a faux snake patterned round table and a wicker table atop an area rug in the covered part of the deck. On the left side there was a cushioned adjustable wicker lounge chair for two near the pool. On the opposite side of the deck there was an outdoor shower.
Food
Breakfast was served at 8 a.m., lunch at 1:30 p.m. and dinner at 8:15 p.m. Lunch and dinner were plated and made to order from a set menu. The dinner service included silver cutlery and crisp white linen napkins. Most dishes were made with a liberal dose of hot spices.
We were seated at our own table placed at enough distance from neighboring tables to permit private conversation. Breakfast and lunch were served in the Lapa, a dedicated shady area set to one side of the main building and facing the dam. It meant we could enjoy our meals while observing game and birds visiting the dam. Dinner was served twice on the main deck beneath the stars and once in the boma. The staff provided us special cotton wraps to don for the boma dinner. They were available for purchase should we wish to support the nonprofit organization that made them.
Breakfast consisted of a generous gourmet cold buffet of two fresh squeezed juices (orange and pomegranate), fresh sliced fruit (cantaloupe and watermelon) and whole fruit (oranges, plums, pears), several types of dry cereal, several types of yogurt, dried goji berries, mango and dates, separate cheese, salmon and deli plates, and several varieties of sliced bread. One morning there were mini sticky buns (a favorite). Hot breakfast options included eggs, bacon, rocket, avocado, mushrooms, tomato, tomato and onion sauce, and spicy chorizo.
A light lunch menu with three options was offered in the morning for us to order in advance. The day we arrived, they served us lunch on our room deck. We had small hamburgers with french fries. We especially enjoyed the seclusion and views of the dam. For the first night we were offered a printed menu during the day in order for us to select our choice from one of two appetizers and one of two main courses. On the second night, they served a grilled buffet dinner in the boma of chicken, kudu, pop (a corn dish), roasted zucchini and squash, roasted potatoes, creamed spinach and chickpeas. Most of the main dishes were seasoned with chili or hot spices, including the hamburgers at lunch. The second day my travel partner ordered Satay pork dish and I ordered the deli platter. It came with chicken liver pate, sweet pickled onions, radish and cucumber salad, three types of cheese, semi crunchy crackers, strips of dried beef and sliced salami.
At tea there were fresh fruit such as cherries as well as cake (coffee cream cake, cheese cake with a caramel topping). In the morning before the game drive, there were fruit smoothies, fresh fruit, two types of hard cookies (rusks), oatmeal squares and granola bars with dried fruit. It was our favorite of the nicest pre game drive services during out month long safari trip.
We had two elaborate sun downer evenings shared with guests from other vehicles and visitors, one with a gin and and tonic theme and the other with a craft beer theme (beverages were charged separately). There was a great number of snacks from cured meat to honey and aged cheese, cheese and chili samosas, biltong (dried cured meat strips), mozzarella cheese and tomato skewers, dried sausage, olives,
For dessert at dinner, we had pudding made with evaporated milk and vodka. There was also a banana meringue tart, and on the final night we had Amarula (a berry liqueur) and chocolate pie with Amarula.
Amenities
Twice daily game drives, meals, snacks on game drives, and laundry were included in the nightly rates. There was a stocked mini bar filled with cold beverages, including bottled water, soft drinks, wine and snacks. There were white cotton bathrobes, slippers, adapter plug, umbrellas, electronic safe, Mohoni orange and sandalwood vanity kits, shower caps, dental kit, mosquito repellent, insect spray, toiletries in refillable sizes (shampoo, conditioner, body wash, and body lotion), one small bar of soap, scented bath salts, blow dryer and game viewing check list. In the game viewing vehicles there was rain gear. In the rooms, there were also full-size and tea size candles, sewing kit, tissues, plenty of bath towels, and sherry.
Facilities Library, bar, spa room, work out room, outdoor swimming pool, boma (outdoor dining enclosure), and gift shop.
Fitness There was a 30 square meter workout area with an exercise bicycle, home gym, treadmill and elliptical trainer.
Pool There was an outdoor 1.8 meter deep infinity swimming pool in the main area overlooking the dam (a favorite for short laps). It was 5 meters by 3 meters large. Next to it there were two fixed position synthetic weave and metal lounge chairs. Rolled up towels were stacked on a stool on the side of the pool. A tree provided partial shade. Each suite had a 1.8 meter deep pool. The one in my room was round while my travel partner's pool was rectangular.
Shop Across from reception there was a single room curio shop selling branded clothing, children's games, locally made souvenirs (the sale of some items benefited a local nonprofit), scarves, a few costume jewelry pieces, crystals, and decorative items. Prices ranged from 40 rand for a postcard to 6000 rand for a beaded wall hanging of the Big Five. To visit it was necessary to ask a staff person to open the shop.
Spa The spa treatment room was 20 square meters large. There was air conditioning, but during our summer visit it barely cooled down the room. On the first day there were no spa treatments available because the therapist was out sick. On the second day, there was so much pent-up demand for spa treatments I had to have lunch an hour early in order to squeeze in a massage before our afternoon game drive. I had a 90 minute deep tissue massage with Tandi. She cleaned the soles of my feet with a moist towel before beginning the treatment.
Game Viewing
We went on five game drives during our stay. There were four of us in our game viewing vehicle, a LandRover Defender with a three bench configuration. The maximum number of guests per vehicle was eight. The sound of lions calling at night during cocktails and dinner enhanced our experience. Our guide was Rodney and our tracker was Ransom.
We saw the following animals during our stay: buffaloes, cheetah, elephants, giraffe, scrub hare, hippopotamus, spotted hyena, impala, kudu, leopards, lions (including lions mating, and lions with a young buffalo), elephants, dwarf mongoose, vervet monkey, nyala, white rhinoceros, tree squirrel, steenbok, waterbuck, wildebeest, Burchell's zebra, and leopard tortoise,
We saw or heard the following birds: arrow-marked babbler, black-collard barbet, little bee-eater, jacobin cuckoo, fork-tailed drongo, African fish-eagle, tawny eagle, Wahlberg's eagle, grey go-away-bird, Egyptian goose, helmeted guineafowl, African grey hornbill, red-billed hornbill, yellow-billed hornbill, woodland kingfisher, red-crested korhaan, Verreaux's eagle-owl, lilac-breasted roller, green sandpiper, wattled starling, saddle-billed stork, white-backed vulture, land esser-masked weaver.
Activities There were twice daily game drives. On request there were walks after breakfast. Our guides communicated with other guides from our property and properties where Chitwa Chitwa had traversing rights using a silent radio. That meant there was no radio static during the game drives. The policy in case of rain during a drive was to continue the drive in the rain. There were four guides and three safari vehicles.
Other
Although there was a fence designed to keep elephants out of the property the large mammals trespassed with ease and other animals walked around often, especially after sundown. One of the elephants visited our rooms at midday, curious to explore and almost having a drink from our plunge pools. At night we had to be escorted by a staff person, usually our guide, to and from our rooms. It was possible to call between rooms and to reception. For local and international calls it was necessary to call reception. There was spotty cell reception within the property. Smoking was allowed on the deck of the rooms, in the boma, and on the main deck.
The source of electricity was municipal and there was a back up generator. The tap water, sourced from a borehole (well) and filtered, was potable. It had a slightly salty taste. The property hired local staff. Laundry for underwear was not available. The property was recognized as winner of the 2015 World Luxury Awards African continent Luxury Game Lodge.
Cleanliness
Very good
Date of Last Visit December 2015
Reviewers
Article by Elena del Valle
Photos by Gary Cox
Service Our rooms were serviced twice a day. Staff were attentive, many of them friendly and service oriented. In addition to the managers, the staff members we met were Busi, Pinkie, and Tandi. Eucan. On our return from the game drives the staff handed out moist refresher towels. On arrival and departure there were Chitwa Team welcome and good-bye notes in our rooms.
Would You Stay Again? Yes
Contact Information
Address:

Chitwa Chitwa Private Game Lodge
Sabi Sand Wildtuin
Mpumalanga
South Africa

Phone:
Website:
Email: